If I had to draw one broad generalization about teachers, it would be that teachers love school supplies.  To this day, I am exhilarated by walking down the school supply aisles. I have compiled a list of my favorite teacher supplies, all priced under $20.  These are all supplies that I have found useful in my classroom, along with some great ideas for incorporating them.  Some supplies you might be able to pick up at Target or Walmart during their back to school sales, but below are Amazon links for your convenience.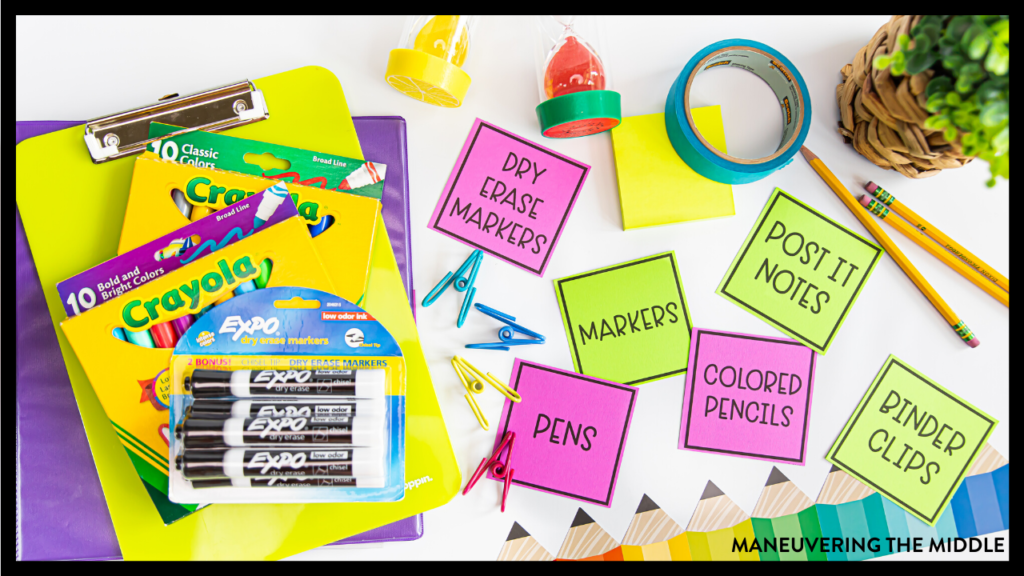 20 Must have teacher supplies under $20
I have rated each supply with its necessity in my classroom. 
*One Star = It will get used but you could settle for something less convenient.
**Two Stars = Nice to have
***Three Stars = BUY NOW!
1. Stapler**
This handy dandy Paper Pro Stapler is my favorite.  It has endured daily abuse use by middle school students for five years.  That is 935 days!  It opens up easily to punch into bulletin boards and is less likely to jam than others.  It makes a pretty loud pop when it staples, which provides some entertainment to new users.
2. Clipboard**
Clipboards are the perfect teacher supply- cheap and with multiple uses.  I always loved having one that held my grade sheets and seating charts at my desk.  You can utilize wall space by hanging them around the room.  Next to the door, I hung several for the following purposes:  tutoring sign in sheet, tardy sheet, and fire drill/emergency documents. Update: dry erase clipboards are now my favorite! This class set has held up great for three years.
3. Manual Pencil Sharpener*
My personal opinion is that all electric pencil sharpeners are worthless.  I know, probably a little harsh.  However, my thought is this — at $8.00 a pop, I can buy four manual pencil sharpeners for the price of a decent electric one.  Manual sharpeners are quieter, can be placed anywhere in the room, and require some work on the students' part, making sharpening their pencils not quite as much fun. 🙂
4. Dry Erase Markers***
A teacher can never have enough dry erase markers.  If you have PTA money or any sort of school funds, I would recommend spending it on markers.  Then, ration them throughout the year so that come May, you are not left high and dry.  I kept several boxes for my use on the whiteboard and then utilized the remainder for student whiteboard use.  As a math teacher, I loved using student whiteboards to formatively assess, play games, and in general, just make practice a little more interactive. Update: don't go off brand. Expo markers don't stain and wipe off clean. 
5. Mr. Sketch Scented Markers***
These are my favorite markers!  If you make anchor charts and haven't used them, you are going to fall in love.  Not only do they have a great chisel tip, but they come in great colors.  They don't leak through the page either.  I keep these markers under lock and key because I love them so much! 
6. Poster Board***
Never buy chart paper again. Poster board lasts longer, looks nicer, and is WAY less expensive. Make your own anchor charts by using your projector to trace. 
7. Sticky Post-It Notes*
Post-it notes are kind of a given, but I want to challenge traditional post-it note thought.  Have you tried the full back sticky?  These are perfect for labeling things, sticking to the walls, and they aren't going to lose their "sticky" after a humid weekend with the air off.
8. Colored Card Stock + Matte Laminating Sheets***
Another favorite item that is great to have on hand is colored card stock.  It's versatile and so nice to have an extra pack or two.  I use them for task cards, classroom management cards, "I Can" statements, letters and posters, decorations, dividers in my binders, and in general, to brighten things up.
Laminating a poster increases its longevity but also causes a significant glare.  Not with these matte laminating sheets! You can use them with our new Middle School Math Word Wall  or our Classroom Poster Pack.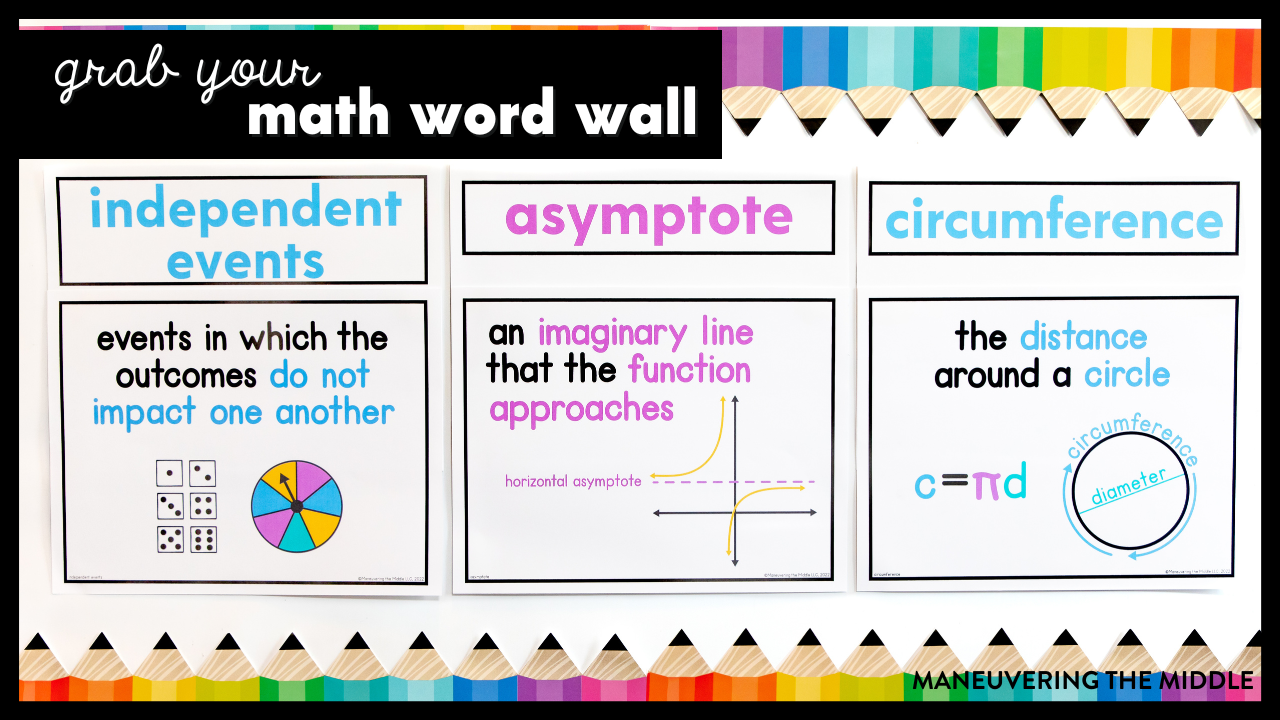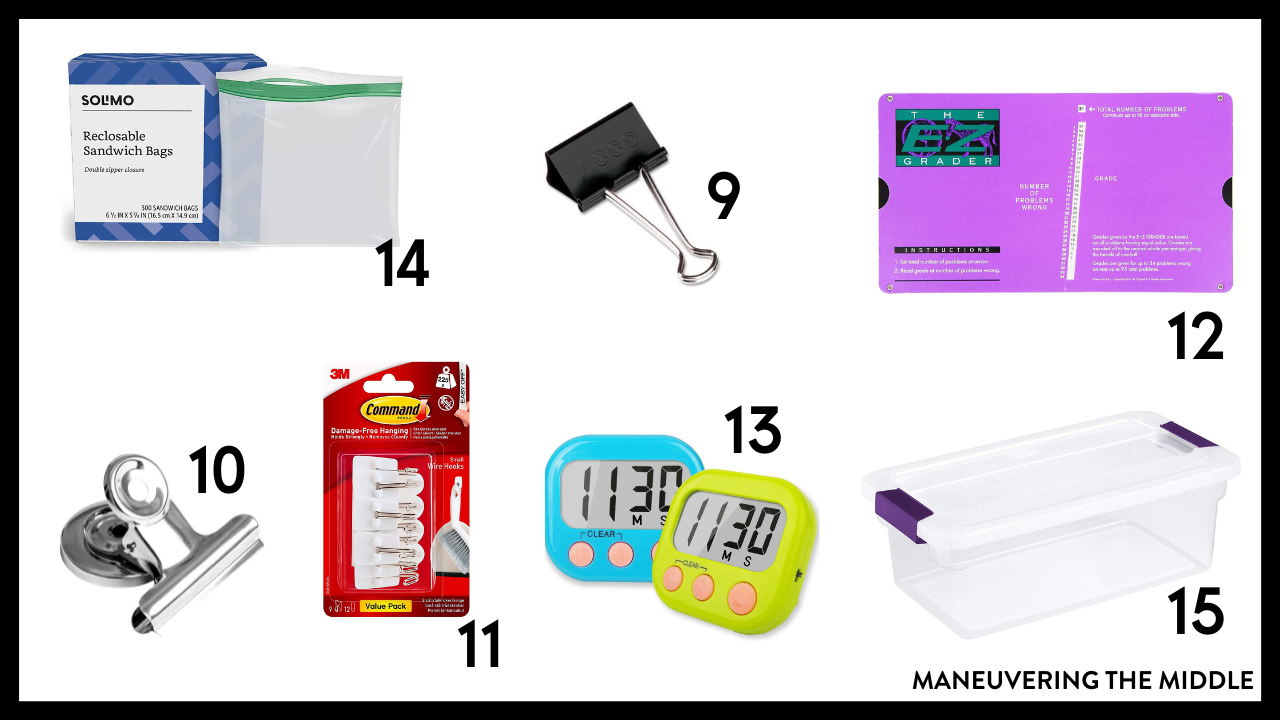 9. Binder Clips**
I have already shared my love for binder clips in my Teacher Organization post, but I wouldn't be doing them justice if I didn't include them here as well.  These clips are perfect to hang posters on the wall, and they make clipping 150+ papers together a breeze. Don't waste any money on paper clips!
10. Magnets**
My sister introduced me to the greatness of magnets.  These magnets revolutionized my pencil check out system. (Credit for the idea: To The Square Inch)
11. Command Hooks*
I mentioned using wall space to hang clipboards, and this wouldn't be possible without the joy of command hooks.  I also used the giant hooks to create a place to hang my purse and scarves inside my cabinets.  You can use them to hang task cards or any other ringed item.
12. EZ Grader*
Confession:  I taught math and yet loved the EZ Grader.
13. Timer***
Sure, you can use your phone, but that is one way to drain its battery.  I love having a small timer up near the document camera to keep students on track and class moving along quickly. Bonus points if the timer can also attach to your lanyard. 
14. Baggies*
At the beginning of the year, I buy a box of gallon-size and sandwich-size bags. You will be surprised at how many times you use them and how glad you are to have them on hand.  I used them most often for keeping card sets together.
15. Plastic BINS**
I loved using plastic caddies in my classroom.  I used them for group supply boxes, to hold classroom supplies, and to hold my personal supplies.  I totally recommend the ones with locking lids!  I know they are pricier, but at least for ones that are handled by students, this is a must!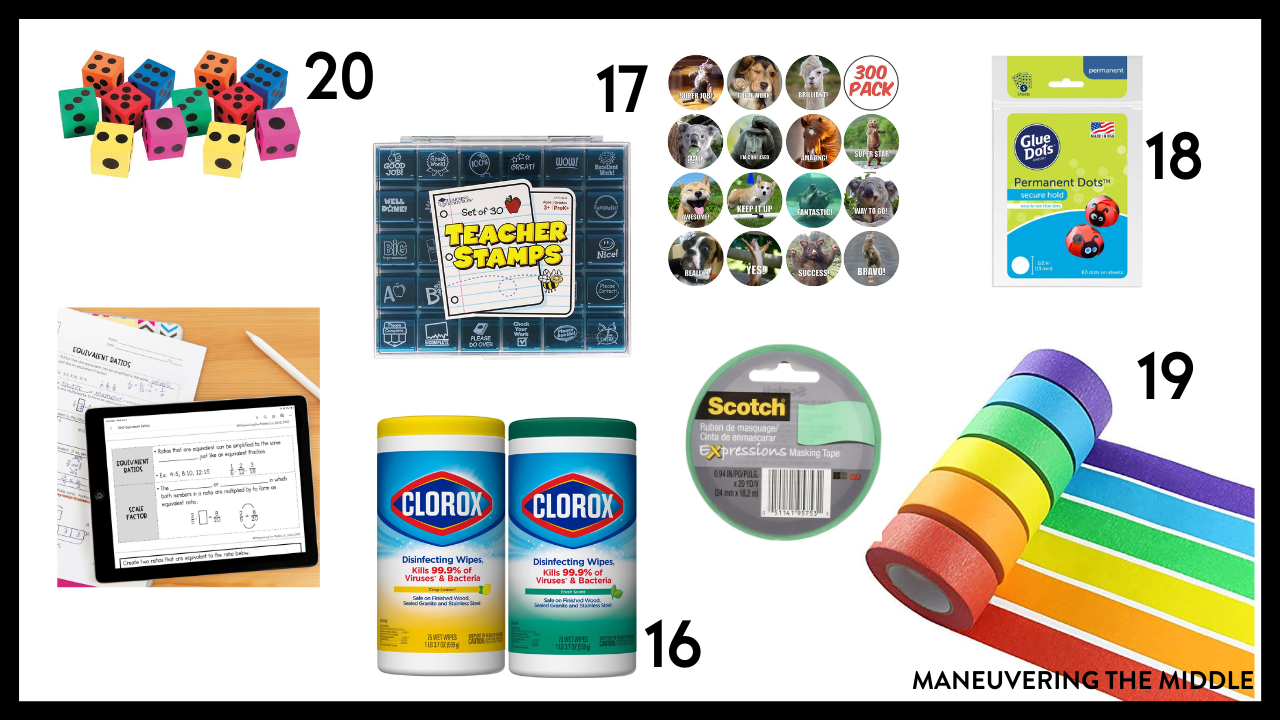 16. Disinfectant Wipes*
Disinfectant wipes, a must-have necessity. If you are seeking an alternative, you can use old fashion cleaner and microfiber cloths.
17. Stamps & Stickers**
I loved using stamps and stickers for praise within the classroom.  I know it sounds so cheesy, but let me tell you, even middle school students loved it!  As they worked in groups, individually, on the warm-up, etc., I would circulate and stamp pages.  Sometimes it would be for the right answer, and sometimes it would be for those who were working hard.  You would be shocked at how students would ask for the stamps and be quick to call out if they got missed. Stickers and stamps are must-have teacher supplies!
18. Glue Dots*
I love glue dots for labeling things.  It's much less messy and more sturdy than tape.  A great second to glue dots is a glue gun especially if your walls are concrete.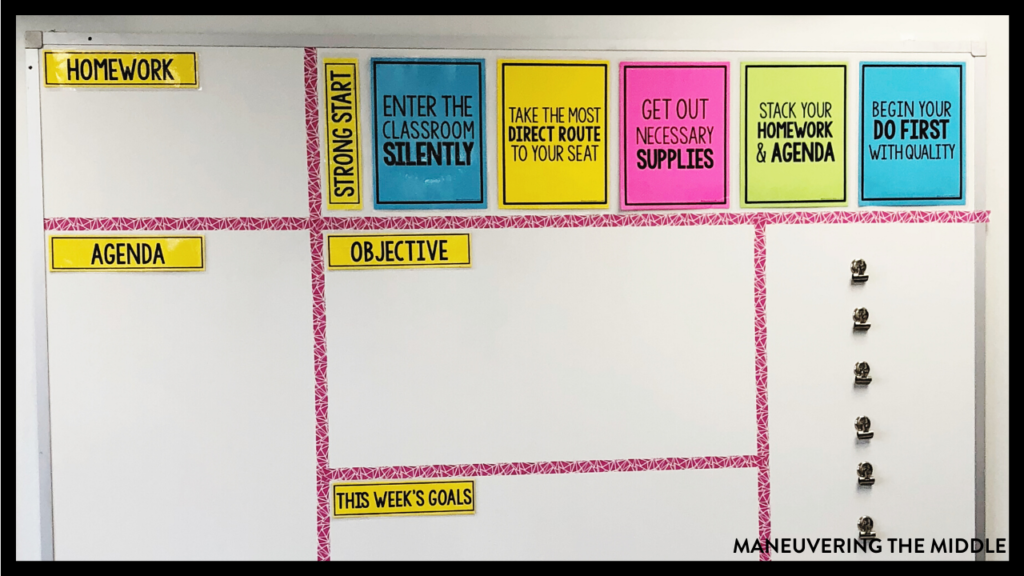 19. Scotch Expressions Tape and Washi Tape***
Jazz up your whiteboard and other items around the room with colored tape.  I used it to create an agenda board and to keep my word wall organized. Update: washi tape is a must-have for keeping a Chrome Cart organized and to create beautiful anchor charts.
20. Soft Dice*
Dice are a great tool to have in the classroom.  Not only can you use them while teaching probability and statistics, but you can use them to call on students, practice quick math, and spice up a worksheet.  Plus, they are quiet.
Splurges
Below are two other items that I don't think I could teach without.  In fact, when I moved to a district that still had overhead projectors (not even kidding), I went out and bought my own.
iPad with Apple Pencil ***
If you want to complete problems while being mobile around your classroom, look no further than an iPad with an Apple Pencil. I recommend using it with the apps Notability and Reflector.
Bluetooth Speaker*
Music is such an incentive for teens.  Alexa allows you to play music, set timers, or play the news (maybe something you do with your homeroom everyday). You can also turn off Alexa's microphone and control her by your phone.  
Can't get enough school supplies?
Find out our 20 favorite technology gadgets for the classroom here. 
Find out our 20 must have supplies for math teachers here.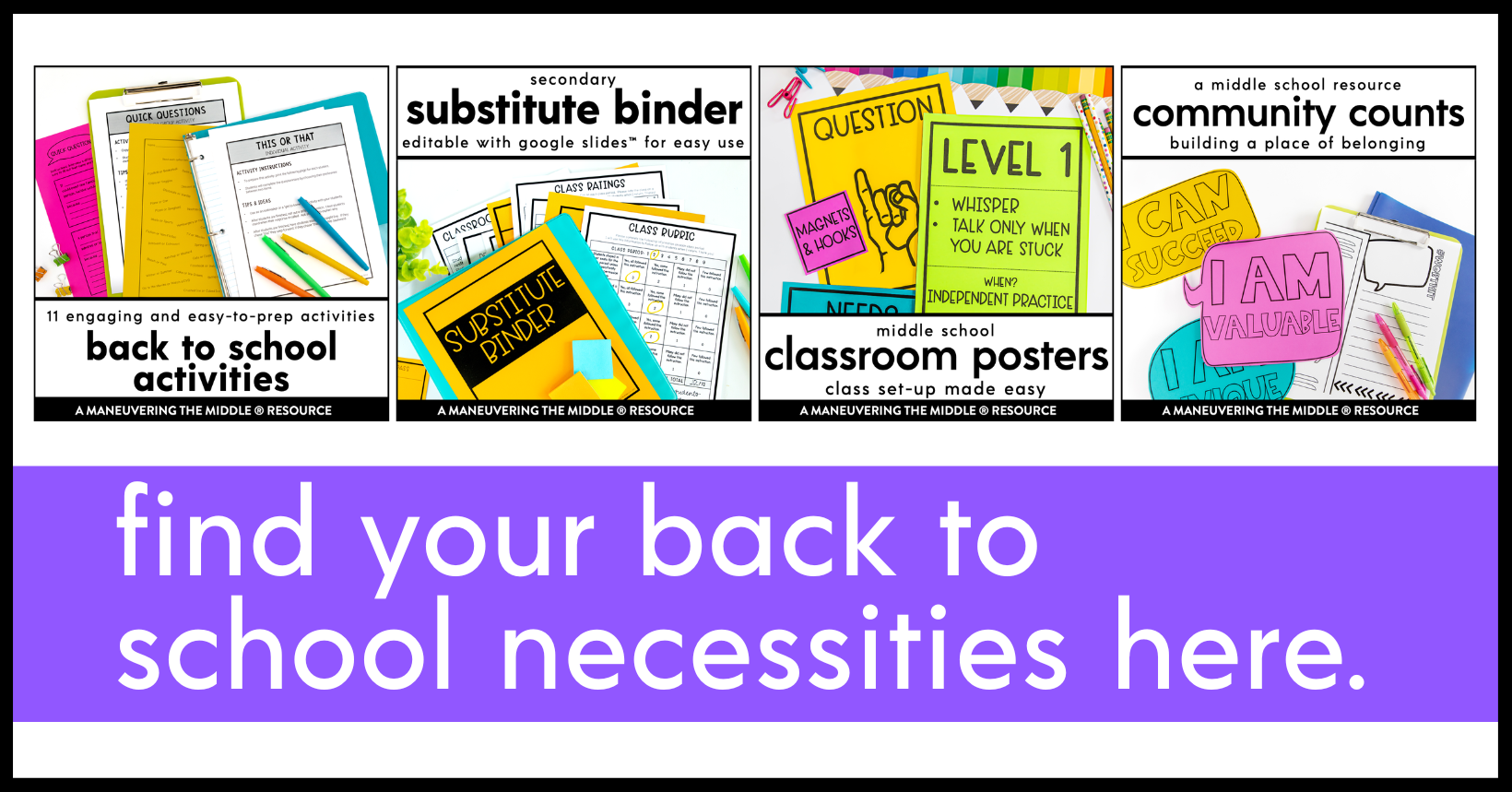 I realize that being a teacher really adds up!  Many of you purchase not only teacher supplies, but student supplies, curriculum resources, and other various items to keep your students engaged and learning.  You buy lunches, participate in school fundraisers, pay for jean days, and donate for student gifts at the holidays. Remember to pace yourself. There will always be new supplies to buy!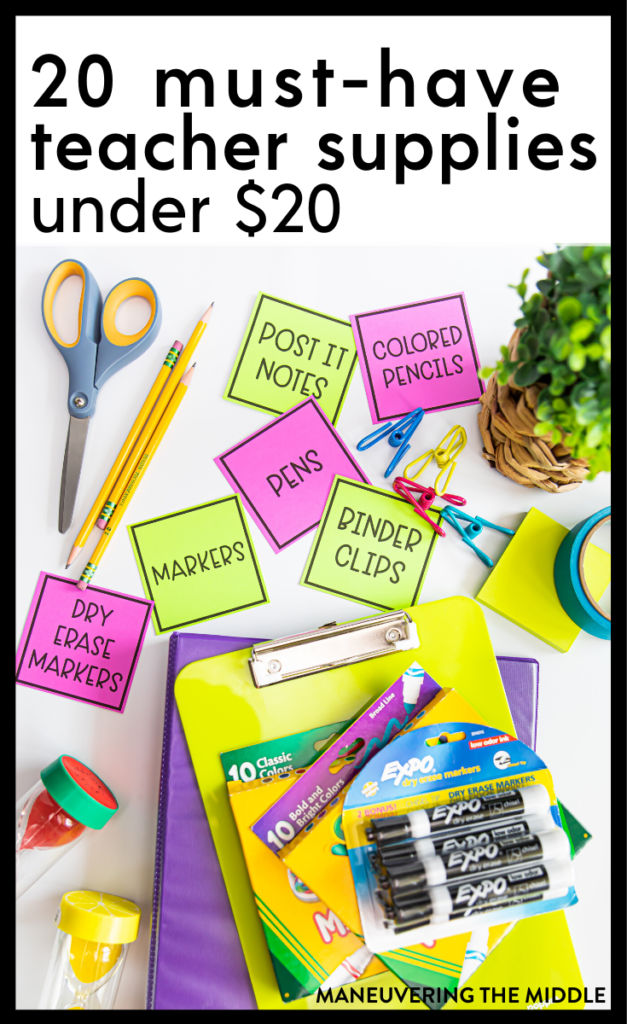 Editor's Note: Maneuvering the Middle has been publishing blog posts for teachers for nearly 6 years. This post was originally published in July of 2016. It has been revamped for accuracy and relevancy.
Save