We have a 2015 Reader Survey Winner!  Thank you to all who participated.  I hope to use it to provide valuable resources throughout the year.
Additionally, a big thank you for the kind words of encouragement.  It means so much that my lessons and activities are helpful in your classroom and support your student growth.  Truly, I am forever grateful to you, my readers and friends, who love students and are working to empower our kiddos.  Not only academically, but emotionally, socially, with love and patience.
2015 Reader survey results
My hope in the survey was to get to know you all a little better, to gain insight into your classroom and students, and in turn provide better ideas and resources to meet your needs.  It was so obvious from reading each and every survey that there are quite a few commonalities that we have, as the general teacher community.
You want your students to be successful.
You want to be successful yourselves.  I think this speaks highly to the type of people that become teachers.  We want to make a difference.  So much so, that we would measure the success of ourselves, by the success of 100+ teenagers.  Let that sink in.
You feel overwhelmed.
When I started this blog a few years ago, I wanted to share ideas and be a place of encouragement.  I still want that for this corner of the internet.  Here is to 2016, to hoping it is the best year yet, to celebrations of success, to fun classrooms where students learn, to uplifting teachers and appreciating their investment.  It's going to be a good one!
I will leave you with a beautiful letter written by Becky Thompson.  Yes, it is geared towards woman, but I think it really applies to all teachers out there and the impact we have on our students.  Maybe a less sappy version for our male teacher friends.
2015 READER SURVEY winner
And finally, the winner of the $100 Amazon Gift Card Giveaway goes to: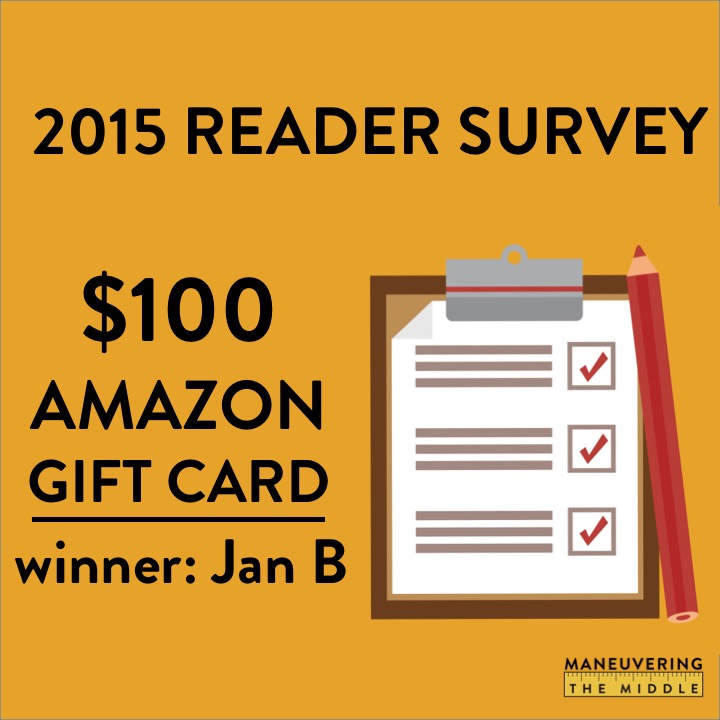 Congratulations Jan for being the 2015 Reader Survey Winner!  Please be looking for an email from me in your inbox to get your gift card.
Happy Teaching!