Last week, I shared Maia Heyck-Merlin's 10 Rules for Teacher Organization from The Together Teacher.  If you missed it, check it out here.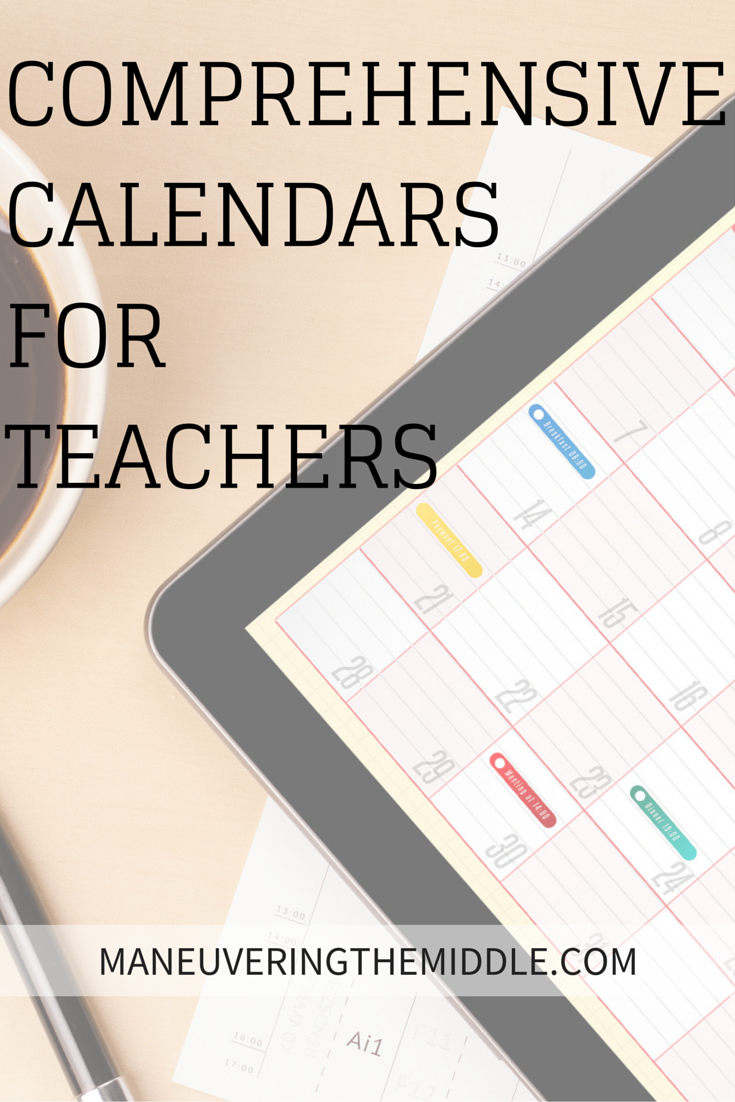 Chapter 2:  No More Missed Deadlines
Take it with you and write everything down were two of the rules mentioned in chapter 1.  These rules come into practice in chapter 2, when Maia introduces the Comprehensive Calendar.
A calendar is not rocket science, nor is it a new concept.
But how effective is your calendar?  Do you have multiples?  Have you missed a deadline or over scheduled yourself?
I love organization:  pretty planners, color coded, nice pens, stickers.  But unfortunately, that is not what works best for me.  I agree 100% with the Comprehensive Calendar.
I even take it so far as to share my calendar with my husband and vice versa.  Not because he cares about my grading period deadlines but so that we can schedule social gatherings without having to go back and forth a million times.  This came about after we had to reschedule a dinner with friends four different times.  But we wont go into that.
A few things I would recommend adding to your calendar:
Grading Deadlines: progress reports, report cards
Testing: benchmarks, state testing, semester exams
School Holidays

 

Special Events: PTA, school dances, assemblies, field trips
Meetings:  all staff, department, professional development, trainings, ARDs, tutoring
Personal: doctor appointments, birthdays, reoccurring events, dinners with friends, exercise classes, etc
What other things do you add to your calendar?
Maia also suggests adding time block for free time or non-school time in and supports a work-life balance.
---
Now the hardest part, keeping up with it. 
Personally, as much as I love the paper calendar, I really can only keep up with the calendar on my phone.  My phone is with me at. all. times.
Deadlines come up, quickly jot it in your calendar.  I even like to keep things color coded.  My husband's work calendar shows up blue, my school stuff is yellow, and my other things are green.  This has really helped me to stay on top of events and keep my life in order.
Another scheduling aspect that has worked very well for me is to have a standing late evening.  It is so easy to stay late, there is always so much to do.  Not everything is pressing.  Nor do I have the time or focus to complete large tasks.  On Thursdays, I would stay late, sometimes very late.  But, I knew that the larger tasks could be completed and I would be able to leave at a reasonable time the other days of the week.
How do you keep your events organized?  Ever had a calendar fopaux?
---
Look for more from my Together Teacher book study each Wednesday or follow my Pinterest board.  Next week, we will be looking at Chapter 3:  Corral the To-Dos.
Happy Teaching!