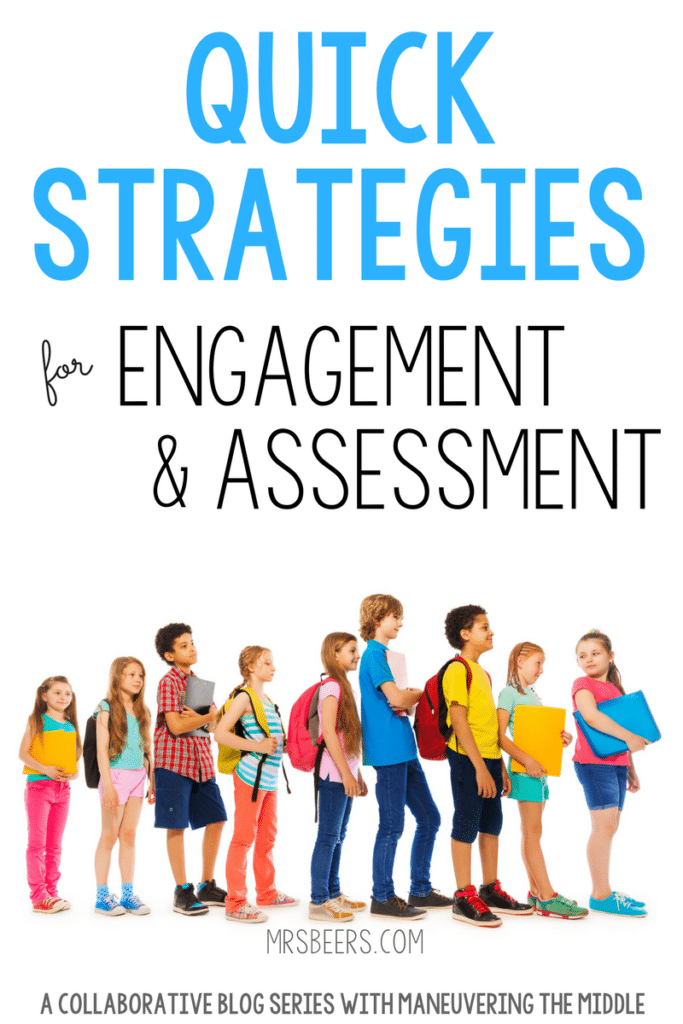 ---
This is week three of our summer middle schools series collaboration with Erin from Mrs. Beers Language Arts Class.  Be sure to check out the following:
Week 1:  10 Things Middle Schoolers Want You to Know
Week 2: 15 More Must Teach Middle School Routines and Procedures
---
Engaging and assessing your students from MINUTE ONE of DAY ONE, sounds a bit crazy, right?
This year I head into my 17th year of teaching. That number still boggles my mind a bit because it seems hard to believe that I have had the good fortune of working with various groups of students for this lengthy amount of time. What I can tell you is that every group of students I have taught is different, but has something truly amazing to contribute. As an educator I find it imperative to look for the good and find ways to bring out the best in every student.
Middle school is a delicate time. Students are trying to navigate friendships, independence, and decisions about athletics and extra-curriculars. As teachers, we need to be sensitive, kind, and have high-expectations. As you think about the school year ahead, consider…
What classroom practices worked well this past school year?
What management strategies need tweaking to make better use of instructional time?
What procedures or routines make the most of student learning?
I am already thinking about the incredible year ahead, and the tone I want to set with my students from the moment they head inside my classroom door for the very first time. I want them to know that in our classroom there is not a moment to waste and we are going to get started right away. Here are my quick strategies to engage and assess
Meet and greet students with a kind smile. This simple act gives me the chance to connect with my newest group of students and set a positive and optimistic tone before they even begin their learning.
Strategy #1: 1-Minute Challenge
Bring students into classroom and line them along any wall. I tell them that they need to get into a line in alphabetical order by last name in 1 minute without talking. This allows me to make some quick observations.
What is the purpose of the 1-minute challenge? It gives me formative information about:
which students take charge and are assertive
who can follow specific directions
who is willing to work until the task is complete
who is engaged
All of this information helps me to quickly assess my group of learners.
When the time is up, we check their alphabetizing efforts compared to my seating chart. The students head to their assigned seats and we get to work.
---
Be sure to read the other strategies that Erin recommends for engaging and assessing your new students.