The thing about test prep is that is can be super overwhelming.  There is so much to accomplish, every minute is priceless, and in general it can be stressful.  So many standards to review.  It doesn't have to be stressful.
I think that part of the stress is just the bulk of preparation.  Lots of handouts. Lots of cutting.  Lots of gathering of supplies.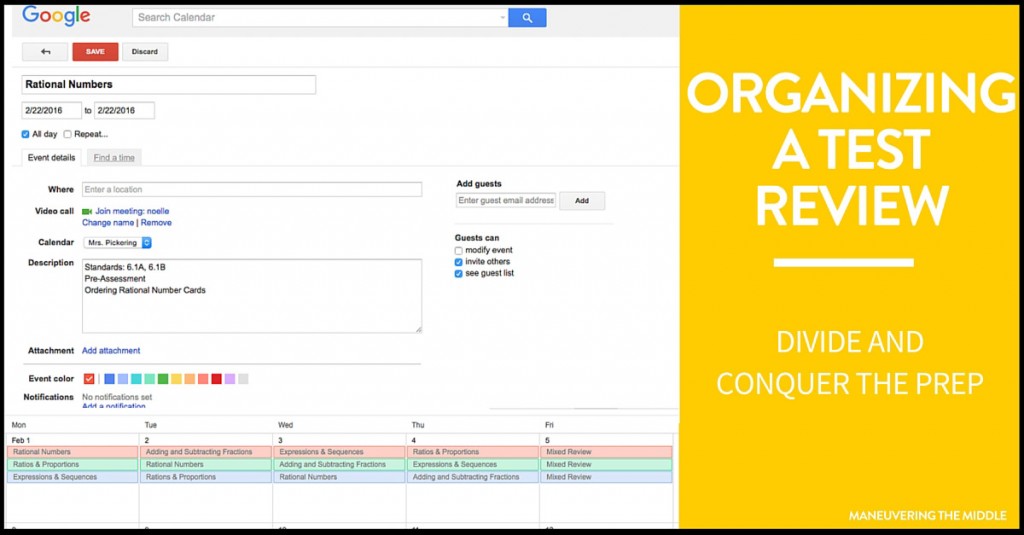 DIVIDE AND CONQUER
Today, I would like to focus on Dividing and Conquering.  The thing about dividing and conquering is that you need a team and you need a common game plan.  These two things alone can be a challenge.  Everyone has their own teaching style, their own preferences, their own specific set of kids with their own needs.  I get that.  I also know if there is any way you can work together (even on just parts of the test prep), then your life is going to be easier.
What is everyone good at?
Considering each team members strengths is essential when planning a review.  Some people are great at making engaging lessons, some are so creative and come up with fun game ideas.  Assign tasks according to what every enjoys creating.  Games, lessons, homework, activities, assessments, copies, there is more than enough to go around.
Assign tasks and due dates
Depending on how much review you are doing, plan to meet to discuss a week at a time.  I would not wait until the Friday before.  I repeat, do not wait until the Friday before.
Meet several times and discuss only a few lessons at a time.  Have copies and materials ready to go, so that everyone can ask questions and truly understand the lessons and activities.
Divide up the cutting and laminating
If you work far enough in advance, I would even suggest utilizing your parent volunteers, or sending an email to parents asking for their help from home.  I always had many parents that would be willing to cut lamination while watching tv in the evenings.  I would send the pages, ziplock baggies, and directions home with their students.  Then, over the next few days, they would be returned to me, cut, bagged and ready for class.
This is a huge help and something I did not take for granted.  Don't be afraid to ask.
Arrange the calendar for sharing
Lastly, if you are working on a team, it is great to arrange the activities in such a way that you only need one class set.  Take turns using the task cards and then pass them to your neighbor.  This keeps prep to a minimum and frees up your time for more important things.  I like to use a Google Calendar and assign each person a color.  Then, plan one teachers review sequence at a time.  For example, Mr. Vines is reviewing dividing fractions, with the corresponding centers and task cards on Monday, Then simply, shift that lesson over to another teacher on the next day.  It is easy to reference and know who to pass your supplies on to.
Like I mentioned in my last post, there is no formula for a perfect review, and even a fabulous review doesn't guarantee every student will ace their test.  But, I hope to provide quick tips and tricks that will make your life easier.