One of the things that brings me joy is when I am able to sit down with a cup of tea and read.  It is cozy, comfortable, and allows me to break away from my daily to-dos.   It is difficult to make time to read for pleasure, it usually gets pushed to the end of my list, or I am too sleepy to concentrate when the day is done.  Anyone else resonate with these thoughts?
The Together Teacher, written my Maia Heyck-Merlin, is a fabulous book written to help teachers plan ahead, get organized, and save time.  As I read through this, I would like share some of the great tips that Maia offers, in hopes that you will be able to implement theses ideas and make your like easier.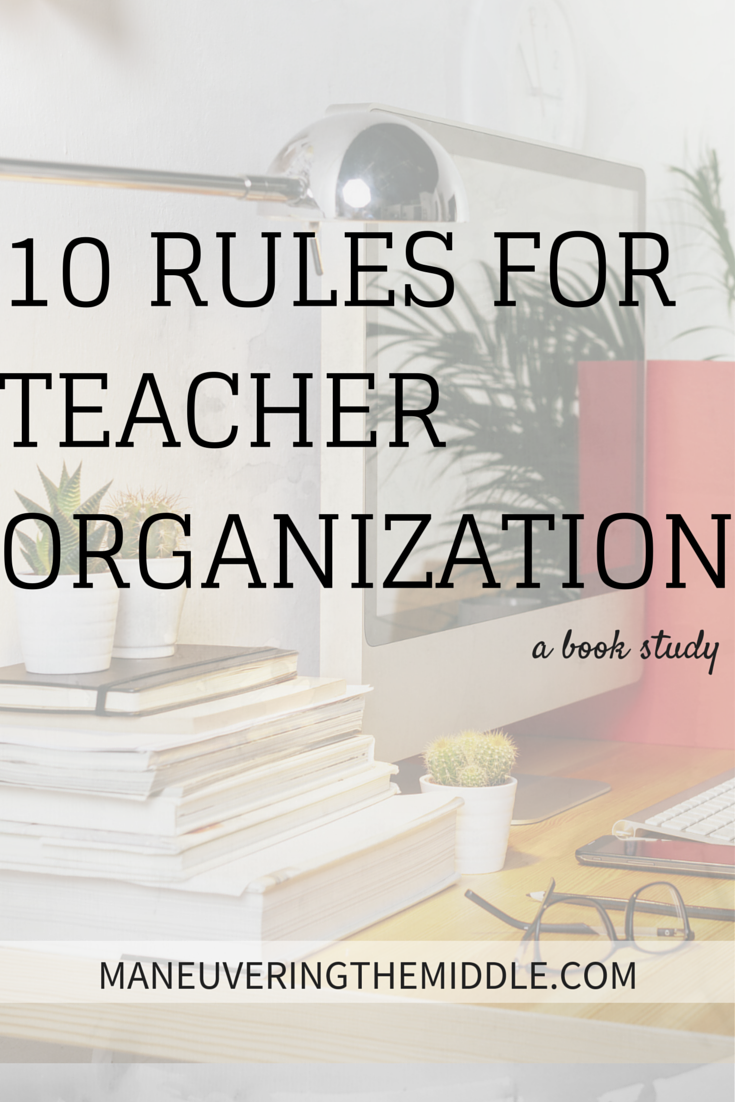 Chapter 1:  Rules Over Tools
This chapter encourages us to adhere to some basic principles that will set us up for success.  The ten rules she sets out for us are ways of life, rather than a specific tool (iCalender, paper planner, etc).  This allows us to set up a system that best works for us, rather than something generic.
Here are the ten rules:
1.     Get everything in one place.
2.     Take it with you.
Maia suggested that you keep your to-do list and calendar with you at all times, whether that be a staff meeting, parent conference, or in your classroom.  I totally agree and can think of many times when I had to get back to someone or scratch a deadline on a scrap of paper.
My best to-do list idea comes in the form of a simple plastic covered composition book.  I would date the top of each page with a day of the week.  Then, as tasks came up, I would assign them to a day to complete.  It helped me to keep everything organized, whether it was an immediate need or something that needed to be attended to later.
3.     Write everything down.
4.     Make it bite-size.
Rather than writing "grade essays", which could take hours on end, break that task into many small items.  Maybe, grade essays from 1st period or alphabetize essays and grade first 10.  Keeping tasks manageable allows you to avoid procrastinating those huge daunting tasks.  Also, if you are like me, you love the feeling of crossing something off your list.
5.     Keep like items with like items.
6.     Create a trigger for what you put away.
7.     Mind your energy levels.
Mia says it best, "Save the smaller, mindless to-dos, such as making charts and posters, for when your brain is fried.  If you know you cannot get anything done right after lunch duty, reserve that time for making copies so that you low-energy time is not entirely wasted.  Do the big stuff, such as lesson planning, unit planning or data analysis, when you are most awake and energetic"
One of the most dreaded tasks (and most postponed) was making answer keys.  It seemed as though I was always rushing to finish an answer key just as my students were walking through the door.  Ugh.  After realizing this was not going to work, I decided to multitask.  Whenever I went to make copies, I would run everything through once, giving me my "answer key" page.  While the rest of the copies were running, I would make my answer keys, rather than staring at the machine or watching the time tick by.
8.     No tool is forever.
9.     Own your schedule.
10.   Pause to plan.
Planning takes time.  Carve out time each week to look over your week and determine what needs to be accomplished.  That might mean breaking goals into smaller tasks or reviewing what is needed for an upcoming meeting.  Doing this allows you to take ownership over your time and avoid unexpected issues.
---
Whew, that's a wrap!  Quite a bit to digest.
Think back to the 10 rules, choose one and begin implementing it immediately.
Share here in the comments, share it with your spouse or friend or colleague.  In 21 days it will become a habit.  Look for more from my The Together Teacher book study each Wednesday or follow my Pinterest board. Next week we will be looking at Chapter 2:  No More Missed Deadlines.
Happy Teaching!