Chapter 3:  Corral the To-Dos
We are in week 3 of our book study on Maia Heyck-Merlin's, The Together Teacher.  If you missed Chapter 1:  Rules over Tools or Chapter 2:  Comprehensive Calendars, be sure to check them out and catch up!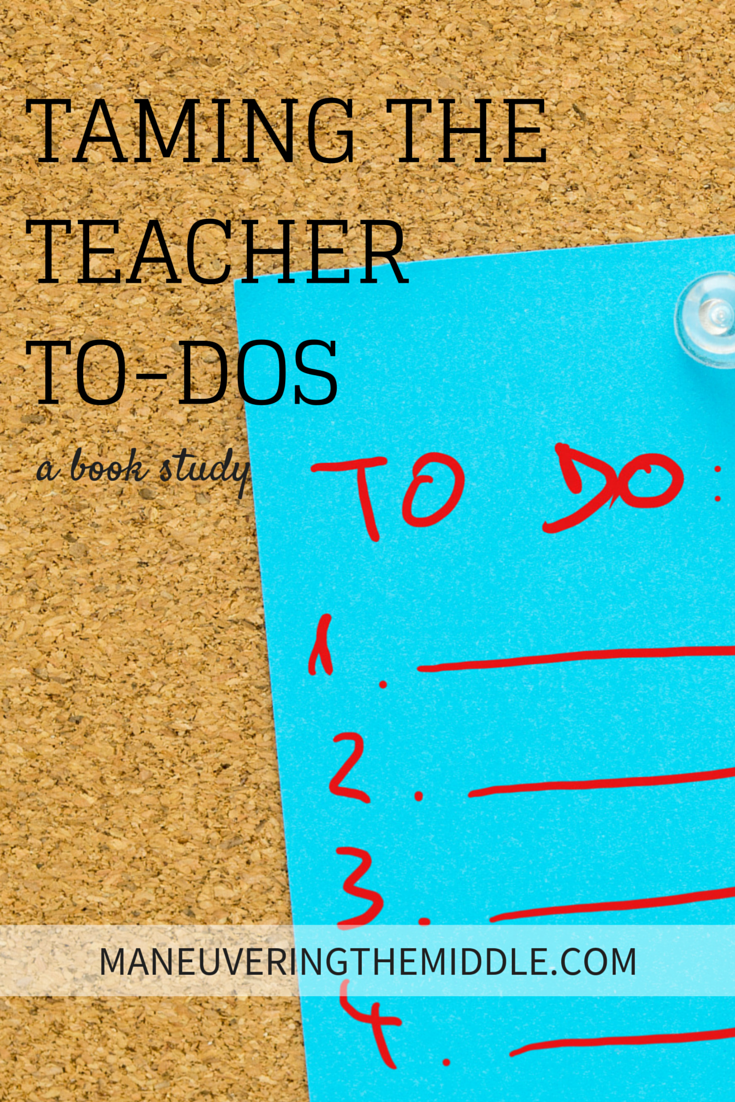 Everyone seems to have some sort of system for to-dos.  Post it notes.  Lists. Planners. Reminders in your phone.  Sheet of paper.  You cross something off or you move it to the next day.  Every once in a while you have an incredible day in which everything is crossed off.  It's kinda like a miracle.
Maia suggests the idea of The Upcoming To-Do List.
As a teacher we have many items that need to be accomplished but aren't pressing enough for the week at hand.  For example, organize math manipulatives.  Sure, that is a great thing to do and if you do that your life will be a bit simpler.  But the reality is, life goes on without manipulatives being organized and so often it will just keep being moved from to-do list to to-do list. 
At different times in my life, I used many of the items listed above and I can totally relate.  Currently, I have "paint living room armoire" on my list.  The reality is that until I can set aside an afternoon, have the supplies ready, and have my husband on baby duty, then this is probably not going to happen.
This is where the Upcoming To-Do List comes in handy.
Maia suggests a simple table with the month listed in each box.  So, in the case of the math manipulatives, it makes most sense to organize those during the summer break or at the very end of the school year.  I could add "organize math manipulatives" to June and not have to think about it until then.
---
I love this concept, but I keep mine organized online.
I have taken a bit of a different approach to make this idea work with my google calendar.  I still take a task and assign it to a month, I simply assign it to the first day of the month.
February 1st looked like this in my calendar:
 

Book Hotel for San Francisco

 

Organize Test Prep Materials

 

Reserve Park for 1st Birthday

 

Organize Dropbox Files
 Plan Out Review Calendar
When I begin looking at February, I simply move those events around to more specific weeks or even days within the month.  You will notice that paint armoire is not on the list, mostly because our weekends are quite busy this month and so I went ahead and moved it to March 1st.
Maia also has a great plan for things that need a longer lead time.  She suggests working backwards from the deadline and assigning to-dos in advance.
I did this often with two common items:  grades due and test prep
Grades Due
I hate submitting grades, it meant getting everything organized in the computer (the easiest part), gathering late and missing work, contacting parents, checking tutoring logs, and more.  My first year teaching I even made the mistake of taking a grade on the last day of the grading period.  Why didn't anyone tell me?????  I will never forget leaving school in tears at 10:30pm knowing I had to be back in 8 short hours.  But, that is neither here nor there.
So, I rectified this situation by working backwards.
Grades due Friday the 27th, great.  Friday the 20th is the last grade that would count in that grading period.  Monday the 16th, I would being announcing to students that late work was due on Friday.  Tuesday, I made parent phone calls and sent an email letting parents know.  By Friday the 24th when I walked out of school, I knew I only had the last few grades to input.  A week early!
Test Prep Planning
For some silly reason, I seem to always have another reason to rewrite my test prep.  I changed grade levels, the standards changed, my students were struggling with concept A and concept B needed less focus.  My Upcoming To-Do List looked like this:
January:  plan test prep calendar, identify standards of focus, create a breakdown of materials and lessons to be written, order supplies
February:  write two lessons per week in order to stay ahead
March:  make copies, organize materials, print and make games
End of March:  begin test prep – everything ready to go, no late nights or fights with the copy machine
Using the Upcoming To-Do List concept has kept me from having to erase and rewrite, but more than that it has lifted some of the weight off of not being able to accomplish everything on my list.  My list is less burdensome and I am equally as productive.
To help keep us organized and start with this simple idea,  I went ahead and created a simple printable to help keep your upcoming to-dos organized.  Download it here.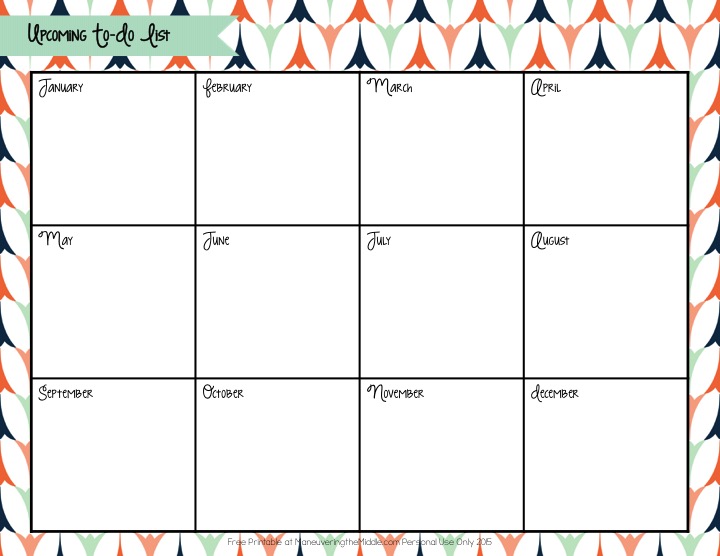 Download the Free Printable above. Also, be sure to subscribe for exclusive freebies.
---
Look for more from my Together Teacher book study each Wednesday or follow my Pinterest board.  Next week, we will be looking at Chapter 4:  Never Forget.
Happy Teaching!