Chapter 4:  Never Forget!
We are in week 4 of our book study on Maia Heyck-Merlin's, The Together Teacher.  If you missed any of the previous chapters be sure to check them out here.
This chapter totally speaks to my heart.  You see, I am a terrible sleeper.  Even this morning I woke up at 4:30am because I was hot and was unable to fall back to sleep.  It's infuriating!  About this time of year, I typically begin waking up early because I am worried about my students.  I am worried about the ones that are really struggling.  I am beginning to feel overwhelmed with all that the spring entails.  Testing season is around the corner.  I have lost patience with so-and-so.  I. Have. A. Great. Idea.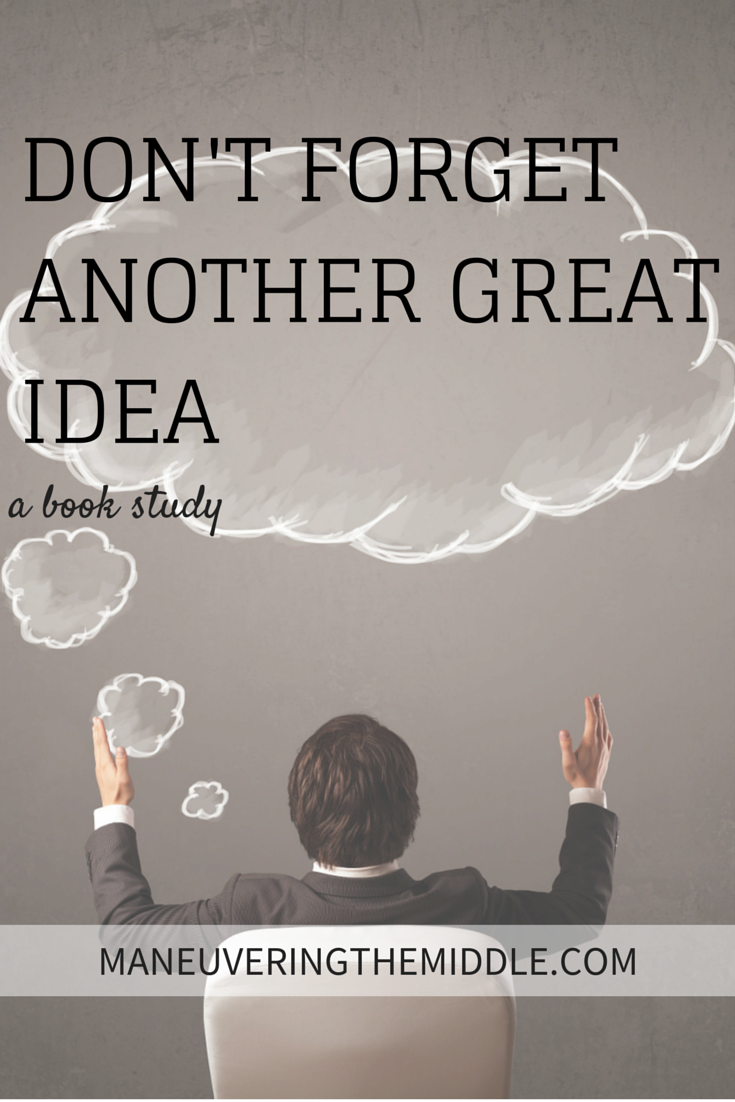 I constantly have these ideas and thoughts coming to me.  The shower.  Drying my hair.  The middle of the night.  Cooking.  Driving.  You name it.
Maia gives this genius idea of having one location where you jot down notes, ideas, concerns, things to discuss for various people/teams.  She calls this a Thought Catcher because it is not cluttering up your to-do list and it keeps everything together.  So, when  you come in contact with that person or the event is coming up, you can refer to your notes.
This would have come in handy in one specific school.  Several years ago, I served as our grade level team leader.  My principal at the time was often in meetings at the admiration building or presenting at conferences, and in general a quite difficult to nail down.  I spent  COUNTLESS conference periods walking down to the front office.  It would go something like this on a Monday:
Me:  "Is Mr. O in?"
Secretary:  "He just stepped out, he should be back in just a minute."
Me:  "I'll wait."
5 minutes later
Me:  "I am going to make some copies, I will come back in a few minutes."
10 mins later
Secretary:  "He is on a phone call right now.  Why don't you come back during lunch?"
Repeat at lunch.  Repeat on Tuesday.  Wednesday off campus at meetings. By Thursday I had forgotten what I needed.  
Types of Thought Catchers:
People you interact with regularly:  Assistant Principal, Counselor, Department Head, Co-Teacher, Co-Sponsor, Instructional Coach, School Secretary, Athletic Coach
Groups:  Department, Grade Level, Team, Extra Curricular
Future Ideas:  field trip, weekly parent communication, end of the year party, open house
Personal:  gift ideas for spouse, phone calls to make
Maia suggests 4 Key Components of Thought Catchers:
 

Must not be time sensitive:  if not you would put it on your caledar or upcoming to do list
Must have a trigger:  department or team meeting, weekly email newsletter, or idea of reviewing it at the end of the week
Choose a thought catcher over email:  jot it down and speak in person if at all possible, more likely to get a response than an email
Take advantage of extra minutes in each day:  arriving early to a parent teacher conference review your thought catcher and discuss issues with counselor
If I had a Thought Catcher, it would have looked something like this:
Rhonda (department head and person I planned with the most)

upcoming unit plans
clickers and mobi order
moving students out of intervention

Parent Weekly Email

progress report reminder
field trip permission slips
upcoming unit of study
tutorial hours – change

Mr. O and/or Sherry (principal and/or his secretary)

team meeting notes
end of the school year party
benchmark data
requirements for students to move out of intervention
If I only knew then, what I know now.
Look for more from my Together Teacher book study each Wednesday or follow my Pinterest board.  Next week, we will be looking at Chapter 5:  Beware of the Notebook Vortex.
Happy Teaching!