Our profession is not for the weary.  I remember being newly married and in my third year of teaching.  Some days I would come home so upset or discouraged and I would try to explain to my husband what happened.
So-and-so said this to so-and-so in first period and I had to address it.
My projector bulb went out in fifth period.
There was a visitor at the staff meeting and so it lasted forever.
So-and-so was supposed to stay for tutorials, but they didn't and they are behind from being sick for a week.
When I asked them to do _______, they did ________ instead.
The. Copier. Was. Down.
Every teacher can relate.
He didn't seem to understand.  He would always ask if that was it, was there more.  I started to feel like I was whinny and my problems were small.  And they were.  But, what I realized was how easily my mood was determined by my students (their behavior, their ability to understand the material, did they complete their homework, was so-and-so absent, did I have to ask them to stop _____).
He reminded me that I so easily would focus on the things that went wrong and not focus on the things that went well.  He would say "Ninety-nine percent of your kids love you, but you only want to think about the one percent who give you trouble".  The one percent.
This may resonate with you.  Are you focused on the one percent?  Are you focused on the things that go wrong, rather than the things going well?
#thoughtfulthursdays is a way to slow down, to remember what it is we do as educators, to focus on the things going well and the impact we make each day.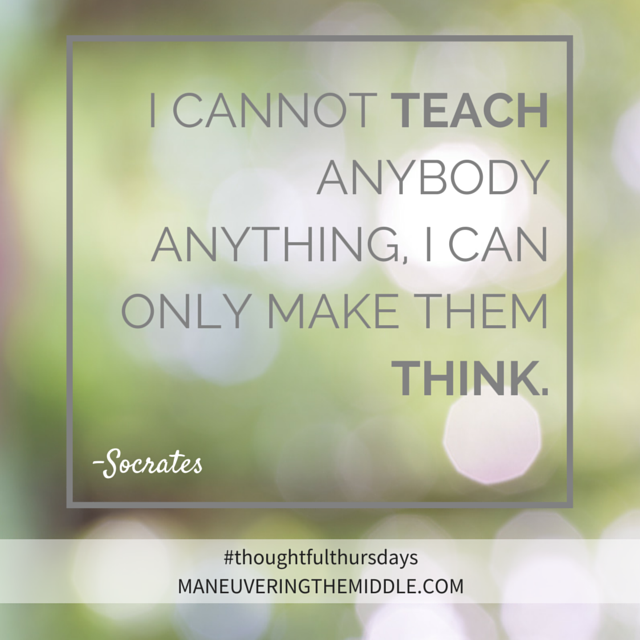 ---
Check back each Thursday for a thought provoking quote to keep you on track.  Also, follow me on Instagram and  #thoughtfulthursdays.  Tag a friend to send them some inspiration for the day.
Follow me on Pinterest for more inspiration on my #thoughtfulthursdays board.
---