Imagine spending your conference actually getting ready for class.  Or maybe getting some real work accomplished.  Imagine being able to grade papers at school.  Must be a dream, right?  Math teachers know how time consuming it is you plan a lesson and that is why I have developed a 6th grade math curriculum bundle.
Planning is such an integral part of the teaching process.  A part that is often overlooked by those outside of the profession.  Many teachers have out of date textbooks (if they are lucky), old curriculum that isn't aligned to the new standards, or a few sparse resources put together by overworked curriculum writers.
What if you could be finished with 2015-2016 planning?  What if the activities were already ready to go?  What if you weren't spending time finding an aligned homework assignment?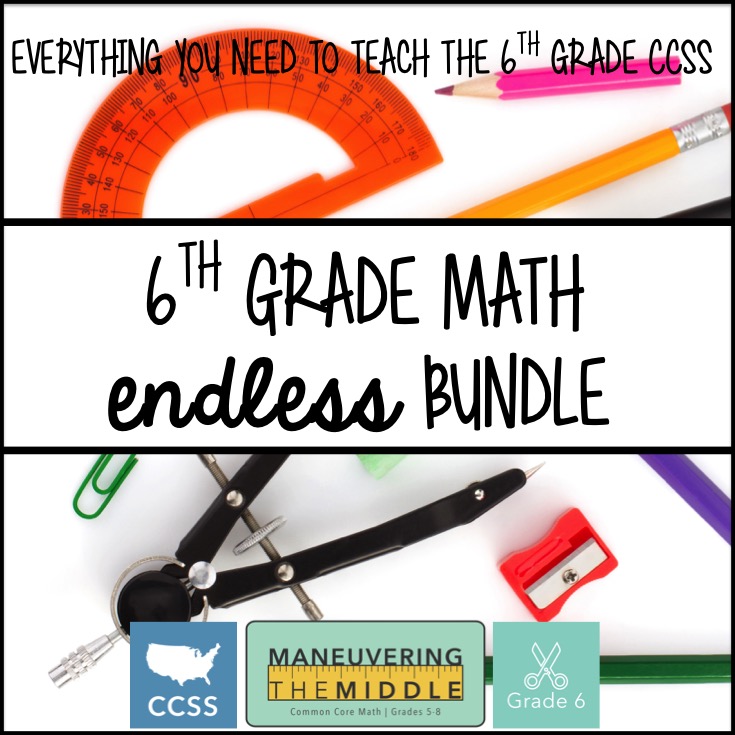 6th Grade Math Curriculum
Endless Bundle
Every time there is something added to my store that is aligned to 6th grade CCSS – the bundle gets updated. That means that once you buy it, you are going to receive the future items without any additional costs.
Schedule for Unit Release
This is growing in the sense that not all items are ready to go in the bundle, many are a work in progress.
As of February 2016, the curriculum units are complete.  All ten units have been finished and are available for immediate download.  There will still be great new things updated regularly including activities, flip books, vocabulary resources, and more.
What is included for each unit?
Sample pacing guide
Notes
Homework
Quizzes
Unit Study Guides
Unit Assessments
Answer Key
What about activities?
Check! They are there too!
Each unit will have a minimum of 6 activities to choose from.  The number will depend on the length and depth of each unit.
Anything else?
Yup!  It wouldn't be complete without my best selling WARM UPS, Test Prep Bundle, and a few other goodies to help your planning.