Maneuvering Math Implementation training
One-hour PD
How to Start Using Maneuvering Math™ in Your Classroom
Depending on your students' familiarity with small groups and the existing routines of your classroom, you may need to alter this recommendation.  You know your students best! We just want to provide a guide for getting started in six different phases and for how you can utilize these resources in your classroom.  
Please download Getting Started with Maneuvering Math if you would like support and ideas for implementing all three components in a successful manner.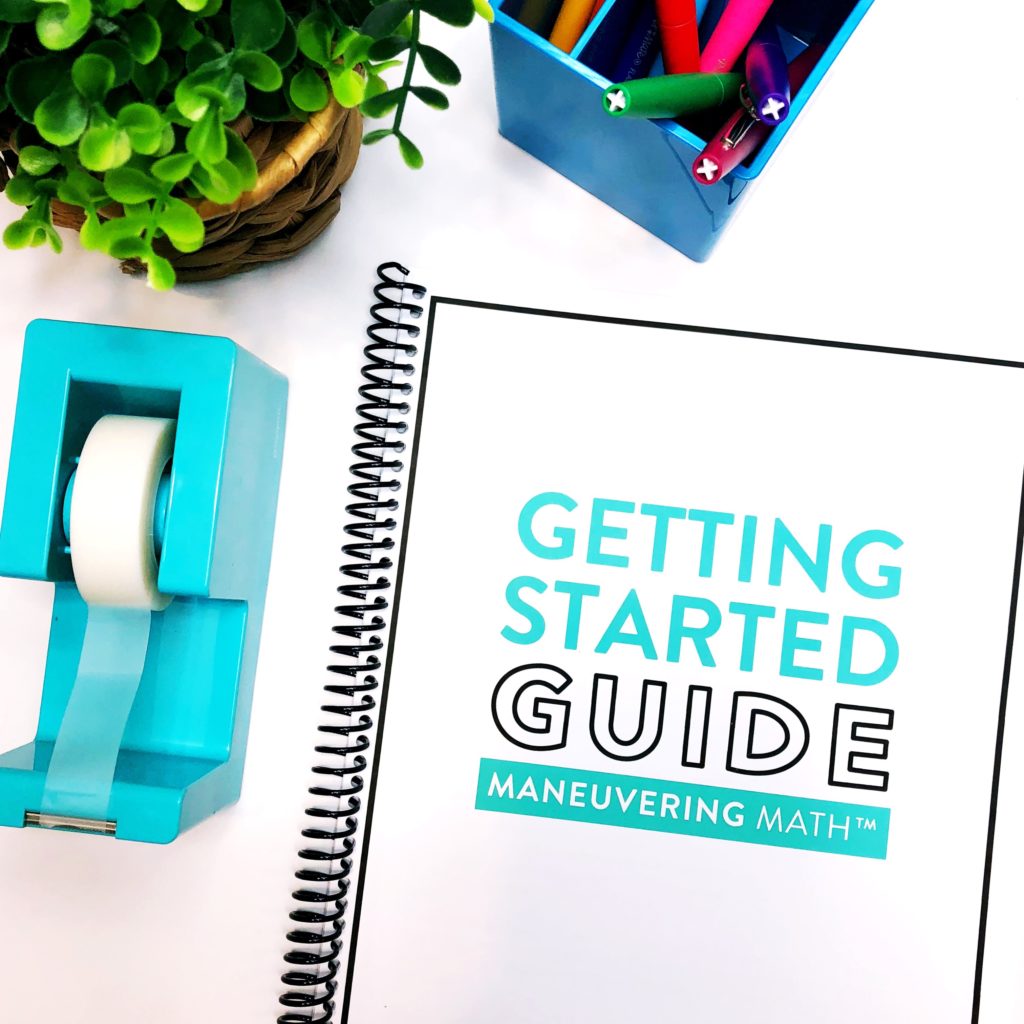 Set Up and Tools
In order to ensure that you are able to get the most out of Maneuvering Math™, we wanted to walk you through the set-up process.  Below you will find various suggestions and options. Please take the time to read the ideas and then determine which best fits your teaching style and organizational needs.   
We suggest opening two tabs on your internet browser.  One to this page for reference and another to the individual components, so that you can easily print the necessary materials.
Teacher Binder
Your Maneuvering Math™ teacher binder will be essential in keeping everything organized and in one place.  If you plan on taking this binder with you throughout the school or classroom, then you may consider keeping student documentation in a more secure place.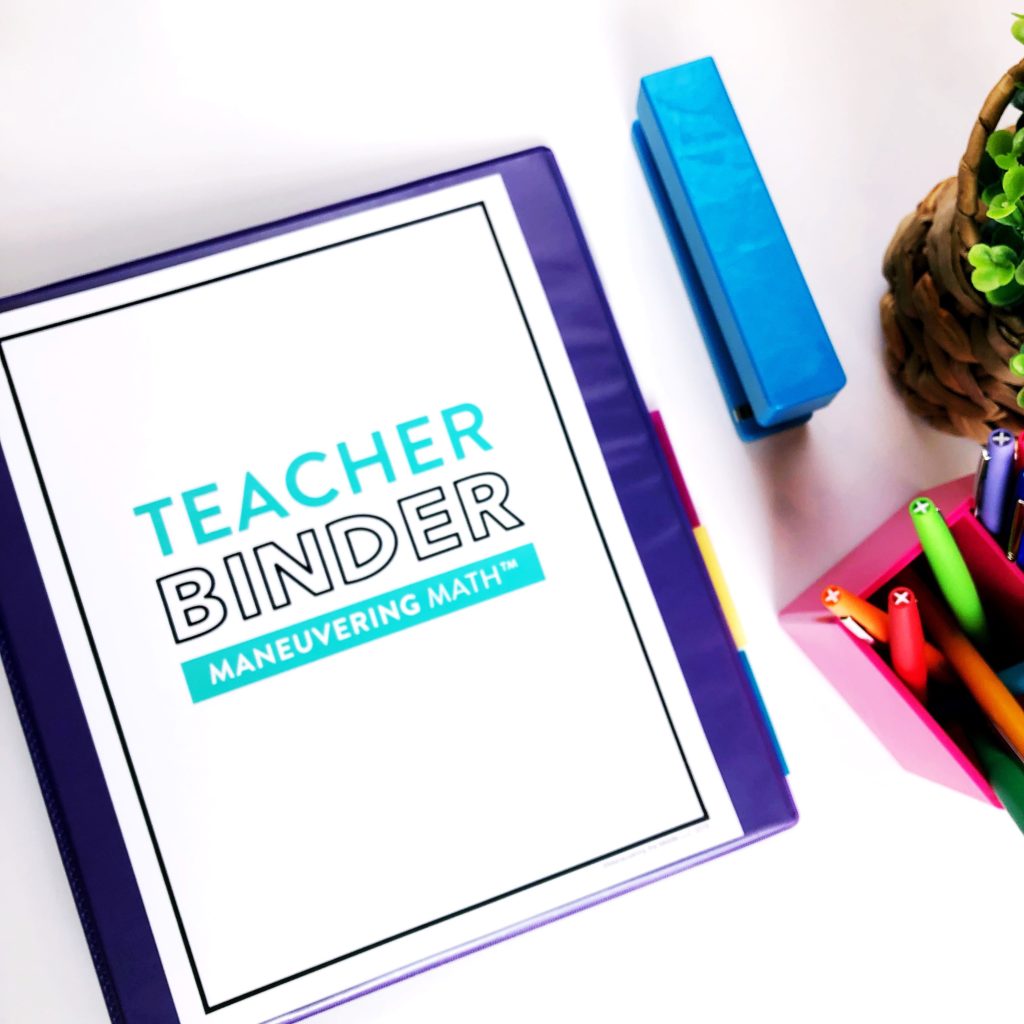 Supplies:
2 inch binder

5 tab dividers
Set Up:
Label  your dividers as follows:
Tab #1: Student skills checklist 

Tab #2: Student progress notes

Tab #3: Small group mats

Tab #4: Small group answer keys

Tab #5: Miscellaneous
Print the following pages and place them in the binder behind the corresponding tabs.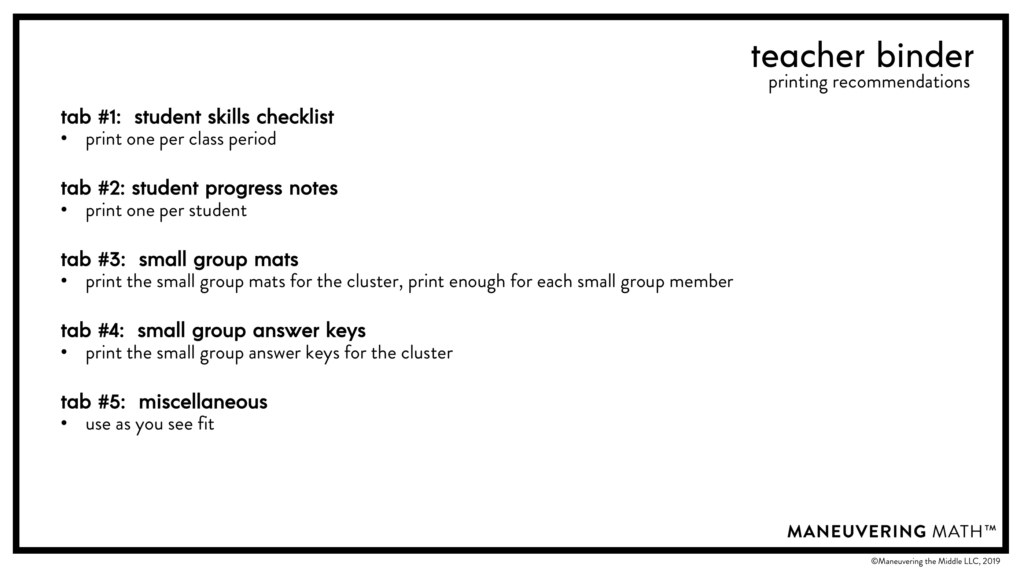 Number Sense Notebook
Each student will need their own copy of the Number Sense Notebook.  Depending on your school resources, you might consider the two options below.
Option 1: Folders with brads
The least expensive and most accessible option is a plastic folder with brads.  These can easily be obtained at Target or Wal-Mart and are more durable than traditional pocket folders.  Print off roughly 20 of the number sense notebook pages, hole punch them, and have students place them in the brads.  The pages will need to be collected and refilled as the year continues. 
Option 2: Spiral binding
If you have access to a binding machine, consider printing each student a copy of the Number Sense Notebook and binding it together.  This will keep all of the pages together and prevent you from having to make copies throughout the year. Consider keeping this in your classroom in a safe place, so that students always have the resource.
Small Group Instruction
The small group instruction component does require a bit of prep.  Consider the following options for preparing your small group cards and mats.  We recommend printing the answer keys and placing them in your teacher binder (see above).

Mats
Dry erase pockets
On Amazon or at Target, you will be able to find a set of dry erase pockets.  At minimum, you will need the same number of dry erase pockets as students in the small group.  I suggest these because they are easy to swap out and erase easily.
Lamination
Lamination is more time consuming and also doesn't erase as well.  If you decide to go this route, then consider using wet erase (visa via) pens as they erase on lamination a little easier (though messier).
Cards
Before preparing your cards, I would suggest determining a color coding system that works for you, so that each level of cards is easily distinguishable.  In the event this isn't an option, we have used an icon to represent the level of each card.
If possible, consider laminating the cards for long-term use.
Rings
Each set of cards can be placed on a ring.  These rings are easily available on Amazon, at Wal-Mart, or at a craft store.  For storage, the rings can be placed in a gallon-sized baggie or small storage container.  You will need 62 rings.
Task Cards Boxes
Some teachers prefer to use the craft boxes that are commonly found at Michaels.  These are nice because multiple sets of cards can be out and you can easily label the box. This is a slightly more expensive option, but sometimes the boxes can be found as low as $15 each.  You will need 62 small boxes.