Anyone who teaches middle schoolers is probably familiar with the question, "When are we going to use this?"  It's something about being 12-years -old that produces this ever-growing need to know.  And we all know that good teaching practices include making real-world connections.  Even many of the standards add that phrase.  The truth of the matter is that sometimes those real-life connections can seem a bit contrived.  Thus, Scholastic Magazines for middle school make perfect sense!
---
Read more to find out how to enter to win a Scholastic Magazine classroom subscription to the magazine of your choice for the 2017/18 school year!   Update:  The winner is Nancy S.  Thanks so much for participating!
---
Scholastic Magazines for Middle School
At the end of the summer, Scholastic generously offered a full year magazine subscription to one of my readers.  It was incredible to see the interest in the classroom subscriptions, as well as to see how many readers have used the magazines in the past.  Many commented that students were engaged and enjoyed the real-world connection.  From firsthand experience, I have seen students read about current events and ask questions about what is going on in the news, which, for a 12-year-old, is pretty awesome!
To Which Content Areas Does This Apply?
I think most teachers are surprised to hear that Scholastic Magazines not only cover all content areas but that they also have resources for middle school.
Scholastic Choices
There are two unique magazines that I can see having great benefit in middle school.  The first of these is Scholastic Choices, which is a health, social-emotional learning, and life skills magazine for teens.  Middle school students are facing more and more pressure, stress, and social situations that they are not necessarily well equipped to handle.
As teachers, we teach the whole student, not just the curriculum.  Oftentimes, this means addressing character – from treating others with kindness, to stepping away from situations, to managing time and responsibilities.
The Scholastic Choices magazine is a great way to introduce these hard topics in an empowering way.  I see this being beneficial in an advisory/homeroom period to provide a balance to academics.
Scholastic Action
My ELA counterparts would often struggle to find reading material for lower-level readers.  The text was either too young-looking or written at too high of a level, or it was just plain boring.  Scholastic Action is the second magazine that I think has a great benefit for middle school, and it is a great solution for engaging struggling readers.  This would be a great way to differentiate for English Language Learners, as well.
Print Features
When your Scholastic Magazines arrive on campus, they will be delivered straight to your classroom as a class set of magazines and a teacher's guide.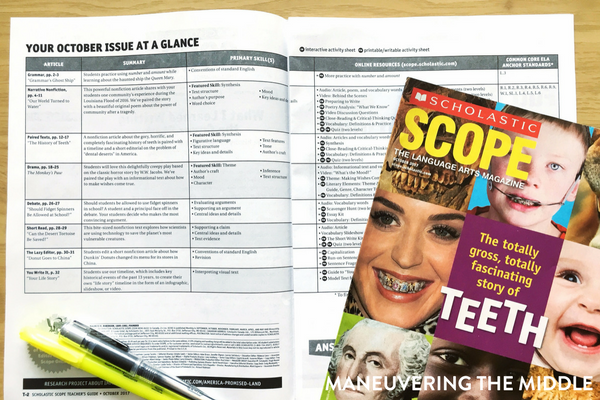 The teacher's guide provides alignment to standards, guiding questions, and even shows you the online resources that correspond with each article.  I love how Scholastic Scope provides a Lexile reading level, essential questions, and learning objectives.  Who doesn't love a well-thought-out lesson that is ready to go?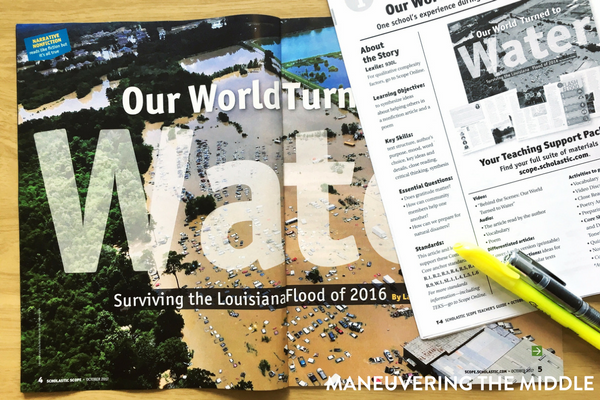 Online Features
When I learned that Scholastic offers online features, I was super impressed!  It seems like a hidden gem that is a great toolbox from which to pull ideas and resources.
Back Issues – I love how the online resource provides backdated articles! It acts as a library of resources that are then organized by topic/standard.
Videos – There are highly engaging videos that could act as a hook or even as a discussion starter.
Online Articles – If your classroom is 1:1, or if you are looking for ways to incorporate technology, then the articles are available in a digital format, where students can open the magazine view and see everything on their screen. The features even include annotations, like highlighting and adding notes.  I totally see this working as a whole-class discussion, as well!
Skill Sheets – In the math library, there are quick one-page skill sheets that correspond with topics. I see this being a great resource for parents and students at home.
Ideas for Using Scholastic Magazines
1. Homeroom
I already talked about this a bit, but homeroom can be a struggle. Sometimes it is intended to be a study hall; sometimes it becomes just a time for students to socialize. More often than not, if you don't have a plan for homeroom, then you are going to be up a creek by October.  Scholastic Magazines can provide an engaging alternative to homeroom.
2. Lesson Hooks
In math it can be difficult to find super relevant hooks/videos that show how the math that students are learning is applied later. I really love how Scholastic MATH has brought that to life.  In a recent issue, they discussed rate and speed of a zip line – talk about creative!
3. Informational Text
This week I was chatting with my friend Kristen about all the incredible things she is doing in her classroom. Because, when teachers get together, it's inevitable.  One of the things she mentioned was her team's desire to incorporate more and more non-fiction texts.  It can be challenging to find non-fiction texts that are on the right level and that are interesting.  I love that each issue provides students that opportunity to engage with non-fiction text.
Hopefully, this gave you a good idea of what to expect from a Scholastic Magazines subscription.  I would love to hear from those of you who have benefited from using them in your classroom.
---
Scholastic has generously offered another classroom subscription to one of our readers.  Simply comment below sharing an idea for how you might utilize the magazine in your classroom.  Update:  The winner is Nancy S.  Thanks so much for participating!   You can still sign up here to receive a free 30 day trial for the Choices magazine!