Kahoot, Quizizz, Quizlet… Have you tried them all?  When the weather turns nicer and your students are dreaming of summertime, their attention starts to wane. Whew, it is hard to keep students engaged! It is the perfect time to introduce something new into your classroom. One of my favorite new games to play in class is Gimkit!
Gimkit was created by a high school student for students. Using multiple choice questions, students have to answer correctly to make money. With the money they make, they can spend it on power-ups and upgrades to make them the dominant player in the class.
---
GimKIt has generously offered readers a discount on the premium account. Please read to the end for more details. 
---
GIMKIT: UP YOUR STUDENT ENGAGEMENT

SETTING UP GIMKIT FOR YOUR CLASS
To get started with Gimkit, you will need to set up an account. There is a free version and a paid version.
Free account:
You have access to five free kits and all core features. Unlike other paid subscriptions, this is not a 14-day or 30-day free trial. You can access your five free kits at any time!
Premium account:
You have access to unlimited kits and all core features. You can choose to pay monthly or be billed annually, and they also have a bulk discount option for an entire campus.
To create a kit, you can choose to make one from scratch, or you can import from Quizlet or a CSV file. When you create a kit from scratch, you can upload an image to go along with your question.
If you don't want to reinvent the wheel, Gimkit makes it very easy to import the questions and answers that are already in Quizlet. You can also search for Quizlets from other teachers and import a premade Quizlet! Once you have made your questions or imported from Quizlet or a CVS file, add a fun .gif for your title page, and your kit is created!

PLAYING GIMKIT
Students have to answer the questions correctly to earn "money."  Each right answer equals $1 in their bank. As the students answer more and more questions, their money starts to accumulate.
They can spend their money in the shop on power ups and upgrades.  The upgrades help multiply their money at a faster rate, while the power ups can be used to slow down other players.
To be successful at this game, not only does the student need to answer the questions correctly, but they also need to multiply their money as quickly as possible.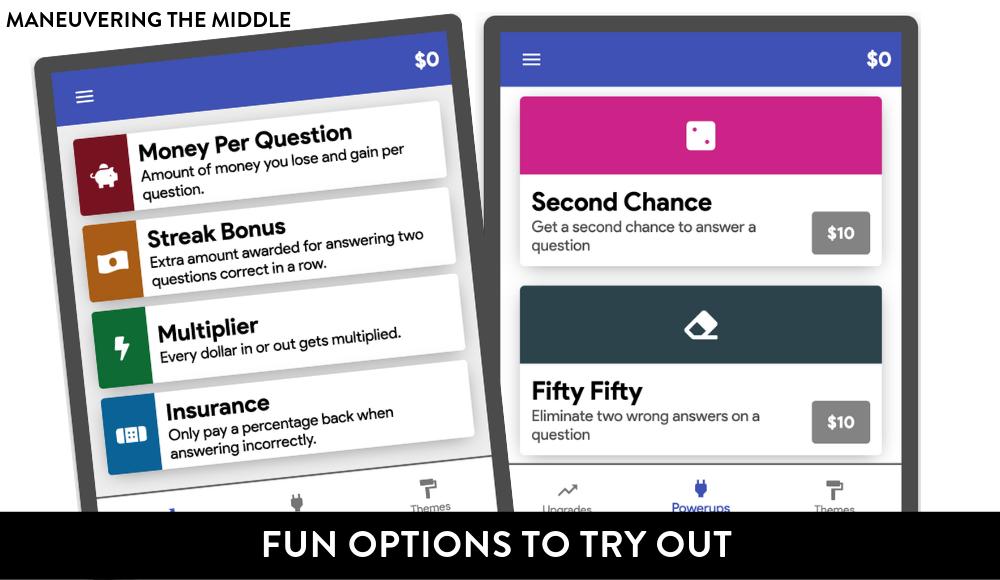 VARIATIONS OF THE GAME
What I love about Gimkit is that you can set parameters to meet your needs.
If you only have 10 minutes to play?  No problem! Create a time limit on the game.

Have the class to work together!  Create a class goal to reach a certain amount of "money."

Have the students compete against one another and race to make the most money!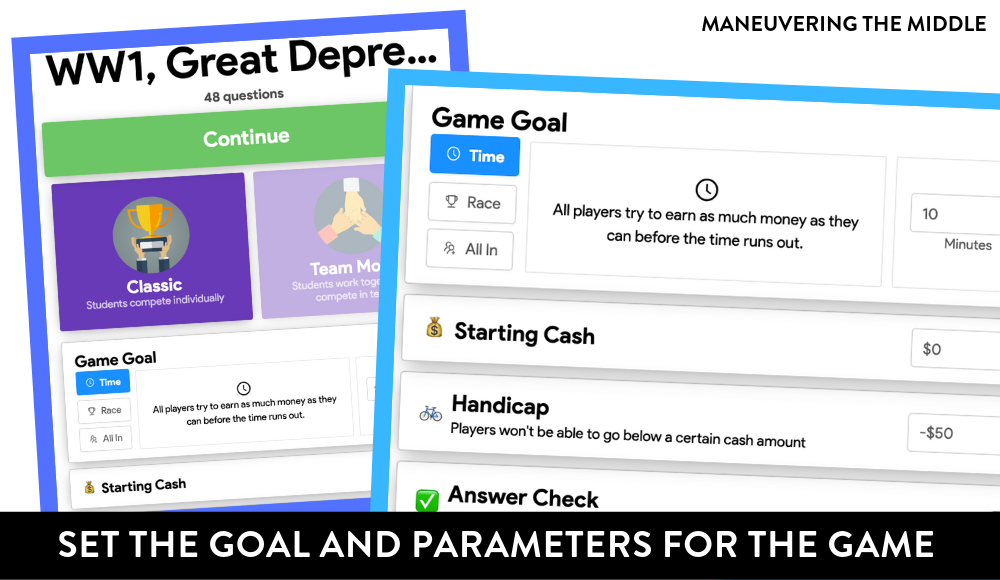 FUN TIPS with Gimkit
You can give students money to start with so they can spend it at the shop right away. Or, you can have them earn every dollar they need!  I typically give the students $50 starting cash and watch those numbers grow as they gain upgrades and answer questions correctly.

Try starting the game with $1,000 cash.  It's fun to see how high the students can get that number!  One of my students reached one million dollars after 15 minutes!

Play the game in Team Mode.  Students have to work together as a team to accumulate money.

Play with your students! They will love to see your name on the board as you earn and spend money.  It's not as easy as you think to get first place!

Set up a class in Gimkit and assign it for homework.  Students will be able to study at home on their own time as many times as they need!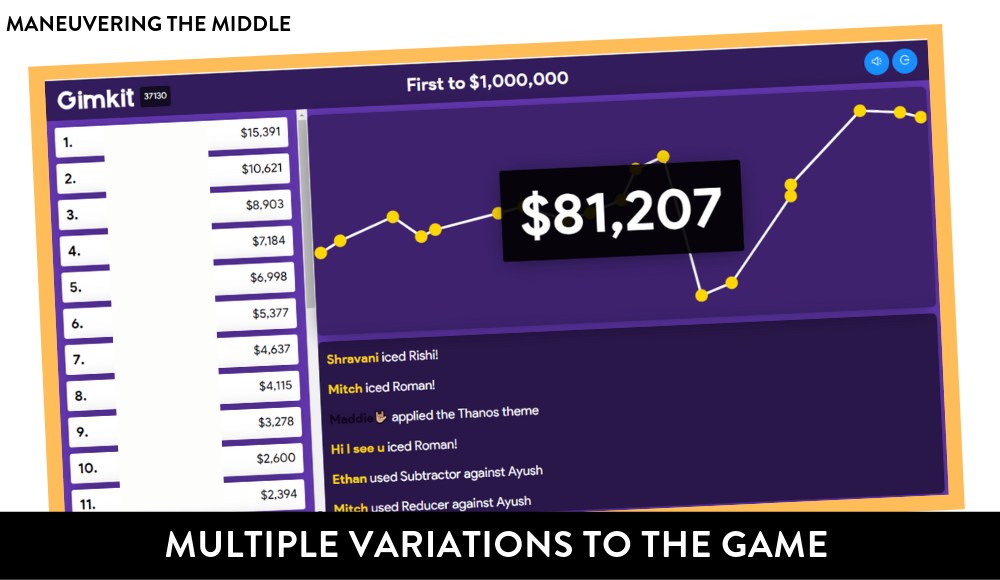 Instead of dreaming of summer, your students will love to play Gimkit!  Give it a try and turn your classroom into a fun game show review game!  
We reached out to Gimkit and they graciously offered a 10% discount on a premium account. In order to take advantage of the discount:
Sign up for a free account
Email hello@

gimkit

.com with the code MIDDLE in subject line
Upgrade after discount has been applied
Samantha Cast has her masters in Digital Learning and is a Texas History teacher.  As a digital enthusiast, she is always finding new ways to incorporate Ed Tech into her classroom.  You can find her on Twitter at @mrscast.