Word walls contribute function, beauty, and support students' acquisition of math content. What is not to love?!
Let's chat about why every math classroom can benefit from a word wall. You can also read more tips about implementing a word wall here.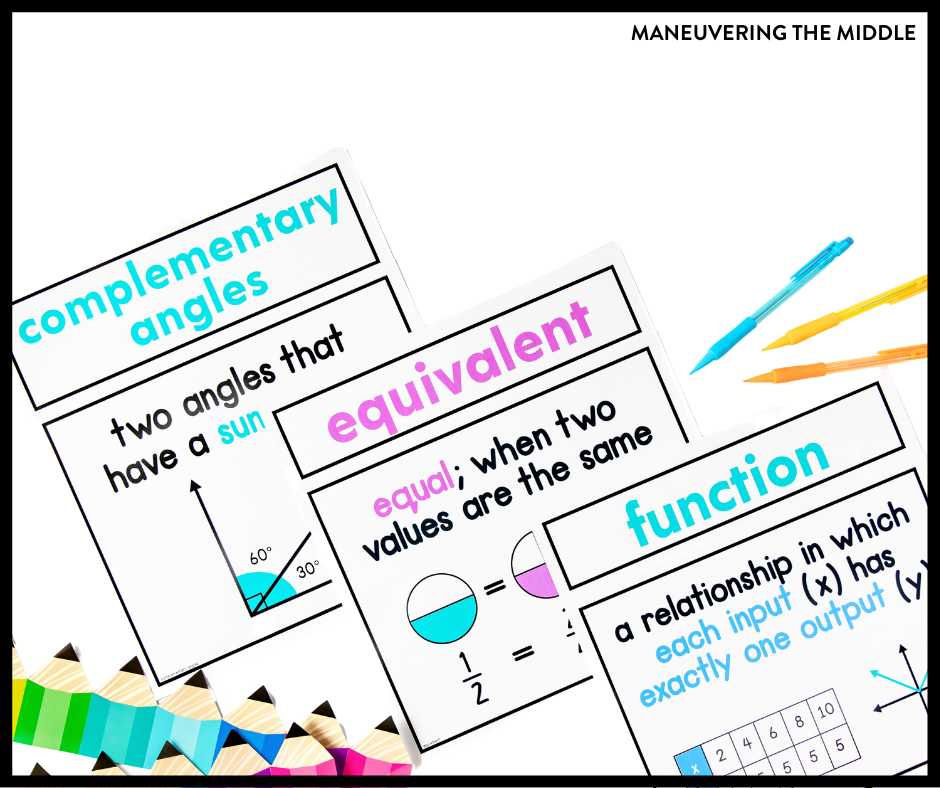 What are the benefits of a math word wall?
1. BUILD A COMMON VOCABULARY BANK
Word walls are a necessity for math. In middle school, each unit introduces (on average) around 5 new vocabulary terms. If new terms are necessary for success in a unit, then your students better know them!
What better way for students to internalize these words than to see them, reference them, and then use them? A word wall makes this process accessible.
When you have trained your students to find new or unfamiliar words on the word wall, then you are setting them up to use their resources and promote independent thinking.
For the most useful word wall, include the term, the definition, and a visual. It is inevitable that your students will need the occasional brain break and may need to stare off; if that is the case, I find it a good use of time if they can be staring at math words. You can read more about math vocabulary here.
2. SUPPORT BILINGUAL STUDENTS
All students benefit from easy access to frequently used words, their definition, and an image, but for bilingual students, it can be especially helpful! Word walls provide a visual aid for students who are learning English.
For your Spanish speaking students, our new Middle School Math Word Wall Resource includes the Spanish term and Spanish definition to support your bilingual students even more!
3. INTRODUCE NEW TERMS AND REVIEW PREVIOUSLY LEARNED WORDS
Update 7/28/2023: Maneuvering the Middle now has a Middle School Math + Algebra 1 Word Wall.
As you can see in the video below, our Word Wall includes 190 essential math terms, their clear-cut definitions, and their visual representations.
We've included Spanish translations for all terms and definitions, ensuring a supportive and accessible learning experience for English Language Learners.
They were designed to be minimal prep and flexible to customize the formatting to suit your students' unique needs.
That is a copious amount of words for students to know and use, which makes a word wall even more necessary. While they may only learn around 50 new words each year in math, they also will need to access words from previous grade levels.
While students may be introduced to the term "product" in elementary school, that term will continue to appear in later grades. This is also true of words like equivalent, volume, area, difference, expression, and well, so on and so on. Math vocabulary terms continue from elementary to high school because math builds with each subsequent year.
TIP: Don't start the year with a complete word wall. Either add to your word wall as the vocabulary term is introduced or display terms unit by unit.
The phrase "out of sight, out of mind" rings true. When students don't see something every day, they tend to forget it. How does your classroom benefit from a word wall?