At my school, word walls are mandatory, even the PE space has a word wall!  At first it can seem that a word wall is more like a decoration, but overtime I have come to love my word wall!  I especially love when students use the word wall!  Here are a few tips I have for maintaining a word wall and getting use out of it in my middle school math classroom.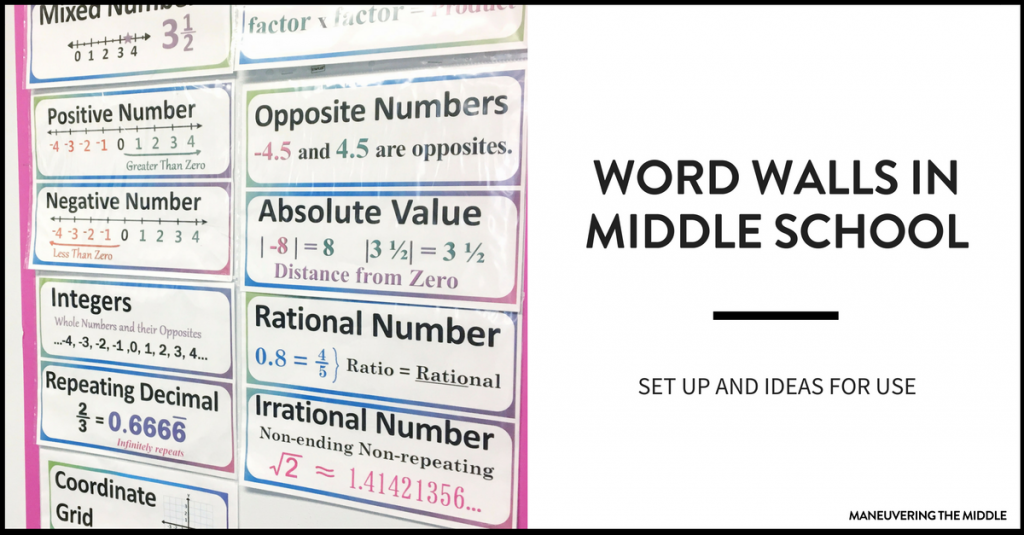 Using a Word Wall in Middle School
1. Structuring Your Word Wall
Yes, the word alone is helpful, but ultimately, your word wall should include at least an image or an example that can be connected back to the word.  Sometimes, a definition is not necessary.  This might sound obvious, but if students are relying on the Word Wall daily or weekly, the text should be visible from across the room, and should be in a place where a majority of students can see it.  I have many English Language Learners in my classes, so word walls are especially helpful for them.  Some of my fellow teachers even use the Spanish translation as additional leverage for students.
I like my words to stay up all year as we learn and review the words.  This helps students to use academic vocabulary and make connections between the different units.  I love when a student can see how a proportional relationship and a linear equation are connected!  In the beginning of the year, I only have the categories posted at the top of the wall.  I then include the words and as each unit ends, I move on to the next category of words.  We start my favorite unit in a couple of weeks- Algebra!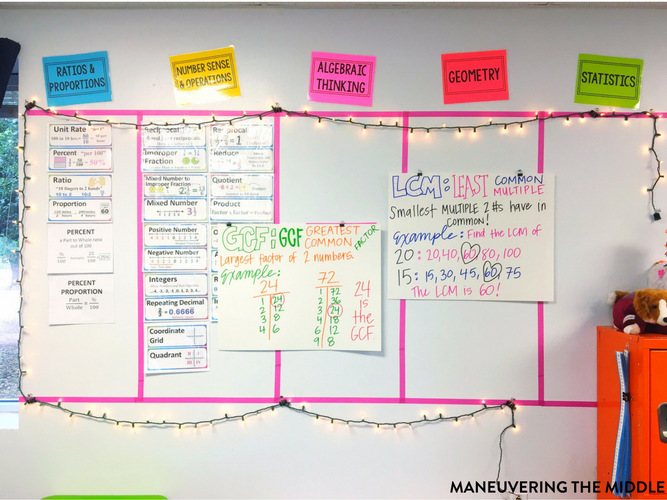 2. WAYS TO USE
Word walls look great and all, but ultimately, they should be used if you are going to devote wall space to them. This means that students need to be aware of its existence and its usefulness.  To do this,  I incentivize using academic language by giving classroom dollars to students who use the vocabulary correctly when answering a question or explaining an answer.  When students are about to begin practicing a new skill, I ask students to point to the word that will help them if I am unavailable.  During mad minute exercises, I include vocabulary that they can provide a definition with one word (example: product=multiply).  If they don't know it, they can take an extra second to look up at the word wall.  
Flyswatter Game
If you want students to get familiar with your word wall, use the Flyswatter Game.  This is a very engaging review game. If you are like me and don't bother to cover up anything in your room before a test, this will help remind students where to look when they are stuck.  Two students face off with flyswatters in hand.  You give them a prompting such as "2, 4, 6, 8" are examples of ______" And the first student to swat the word 'multiples' earns their team a point.
Non-Content Words
Word walls do not have to be specific to your content area.  I have character words like tenacity, curiosity, courage, and community on my walls too.  These are our school values, and it is important that these words are referenced by students and me daily.
Flashlight Game
This game is great for those last few minutes of class as a sponge activity.  Turn off the lights and use a flashlight to point to a word on the wall.  Students can then shout out an example, the definition, or even a counter-example.  You could do best two out of three girls against boys or even just keep a running tally throughout the week.
3. Making a Word Wall
Knowing that teachers have more to do than hours in the day, creating the word posters is a task easily assigned to students who finish early or in your homeroom class or those students who love to ask how they can help.   After a unit test, I would have early finishers complete this as an activity for the next unit.  I would give the word/definition/example/picture that I wanted them to use, and choose the best ones to go on the wall. There are also lots of resources on Pinterest or TPT to choose from.  Mine are from this store. I keep mine displayed in page protectors and when they are not in use, they live in a binder divided into categories.  This is super helpful at the end of the year when I need to take them all down.  
For all of the other content areas out there, I have included a few ideas below.
Science

 
There are more details about it in this great little article by Julie Jackson and Rose Narvaez, called "Interactive Word Walls".   
ELA
My fellow teacher uses Mondays to introduce new vocabulary for the week.  Students then complete Frayer models for homework.
At first a word wall might seem excessive or more like an "extra" thing to do, but now that I have seen how my students use them, I am sold!  How do you use your word wall in your middle school classroom?