Incentives for middle school are vital for your classroom! In the early months of my first year of teaching, class periods competed for points that were awarded based on seamless transitions, highest test averages, and being on task. While my students were working on earning points, I had learned that the cupcake reward was not feasible due to a school policy. *Cue palm to forehead*
Sidenote: Before implementing any incentive system in your classroom, make sure to approve everything with your administration and grade level team.
While my reward didn't quite work out quite like I had hoped, I hope that this list of incentives and rewards that middle school students will enjoy and work extra hard to earn will help you out!
And while I have you, check out this Kindness Challenge I implemented with my sixth grade students. You can use this method to motivate your students to earn one of the rewards below.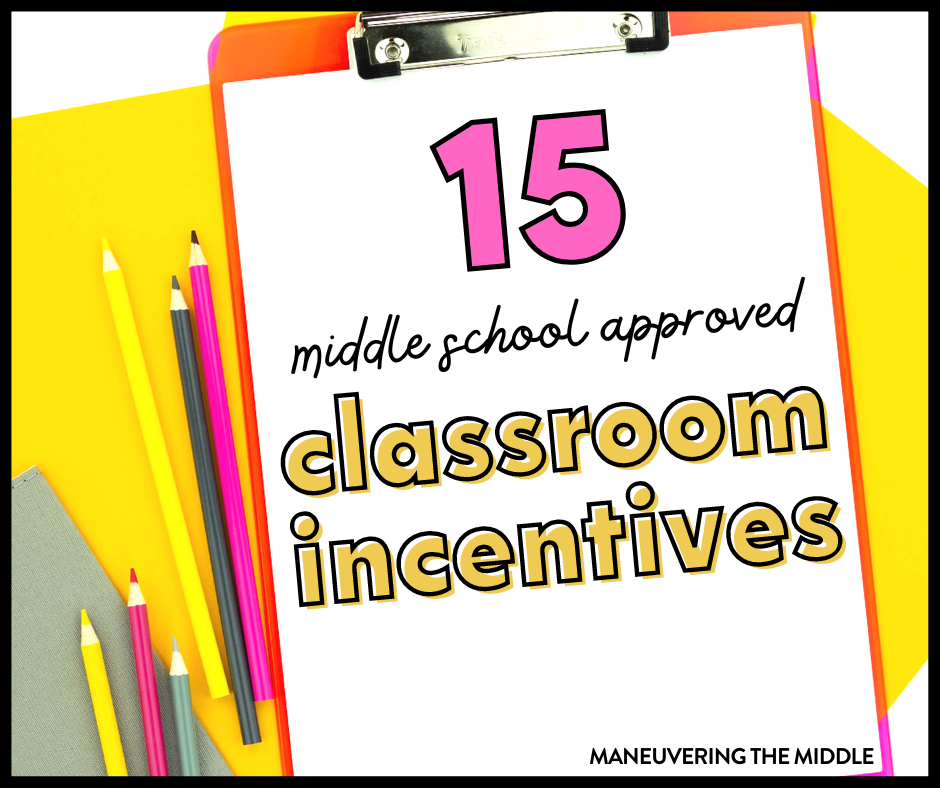 Group/Whole Class Rewards
1. GO OUTSIDE FOR A CLASS
The best types of rewards are when learning can still get done! Take the class outside after the notes to complete their daily work. If it is a big reward, take the day off from math and watch as your students play soccer.
2. MUSIC
Play music during the warm up or during classwork time. For bigger rewards, allow students to choose or make a Spotify playlist...school appropriate, of course.
3. Computer Time/Tech Time
Vet and then provide a list of websites that students can access that are fun and academic.
4. Dance Party
Reserve this reward for Fridays and for your last class of the day. Students will love trying to teach you the most recent viral TikTok dance.
5. Show Funny youtube videos
Teenagers love YouTube videos! Be sure to screen it for content and use a popup blocker for any inappropriate ads. I found that Dude Perfect videos were a safe bet for my sixth graders.
Individual Rewards
6. Homework Pass/Late Pass
There is no shortage of students who will gladly accept this as a reward! Make sure to indicate when the pass can be used or when it cannot be used.
7. Pick a new seat/sit in a fancy chair/help create the seating chart
While working on a seating chart, an early finisher asked if he could help, so I gave him the job. He did an excellent and diplomatic job, and I only needed to make two adjustments. What was surprising is how many students asked me if they could make the next seating chart.
8. Choose a partner
This is a perfect example of a reward that is only a reward if you don't always allow students to pick their partners. In my class, partners are assigned, so allowing one student to deviate from the norm is particularly exciting.
9. Raffle or Give Away a Ticket to the Dance or Sporting Game
This not only rewards students, but it also fosters school spirit. It might be worth mentioning to your team and working on something collectively.
10. Board writer
Is it just me or does every student want to write on the whiteboard? This reward might look like a designated student writing the homework on the board..
11. Problem Solving Activity
This could be a minute-to-win-it game at the beginning of class. One of my fellow teachers had a Bop It in her classroom, and students could earn the privilege of playing it and making it to the leaderboard.
12. STICKERS
We asked our Maneuvering the Middle VIPs Facebook group about incentives their students love and the most popular response were these vinyl water bottle stickers. Students love to stick them to their notebooks and water bottles.
13. CANDY
Dum-dums, jolly ranchers, and hi-chews were also highly recommended. Teachers shared that Costco is the best bang for your buck when it comes to purchasing candy.
Why didn't I think of that?! Giving students a chance to spin a prize wheel is an incentive in itself! The prizes can be anything from this list, but the prize wheel makes it special. I love that it's wipeable (making it easy to edit the prizes) and compact enough for easy storage.
15. TICKET SYSTEM
Remember that these prizes don't have to be given out when one student models the desired behavior. Let's say you pass out tickets (or scraps of paper) when you see students on task and working hard. You can pass out as many as you want in a class period. Students write their names on the slips of paper and then are put into a raffle that happens at the end of the week/month/grading cycle. You draw X amount of names and then students receive a prize. This helps your dollars stretch further!
Don't forget to ask your students at the beginning of the year what incentives they would like. This will create buy-in from all the students and give students a voice. Some students want to work with their best friends, while some students would love to have the night off thanks to a homework pass. The best part is that almost all of these incentives are free and require no planning.
What incentives do you use in your middle school classroom?