Large classes are relative, right?  As a middle school teacher, I have about 30 students in each class period.  One time I taught a class with 13 students, and it literally was like heaven EVERYDAY.   Truthfully, that is more the exception than the rule.  My largest class so far has been 32 students.  Your largest class might be 40 or 26.  It doesn't matter the number of students, managing large classes can be a challenge.
In Malcolm Gladwell's book, David and Goliath, he conducts research from classroom teachers around the country as well as a study of a school district over several years.  The bottom line of his findings is that classes can be too small or too large. For more details, see this article.  Since I rarely hear teachers asking for more students to be added to a class,  I am going to focus on tips for managing large classes.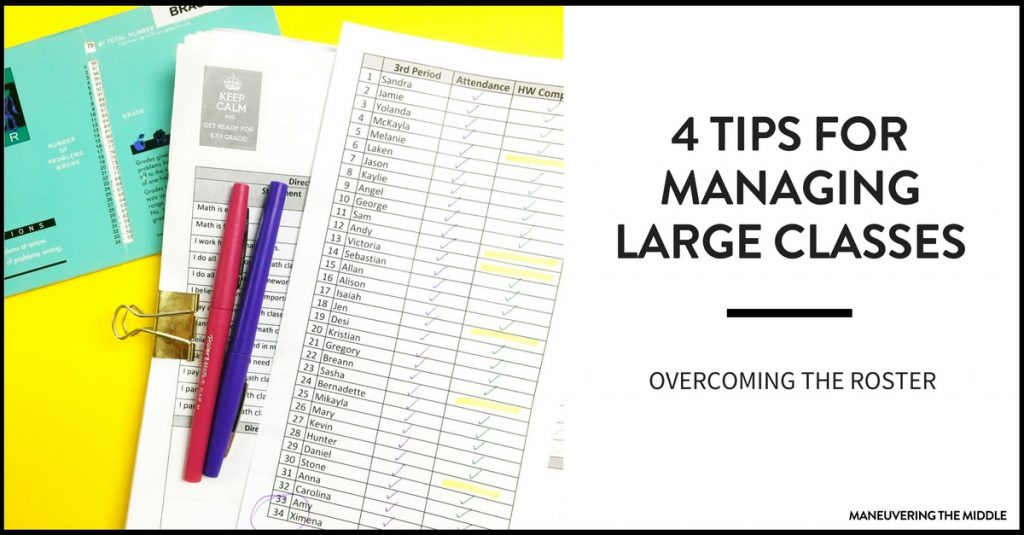 Tips for Managing Large Classes
1. Maintain high expectations but be reasonable
In order for a large class to function, it is important for you to maintain the same high expectations you would for a 'normal' sized class.  If you ask them to do something a certain way, make sure that they do. Ask them to do it again if it has not been done to your satisfaction.   It is even more critical in large classes that your expectations be met.  However, certain procedures will take longer.  It is going to take longer to check homework.  It is going to take longer for station activities.  It is going to take longer to instruct because you are answering more questions.  
Think of ways to maximize your time, so that class time isn't wasted.  Think: passing out papers.  Maybe students collect the papers they need for the day on the way into class, or they have already been distributed to tables for the entire day.  This will free up class time.  In my experience, I have found that it is during transitions like passing out papers that students will start talking, and I have to get their attention back wasting valuable time.
During any cooperative learning activity, it will get louder.  It can feel like students aren't learning when they are talking (because it is so easy for them to talk about the weekend or their shoes or how to make their pen explode) but as long as the conversation is on task, 32 students talking is going to sound louder than 25 students talking. Set the expectation that you should not hear anyone's voice above anyone else's voice.
2. Seating charts and strategic grouping
When you have a large class, the ratio of students to teacher is higher.  Managing large classes on your own is going to be a challenge.  Teach students to utilize each other.  You cannot run around to every 'I NEED HELP' when there are 39 students.  I suggest creating a seating chart that spreads out the highest achieving students and/or students who lean towards being helpful.  (Sidenote: you will likely have to teach students how to be helpful.  Helpful does not mean to just give someone the answer.)  In addition, when you have seated them according to a seating chart on day 1, you will learn their names faster.
It is also important to implement a system that students have to ask three students and/or refer to their notes before asking the teacher how to do it.  I have heard this referred to as 'three before me.'  While this may make you a bit nervous, remember that students comprehend the material, and are able to apply it at a deeper level when they can teach another.  Plus, sometimes a student needs to hear it in a different way before it sticks.  
3. Give Clear Directions and Check for Understanding
More students means more students who may not be listening to your VERY IMPORTANT directions.  Make sure directions are visible and after giving directions ask students to repeat the directions back to the class.  I would pick the student who you know will ask 'what are we doing?' approximately 6 seconds after you release them to work on their own.  🙂
Converting teacher directions to student directions is just what they need.
4. Up your organization game
Because everything takes more time, you will need to be more organized or say goodbye to your Saturday mornings.  Utilize student graders.  Have a plan when it comes to what you are grading and what can get recycled.  Absent students should know what to do.  In fact, give that job to a student.  If anyone is absent, that student is responsible for collecting all the material for them.  If you have a large class, most likely you have more students willing to help.  
Has anyone gotten their rosters for this year yet?  My largest class is 29.  I'm also curious– what has been your largest class?  Any additional tips to add?