Grading student work can give you valuable feedback concerning your teaching and your students' progress.  However, I don't want to give you the impression that everything that students touch should be auto-graded or hand graded in order for this to happen. Let's talk about a common pitfall that teachers fall into: grading everything. 
Note: Rookie Mistakes is a series of common pitfalls that we make as teachers, and tips to rectify and/or prevent them from happening.  No judgement here; the reason we know these pitfalls exist is we have fallen into the proverbial pit.  We have made each and every one of these mistakes, and sometimes we still make them.  
Rookie Mistake: Grading ALL STUDENT WORK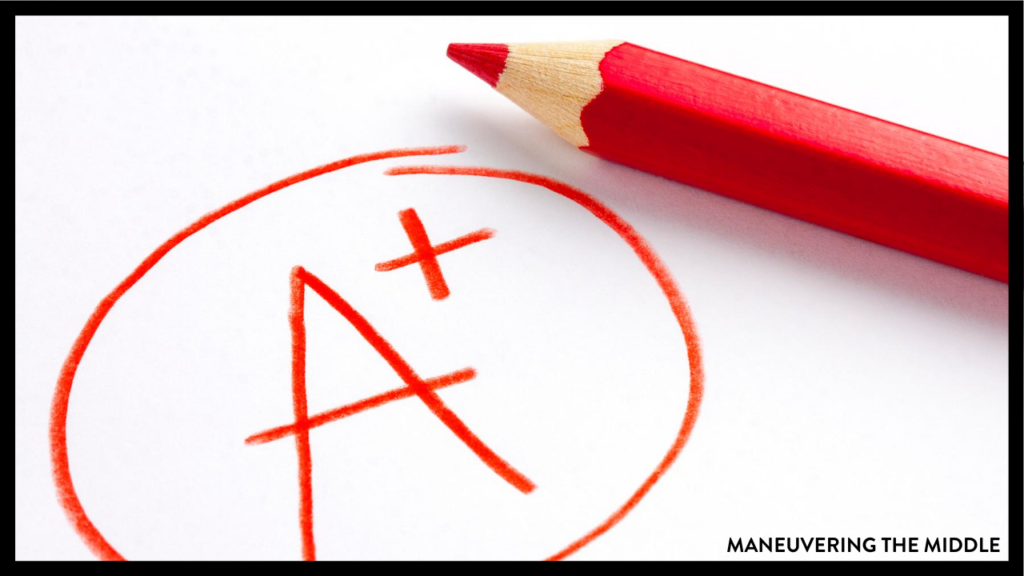 What is wrong with grading everything?
The problem with grading everything is twofold.
On one hand, it is tedious and time consuming to grade 150+ papers/day, but let's not forget that even after you grade the assignments, the real work is just beginning.
You have to manage the files or papers for students who need a redo or who were absent

You have to return the assignment to students quickly enough that the assignment is still relevant

You have to enter them in the grade book.

Let's not forget grading all of the make-up/redo work and putting those loose assignments into the grade book.
It feels like cleaning the kitchen – it is never finished!
On the second hand, grading everything does not further motivate students who would already lack motivation to do the work. Students who are highly motivated are going to complete their assignments regardless of whether or not the assignments are graded. While grades are meant to hold students accountable for completing their work, for some students, it creates numerous "incompletes" that are overwhelming for both student and teacher. 
Grades = Most Valued Work
My first year teaching, a veteran teacher told me –
only grade what is important to you.
That seemed like great advice, but I didn't know what was considered important. I was just trying to survive each day. I took cues from other teachers — Ms. Horton was grading students' interactive notebooks, so maybe I should too?  Ms. Mattingly didn't grade homework, so maybe I shouldn't either?
My assistant principal made the decision for me.
Grade what is standards-based for accuracy. Graded work is demonstrating their proficiency with what they have already learned.
Students should not be graded for something that they are still learning. I took one grade a week on a short quiz that covered the week's material. Then I would typically take another grade on a spiraled standard that students would complete during the bell ringer. Sometimes I took a grade on a test or a performance task. You can find more alternate assessments
here
and a link to some free performance tasks for middle school
here
.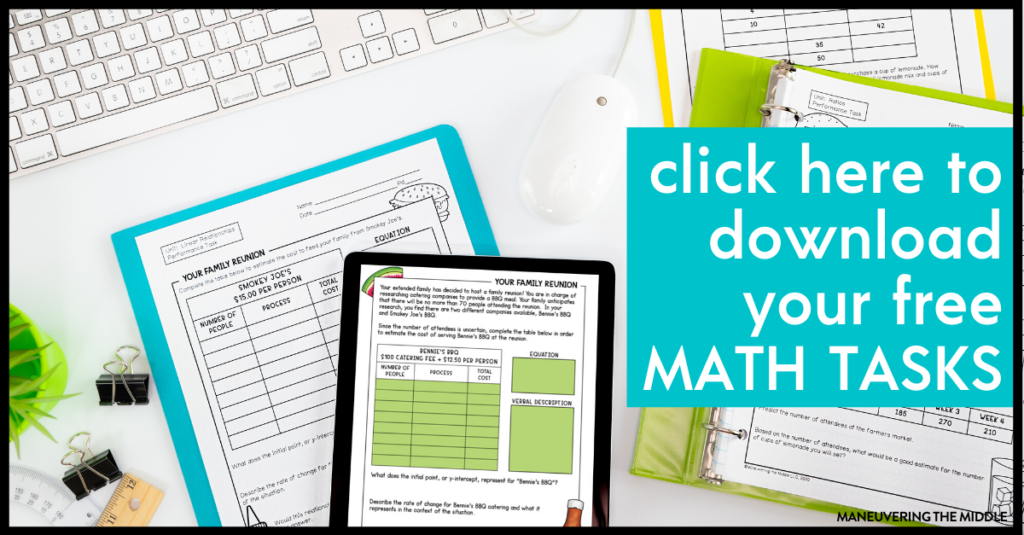 Giving Feedback on Practice Work or Homework
I think the most valuable feedback is the kind that is immediate. After students complete an assignment (or even if it isn't completely finished), here are some ways they can get feedback on the work they did without you having to collect and grade it.
Ask students to share answers as a class.

Project the answer key on the board for students to check their own or a teammate's assignment. Give students the time to ask questions.

Have students write their answers on white boards and raise them up – check for any common misconceptions.

Use a platform like GoFormative that will give students feedback after they enter each answer.
Check answers as you play any of these activities found in this post: How to Turn Any Worksheet into an Activity (with almost no prep).
Check answers as you circulate. Make a note on your clipboard/mobile device if you would like to enter it in your grade book.

Teach students how to use a student accessible answer key as they work on problems (these can be at table groups or on a wall). Mine were inside manilla folders.

For homework, students can check their homework as part of their warm-up.
If you are an All Access member, then Unit Test and Unit Quizzes have a Google Forms version to make grading quick!
Learn more all about All Access here.

Exit Tickets
Exit tickets were a requirement at my school, so I implemented them every day. I didn't take them for a grade, but I gave them a quick look during the passing period or had students check their own before dismissal. This helped me inform my content delivery for my next classes and gave me valuable data on which students were completely lost.  You can read more about how I use exit tickets
here
. 
I am so curious… What assignments do you grade? How many grades do you take per week? Is there anything else you would add?
You can see our other rookie mistakes here:  
Rookie Mistakes: Talking over Students