Go Formative is a great tech tool for you to consider is you want to add more technology into your classroom. Let's talk about Go Formative, and see how our teacher friend and blog follower Lauren used it in the classroom and for distance learning.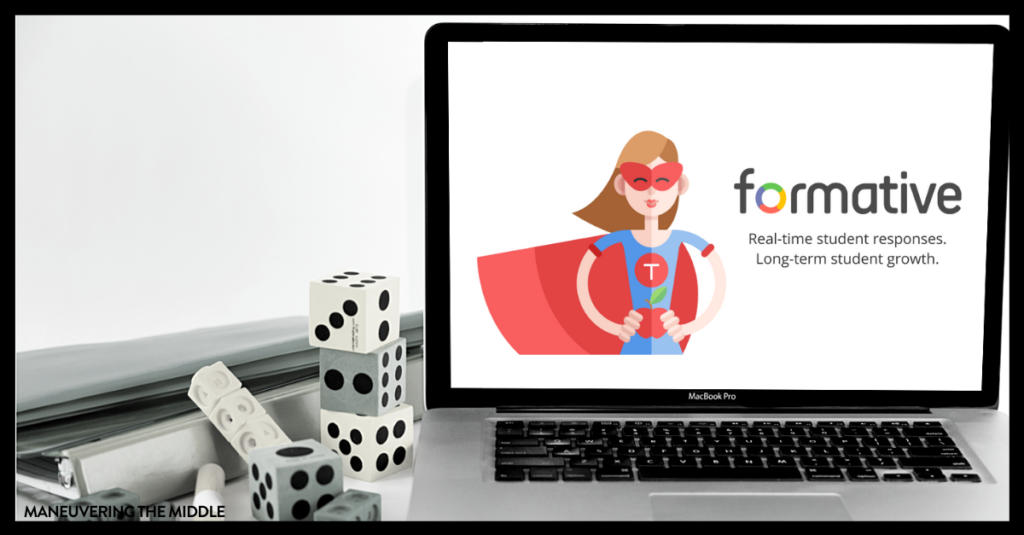 TECH SPOTLIGHT: GO FORMATIVE
What is Formative?
With Formative (sometimes Go Formative), teachers can upload traditional worksheets or build assessments from scratch, find something pre-made, watch students work in real-time, easily differentiate or scaffold assignments, attach standards to questions, and track student growth over time. 
What EdPuzzle is to instructional videos, Go Formative is to assessing students' learning in real time.
Ideas for USE:
Distance learning – In this blog post, Lauren shows us how she has been using Formative in distance learning. One highlight: there is a feature that allows students to show their work. Essentially, their screen becomes a large whiteboard that they can write or type on. Then they submit their work for that problem.  Students can even snap a photo and insert their work inside the problem too. (It is way cooler than it sounds.) With the paid version, Formative also has a chat feature where students can chat with a teacher regarding a specific problem.
For a substitute – No more throw away days. Assign students their Formative with links to supplemental videos. Hold students accountable because students have no excuses for not completing their work. I have had numerous students blame the sub for not collecting their work in the past.
Pulling a small group – Our most asked question regarding small groups is what are all of the other students doing?

My answer is now

working on their Formative. Formative eliminates the need for students to ask, "Is this correct?" each time they solve a problem. Students can submit their answer, get feedback, and move onto the next question without interrupting your small group.
AWESOME FEATURES:
Google Classroom integration – After creating a Formative, click the Google Classroom button in Formative to send it directly to your Google Classroom.
Math friendly – After playing with Formative, I cannot think of a feature that it is lacking for submitting math symbols or equations (with the paid version). Even if you need students to graph, they can use a line tool inside the Whiteboard feature. 
Students can work with a multitude of modalities – Students can write, draw, listen to audio, answer multiple choice, watch videos, re sequence, answer true or false questions, and show their work using the Whiteboard feature. Formative is a great tool for math, but also for other subjects. Students can respond in essay form too.
Track your students progress – You can watch students work in real-time, but you can also track how students progress over time. Teachers can tag each question with a state or curriculum standard. When it comes to reviewing for a test or midterm, you have an entire unit's or semester's worth of data to decide which standards your students need more practice on.
The more I learn about the tech tools available to teachers and students right now, the more excited I get! These tools allow more students to be reached at their varying levels, and it allows teachers to be even more effective. Have you tried Go Formative?