The holidays are a wonderful time to be generous and think of others,  but what happens when you are asked, "What do you want for Christmas?" I usually give a blank stare.  Does that ever happen to you?  If so, here are a few gifts for 2020 that you might consider gifting or adding to your own wishlist.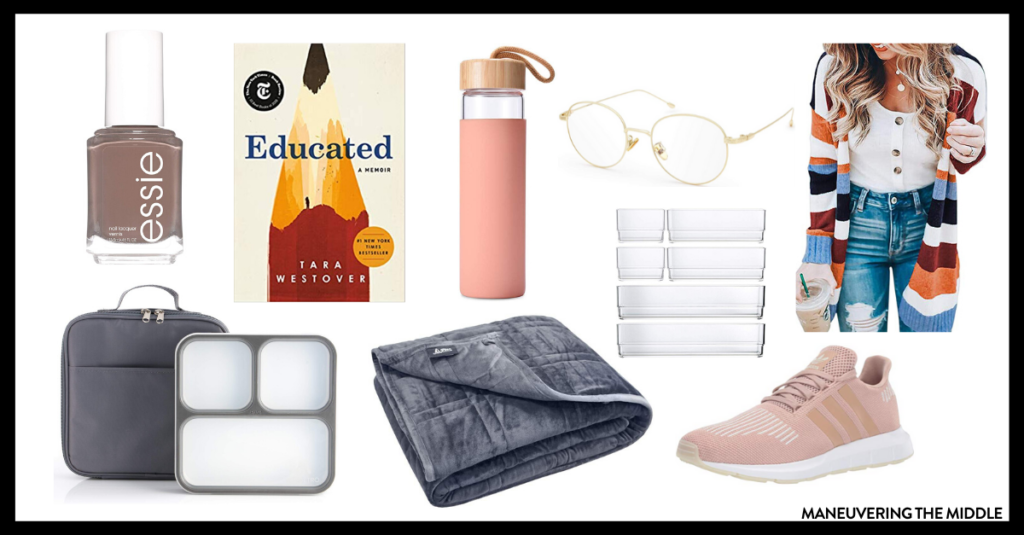 22 MUST-HAVE GIFTS for 2020
Under $20
This cookbook has been such a hit in my house!  We have meal planned four weeks in a row and enjoyed each of the recipes!  They are all gluten-free and relatively easy to prep.  Just set aside 1-2 hours on Sunday and then whip every meal together in a few minutes on a weeknight.  
This lunchbox has some compartments and is microwave and freezer safe. It's also pretty thin, so it wouldn't be cumbersome to carry.
I have lost my keys about 100 times, and this has saved me! I already have one, but this makes for a great present.
A pretty winter color! Perfect for a stocking stuffer!
Our current "mudroom" space really needs some hooks. I like that these have a minimalist look, but they're also really stylish.
This would be perfect for the space by a document camera. You could put your projector remote, your timer, and extra pens in here. I also like that it looks a little more grown up.
New year! New planner! I like that this one has a stretchy band to keep all the sticky notes contained.
Anytime I mention not feeling well, my husband asks if I have drank any water that day. Whoops! I need to drink more water.  You could also go with the ever-popular HydroFlask in so many fun colors! 
Educated by Tara Westover

 
I read this book last month, and I found it fascinating. I love a good memoir!
I have been eyeing these for a while. I mostly made the switch with plastic baggies at home, but I think it is time to start using these for produce. Has anyone read Zero Waste Home? I read it a few years ago, and it has changed my views on consumption and recycling.
Noelle bought this organization book for me for my birthday, and I was so inspired that I organized my junk drawer. Now I need to organize my bathroom drawers!
Most people have read The Magical Art of Tidying Up or watched the Netflix series by now, but if you haven't, it's a quick read that will get you ready to purge and start clean in 2020.
Anyone else unsure of what to do to take care of their skin? Just me? I read that this is a natural and healthy way to take care of your face. Taking better care of myself is definitely one of my goals for this year.
I sent these to my husband already because my eyes are really starting to resent all the computer and screen time they endure. I also like that I can try something super trendy because they are so cheap!
I am due for a new pair since I wear mine outside so often. 
Under $100
My friend Mary says these are the best. I love leggings, but I cannot justify some of the outrageous costs out there. These seem perfect!
I owned a Fitbit a few years ago, and it was run over in a parking lot. I didn't realize that the price for Fitbits have come down so much since then. It's only $35 now!
It feels so luxurious to sleep in pajamas that match on top and bottom. I have not experienced such a luxury, but these are cute and look so soft.
This looks like it could be from Madewell but for way cheap! I love stripes, and the length is nice for leggings. I guess I plan on being pretty cozy in 2020.
Being healthy requires more exercise, I think. Therefore, new tennis shoes.
Everyone I know loves their Roomba, but since I would rather buy a less expensive vacuum and pocket the difference, this is my go to choice.
Many bloggers I follow are obsessed with their weighted blanket because it helps them sleep better. I would love to give this a try!
What's on your wishlist this year? You can see previous gift guides here: 2017  |  2018  |  Gifts for Techy Teachers