It is no secret that teachers aren't in it for the money.  So, during my first year as a teacher, I struggled to make ends meet — I was planning a wedding, and I was trying to pay my minimum balance for my student loans.  I went to a state school where my parents helped me with some of my expenses, but when I graduated, I had around $32,000 in student loan debt. 
Note: This post will be about my specific experience with teacher student loan forgiveness.  I am not an expert, as you will see by all the mistakes I made applying. Hopefully, you will learn from what I did wrong and learn from what I did right. Also, when I was applying for loan forgiveness, all the information I read felt vague and confusing. I am hoping to shed some light by sharing my experience. You can find more resources for debt pay off at the end of the post.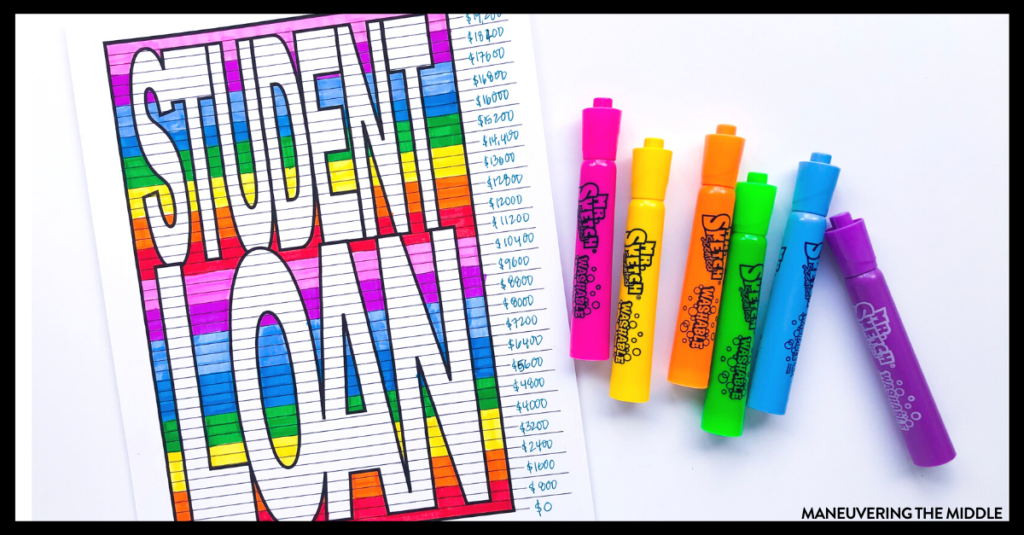 MY TEACHER STUDENT LOAN FORGIVENESS STORY
Here is what I qualified for according to studentaid.ed.gov – 
Under the Teacher Loan Forgiveness Program, if you teach full-time for five complete and consecutive academic years in a low-income school or educational service agency, and meet other qualifications, you may be eligible for forgiveness of up to $17,500 on your Direct Subsidized and Unsubsidized Loans and your Subsidized and Unsubsidized Federal Stafford Loans.
This blog post details what loan forgiveness options are available for teachers since there are a variety of forgiveness programs.
You can click here to see if your school qualifies as low income.  Long story short, after seven years of teaching math, I did receive $17,500 in loan forgiveness. (It took seven years because during my second year of teaching, we relocated, and I was without a teaching job for a few months, so I had to start my five years over.) 
APPLYING FOR LOAN FORGIVENESS
First off, apply after you have finished your five years.  It is up to you, based on the type of loans you have and your loan balance, to still make payments during those five years.  Depending on your loan servicer, you can also defer them. Interest will still accrue during this time, which WILL add up! I continued to pay the minimum balance during the seven years.  However, I looked up how much I paid in interest alone during those seven years, and it made me feel sick. If you can pay off your student loans faster without the help of federal aid, then I would recommend that! 
You can find the application here.  Read this form carefully!  I made three silly errors. 
MY FIRST APPLICATION: DENIED
My first application was rejected for three reasons:
1. The application form had expired. The top right corner of the application has an expiration date.  I was unaware of this. I had printed my application off months ahead of time when I was doing the research.  Thoughtless, I know. Please learn from my lack of observation.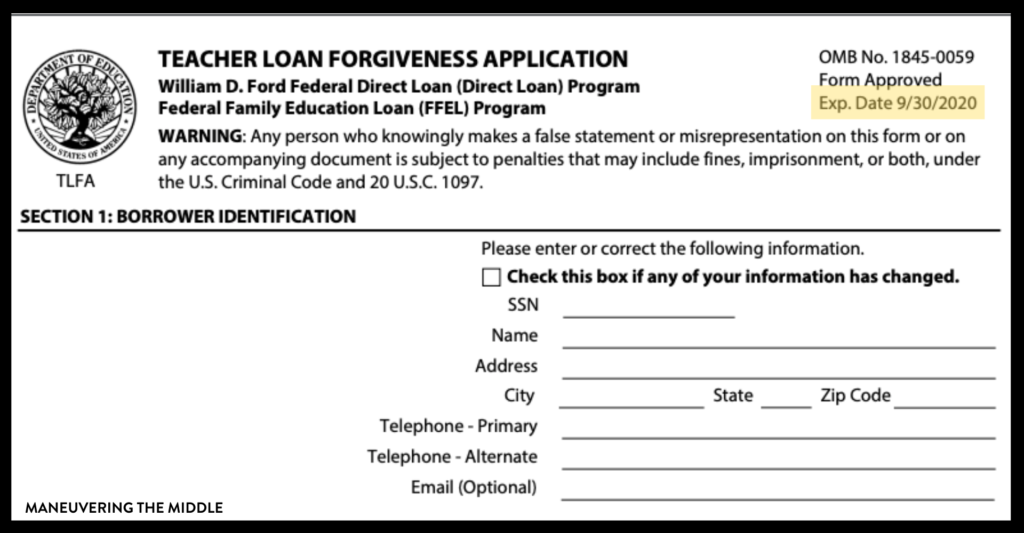 2. My assistant principal signature was premature.  Your principal, assistant principal, superintendent, or human resources manager will be the one to sign off that you did indeed work at your school in your position for five years. My five years was spread out among two schools – one in California and one in Texas. I worked in California from 2014-2015 and in Texas from 2015-2019.   Because I thought it would take longer to get the signature of the principal that worked in California, I contacted her five months prior to completing my fifth consecutive year. She signed it and sent it back over promptly. Nope! Not allowed! I couldn't find an explanation for this on the application, so I am just going to recommend that you get all signatures after you have completed your five years. 
3. My application was missing my principal's title.  My principal did not include the word "principal" next to her name.  The form is not as user-friendly as you would hope, so if someone else is responsible for filling something out for you, you have to double and triple check.  They even have a specific format for how they want items dated: mm-dd-yyyy. Getting denied and reapplying ate up about three months, so proof for any errors on the front end.  Asking your principal to fill out a part of an application for you might feel like you are wasting her or his time, but my suggestion is to sit down and do it with them. Have things like your work start date and school address ready to go.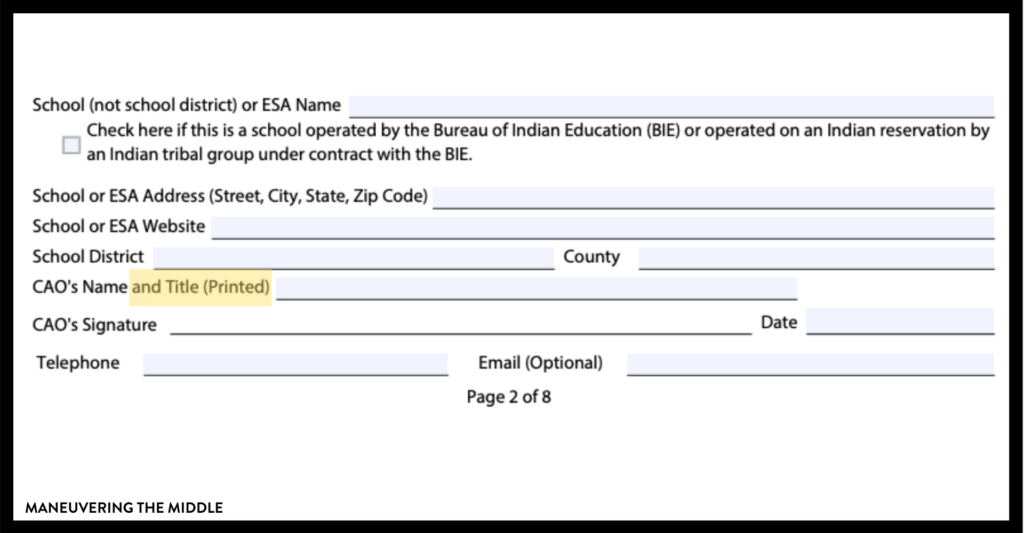 ASK QUESTIONS
This is something I would recommend doing whether you are in your first year of teaching or in your fifth year of teaching – call your student loan servicer.  They will be able to tell you whether you qualify or not. They can look at your type of loans and make sure they are eligible for forgiveness. This will give you peace of mind.
I actually figured out I was rejected the first time because I was calling to get an update.  The people I talked to at Nelnet were super helpful and walked me through my errors and sent me a new application.  
THE PROCESS
After I had completed my fifth consecutive year, I filled out the application and mailed it to my student loan service provider.  There was a specific address to send teacher loan forgiveness applications.  Before I sent it, I made myself a copy just to be safe. It took around four weeks for it to be approved by the student loan servicer.  I think I called every week to check on it. Once it was approved, they request funds from the Department of Education. This takes months!  AND, in my experience, it does not hit in one lump sum.  
Since I was checking my student loan account so frequently, I noticed that I had received a payment of around $15,000.  I was ecstatic, but I was also disappointed. I thought I would receive $17,500. I called my student loan servicer to inquire whether I should expect more or if I should pay off the balance myself.  The gentlemen I spoke to told me to wait another month to see if any more money was distributed. A few weeks later, I received the rest of the money. I'm glad I waited! 
To summarize just how long this process took, I applied for a second time in late July, and I received my forgiveness in mid-October. Not a quick process by any means, but it was worth the wait.
Have you received teacher loan forgiveness?  What was your experience? Are you applying soon?  Let me know if you have any questions in the comments.
Resources for Debt Payoff:
Debt Payoff Tracker (pictured) – These were a super motivating tool for my husband and I when we paid off his loans too.
The Total Money Makeover – If you want to get intense about your financial future, but you aren't sure where to start, then read this book. It walks you through Dave Ramsey's Baby Steps to financial success.  I also highly recommend listening to his podcast.
EveryDollar Budgeting App – This app made all of the difference in actual budgeting.
If you are interested, here is our debt free story.  This year my husband, Taylor, and I decided that we were going to pay off every single dollar that we owed — student loans for both of our educations (I had more than just the $17,500 forgiven) and a little consumer debt.  We paid off $32,000!  We began to budget routinely, we delayed gratification on many things that we hoped to repair in our fixer upper home, and we set a common goal together. Paying off all our debt was freeing! Now that we are debt free, we are amazed at how much money is no longer going to the minimum balances for our debt.  We can save for our future, and not stress when an emergency comes up!