Dear First Year Teacher,
As you prepare for your new year, I hope you can learn from my many, many mistakes as a first year teacher.  My teacher friend, Eric, said it best, "Teaching is a multi-facted skill: planning, organization, execution, etc. Nobody is good at all or even most of it right away. Know that each year is going to refine your game a little bit more, and focus on small things to improve."  That is a relief because going into year five, I am hoping that I won't rely on the recycling bin as my filing system.  Surely I'm not the only one.  🙂 Here are some tips that I wish I could go back to 2012 and tell myself as a first year teacher.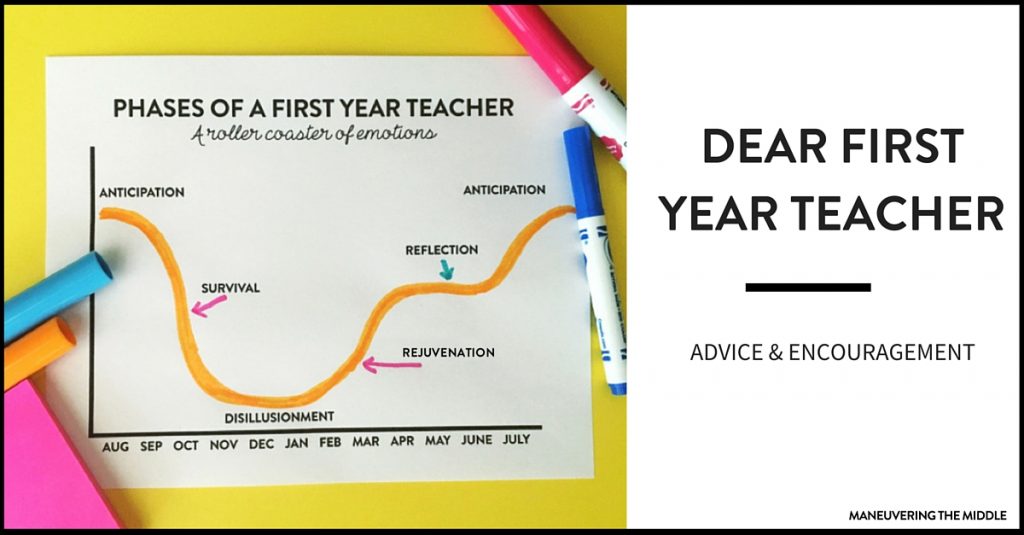 ADVICE TO A FIRST YEAR TEACHER
Ask Questions and Get Help From Others
For some reason, before my first year of teaching I was really concerned how my handouts would get hole punched.  The school copier didn't have a hole punch setting, so teachers had to hole punch copies themselves.  Oh my gosh– what a huge waste of time.  Without asking anyone anything, I went and bought 6 hole punches before the year started. (Hole punchers are not cheap.)  The hole punches would go on each student table, and I would teach students to hole punch papers themselves.  
This all seemed very brilliant until the day prior to the first day of school.  I was working in the copy room when a fellow teacher pulled out a huge device that hole punched all of her handouts in about 2 seconds. I was enraged!  Why did no one tell me about this magical device that hole punched more than 5 pieces of paper at once?  The real question was — why didn't I ask anyone about this?  I was so concerned that I didn't stop and ask experienced teachers around me how they accomplished something that stressed me out.  Lesson: ask for help.  Rely on the experiences of others.  If you have an idea, run it by someone else before jumping all in.  It will save you time, money, and most importantly your sanity.
If you are a math teacher, then my advice is to find a great curriculum. If you aren't planning and piecing resources together, you can focus on so many other things.

Don't Sweat the Small Stuff, but Sweat the Small Stuff
Your projector shut off and is taking one million years to reboot?  It's going to be ok.

You just spilled coffee down your shirt?  It's going to be ok.  (Also, have an extra pair of clothes in your car/desk/cabinet.)

Someone just threw up in your classroom?  It's going to be ok.

Your principal walks in and your fly is down and a student announces this small fact to the class.  It's going to be ok.
Because you are in a room with others humans, much less small humans, life is going to get a little messy. Students are going watch your reactions to these situations.  If you freak out, they will freak out.  If you are calm and brush it off, they will too.  Do not sweat this small stuff.  
However, as a classroom teacher, you must sweat the small stuff.  There are some instances that you could probably ignore, and no one would really notice, but you must address.  For example, if a student is unkind to another student, you can stop everything to address it.  Do not blow this off.  In my classroom, building character trumps teaching content, so if a situation arises where we can talk as a class about showing integrity or building each other up, I will spend the time doing it.  If I need to apologize for snapping at a student, I will do it.  Students should know that you will not turn a blind eye to bullying, leaving students out, or rudeness in any form.
Choose 3 Things to Enforce
Now, I love routines and procedures.  And every routine and procedure should be thought out by you and taught and enforced.   You can check this post where I brainstormed the most important, but as a first year teacher, you should pick three routines that you would be willing to die for.  I am not even kidding a little bit.  What really annoys you?  You actually might not know this yet, but come October, You. Will. Know.  For me, it is students being out of their seat without permission.  
The teacher down the hall from me hates the sound of binder rings when they open and close with a passion, so she came up with a routine in her classroom that everyone opens them on the count of 3 and everyone closes them on the count of 3.  Seems nutty, but it is better to own up to being a nut, rather than become a nut involuntarily because all your can hear when you are trying to fall asleep is binder click nonsense.
Whatever you do, do not tell students that pen clicks annoy you.  
I made this mistake and literally as I was telling them this, the amount of pens that were being clicked grew exponentially!  WHAT THE HECK.  This is an area to just ignore. There are other techniques to handle pen clicks/pencil drumming/mechanical pencil disassembly, but that is an entirely different post.
(Also, I could care less if students use pens in math. If you want to work out problems in highlighter, whatever.  I just don't want to hear about you needing a pencil. Ever.  #mathteacherfail)
Recharge + Reboot
You have all heard this before.  You must make time for yourself.  You must rest.  You must (fill in the blank).  This is harder said than done!  Teachers typically are people who are crazy and will actually spend 36 hours cutting out letters because they are cute.  I can say that because this year, I made my own letters for all of my bulletins boards.  Craziness aside, no one is better at recharging than my principal.  When I interviewed, she told me that she would rather her teacher get 8 hours of sleep over perfectly created materials.  I was like HIRE ME NOW.  You can only be effective if you are rested.  You can only be effective if you take time for yourself.
When I asked on Facebook about advice, almost everyone said things that I can lump into two categories— routines/procedures and relationships.  Notice, nothing is about the lessons, content, activities, grading, parents, planning, copies, copy machines, administration, bulletin boards, classroom decoration, or emergency procedures made the list. That will all get done, but it should not be the focus of your first year.  (And if you want to make decorating your classroom quick and pain free, use these posters.  You can see them in action in my classroom.)
It will be amazing.  You will learn SO much.  And it will get so much better!
Good news, you are only a first year teacher once.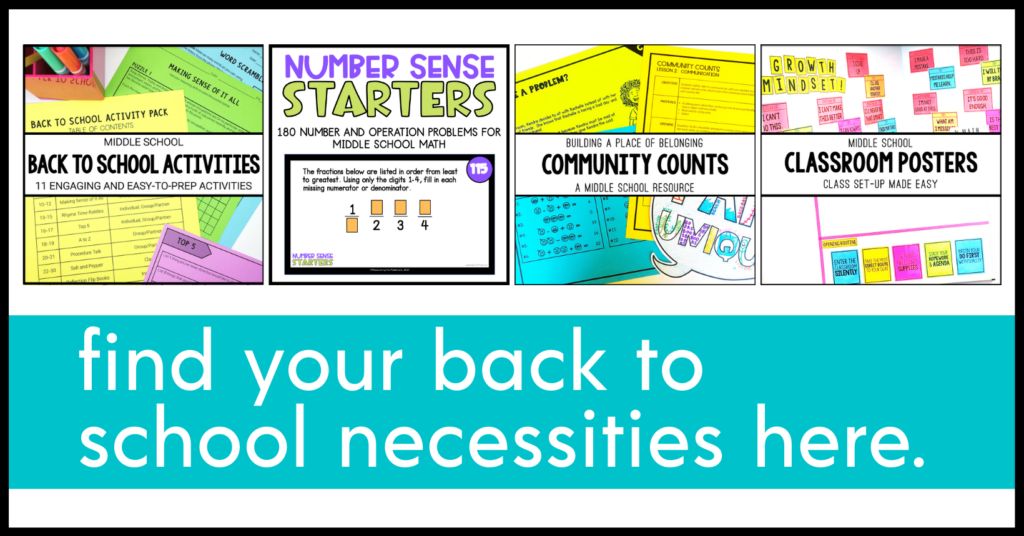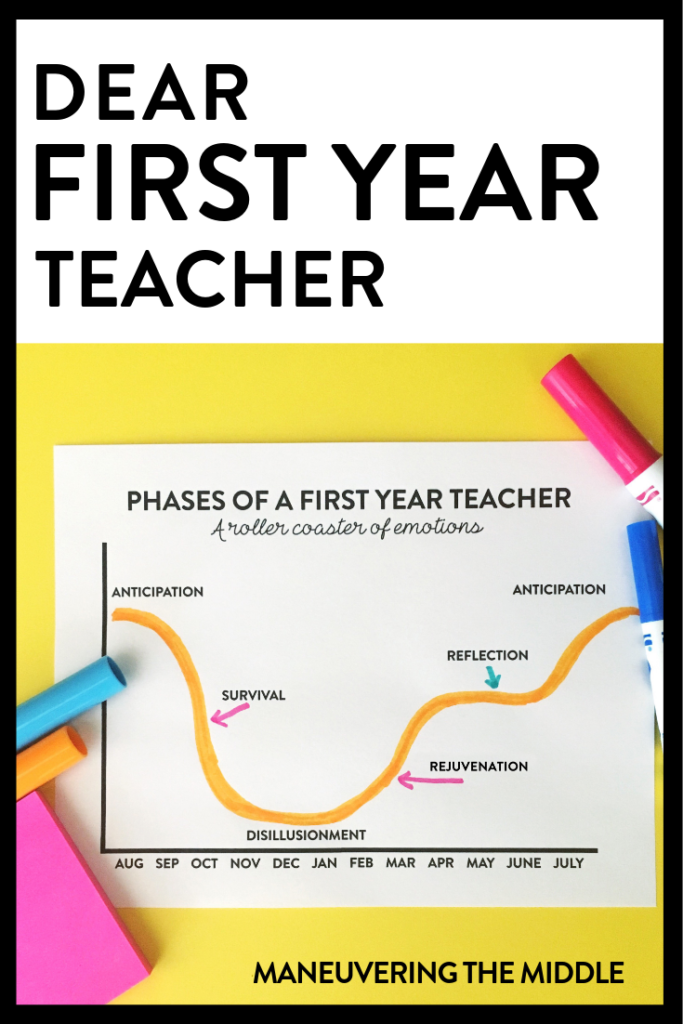 Save