When I taught my super sweet (not!) high school students, students would throw away their handouts/notes/graded work as they left my room– IN FRONT OF ME.  Has this happened to you?  Now that I teach middle school, student organization is a topic I must address.  Eleven year old students should not be expected to have developed organization skills, especially since most adults I know do not.  Today, I am sharing what student organization has worked for me.  This is still a work in process much like everything I do in my classroom.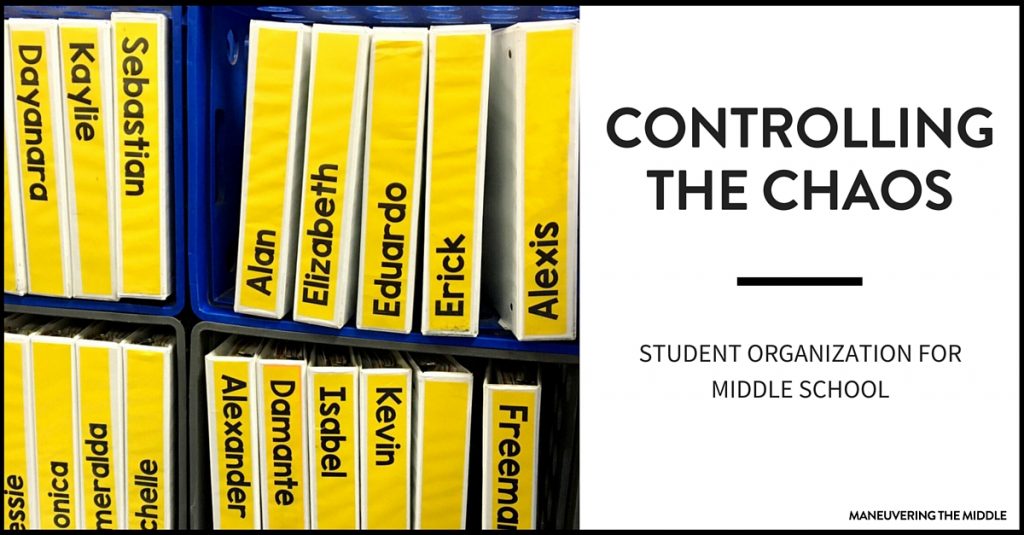 My school does not have lockers.  It also has limited storage, as in I only have bookshelves, no cabinets with doors.
Student Organization for Middle School
Composition Notebooks
Composition Notebooks are cheap, and light enough to live in a students' backpack.  I required students to take it home everyday so they can refer to their notes for homework, and bring it to class everyday.  Composition notebooks will stay relatively in tact for a whole school year;  Spiral notebooks will not.  Also, I like composition notebooks because if students need scratch paper, they have a ready supply.  Instead of making copies, students can work out problems inside their notebooks instead.  Word of caution, composition notebook can be ruined if you tear paper out of the binding.  I use notebooks almost exclusively for notes, so there is enough paper for the entire school year.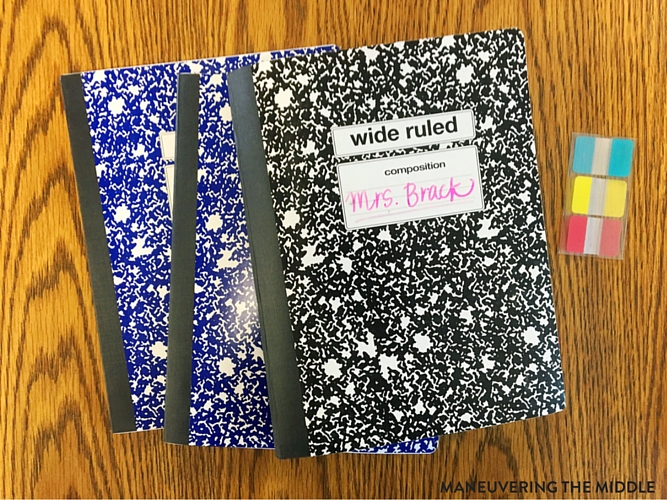 My sister used composition notebooks exclusively for several years.  If you plan on doing this, ask students to bring two composition notebooks.  Take one up and store it for the second semester.  By then, they have seen better days and are full with other papers, foldables, etc.  It is nice to have a fresh start at the semester.  
In Class Binders
In my classroom, I use milk crates to store 110 1.5" binders.  Each student has a binder that stays in class, and they only access with permission.  The binder serves as a spot for all graded assignments.  I do this because I do not want any of my tests out and circulating (though I doubt my students would be savvy enough to save the tests for anything malicious) and to have graded work on record.  I did not used to do this in the past, and I would be at a parent meeting with nothing to explain why their child was failing.  I would also show parents exemplar assignments, so the parents could start holding their child to that high standard on their homework.  Binders also provide safe keeping if you have to keep a record of students in special education modifications/accommodations.  
Once a week or after a test, I have student helpers hand out graded assignments (I hand out tests) and have table captains pick up their tables binders, students have an opportunity to look at their mistakes, make corrections (if there is time), and put the papers into the binders.  The table captain takes them back to the milk crates.  The whole process takes less than 10 minutes.  Other teachers at my school use filing cabinets which is great, but takes longer because only so many people can be around the filing cabinet to help put their work into the proper folder.  To make life easier, create a large name tag for the spine and color code them by class period.
Recycling Bin
The recycling bin is my best friend.  I do not keep anything that is not graded.  Everything else goes into the recycling bin.  We do not have the capacity to hold onto everything our students touch.  I throw away exit tickets after I have looked through them and establish who I need to pull for a small group.  Students complete lots of classwork that I am not capable of grading.  I have the exit tickets that assess how students did, so I throw classwork away if I know I am not grading it.  Same goes for homework.  If I grade it, I keep it.  If I don't, into the recycling bin.  My first year of teaching I tried to keep everything.  Why?!  I spent hours filling and moving papers around and making piles and being insane. Recycle that clutter and marvel at how clean your classroom looks!
What student organization systems do you have in your math classroom?  Do you have any students with backpacks that look like there was an explosion at the paper factory?  I only had a couple this year thanks to collecting and recycling any papers that weren't necessary for students to keep.  Here's to hoping that this student organization system will work for everyone next year!