Do you struggle with When I taught high school students, students would throw away their papers as they left my room – IN FRONT OF ME.  Has this happened to you?  
Today, I am sharing what student organization system has worked for me and how other teachers have students organize notes and other papers using Maneuvering the Middle materials.
Many of these approaches will depend on a variety of factors:
Does your school have lockers? (mine did not)
Is your class period short? (no time for gluing)
What is your budget?
COMPOSITION NOTEBOOKS
Composition Notebooks are cheap and light enough to live in a student's backpack. Students can take them home everyday so they can refer to their notes for homework. Also, if students need scratch paper, they have a ready supply.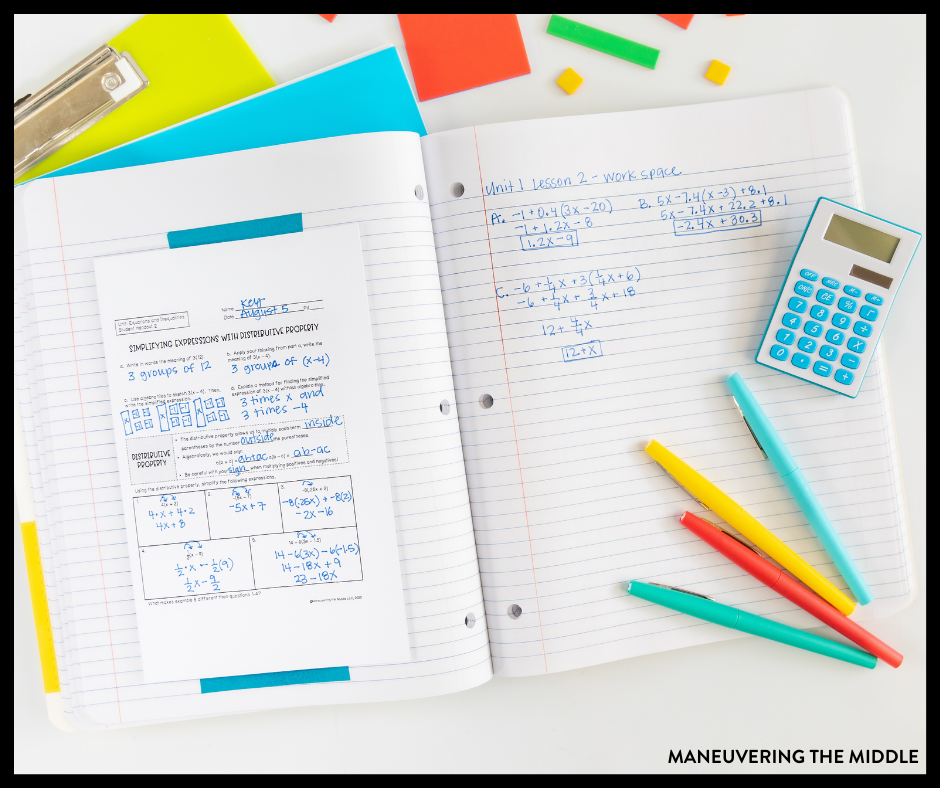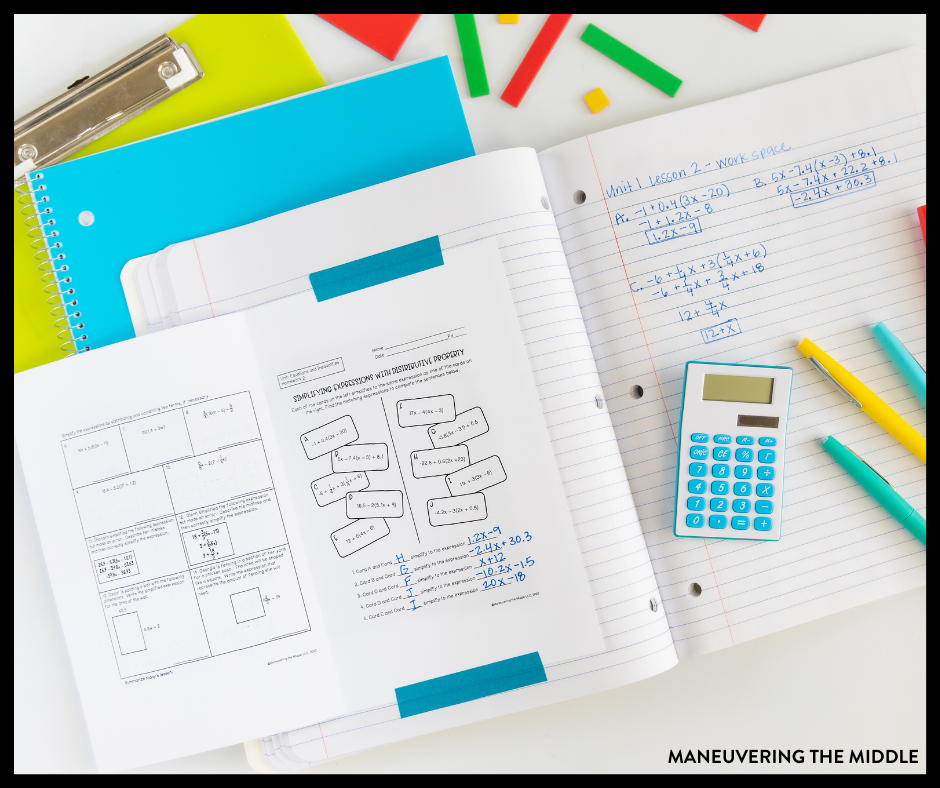 For Maneuvering the Middle student handouts, you can print the student handouts and homework page using 1 single, folded-in-half, piece of paper glued into a notebook. To print the student handouts and homework using this method (pictured), here is what you do in Adobe Reader or Acrobat Pro: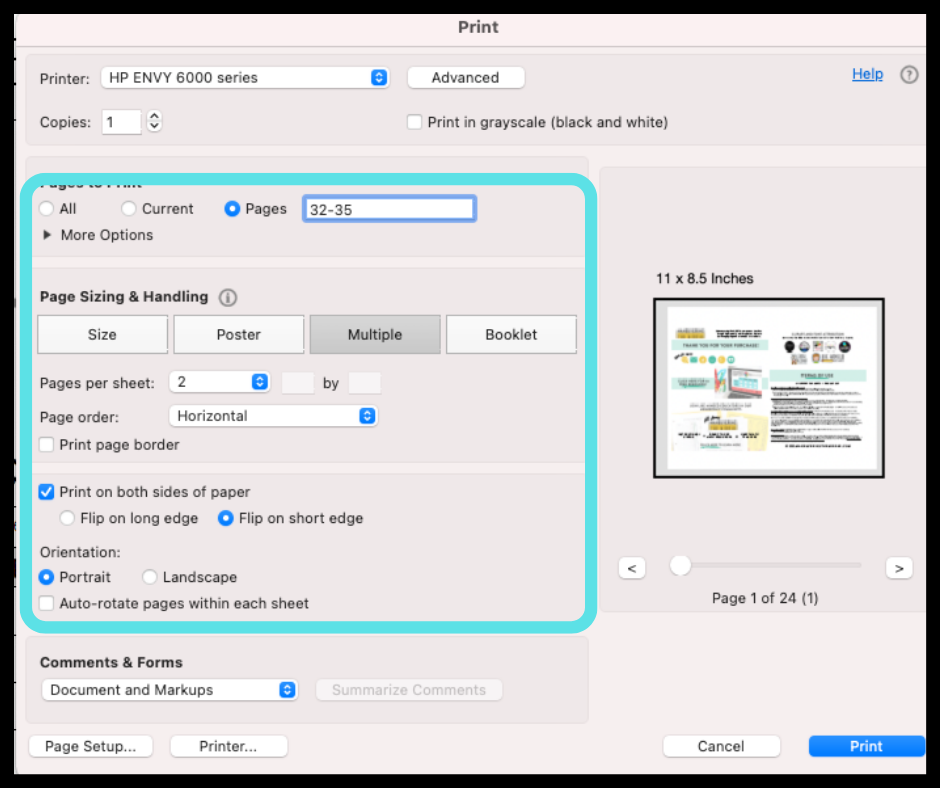 Type in the page numbers that correspond to the white blank page, the front of the student handout, the back of the student handout, and the homework page.
Select "Multiple" under Page Sizing & Handling
Pages per sheet – 2
Page order: Horizontal
Select "Print on both sides of paper"
Select "Flip on short edge"
Do a test print (and fold it) before making 150 copies
The downside to using composition notebooks is the time spent gluing or taping materials into the notebook. Also, inevitably, there will be no less than 10 glue sticks that need replacing everyday. For teachers with longer class periods, composition notebooks will help students hang onto those notes for reference for most of the school year!
BINDERS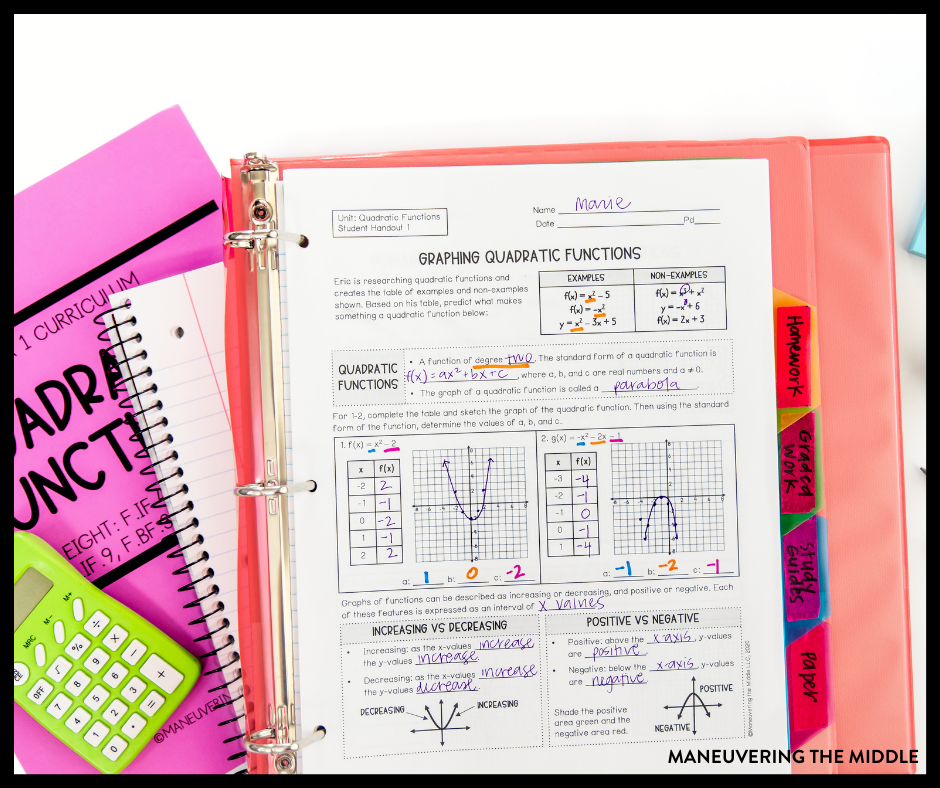 Binders with dividers are a great way to keep your students organized! They are spacious, and if your copier hole punches, you are golden. It is also large enough to hold graded work and extra papers.
SPIRALED AND BOUND MATERIALS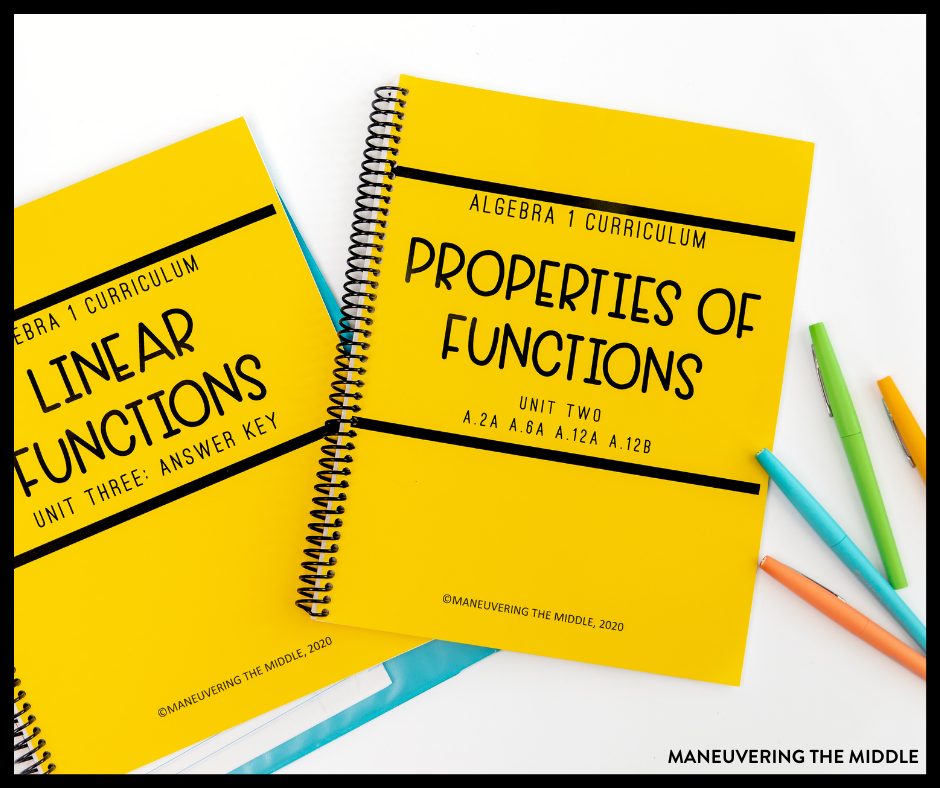 This method is recommended by many teachers in our Facebook Group. Print and bind one unit at a time for students. You can add a cover sheet in colored paper so that it stands out. This will save you from visiting the copier on a Monday morning and is truly the best example of batching!
Tips from the Group:
Tell students that it is like a textbook, in that you cannot rip pages out willy nilly.
Spiral binding lasts longer than comb binding.
You can get your own binding machine or hire it out to Office Depot or OfficeMax if your district does not offer this service.
Print a few extra copies for when a student loses their copy.
If you are doing this yourself, solicit help from parents and students.
PLASTIC BRAD FOLDERS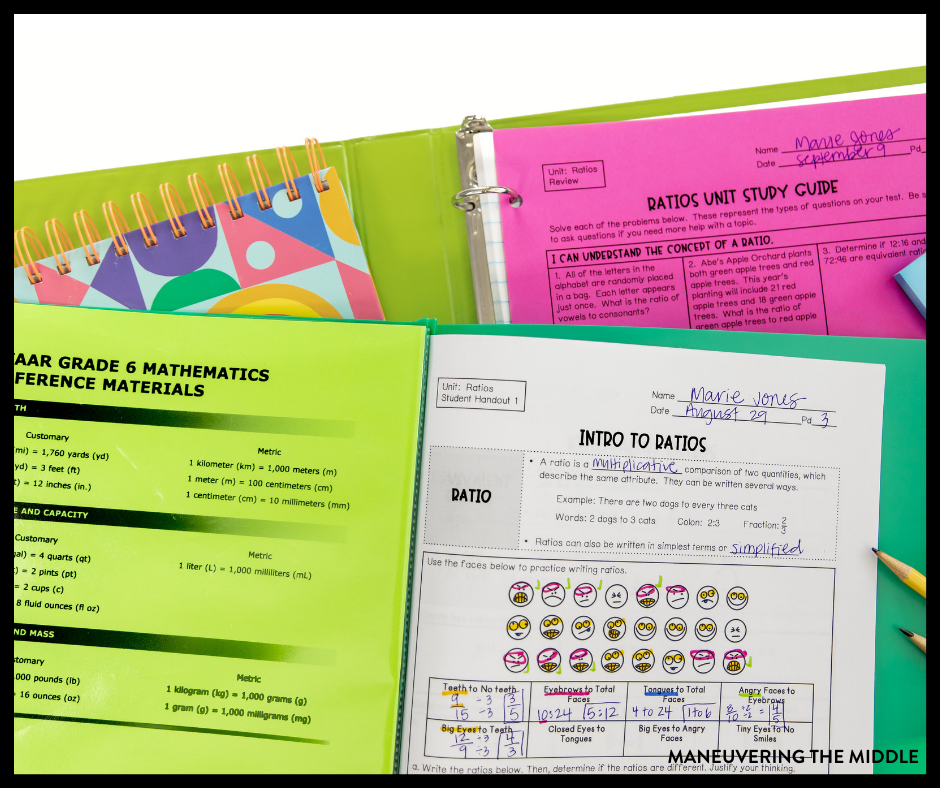 This is the organization method that I landed on after years of trying something new each year. Essentially, I purchased the plastic folders with brads for the handouts. The plastic was durable enough to handle the abuse of a middle schooler's backpack. 
They were slim, which meant that the folders could stay in students' backpacks. (Remember, we didn't have any lockers.) The folders held one unit of student materials at a time. Each day, students would pick up a stapled packet:
Page 1 – warm up on front and exit ticket on back
Page 2 – student handout
Page 3 – independent practice
Students would rip off page 1 and turn it in at the end of class (for me to look at their exit ticket) and the student handout and independent practice would go into their folders.
I printed the Study Guide (or anything else I wanted students to never throw away) on colored paper, and after each test, we would recycle all white paper. Study guides remained in their folders so they could reference a summary of the unit if necessary. (You could also do this using Maneuvering the Middle's cheat sheets, found in the Test Review unit.)
Streamline your planning with an All Access membership!


OTHER TIPS
If you want your students to stay organized, you will have to give them class time to do this. During the warm up, give them instructions to add their work to their binder/folder and then walk around and check that it was done. If you are passing back graded work, give students time to put it in the correct spot.
If you are going to print one unit at a time to distribute, make sure to add page numbers before making copies.
I like to keep tests and quizzes. Students would get a class period to look at their feedback and make corrections, then the tests would be turned back into me, where I would keep them filed in case I needed one for a parent conference.
RECYCLING BIN
The recycling bin is my best friend. I do not keep anything that is not graded. Everything else goes into the recycling bin. We do not have the capacity to hold on to everything our students touch. I throw away exit tickets after I have looked through them and establish who I need to pull for a small group. My first year of teaching I tried to keep everything. Why?! I spent hours filing and moving papers around and making piles and being insane. Recycle that clutter and marvel at how clean your classroom looks!
What student organization systems do you have in your math classroom? Do you have any students with backpacks that look like there was an explosion at the paper factory? I only had a couple once I began to collect and recycle the papers that weren't necessary for students to keep. Here's to hoping that this student organization system will work for everyone next year!