For many years now, the term differentiated instruction, has been all the rage.  Principals ask how you are differentiating in classroom, there are numerous professional developments on the topic, and in all honesty, it always seemed like so much work.  Today, I am sharing how to organize math intervention in way that is both simple and effective.
When, I began teaching math intervention classes, I realized that even there I would need to differentiate.  Because students come to us with a vast range of misconceptions and abilities, it is up to us to provide opportunities that will eventually enable students to correct these misunderstandings and grow their understanding of math.
This can seem overwhelming when there are 30 different students who all need different types of help.  Good news is that with a little bit of upfront organization and your fabulous teaching skills, it is possible!  Just because it seems hard to do, doesn't mean it has to be hard.
---
[update 11/27/16]  This post has received several questions about the various forms and how to use them.  I put together a video of how to use the forms and which forms can be used with various groups of students.  Overall, there are four different forms with various uses.  Several of the forms are editable and all are intended for use with grades 6-8.  Scroll to the bottom to view the video.
---
IDEAS FOR ORGANIZING MATH INTERVENTION
Last week, I posted tips for implementing small groups in your math classroom. Below are some ideas on  how to organize what you are doing inside and outside your small groups to best differentiate math instruction.   There are many different practices; I am going to share what has worked in my classroom.
KEEP IT SIMPLE
Keep it simple, is pretty much my moto!  During state test review, determining what needed to be retaught and practiced again with my struggling students seemed daunting.  I created one document that included all the sixth grade skills and had students work on their specific skills.  This simple list kept me on track, allowed me to differentiate, and organize my math intervention students with minor upfront work.
Here is how it worked: before beginning my review unit, all of my students would take a benchmark STAAR test, so I could see what skills we needed to focus on with the whole class.  For my small group students, I created the exact same review packet for each student and placed the packet inside a bradded folder with a cover sheet.  The cover sheet is where I differentiated the instruction.  The cover sheet listed all of the standards that was tested on the benchmark and would be tested for the state.  I highlighted the skills that the individual student needed to work on based on what I saw from their benchmark.  For example, student A might have 'dividing decimals' highlighted amongst other highlighted skills while student B might have 'integer operations' and 'creating equivalent fractions' highlighted.  Student A could find the section titled 'dividing decimals' and start there.  The next day, they would go to the next highlighted skill.  The cover sheet included a space for me to check off when they mastered the skill.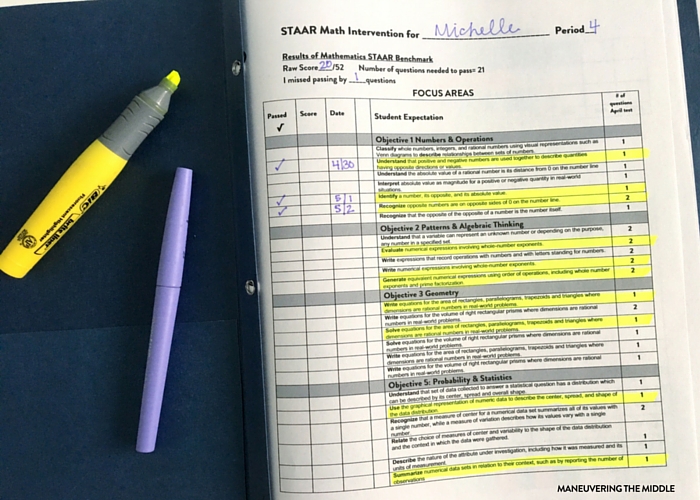 While my class was working on review activities, partner work, or stations.  My small group knew exactly what to do.  They had their own folder, could get started, and were not waiting on me.  Students were practicing exactly what they need to work on, and I didn't have to make 16 different worksheets to hand out to 16 different students and try and keep up with who got what.  Or maybe that is just me? 🙂  You can find great resources for review here.
MAKE IT VISUAL
After my Unit Tests, I passed back their unit tests along with a Unit Test Reflection.  The Unit Test reflection broke down the test into the 3-5 skills that were tested.  Next to the skills, were boxes with the question numbers that aligned to those skills.  Students would go through their test and color in green for questions they got correct and red for problems they got wrong.   This created a great visual for students to see what skills they still needed to develop.  Students were then able to reflect more effectively on their strengths and their areas of growth.  I had students keep these reflections in their notebook, so on days when we used Khan Academy, they could refer to this page and work on the skills they had not mastered yet.

TRACKING PROGRESS
This year, my school required teachers to implement Student Intervention Plans to track student progress before referring them to any RTI or SPED services.  Before this, I didn't monitor my students' progress aside from unit tests and what went in the grade book.  I created this one pager to track how my small group students were progressing.   I would fill out the date, along with skills we were practicing, and write notes based on my observations.  I hole punched it and kept it in a small group binder, where I could keep a running record.  If you are super on top of things, make all your copies at the beginning of the year.  Need documentation?  Just make a copy and slap a post it note on top of the other students info.  Easy enough.

USING EXIT TICKETS
Exit tickets are another way to decide who needs to go into a small group and what you should reteach or practice in the small group.  For example, I know that I am going to spend two days on adding fractions with unlike denominators.   I would teach the entire skill on Day 1, have students practice as I circulate, then I would have them independently complete a 4 question exit ticket.  When I am looking through the exit tickets, I would sort the exit tickets, not according to their grade, but to what the misconception is.  I might have one stack of exit tickets where students did not find a common denominator and just added the numerator and denominator together (conceptual understanding).  I might have a stack of students who made a computation error (procedural fluency).  Lastly, I might have a stack of students who couldn't decode the word problem (application).  Of course, some exit tickets might fall into all three categories, but these different stacks allow you to prioritize what students to pull in your small group, who just needs more practice, and who needs to be completely retaught.
math intervention Binder
[update 11/27/16]  This post has received several questions about the various forms and how to use them.  I put together a video of how to use the forms and which forms can be used with various groups of students.  Overall, there are four different forms with various uses.  Several of the forms are editable and all are intended for use with grades 6-8.
The forms and binder are available for teachers who the Common Core State Standards (or something similar) and for Texas Teachers who teach the TEKS.  If you are interested in grabbing them already made. 🙂
I hope that this post provided some easy take-aways on how to organize math intervention in your classroom.  Similar to how we scaffold for students, scaffold some of these organization systems into your daily routine.  Choose the tip that would be the most helpful to you or the would be the easiest to implement and give it a try!
For more tips on pulling small groups, check out Tips for Small Group Implementation here.