One of the biggest hindrances to pulling students into small groups is the big question of, "What are the other kids doing while I am working with my small group?"  About half of the questions I get about small group instruction revolve around the idea of how to keep students who are not at the small group table engaged and working.  Here are a few tips on managing small group instruction. 
TIPS FOR MANAGING SMALL GROUP INSTRUCTION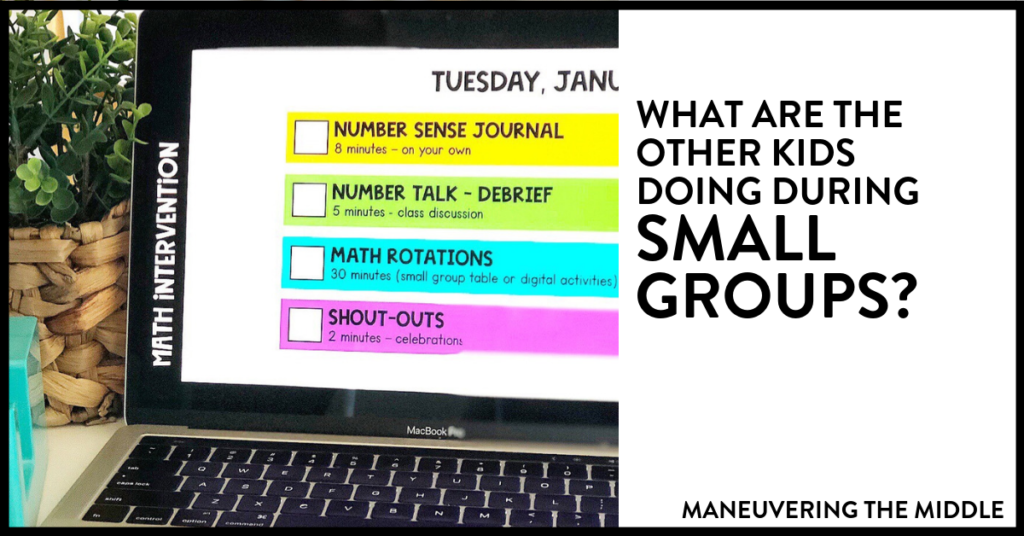 We all know what happens when they aren't engaged.  Students begin wandering around the room with off-task behavior, the room quickly becomes loud, and we begin redirecting students.  This means that the time at the small group table is less efficient and productive.
I think there are many factors that play into this situation.
The relationship you have with your students

The structure of your classroom

The number of students

The dynamics of the students in your class

The consistency in which you pull small groups and your students' familiarity with the routine of working independently
So, I am going to say that the list above is something to consider when you are planning to use small groups.  Just like anything else in your classroom, setting a procedure will minimize the number of interruptions and distractions.  If you are getting started, then here are some questions to ponder and plan for:
What would you like students to do when they have a question?

How would you like students to move from groups?

What voice level are you comfortable with from students not at the small group table?

Where are the materials located that they need, and how would you like students to obtain them?
To minimize interruptions, I recommend providing students with work that is self-checking, accessible to all, and provide extension opportunities for students who will finish early.
Ideas for students who are not at the small group table
1.  Technology
There is a wide gamut of math programs that can be used from skill drills to more prescriptive programs.  While technology is an awesome tool, I would suggest trying to ensure that students are actually doing useful things.  I have seen way too many softwares that are either well below the level of the students or way too complicated.
Some apps to consider:
Maneuvering Math™ has digital activities using Google Slides and Google Forms. The digital activities are aligned with what students at the small group table are working on.
  2.  Number Sense
I have written about how to develop number sense and some strategies for incorporating number sense on the blog.  I think that any activity that supports number sense can be really powerful during this time.
Fraction, decimal, and percent matching cards

Matching multiple representation cards of tables, graphs, and equations

Utilizing fraction bars to practice equivalency

Math puzzles that incorporate integers
  3.  Math Games and Math Stations
The benefit to incorporating math games and math stations is that engagement is generally higher than a worksheet.  Students are more likely to participate and less likely to become frustrated and give up.
From task cards to cut-and-paste activities, there is generally a plethora of math games and stations to choose from.  
While this does seem to be "high-prep" (is that a thing?), it does lead to high engagement.  Yes, there is more cutting and planning. The good news is that they can be used throughout the year and even throughout the semester.  Once they are prepped, they are ready to go and can be utilized again and again.
I would start by incorporating one math game or math center and seeing how it goes.  You don't have to go all out. Actually, I would recommend starting small and then growing your number of groups and repertoire of games and stations.    
  4.  Math Journal
Another great option is a math journal.  This journal can be reflective in nature while incorporating problem solving skills.  It is an awesome way to have open-ended questions where students are expected to use multiple strategies to demonstrate their understanding.
When we were brainstorming Maneuvering Math™, we knew that we needed to incorporate problem solving and number sense.  We decided that a math journal might be the best of both worlds. Our number sense journal can be utilized as a class number talk or in a more independent setting.  We planned for each page of the journal to have an accessible entry point so that students who struggle can get started and contribute. We then incorporated questions that build number sense and require out-of-the-box thinking skills.  These follow a similar format so that students can get into the routine of things. These are NOT timed but still practice math facts that are essential to middle school and beyond.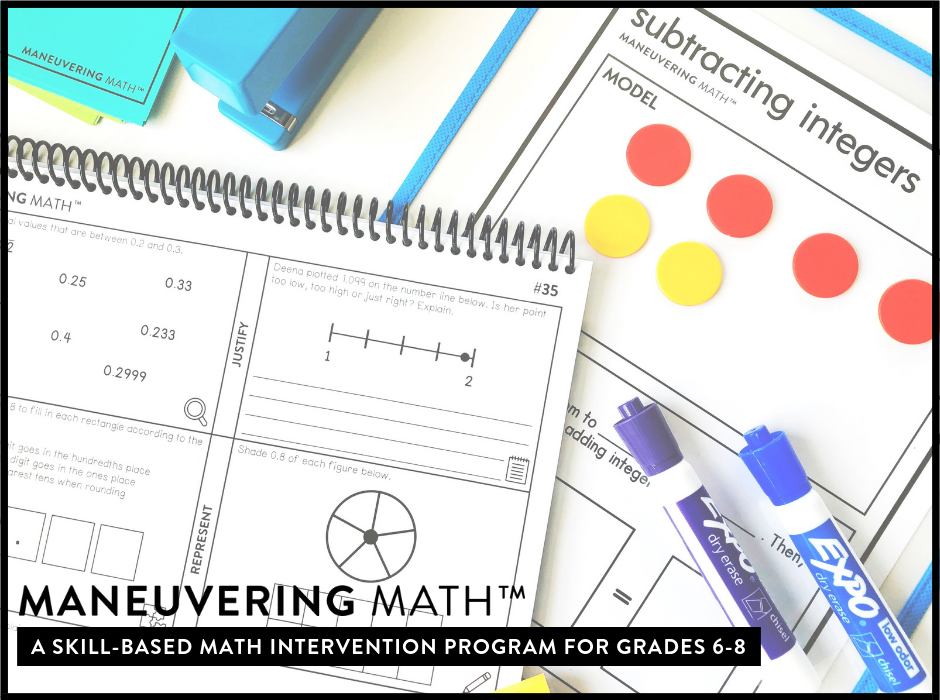 What other things do your students do while you are pulling small groups?  What tips do you have for managing small group instruction? Please share all the ideas in the comments.