Desmos is a free and highly engaging site for students and teachers to use. Our roundup of our favorite Desmos activities for Algebra 1 was so popular, we thought it would be nice to create another roundup specific to middle school standards. And since some teachers have a few more weeks left of remote learning, I figured now would be the best time. 
Note: I organized these by grade level, using CCSS. There are so many unique state standards, so please check to make sure the activities align as needed. The objectives come directly from the Desmos website.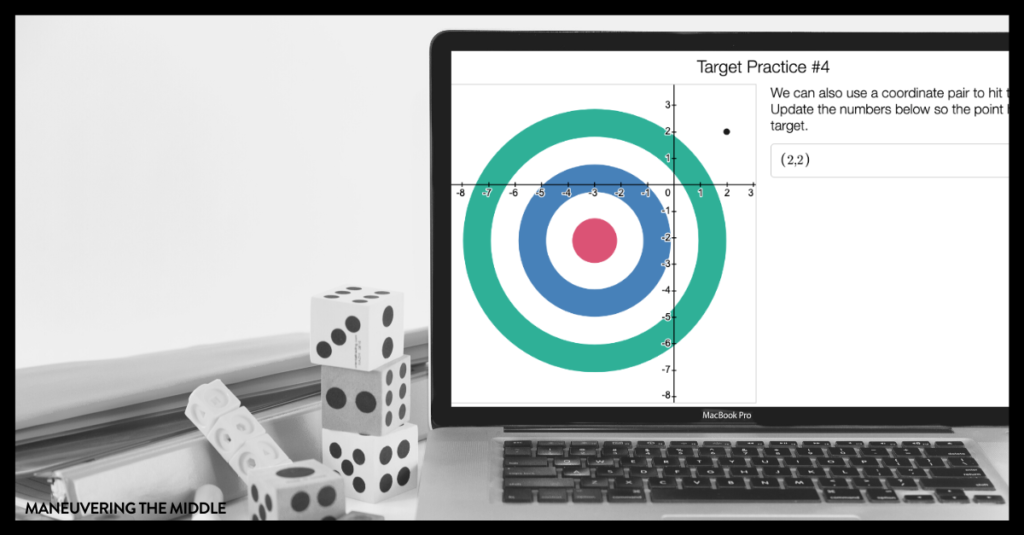 DESMOS ACTIVITIES FOR MIDDLE SCHOOL
6th grade activities
1. Balloon Float (Ratio Relationships) CCSS: 6.RP.3a
Objective: Students will use ratios to determine the number of balloons needed to float different objects. 
2. The Coordinate Plane Activity CCSS: 6.NS.6c
Objective: Students will graph a point on the bullseye of a target. They will plot points in all four quadrants by using a table and then using ordered pairs.
3. Exploring a Triangle (Area of a Triangle) CCSS:  6.G.1
Objective: Students will use Desmos-powered geoboards to explore triangles and their areas.
4. Make It Balance (Mean) CCSS: 6.SP.B.5.C
Objective: Students will place bears on a beam to develop a sense of the mean as a balance point. They begin by guessing and checking. Then they'll develop strategies for determining the balance point with more precision (e.g., by observing that the balance point is where the sum of the distances to the left of the mean is equal to the sum of the distances to the right.)
7th grade activities
5. Adding Integers CCSS: 7.NS.A.1
Objective: Students practice adding integers in the context of a card game. The goal of the game is to create two groups of cards, each with the same sum. Whoever uses the most cards wins!
6. Proportional Relationships CCSS: 7.RP.A.2
Objective: Students will develop the definition of a proportional relationship by creating a giant and making all of his features are proportional. They'll see the representation of his proportions on a graph and manipulate the graph to see the giant change dynamically.
7. Mean Absolute Deviation CCSS: 7.SP.B.3
Objective: Students will analyze parallel dot plots showing their and their classmates' guesses over time in order to make connections between the "spread" of a given dot plot and the mean absolute deviation for that data set.
8th grade activities
8. Puzzling It Out (Angle Relationships) CCSS: 8.G.A.5
Objective: Students solve angle puzzles to apply what they've learned about angle relationships.
9. Make them Balance (Systems of Equations) CCSS: 8.EE.C.8
Objective: Students will use hangers to explore solutions to equations and systems of equations. Students first explore a single hanger and see that values that balance the hanger are also solutions to an equation and, when plotted, form a line. Then, students encounter two hangers and see that values that balance both hangers are also solutions to both equations and fall on both lines.
10. Guess My Rule (Intro to Functions)  CCSS: 8.FA.1
Objective: Students will develop the concept of a function by using input-output pairs in a table. They explore different rules, some of which are functions and some of which are not. Some rules are numeric, while others involve letters and words.
11. Land the Plane (Writing an Equation of the Line)  CCSS: 8.EE.C.7
Objective: Students find equations of lines in order to land a plane on a runway.
12. Pythagorean Theorem CCSS: 8.G.B.7
Objective: Students use the Pythagorean theorem as a tool to solve problems involving diagonal distances.
There it is! What Desmos activities would you recommend for middle school students?