Confession: my favorite part of being a teacher is decorating my classroom. It is too fun! You take this lifeless, white-walled, empty space and make it vibrant, inviting, and covered in knowledge. You might say this is a metaphor with what teachers do to students' brains: teachers fill and transform the minds of their students. But, if you are like me, the August paycheck isn't going to cover all those white walls. Today, I am sharing ideas for classroom decorations on a budget.
BUDGET FRIENDLY CLASSROOM DECORATIONS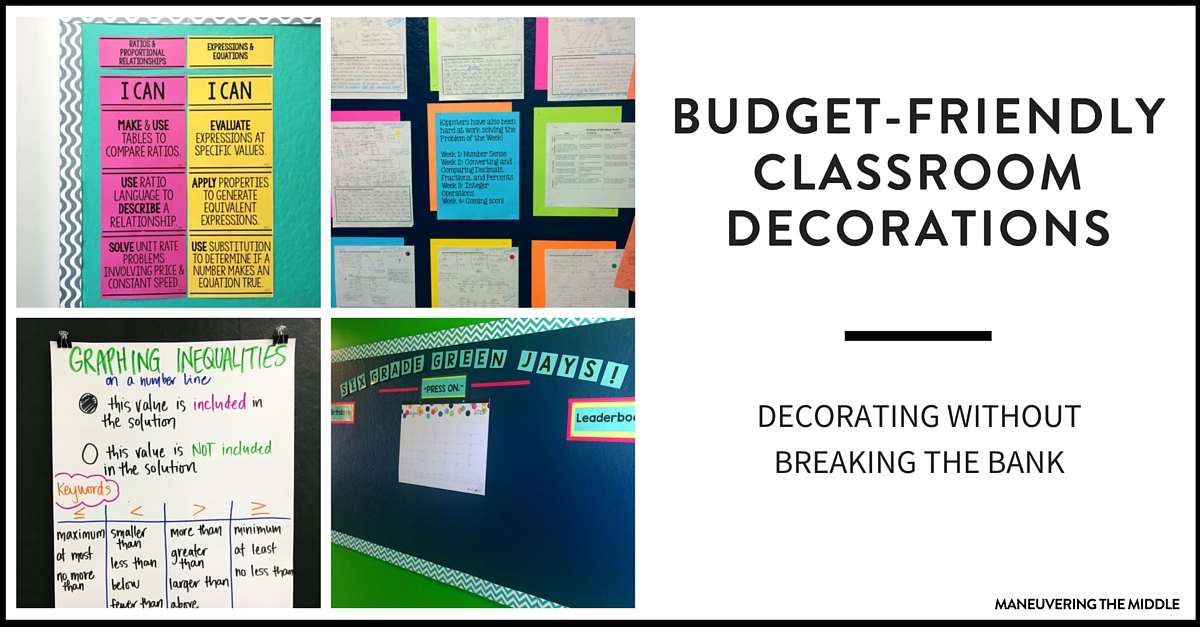 Update 7/28/2026: Maneuvering the Middle now has a Middle School Math + Algebra 1 Word Wall.
As you can see in the video below, our Word Wall includes 190 essential math terms, their clear-cut definitions, and their visual representations.
We've included Spanish translations for all terms and definitions, ensuring a supportive and accessible learning experience for English Language Learners.
They were designed to be minimal prep and flexible to customize the formatting to suit your students' unique needs.
I used to think a beautiful classroom could only be accomplished with several trips to Teacher Heaven and handing over some serious cash, but over time I have learned that the best classrooms can be accomplished by just a few things.  Links below are to Amazon, which comes to my house all too often, because let's be real – who doesn't love free two-day shipping?
Colored Card stock is All You Need
Great news! If you have access to a printer and colored card stock, you can do ANYTHING. There are so many resources that you just need to print, laminate (or put in page protectors), and staple to your wall. For example, these I CAN statements require only a trip to the copy room, and don't forget this resource for the little things that need a label. The best part of using colored card stock is that streamlines storage. If everything is the standard letter size, that means everything can fit into a page protector, and then can be stored in a binder during its off season.
I also love that you can buy the variety packs or choose a handful of specific colors that creates a color story for your classroom. My favorite is this bright variety pack.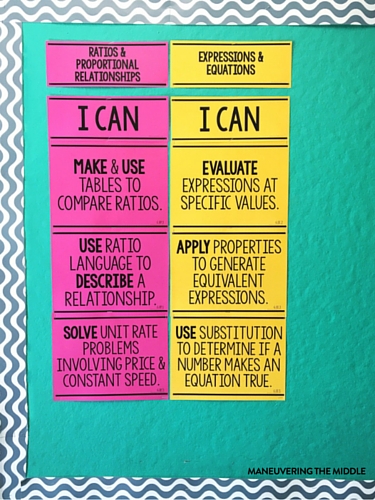 Make Your Own Letters
While these little letters are super cute, you can accomplish the exact thing with colored paper and a computer using the specific letters you need. I purchased these letter packs in years prior, and melted down halfway through realizing that I had run out of all the Es. Download a favorite font from dafont.com or fontsquirrel.com, (my personal favorite is this one) and use Power Point to format the desired text you need. If you are feeling extra creative, cut out letters, use washi tape for added color, and laminate them.

Poster BOARD Instead of Chart Paper
I learned this genius trick from my sister! Chart paper is convenient for anchor charts, but is quite expensive. Each paper comes out at about $1 apiece which can really add up as someone who ruins about 5 pieces before satisfied with how the anchor chart looks. In addition, chart paper is quite thin and cannot be stored without being damaged. Poster board can be purchased on Amazon and comes out to around $0.65 apiece, or possibly even cheaper at WalMart. It is thicker, can be moved and stored around without having to be too delicate, and you can use the backside because markers will not bleed through the poster board. For best results, use these markers. Bonus points: they make anyone's handwriting look much better. Check out this post to learn a trick to hanging posters and documents.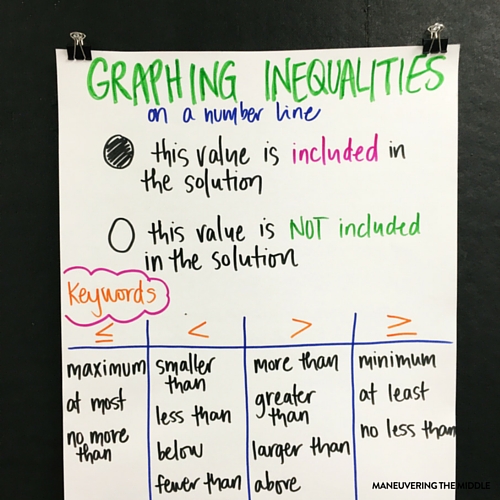 STUDENT WORK AS DECORATIONS
The most meaningful yet overlooked way to decorate your classroom is with student work samples. It cost nothing, will boost classroom culture, and can serve as an example of what you would like to see when students turn in their work. Work samples can also communicate to your students that this is not my classroom but our classroom. This means that you must allow space for you to show off your amazing students' work, so try and resist covering all your walls in August.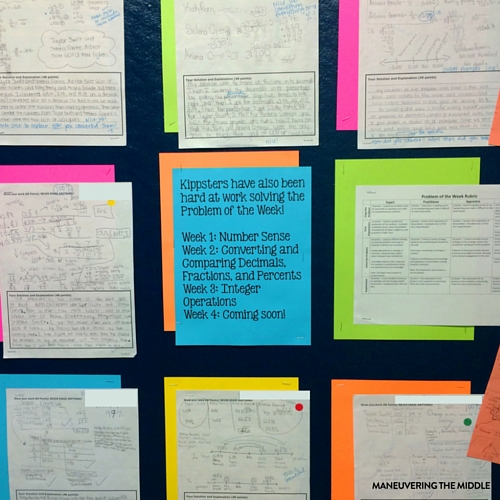 Classroom decorations on a budget force you to flex your creative muscles. Don't panic if your room doesn't look like Pinterest in August– it really shouldn't. Leave space to hang student work, put up new anchor charts, and shop the Target dollar section. What great ideas do you have to decorate on a budget?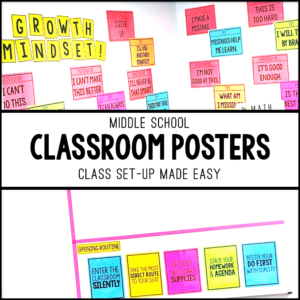 The easiest way to get a jump start on your classroom decorations is to use our classroom poster pack. See them in action in my classroom here!