Ya'll, the time has finally come! It is classroom reveal time, so join me on a tour around my middle school classroom.

This year I started completely fresh. My school repaints the walls and waxes the floor during the summer, so I have to pack everything up before I leave for the summer. This always feels like a pain, but it gives me the freedom to start completely over each year. And for me, I love that. Decorating my classroom is my favorite thing to do at the start of the year. Ask any teacher in my school– I am all over middle school classroom decorations. I love them so much I made my own. You can get them here and check out all of the details of our new Middle School Math Word Wall.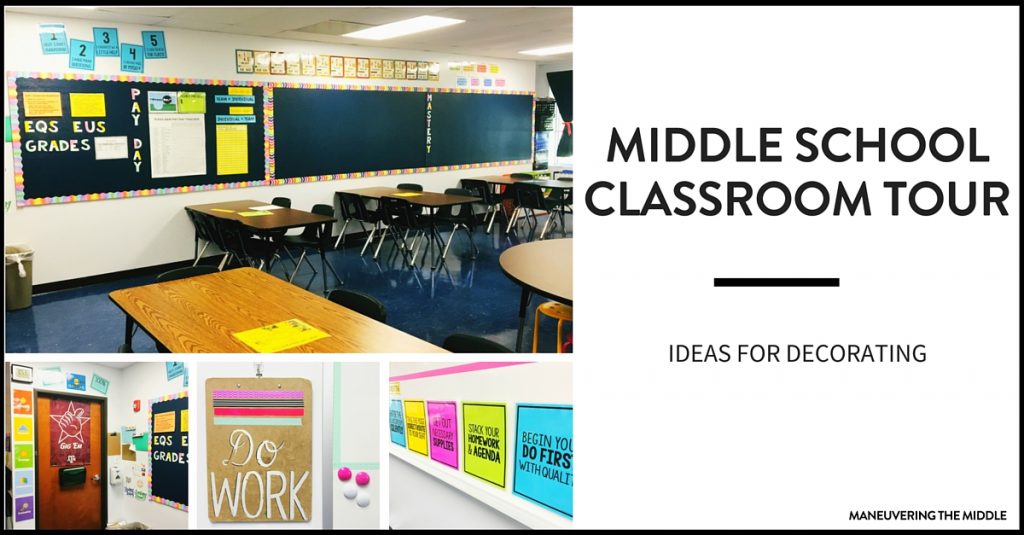 Update 7/28/2023: Maneuvering the Middle now has a Middle School Math + Algebra 1 Word Wall.
As you can see in the video below, our Word Wall includes 190 essential math terms, their clear-cut definitions, and their visual representations.
We've included Spanish translations for all terms and definitions, ensuring a supportive and accessible learning experience for English Language Learners.
They were designed to be minimal prep and flexible to customize the formatting to suit your students' unique needs.

Here is what my classroom looked like when we started. Heaping piles of boxes and furniture? Check. Sad and in need of color? Check. Wonderful sister who drove 3 hours with a car full of items she bought for my classroom? Check.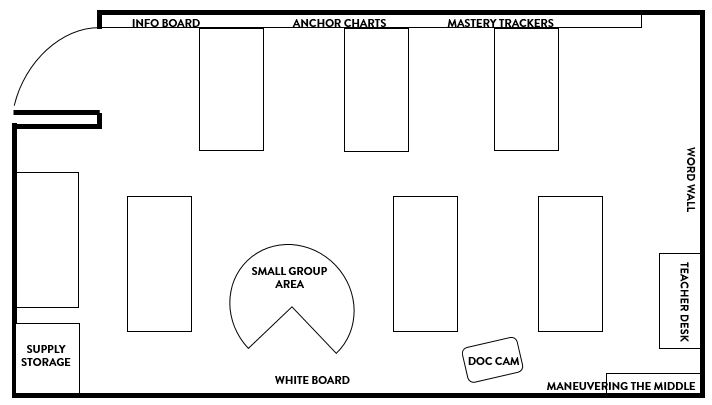 Here is the floor plan of my classroom. Room observations: my room is tiny. It is smaller than the other classrooms by 5 feet width wise. However, I have large windows that look out to trees and a large field. I have had classrooms with no windows before, so I will take all the vitamin D that I can get. I have lots of white space that can be stapled right into. I have also had classrooms with concrete walls, and there was nothing I could do to keep things on the wall, so I love that all I have to do in this classroom is use a stapler.
Before I start decorating, I make a plan for the space. Where is my small group area going to be? How are students going to enter and exit? Where are they going to pick up handouts? Where are students facing a majority of class? I use those questions to guide where I might place my anchor charts, word wall, and other pertinent information. You can see more tips on decorating your classroom here. Then, I add it to my floor plan.
Let's see the afters, shall we??!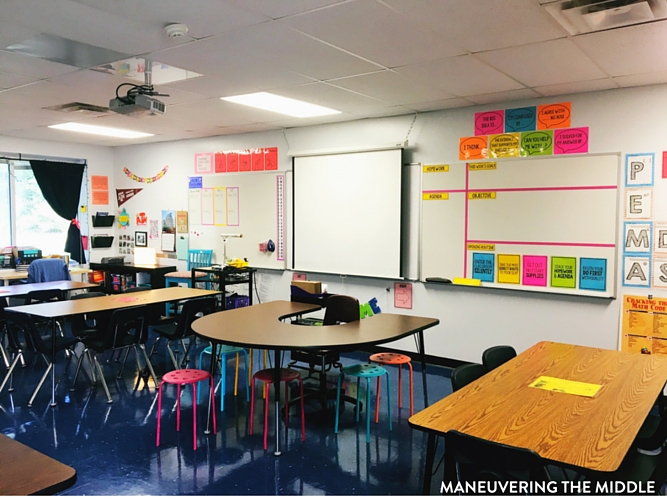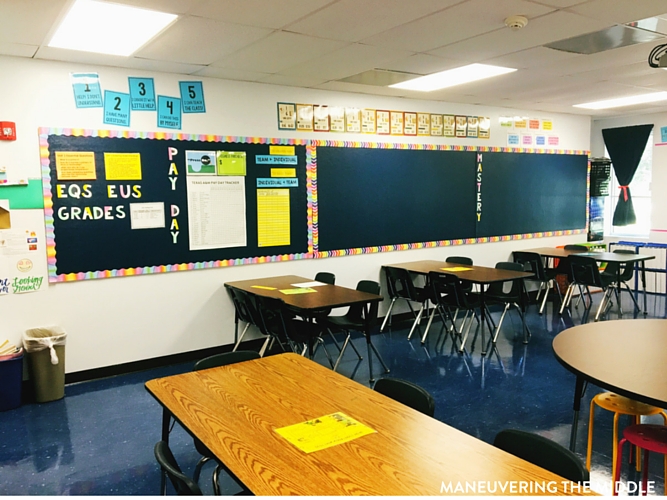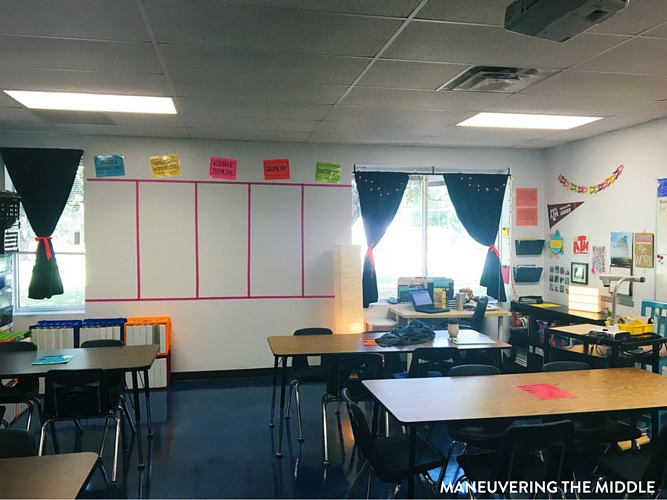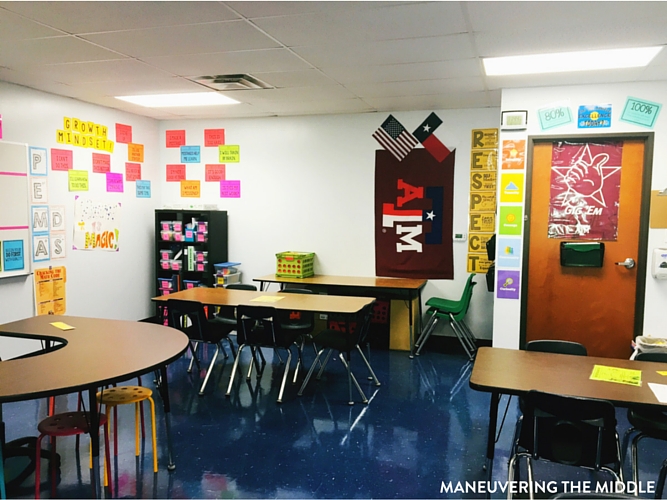 It is my best classroom yet! Alright, let me walk you around. Form follows function in my room, so although it is pretty, I spent all last year making mental lists about what would fit best and where things should go. I am eager to see how well routines function in my new class set up.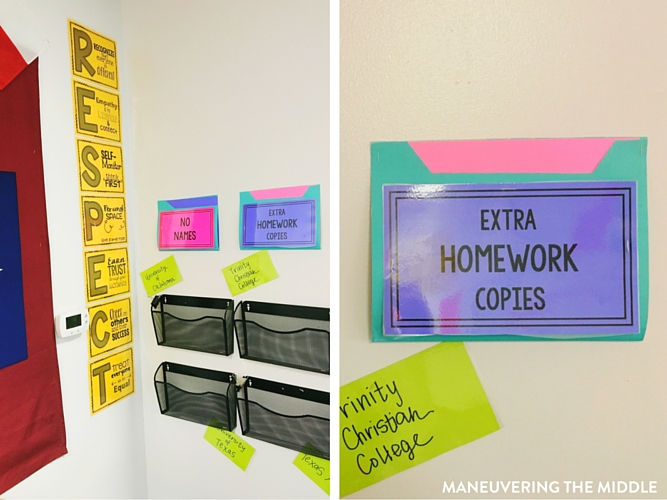 The wall trays are a change in my room from last year. I have used trays in the past, and they require a horizontal surface to live on. That was too much space wasted in my tiny room, so now work gets turned into the wall folders. I have one for each class period (my classes are named after the colleges that the teaching staff attended). This area also houses no name papers and extra homework copies. If a student loses their homework, they do not need to ask me for an additional copy because they can help themselves. Winning.
The RESPECT posters are an idea that my grade level chair suggested that we post. It positively states all the behavioral expectations I have for students, so up on the wall it goes.
Growth mindset is all the rage right now, which it very well should be. There is no subject students struggle with a fixed mindset more than in math. Mathematical Mindsets was a summer read that had lots of research on the power of a growth mindset. I wrote about it more in detail here. This poster set will stay up all year! Below, Ikea shelving holds math manipulates, teacher supplies that I don't regularly need, and students supplies. Update: I wrote an entire post on classroom supplies from Ikea.
This is the most colorful area of the room. I love my objective board area set up. The homework section is high enough for every student can see it. I have plenty of space to write one or two objectives. And my opening routine section is on point. Everything should be printed on neon card stock. Amiright?! Also, let us not forget about my sentence stem speech bubbles.
Here is my small group space. It is situated right in the center of class. At this point, you should know that I love Ikea. These stools are from Ikea and are around $5 a chair. (Update: my coworkers uses these from Amazon.) I use an Ikea cart that is on casters to wheel around me. I have reference charts and multiplication charts in page protectors and hooked onto the cart using binder clips and rings. The cart also holds whiteboards, markers, and erasers. Whiteboards keep small group students engaged. Fraction strips and tiles are on the bottom shelf.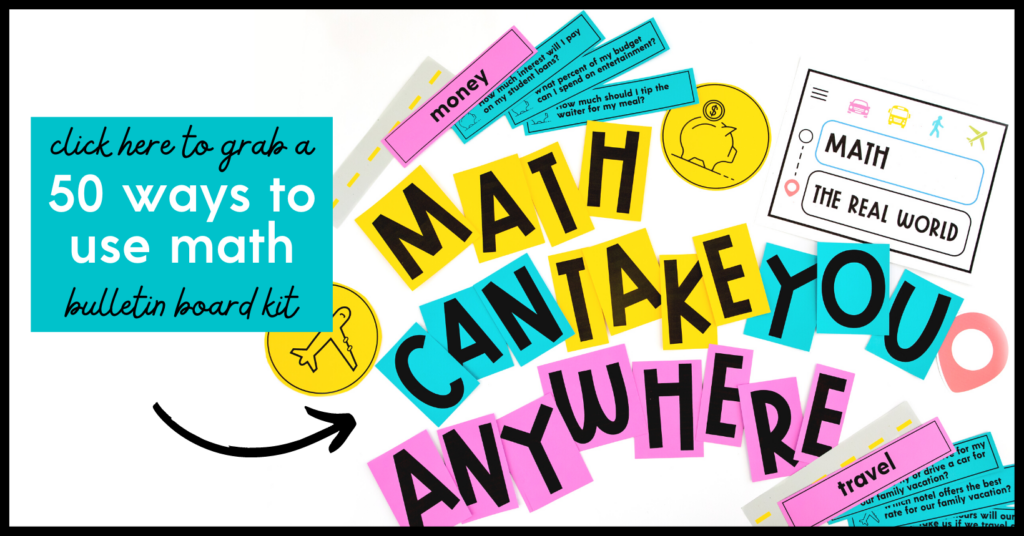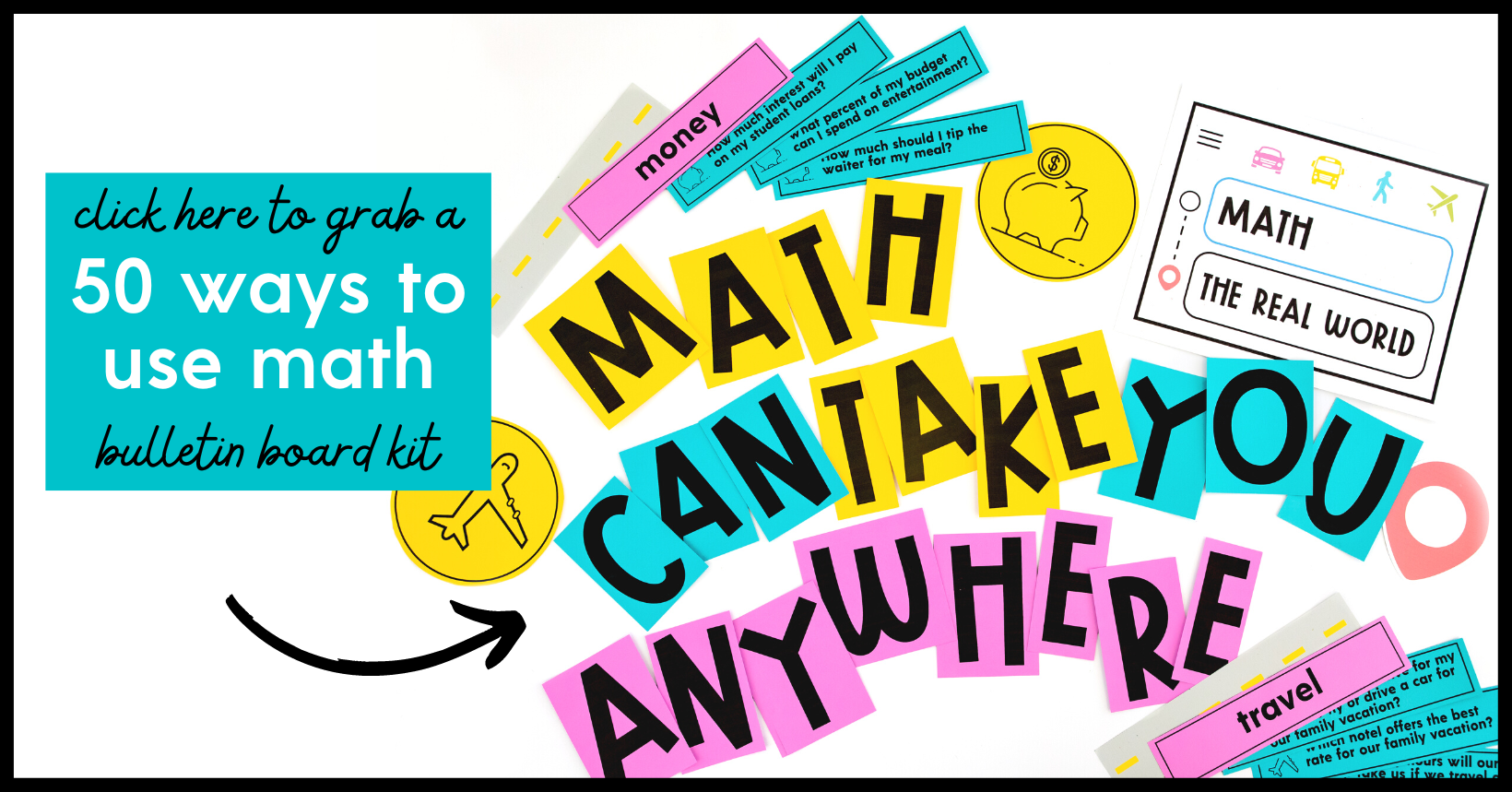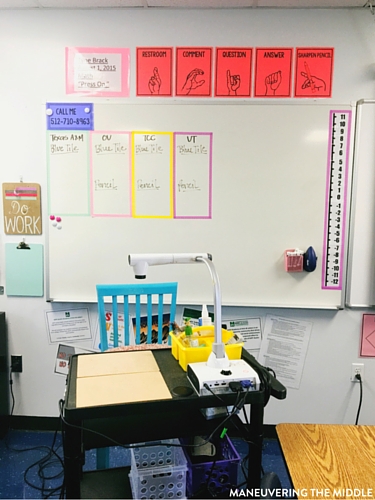 This area of the room is where I teach my introduction to new material. I use this whiteboard space that is taped off with washi tape to record points for each class or any missing work. My vertical number line is from Math=Love. Also, this eraser is a game changer. The hand signals can be found here and is one of the routines and procedures that is a must teach for middle school.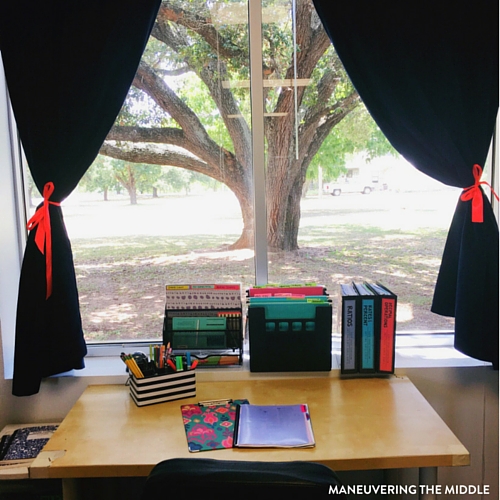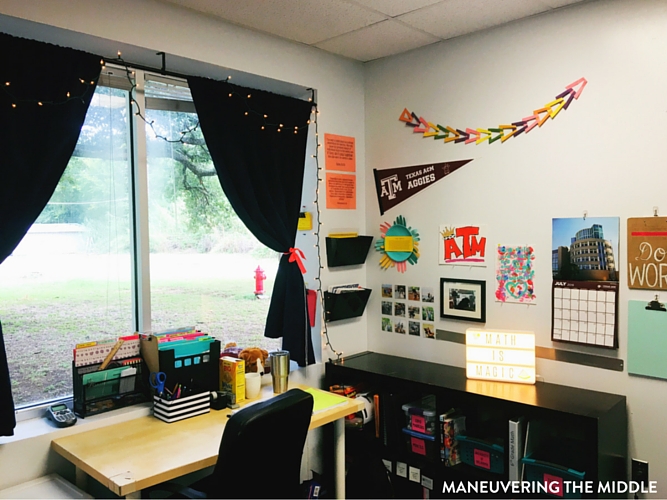 My teacher desk area is a work in progress. I like being able to look out the window while I work during my planning period, but it feels too available for students. We will have to see how it goes. You can see that my desk doesn't have any storage, so I rely on the Ikea shelf and plastic drawers to house many things. I think open storage keeps you more organized and clutter free, so I am a fan. Also, loving my light box from Michaels. You can find a similar one here.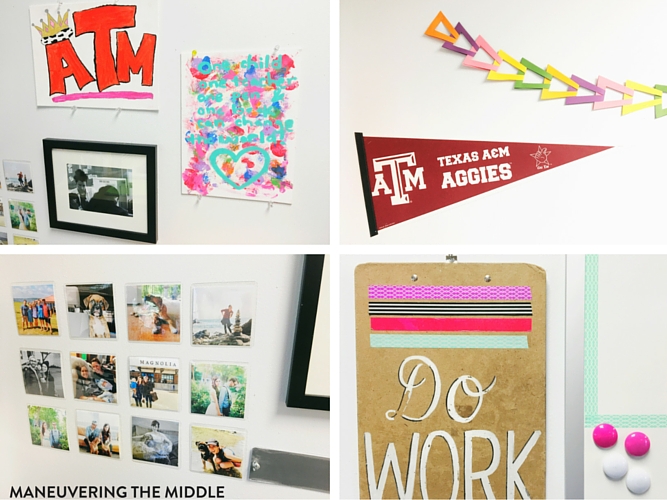 The pockets are holding pictures that I printed out. I grabbed the pockets at the Target dollar section too. It is also what I used to label my supply bins. They are amazing. I can switch out the pictures really easily too. I have also chosen some of my most memorable student art to hang here. Also, the black and white picture of me teaching was a Teacher Appreciation present that my principle gave to all the teachers last year. She hired a professional photographer to take pictures of us in action. And the clipboard holds my rosters, but I prefer to hang it cute side face up.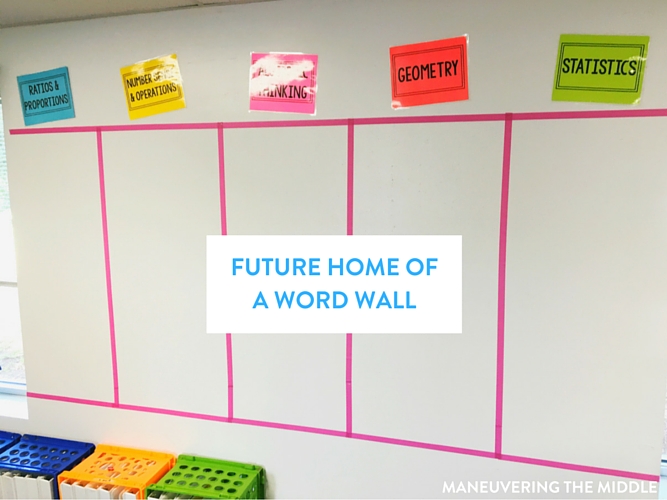 Hello, word wall! I put up new words as we learn them, and I place them under the appropriate category. By the end of the year, this wall is completely covered.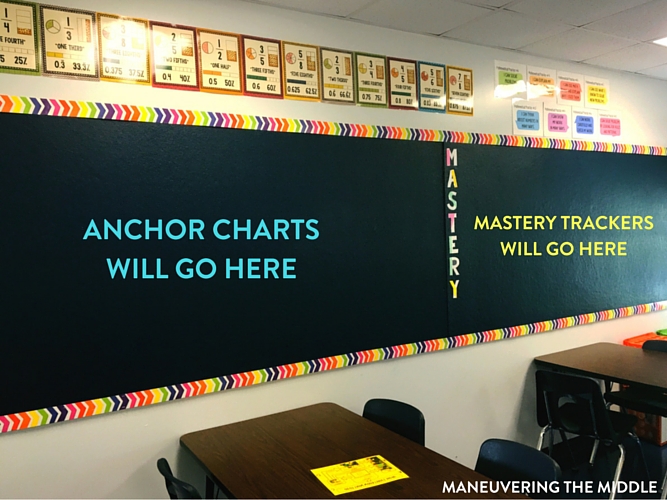 My bulletin boards are painted navy. They appear black in the photos. The borders are from the Target dollar section. I stocked up, so that I can replace them if they wear out over the course of the following years. That is how much I love them! I plan on posting relevant anchor charts based on our current unit on the blank center board. My mastery trackers will go on the third board. Our campus tracks student mastery of each state standard. It is hard to not fill up all the bulletin board space right now, but I need space to allow my classroom to grow. Remember, your classroom does not have to be 'done.' Mathematical Practice Posters are from Everybody Loves a Genius and can be downloaded here.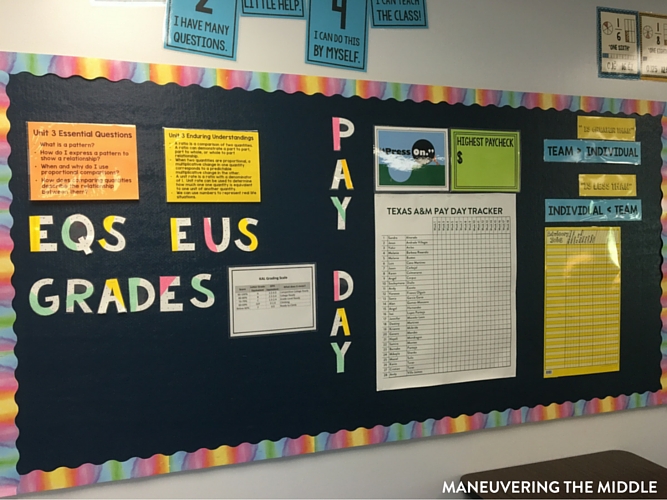 This board satisfies many requirements made by my school. I must have posted grades, enduring understandings, and essential questions. For my essential questions/enduring understandings, I write them all out for the year, separate them by unit, and stuff them all into the page protector. Another example of batch processing saving time and energy. You can read about my Pay Day tracker here.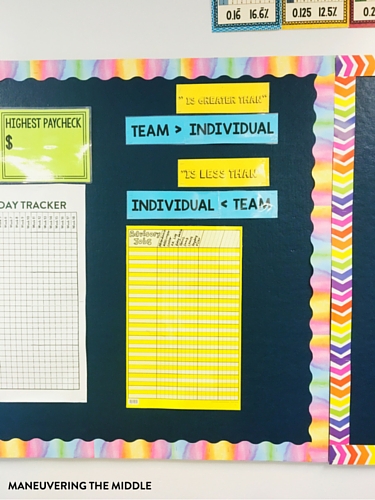 This area is for my advisory. I track weekly behavior on the pay day poster and the yellow chart is where I list classroom jobs. The Team > Individual Posters help my students verbalize which sign means 'less than' or 'greater than;' I love when classroom culture collides with math!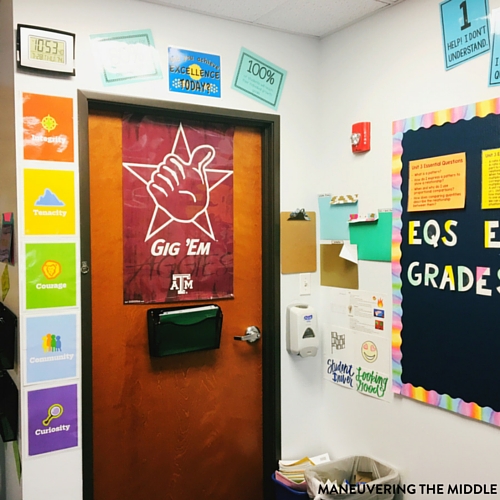 For those of you wondering about student work, I like to display it on the bulletin boards outside my classroom for all to see. Alas, we have made it all around the room. Here is my door. The file on the door is where students pick up handouts for the day on the way into class. If this was MTV's Cribs, I would escort you out and wave to you as I shut the door.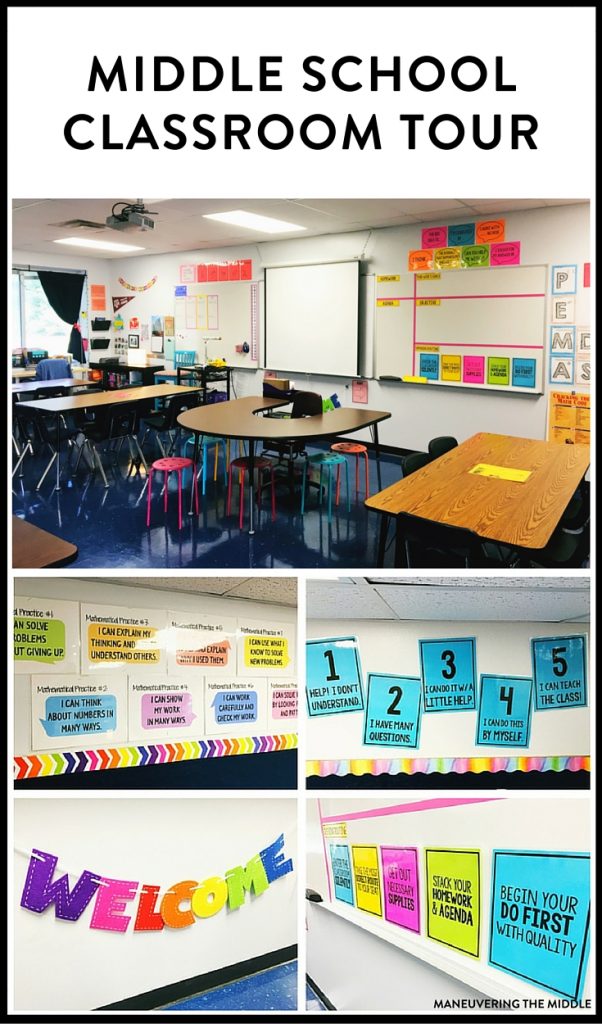 See, a middle school classroom can be bright and fun! Who is excited to get started? Who has already started? Who has stock piles of goodies from Target in their car?