I was at the dentist the other day when I shared that I taught math.  Like clockwork, the dentist shared that he was in fact a 'math person.'  This is a common occurrence although most respond that they are not 'math people.' When did everyone split themselves into two camps of math ability?  I am really asking because I do not know, and I would like to rectify this as soon as possible.  Because if adults feel this way, then they must have started believing this lie when they were learning math as students.  Here are a few things that I do to cultivate a growth mindset in my classroom in hopes of engaging the students who do not believe that they are 'math people.'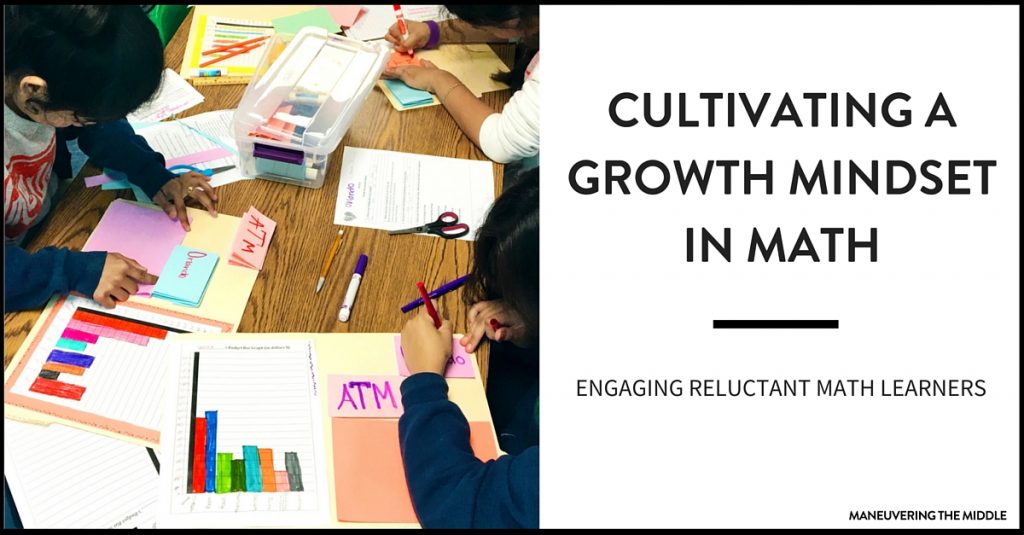 Cultivating Growth Mindset in Math
Communicate That Everyone Can Do It
A fellow math teacher has a poster in her room that says "we are all math people."  Boom!  That is true.  Everyone is capable of learning, understanding, and believing they are strong in math.  In order for students to believe they can be successful in math, teachers must believe and communicate this fact to their students. How do we communicate this to students?  Posters on the wall are great, but what about sharing valuable research with students?  In Mathematical Mindsets, the author, Jo Boaler, cites a study that occurred over two years-
In one study, seventh grade students were given a survey to measure their mindset, then researchers followed the students over two years to monitor their mathematics achievement.  The results were dramatic, as the achievement of the students with a fixed mindset stayed constant, but the achievement of those with a growth mindset went onward and upward.
This is a great paragraph to share with your students.  My students will read this and studies similar to it, answer reflections questions, and dialogue as a class about the concept of growth mindset.
Build the Relationship
Students will work hard for teachers they like.  You will not get very far by strong arming them into doing math problems.  Sometimes it is necessary to keep them after school or tutoring or to pull from electives because they didn't complete work or need extra support.  However, this is not something you should rely on consistently.  Here are some ways to build a relationship with these students:
Be consistent

Greet them, smile at them, use their name

Cheer them on

Emphasize growth over achievement

Focus on the positive: A great rule of thumb – for every correction, you want to have 3 positive interactions
One year, many of my students rode the bus and arrived at school at least 30 minutes before the bell rang for breakfast.  I am a morning person and made myself available for homework help and tutorials each morning.  It just so happened that a group of eight sixth graders, with tons of potential, were there each morning for breakfast having a grand old time in the cafeteria, but would appear in class without their assignments.  My greatest pet peeve is wasting potential.  So I began setting my alarm and marching down to the cafeteria each morning.  I would ask to see completed assignments and then bring any students who had yet to complete it to my room to eat breakfast and work with my other students.  At first, this was a pain.  I was annoyed; they were annoyed.  But, soon over time, it began to be a bit of an inside joke.  They would see me coming and hold up their assignments.   On days that I had a meeting, they would ask me where I was.  They started seeing that their work had a direct impact in their learning.  They wanted to make me proud.  They began to take pride in themselves.  Was this the best strategy?  I'm not sure.  Should they have been more responsible for their learning?  Maybe.  Was it worth the two minute walk to the cafeteria each morning?  Hands down, yes.
Emphasize Growth + Celebrate Successes
Reluctant math students are usually struggling students (if not always).  That is why you must emphasize growth.  My students take benchmarks 3 times a year before they take our state standardized assessment.  When they get their results back, some of my students, will never learn their actual score.  They will only learn how many points they grew from the last benchmark.  And you better believe, I make a huge deal when there is substantial growth.  This usually involves dancing, an announcement to the whole class, and placing their name along with their growth on a bulletin board.  
It's difficult to talk about growth and communicate the importance of learning and then be judged on an assessment that only measures the number of questions you got right and wrong.  However, by emphasizing the growth that each student made over a period of time, they are more likely to believe that they can grow their mathematical ability.
Do not give up on these students because students can sense when you have.  Push them, encourage them, celebrate with them, and do not settle for anything less than their potential.  If you have more ideas, please share in the comments below.  This is an area that I know is tough to master and we need all the help we can get.  How have you had success in cultivating a growth mindset?