Over spring break, I was able to visit my sister, Mrs. Brack, and see her classroom. I love seeing other people's classrooms and how they are organized. She is not only a fabulous math teacher but crafty and organized. I thought I would share 5 Teacher Organization Tips for Middle School. Some of these totally apply to any middle school classroom, but a few are specific to organization for a math teacher.
5 Teacher Organization Tips for Middle School

Daily Agenda Board
I personally utilized a weekly agenda board in which I made a grid because of my three different preps. I had days of the week on top and the different classes down the side. I would jot down the topic and homework in each box.
Mrs. Brack only teaches one prep, so she has created this fabulous daily agenda board to keep organized. It is super easy to set up with Scotch Expressions tape or any type of colorful painters tape. The homework, agenda, and big idea portion will change each day depending on the objective and lesson, while the weekly goals and opening routine remain the same. You can get these board labels and opening routine posters here. Update: To see my updated classroom, check out my classroom tour.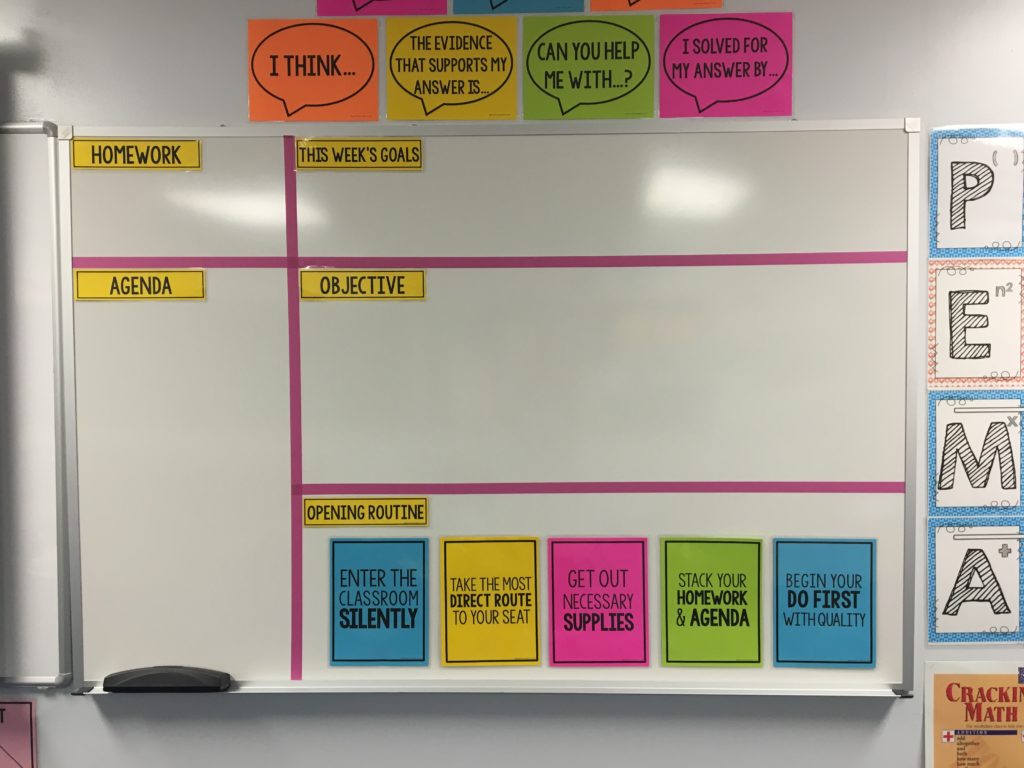 I love the weekly goals area because it can be content specific or not. These goals can be everything from "85% mastery on the unit test" to "all students working on the warm up when the bell rings".
Opening Routine
The opening routine is another organization tip that I think is so genius! Don't we all have a desired expectation for how students enter the class and begin working immediately. That is a teacher's dream come true. There would be no more students at the pencil sharpener or wandering the classroom. She posted these expectations and is able to quickly refer to them without even saying a word…beautiful.
"Take the most direct route to your seat" is a game changer for me. How many times do you have students wandering the room "on their way to their seat"?
File Folder on Classroom Door
I loved standing at the door and greeting my students. It was multi-purpose: I got to build rapport with them, ask about football games and club events, see who came in together, and what each person's attitude was for the day, plus I was able to monitor the hallways as instructed. I was fortunate to have a table near the entry and taught students to pick up any materials as they entered. In my sister's case, her classroom is tiny. She installed a metal hanging folder to her door. She used two nails, but command hooks would be less invasive. She places any handouts for the day in the hanging pocket. A win-win, being able to greet the students and have them pick up materials in a small space.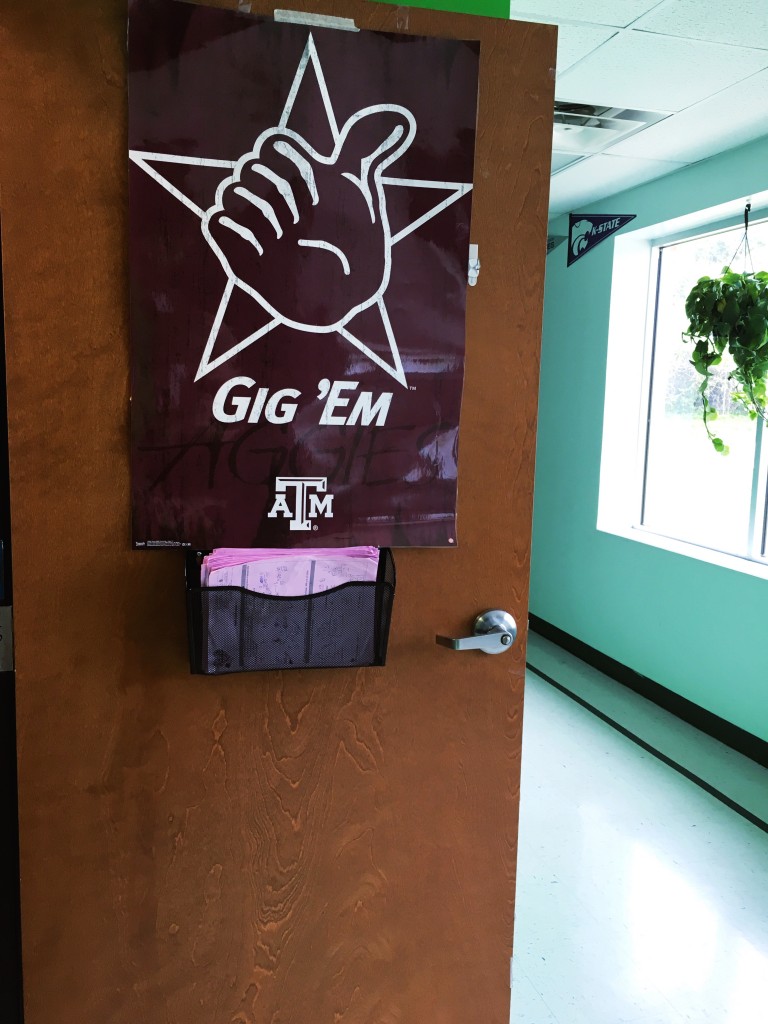 Binder Clips for Hanging Forms
One of my favorite school supplies is the LARGE binder clip. It is big enough to hold an enormous amount of papers, easy enough to spot on a messy desk, and in general, gives off the impression, "don't touch this". ????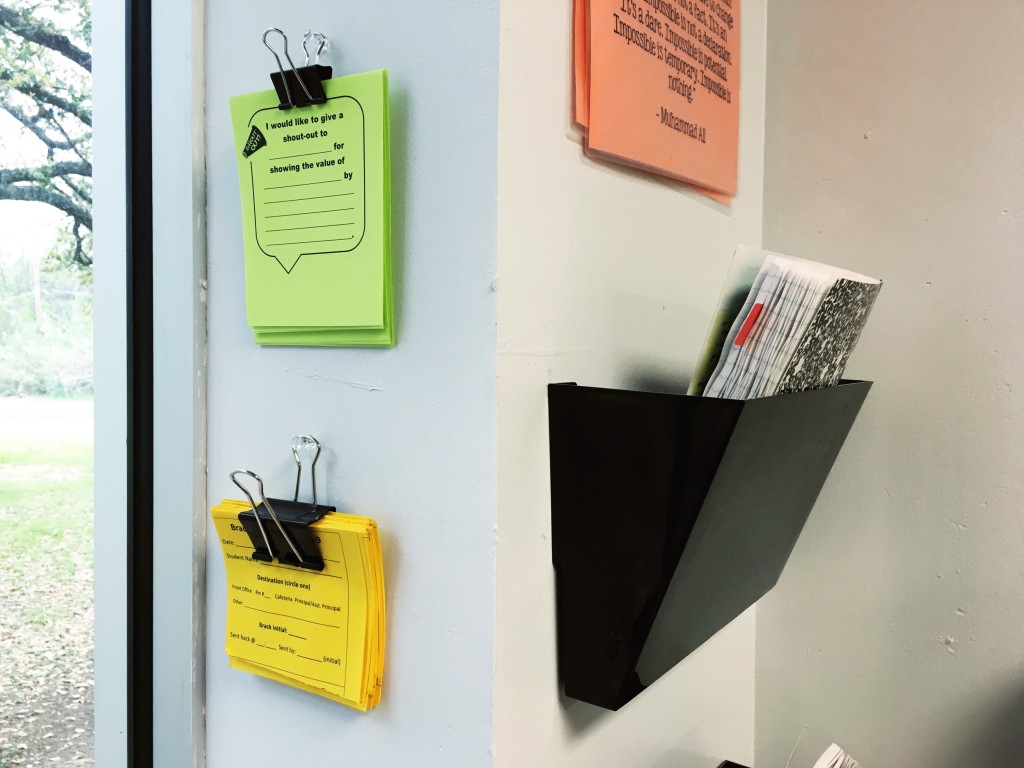 Mrs. Brack took her most frequently used forms, copied them on colored paper, and used a binder clip and push pin to hang them in an easy-to-reach location. Common forms might include: hall passes, tutorial passes, classroom incentive slips, detention slips, etc.
Desk Caddy at Document Camera
The document camera area can be such a mess with the various supplies and papers to keep organized. We used this simple desk caddy from Mardel's and plastic cups to keep everything together.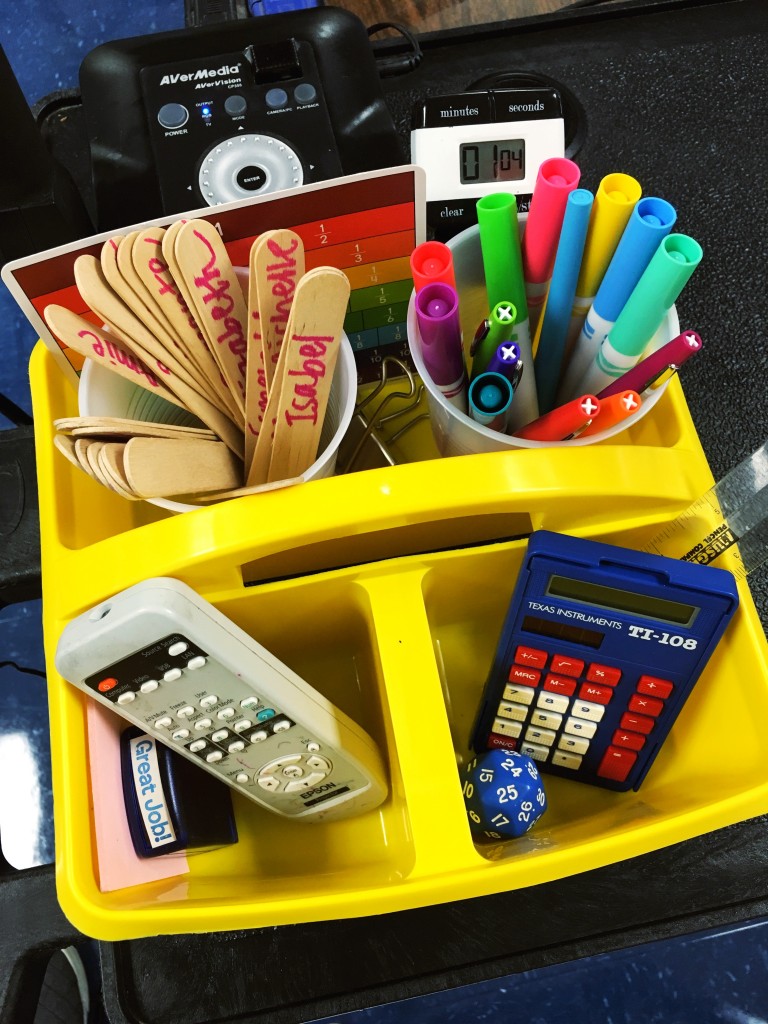 In case you can't see it all, here is what we deemed essential for having within reach:
projector remote – incredibly valuable, easy to misplace
stamps and/or stickers – walk around the class and provide positive feedback, even middle school students love stamps
Post-it notes – the possibilities are endless
calculator – quick math, some might prefer the trusty TI-83 plus
small ruler – to use when graphing or drawing number lines
polyhedron die – these come with numbers up to 30, perfect for calling on students by rolling the die
markers and/or flair pens – use for color coding any math process
timer – keep class moving by timing everything
fraction equivalency chart – this likely depends on your grade level, but is a useful visual
student popsicle sticks – great for calling on students at random
I love how these are super easy to set up and make use of items you likely have lying around the classroom. If not, Amazon Prime will come to the rescue. I'm not sure what I would do without free two-day shipping.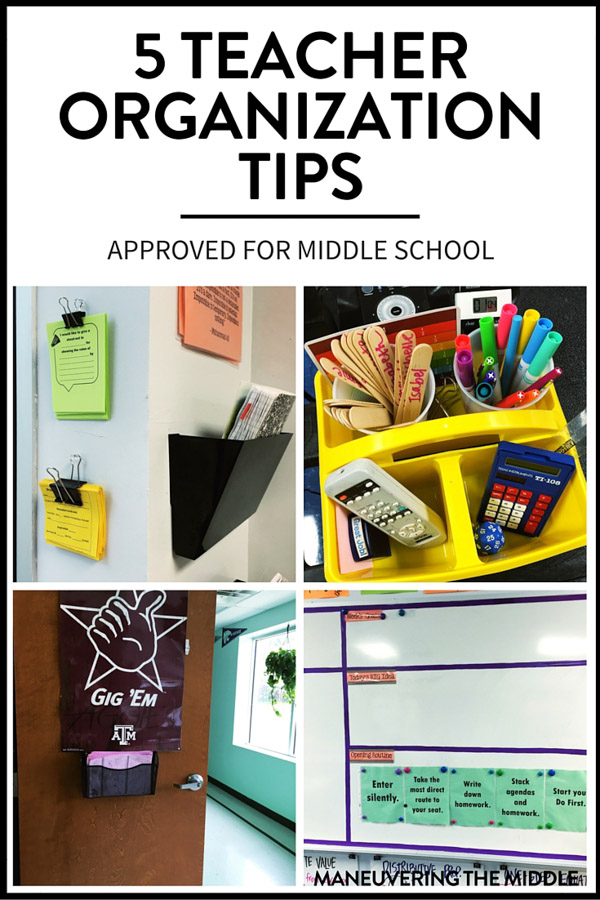 What other great teacher organization tips do you have? I love seeing others teachers' classrooms and discovering new ideas that work! Leave a comment with your ideas.