Welcome, New Math Teacher! If you have made it to this blog post, you are most likely about to enter your first year of teaching or your first year of teaching math. (And if you are a veteran math teacher, we would love for you to share your tips in the comments :))
We will be attempting to cover everything that will set you up for success in your first year. This is part 3 in our series, so be sure to go back and read the last two posts to get caught up.
Part 3 – What To Do When Everything is Urgent and Important (You are reading this one now!)
Part 4 – Our Favorite Practices
Today's post will be all about how to overcome being an overwhelmed teacher and how to manage your to-do list. Let's do it!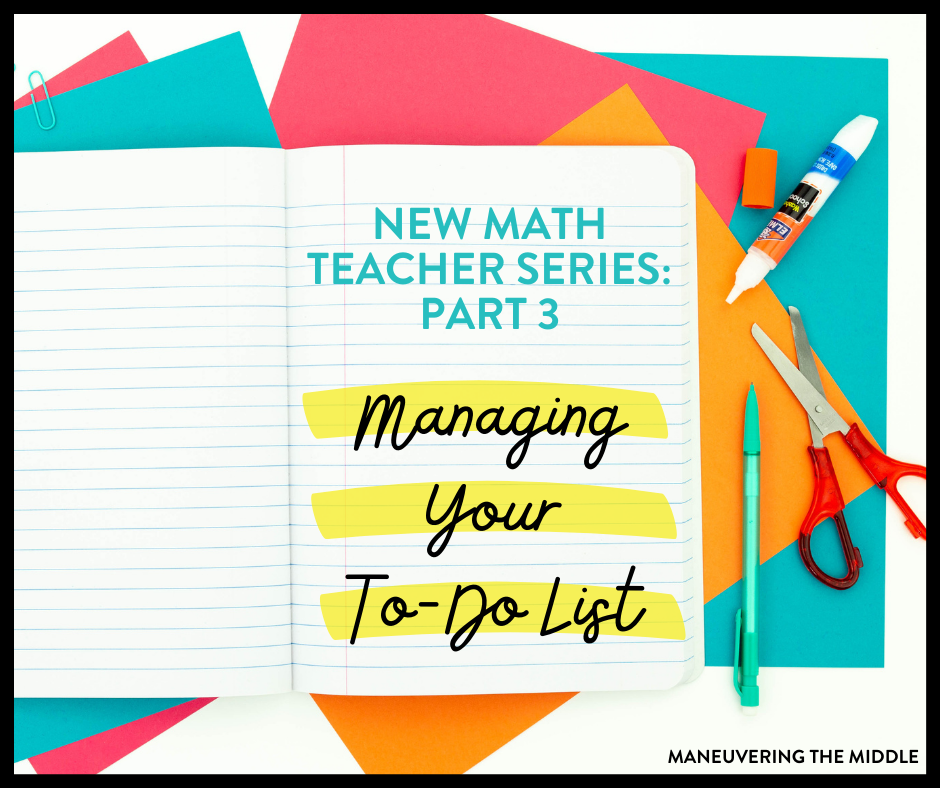 Feeling Overwhelmed
In my first year teaching high school math, I remember receiving a weekly update email from my principal on a Sunday night with many deadlines and tasks (on top of planning and preparing content for two preps), and I started to panic. How was I supposed to get all of this done?
My husband, Taylor, asked me, "How do you eat an elephant?" I looked at him with a this-is-not-helpful stare. His response? "One bite at a time."
In your first year of teaching math (or teaching at all), you will feel overwhelmed with the sheer number of tasks ahead of you. It is inevitable. The only way to overcome this sense of overwhelm is to start. Not sure of where to start? Make a list of everything you have to do for the next day and start with the easiest task. Use that momentum to knock out the next task and then the next. When you are feeling overwhelmed, any progress (even progress on peripheral tasks) will help you overcome your stress.
Plan Your Work then Work Your Plan
When I have a written plan (in this case, a to-do list), I am efficient and I can knock things out. When I sit down to work with no plan, I am literally and figuratively listless.
No minute of your planning period should be wasted. Especially since planning periods tend to be commandeered by meetings or (possibly, but hopefully not) covering other classes. When you do have a full planning period ahead of you, take advantage of every second.
So how do you take advantage of every second?
Make sure students are gone. That means that when the bell rings you are dismissing students, not asking them to start cleaning up.
Know ahead of time what you need to accomplish during that planning period. This process is unique to each person, but personally, I liked to dedicate a day to the same tasks. Monday was for planning for the next week, Tuesday was for making copies and answer keys, Wednesdays was for grading and entering grades into the computer, Thursdays and Fridays were for miscellaneous or unfinished tasks.
Close your door. This sounds unfriendly, but if you are often interrupted or slow to recover after an interruption, then this gesture will keep visitors at bay. You can always chat with teachers in the workroom.
If you want to read more about saving time during your planning period, check out these posts:
Focus on What is Most Important
Teachers don't just teach. Teachers do everything. They host clubs, they organize fundraisers, they plan field trips, they coach other teachers, and so much more. Nothing makes an overwhelmed teacher feel more overwhelmed than taking on more.
You may be tempted to take on an extracurricular or host an after-school club. If your heart is set on that, then go for it!
However, I do believe your first years in math should be dedicated to familiarizing yourself with your content and developing strong mathematical practices. Give yourself permission to decline taking on additional roles, so you can participate in math professional developments or stay updated with new pedagogical practices. Being a lifelong learner of math and instructional practices is the sign of a great teacher!
If you haven't read part one of this series, How to Teach Middle School Math as a New Teacher, you can read more about getting to know your math content.
Done is Better than Perfect
Since you will have a very full plate, sometimes we have to finish a task at a B- level. We want to strive for our personal A+, but when we have 900 things to do, done is better than perfect.
If a B- has the same result as an A+, then don't waste your time making it an A+. For example, bulletin board displays. Some teachers go all out with a theme and change the look each month – good for them, but not for me. I put one bulletin board display up in August, and only switched up the student work when it was required.
Another example was something I saw an Algebra teacher do at my school. Since typing formulas and various mathematical symbols into the computer slowed her down, she would hand write problems for her students to complete. She would handwrite the problems, scan it to email it to herself, and then make copies. Would the worksheet look better printed? Sure. Did it matter? No. Done is better than perfect.
Become an All Access Member
The best thing you could probably do as an overwhelmed teacher is to find and use a reliable, standards-based curriculum. If you can save yourself the time that it takes to scour the internet for worksheets or starting from scratch, you will already be so many steps ahead!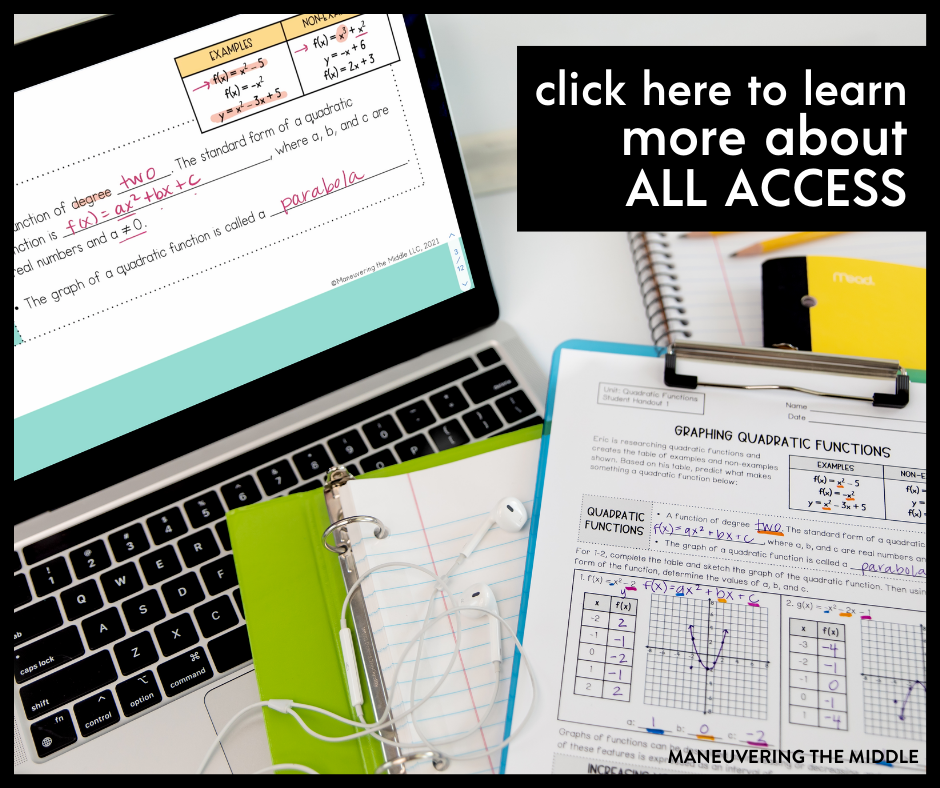 Veteran teachers, how do you tackle your to-do list? New teachers, what questions do you have?