With almost 30 years in the middle and high school classroom between the Maneuvering the Middle team, we have many thoughts on the routines and procedures necessary to run a successful classroom.
This list is not exhaustive but will hopefully provide you with a place to start. One recommendation is to think backwards. Start by thinking about how you want your classroom to look and feel when the students are working and you are teaching. Ask yourself, "What did I have to teach my students in order to reach this ideal state?"
I have outlined some essential middle school routines to teach to your students. Some, I have seen effective teachers implement as well as ones that worked wonders in my own classroom. (Sometimes routines are born out of necessity)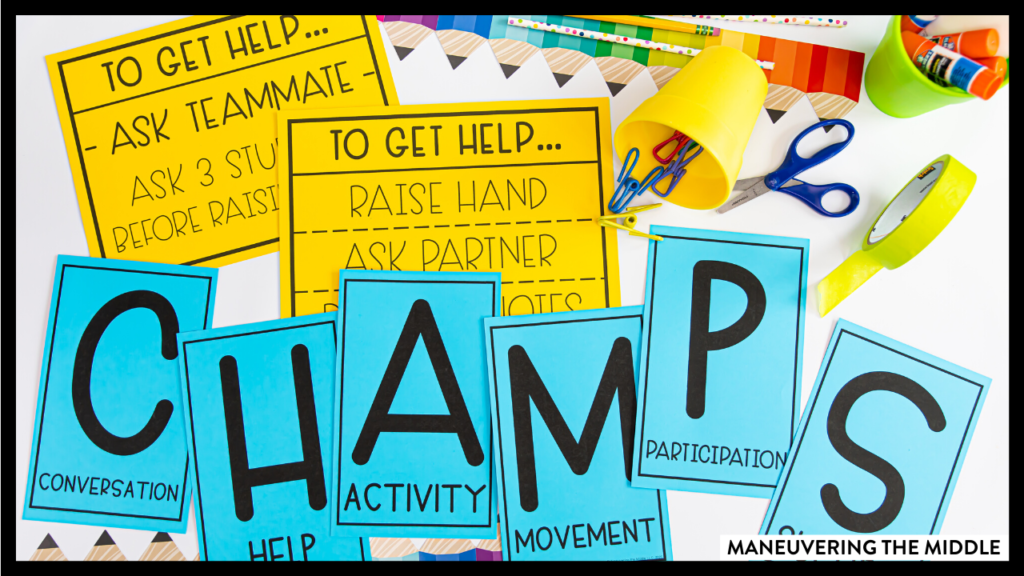 20 Must Teach Middle School Routines & PROCEDURES
Daily Routines
1. How to enter your classroom
This fell into the – surely I don't have to teach students this – category. Turns out, I did. It is better to be proactive than reactive as a teacher or you will have students who take advantage of the ambiguity. I used these posters to guide my students. "Take the most direct route to your seat" was a game-changer for me.
2. Warm up/BELL RINGER
Where do students get the warm up? When should they start on it? Are they allowed to talk during this time?
3. Sharpen pencils
When students need to sharpen their pencils, they raise their hand and make the letter P in sign language, so I can simply nod or tell them to wait. That is one procedure that has worked for me. Students know that they must always ask permission which eliminates any rude interruptions while I am teaching. Some teachers have a trading system so that the pencil is never sharpened during class.
4. "I don't have a pencil"
There is no combination of words strung together that I despise more than these (except perhaps "I don't get it"). Seriously, can someone solve this problem for me? My sister and I joked about buying these for every table in my classroom. What is so hilarious, is that I frequently go to meetings where I have to ask to borrow a pen. #teacherfail
5. Hand Signals
When students raise their hands, you are subjecting yourself to Pandora's box when you call on them. By using hand signals, you are placing a filter on some of this 'spam.' I have a hand signal for needing a tissue, asking to go to the restroom, asking a question, answering a question, and sharing a comment. This will save you so much energy. While working with my small group, I would stop what I was doing to walk across the classroom to address a raised hand, only to be asked to go to the restroom. Stop the madness! Use hand signals!
You can get Hand Signals and so much more in our Classroom Poster Pack.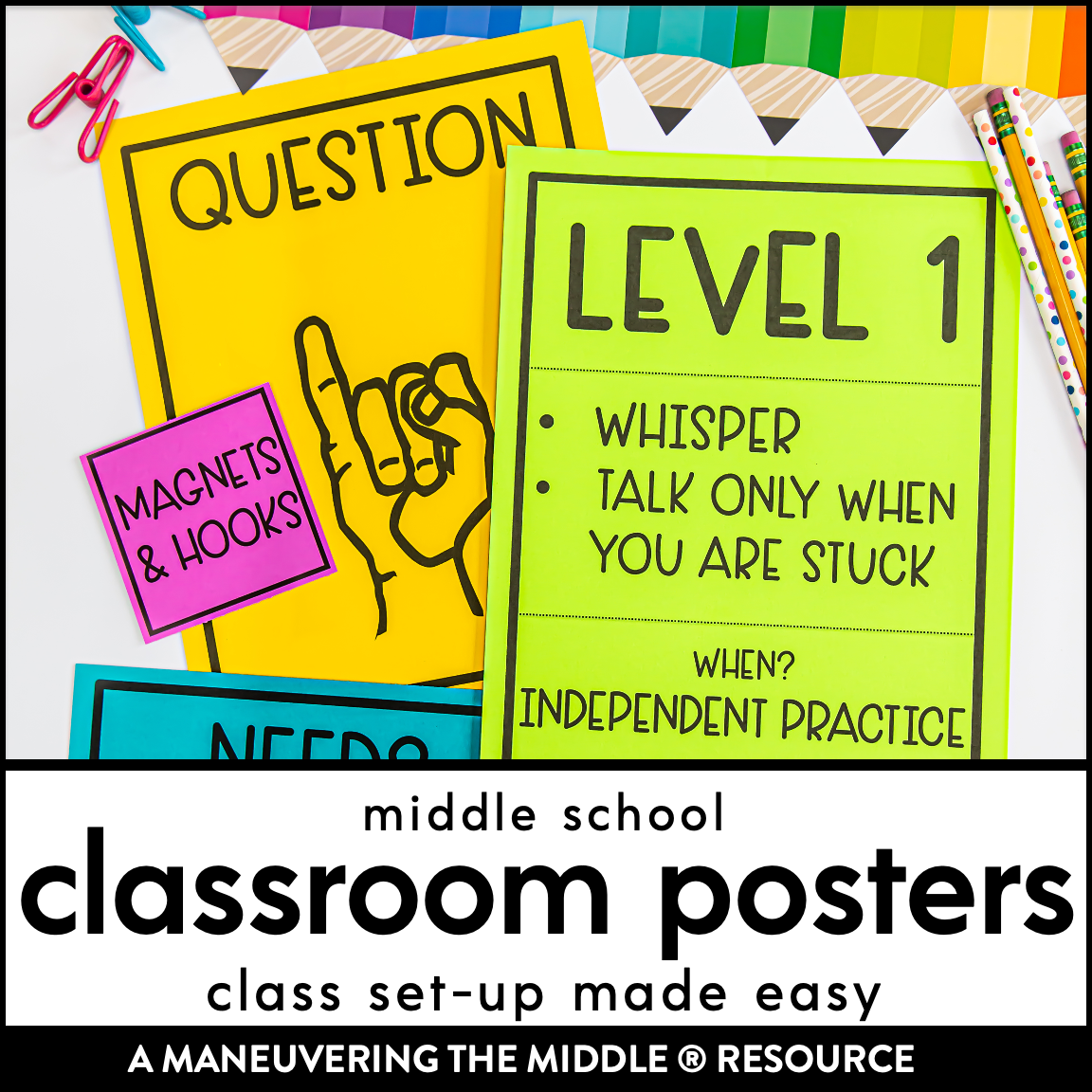 6. Restroom
When are students allowed to use the restroom in your class? Do they have a certain number of times they are allowed to go in six-weeks? How do you track that? Check out the brilliant procedure Noelle used in her classroom.
7. Dismissal procedures
When can students start packing up? Do students just leave when the bell rings? What are they responsible for cleaning up? Do they need to stack chairs?
8. Technology
Learning with technology is a privilege. When you threaten to take away the iPad or computer, make sure to follow through. Have a packet of work copied and ready to hand out to students who are choosing to be off task or treat the technology with disrespect. Another procedure to consider is how the technology gets distributed and put away. Remote learning has created more of a need for technology routines and procedures. Watch for that post – coming soon!
9. Cell phones
My school has a strict policy that if you have your cell phone out or if it goes off, teachers collect them and parents have to come pick them up. Most schools are not like that though. While phones can be tools, they can also serve as a distraction. Be specific about what phones are used for in your classroom, and stick to it. You could try this or try this. Or check out Pocket Points – an app that rewards students for staying off their phone.
10. Calculators
There are many procedures that must be taught regarding this equipment especially if they belong to the school. I found that having calculators on the wall and students picking one up on the way in seemed to work pretty well. Make sure that you have a routine in place when calculators stop working or run out of batteries.
11. Passing in papers
Do students make a pile at their table? Do students get up and turn in the assignment to a tray? What about tests? If you have individual desks, do students pass the paper up, back, or across?
12. Attention getter
When you get students' attention, what are they supposed to do?  Get silent? Stop moving? Look at you? They probably need to do all of these things, so be prepared to practice this with your students several times. Make sure that you wait for 100% compliance before making your announcement or giving direction. Many teachers love using this wireless doorbell.
Weekly Procedures
13. Trade and grade papers
After realizing that I only use 'trade and grade' on assignments that weren't actually going to be a grade, I stopped. I allowed students to grade their own assignment to get feedback and ask questions easily. If the assignment was going to be a grade, I would use Google Forms or a bubble sheet.
14. When someone enters
Do your students talk to office aides or other teachers when they enter your classroom? Yep! Mine too. Teach them that only the teacher addresses guests and if they have something they must add, they have to put up the hand signal for comment or question.
15. General group procedures
How do students get into groups? What is the expectation of the group members? Do you have roles? My students sit at tables, so they naturally have a group to work with. When I had desks in pairs, we addressed how to move the desks, where to move them, and what the expectations were of each role. I personally reserved roles for larger assignments/projects.
`16. Small group procedures
Check out this post for some of the routines I practice for small groups.
17. Supply procedures
Routines in place – what to do when my glue stick runs out? What if I need to sharpen my colored pencil? Who picks up trash? I use table bins with just enough supplies to keep things manageable, and I have a student organize them at the end of each day. The table bins are only out on tables when we are using glue, colored pencils, or scissors, so students aren't tempted to play with the materials.
Less Frequent Procedures
18. Emergency Procedures
Most schools are different, but one routine has remained the same during every emergency procedure, students are silent. This is a hard one to execute if your entire school or grade level isn't consistent. I explained to students that teachers need to be able to hear instructions or take attendance and silence helps that move along faster.
19. Band aid/nurse/I have a headache
To get a bandaid in my class, you have to be bleeding, and I keep bandaids in my room so that no class time is missed. . For headaches, I ask them to take some deep breaths and drink some water. I rarely allow students to go to the nurse because then it will never stop. Get into the habit of sympathizing with your student and telling them that they are strong enough to tough it out. Then walk away. Exceptions: vomiting and blood.
20. Quiz and test procedures
This is a procedure that you do not have to teach the first few days of school, but you need to teach the first few times you give a test or quiz, so make sure to allow enough time for that. Teach how you want students to turn in their tests, what they need to do after they have finished, and how to treat testing folders (if you use them).
Need more routines and procedures?
Editor's Note: We have been publishing content for the Maneuvering the Middle blog for over 6 years! This post was originally published in June of 2016 and has been revamped for accuracy and relevancy.