Year five is in the books! Each year I try new things, and learn how to best set students up for success. This year I have found that there are middle school routines  that I did not explain in my first post, 20 Must Teacher Middle School Routines and Procedures, and ended up incorporating throughout the year.  Thus, I present to you 15 MORE must teach middle school routines and procedures.  Let's get started, shall we?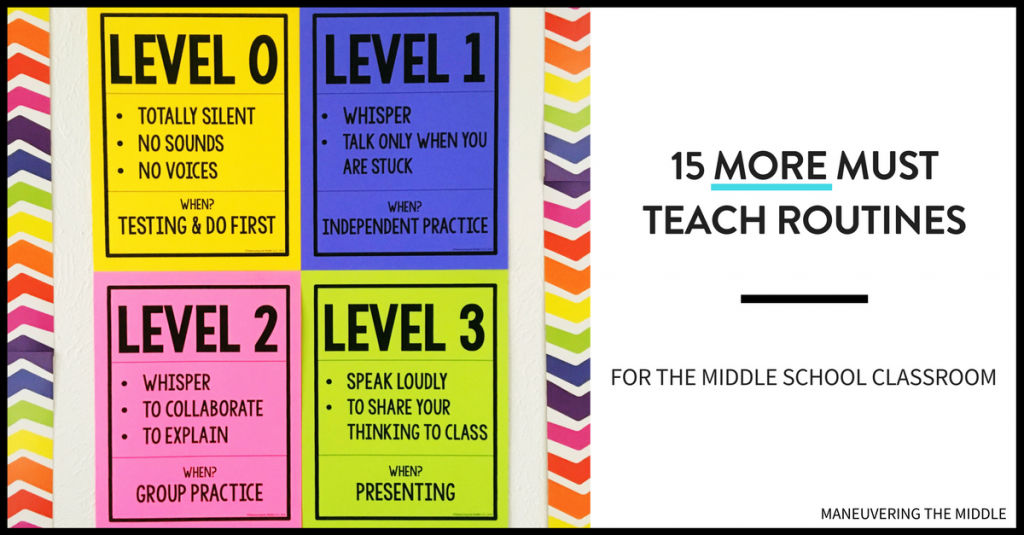 15 MORE MUST TEACH MIDDLE SCHOOL ROUTINES
1. Where do backpacks go?
Yep! I tripped over several this year due to a new desk layout. I prefer for students to have them under their desks so that the aisles are clear, but I could also see students hooking them to the backs of their chairs. Some of you might have lockers or other corrals for backpacks, which is awesome.
2. What to do when you are finished?
My school uses the phrase 'assign yourself.' I simply have to tell students to "assign themselves," and they know exactly what it means. Here are some questions to think about before implementing this in your classroom: Do they get out a book or can they work on homework in another class? Can they get on technology? Are they actually finished? Have they done everything that is required of the assignment? Is there an extension or challenge activity? If so, where is it and do they need permission to go get it?
3. If you are missing a supply
I discussed pencils in my last post, but this year, many students were missing their orange folder. Their orange folder is where I passed out an entire unit's materials, so in order for them to be successful in class, they had to have it. They would leave it at home or worse LOSE IT. I had four back up packets for each unit that were stored in an accessible place. Students had to have their orange folder out as part of their bell ringer routine, so I could visible see if anyone was missing it. Students could borrow the packet to use for a class period, and they would put it back before leaving class.
Think about what essential supplies your students need…what should they do if they don't have it?
4. Volume/Voice Level
At the beginning of the year (and usually the middle and end), I model what each volume level means. Level 0 means absolutely silent. Level 1 means whispering only if you have a question or need something explained by a table partner. Level 2 is group level work that is more conversational but is still a whisper.
5. Using Manipulatives
Like any supply in my classroom, manipulatives need to be treated respectfully and with care. My most used manipulative this year were my
individual number lines
. I took all of the necessary precautions and laminated them and gave them an accessible storage space. However, I could not have guessed what many students would do with them. Students would wrap them around their head like a bandana causing them to curl and bend. Since I didn't cover that as part of ways we don't treat our materials, I had to backtrack and set that expectation. It was a good reminder that it is never too late to set up an expectation.
6. Answering in complete sentences
This routine and procedure is still a work in progress for me. It can be a challenge to hold students to this expectation especially when there is so much to get done in a class period. However, your students will only get faster at it the more you hold them to doing it. Tip: give a small reward to or praise the first student to answer in a complete sentence in a class period and the remaining students will follow suit. Also, having sentence stems posted is a great resource for students. 
7. Turn and talks
Turn and talks are a great way to get all students discussing content. I like to use the Kagan method: think, pair, share. I give all students think time, followed by time for students to discuss with their elbow partner for a specific amount of time, and after an attention getter, I call on a few students. Tip: make sure to circulate during this time to correct any off topic conversations.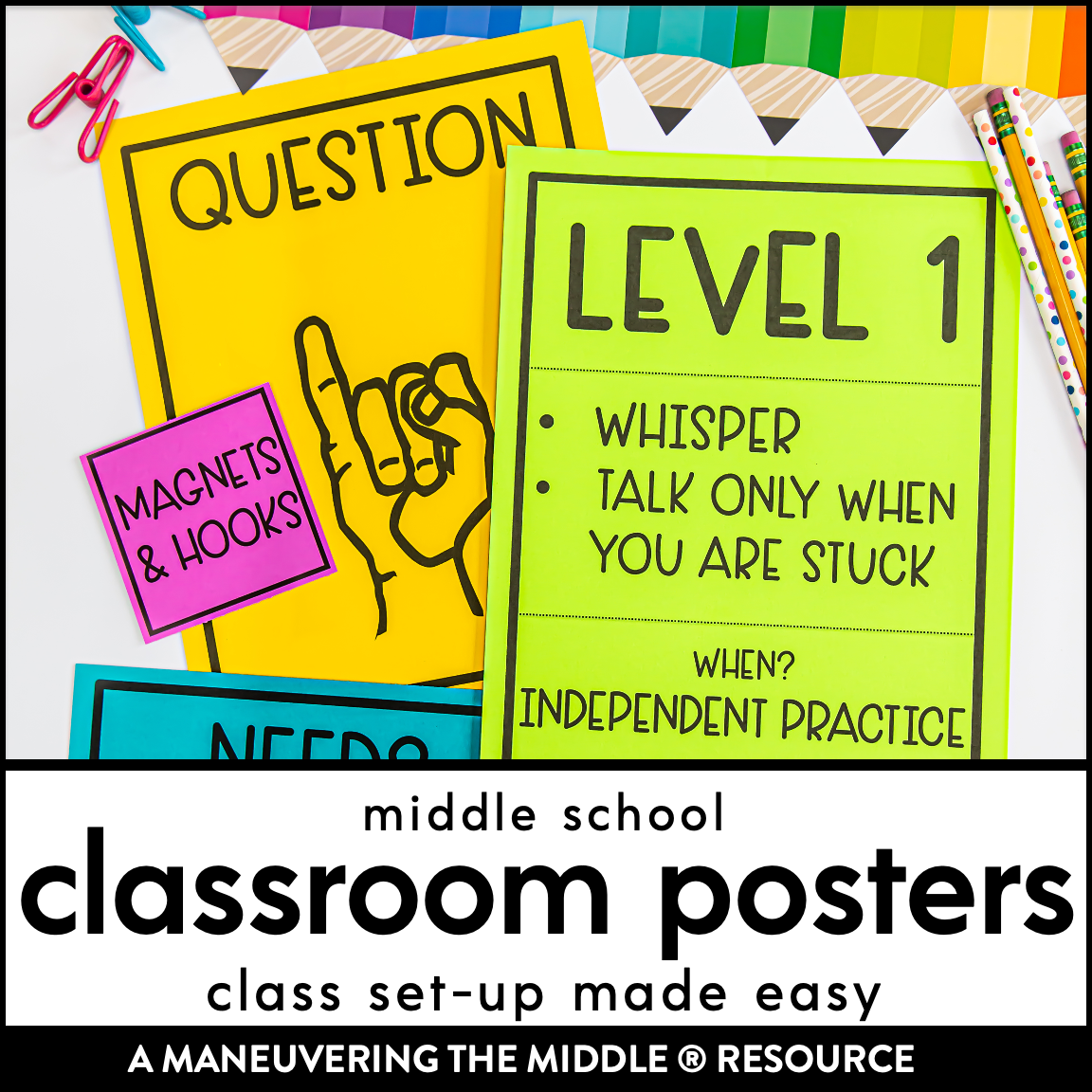 8. Caring for white boards and expo markers
This procedure changed for me this year due to the popularity of flipping items (ei: water bottles and Expo markers). Where does the cap go? On the end so it doesn't get lost.  Are students allowed to doodle? Only at the appropriate times. Do we flip the marker? Never!  Tip:  Give students a minute at the beginning to get all the doodles out and then again at the end as a reward. Who doesn't love to doodle on whiteboards? 
9. Glue sticks
Glue sticks can be quite a challenge! More often than I care to admit, I threw away glue sticks because the glue had stuck to the inside of the lid. Never forget: gluesticks have to be rolled back down before the top goes on. A great student job is a glue manager; the glue manager would either at the beginning or end of the school day check all glue sticks and replace any that are low or have gone missing.
10. Dismissing from class
Does the bell dismiss the class? Do you dismiss a table or a row at a time? Do you have the students line up before leaving? I like to dismiss a table at a time so that I can check for trash and make sure that all materials have been cleaned up properly.
11. Taking attendance
Taking attendance is not hard, but remembering to take attendance is challenging, so this is a routine that I teach my second period class to remember for me. At 10:20, hands go up. "Mrs. Brack, have you taken attendance yet?" In fact, I have one student who informs me of any absent students; I double check and then enter the information electronically.
12. Absent Work/Late Work
Where do students get their absent or late work? How long do they have to turn it into you and where do they turn it in? This is a routine that has changed year to year, and I haven't found a perfect solution, so if you have a system that works, please share in the comments.
13. Tardy Students
Students who come in late can be a disruption if you do not have a procedure in place. Consider your school policy and what to do if they don't have a pass.
14. Teacher Desk and Teacher Things
ONLY WITH PERMISSION 🙂
15. How to Disagree when Working in Partners
A real push this year in my classroom was student discourse. When students discuss their work, they are bound to disagree, so students need to know how they can disagree in a respectful way. My students know that if they get different answers, they shouldn't say "you're wrong," but they are required to explain their thinking until the mistake is discovered. Mistakes make us better!
What middle school routines do you plan on using this next year? What did I miss? What makes your classroom work?