Students do so much sitting in a day.  During a very long professional development, my principal looked at her watch and said, "We have just hit 75 minutes — the length of a class period."  I was shocked at how much my body just wanted to escape my chair for a walk or a stretch break. It made way more sense why students ask to use the restroom (even when we all know they don't need to go). Math review games allow students time to get up and move.
Movement in the classroom: We know it's a good thing, yet sometimes it is difficult to manage.  Most students enjoy getting out of their seats and doing their work in another part of the class, whether that be with a group or individually.  If managed well, it can be a win-win for students learning and working happily and teachers facilitating strong math dialogue. 
Here are three "Get Up and Move" activities that I would like to share.  I focused on activities that were relatively low-prep. Many of these activities are included in the Maneuvering the Middle curriculum or can be purchased here, but I am going to explain how you might prepare for and execute these activities if you are not a middle school math teacher.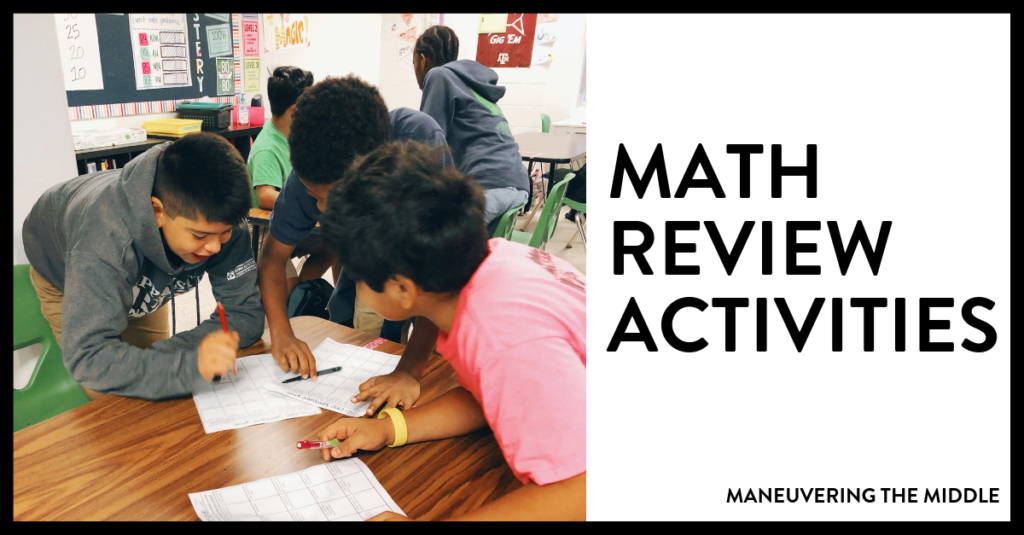 Math Review Game: FLYSWATTER
The flyswatter game was around when I was a student.  I remember playing it in Spanish! Students love this game, and they ask for it daily.  Since it is a very low lift, I would use it as an incentive for finished work. Anyway, here is how I adopt it for a math classroom.  
PLANNING
Project around 10 answers on the board.  I don't recommend writing the answers on the whiteboard because they will get rubbed off.  You need two flyswatters. Tape a line on the floor parallel to the board, about five feet from the board.  This is where students will stop to hear their problem.  
The flyswatter game works with problems that are fluency-based.  We are going for speed here. Here is a suggestion: fraction, decimal, and percent equivalents.  You could project these answers: 40%, 25%, 0.6, ½, etc…
EXECUTION
Divide students into two groups.  Boys versus girls is my go-to. They should be in a line facing the board.  You should be standing between the two lines facing the board, too. Set the expectation that you will not call out a problem until it is silent.  When the first two opponents are up, you could say, "Two fifths!" The student to hit 40% first would win and stay in the game, and the other student would take a seat.  The flyswatters are passed on. The winner would go to the back of the line, and the next two students would be up. You keep playing until there is one player left. 
Math Review Game:  SCAVENGER HUNT
This is by far my favorite activity.  You can read more details on how to execute and plan a scavenger hunt in this post. It's self-checking, and you could pull or work with a small group during this activity.
Scavenger hunts are my go to math review activity.  10-12 problems are posted around the room, each page having the solution to a different problem.  It functions like a loop.  Students are paired (or in a trio) and move from problem to problem solving it, identifying the solution in the room, and then working that problem.  Students are finished when they return to their original problem.
MATH REVIEW GAME: Find It and Fix It
PLANNING 
Find It and Fix It is essentially an error analysis activity.  This would be a great way to execute test corrections. Take an assessment or any type of work completed by students.  Comb through and analyze what some of the most common misconceptions were. Photocopy the students' work that exemplified those errors (being careful to not include names).  Hang one example problem (for a total of about ten problems) around the classroom.
Pro tip: If it was a multiple choice assessment, remove/cover/scratch out the multiple choice answers to prevent students from just circling the correct answer.  The students should be explaining WHAT the error was, not just solving for the answer.   
EXECUTION
This is a great activity for stations.  If you have tables, then I would place a problem to fix at each table (or desk grouping).  I would circulate for five or so minutes as students rework the problem and analyze the error.  Then, when I feel like most groups are finished (notice I didn't say all groups – waiting that long can lead to some off-task behavior), I would announce for them to switch. Students then rotate to the next table for the next problem.  
If you don't have time to plan something special for students to get out of their seats, but you can feel the restlessness in the classroom, then you can still have students get up and move!  You can have students find a partner, work out a problem, and then move to find a new partner for the next problem. You can have students work on the floor! Lastly, you can always play The Stand Up Game. 
I have always found the key to student engagement and buy-in is two fold: a relationship and a relevant classroom.  These three math review games will help with both aspects.
What are your go-to math review games?