Teacher appreciation week is hands down my favorite school season! In fact, one year I was on maternity leave during teacher appreciation week, I actually considered driving up to school to get in on some of the fun goodies that were being shared. Check out some of the best teacher appreciation gifts I have received and some ideas for doing it on a budget.
Who is Teacher Appreciation for?
I believe that teacher appreciation is for any staff member at school! Especially after the last few years, non-instructional staff have definitely taught a class or two (or 18).
If you are an administrator or PTA member that is planning for teacher appreciation, don't forget to include the nurse, librarian, and front office staff.
Budget vs. Going All Out
You don't need a massive budget to make teachers feel appreciated!
Catered Lunch v. Potluck Lunch Donated by Parents

I have experienced both, and I can tell you that homemade food was widely appreciated. Administrators, send out a Google Sheet sign-up sheet to members of your PTA to have a lovely lunch provided by helpful parents. Don't forget to ask for donations for tablecloths, flowers, cutlery, and paper plates.

Starbucks v. Create a Coffee Bar in the Teacher's Lounge

Average cost of a Starbucks drink per person: $5
Average cost of a Costco amount of K-cups, various creamers, syrups, and some whipped cream – $1 per person

Hire a Mobile Car Washing Company v. DIY Car Washing

We have had a professional car cleaning company wash all the cars in the parking lot, and another year, Student Council students worked in shifts to wash all the teachers' cars throughout the day. Either way, my car was clean for the first time in years.

Hiring a Photographer v. DIY

My favorite teacher appreciation present was so meaningful and creative! My principal hired a photographer to visit each classroom and snap a photo of us teaching in action. The photos were printed and framed. These are probably the only 2 pictures I have of me teaching, and they are so valuable to me. This can easily be done without hiring a professional photographer. It would require someone's smartphone, and the cost of photo paper and some cheap frames.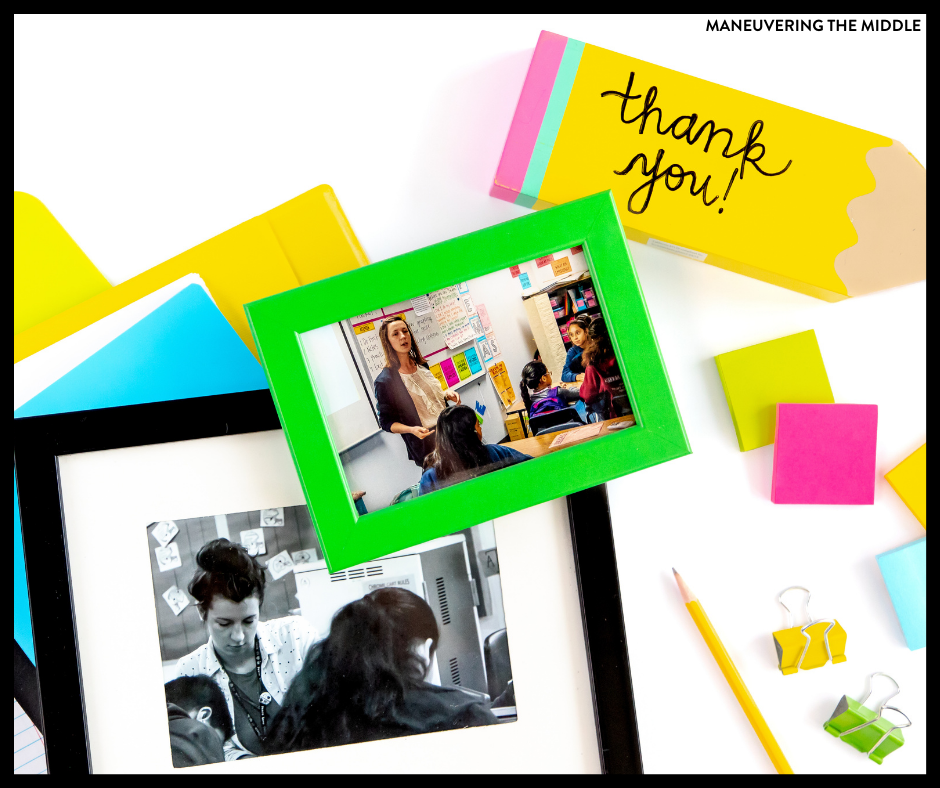 More Ideas to Make Teacher Appreciation Fun
Stop by their classroom with a fun treat! One year, my principal used a cart to provide a yogurt bar; I was able to customize a yogurt bowl to enjoy during my first class. Another year (and at a completely different school), I made my own Root Beer Float. A customized treat that is delivered – count me in!
Consider allergies! After combing through so many comments about Teacher Appreciation in a Facebook group, I realized that so many teachers are left out due to food allergies. Instead of donuts (a popular treat during this week), consider providing additional breakfast items: bananas, granola bars, yogurt, etc.
Think out of the box! One year, our PTA hired two masseuses to provide 10 minute back massages. An email was sent out and teachers could opt in to a back massage during their planning period. (This was the surprise I missed while I was on maternity leave – dangit!)
Ways to Appreciate Teachers that Cost Nothing
Cover their lunch, bus, before or after school duties for that week
Cancel that after school meeting
Jeans or athleisure for the entire week (or more)
Ideas for Parents
If you are a parent looking for a way to celebrate your children's teachers, look no further. These ideas cover a range of budgets and time commitments.
This idea is from Sharon McMahon, and I whole-heartedly agree! Write an email to that teacher's principal (with the teacher CC'd) outlining why they are such a fantastic teacher. Include specific details about what your child loves about their class.
Pick up and deliver lunch for the teacher. Here is the best way to do this: Email the teacher –
"I am going to [insert restaurant] on [date] to pick up some food for you. Here is a link to the menu, please respond with your order."
Consider the week after teacher appreciation week since they may already have many lunch options. Here are some other quick ideas:
Handwritten note from parent or student
Gift cards
Most teacher would say they are good on mugs
Something consumable
Support their classroom with classroom supplies: fun pens, sticky notes, dry erase markers. Put the supplies inside a basket or a cute caddy!
Bring the teacher flowers
What would you like your administrators to do for teacher appreciation week? What is the best gift you have ever received for teacher appreciation?