It should come to no one's surprise that students like activities. I'm an adult, and I like activities! In fact, I outlined how you could turn any worksheet into an activity here. My particular favorite is the scavenger hunt. Let's dive into why it is a favorite for both my students and me.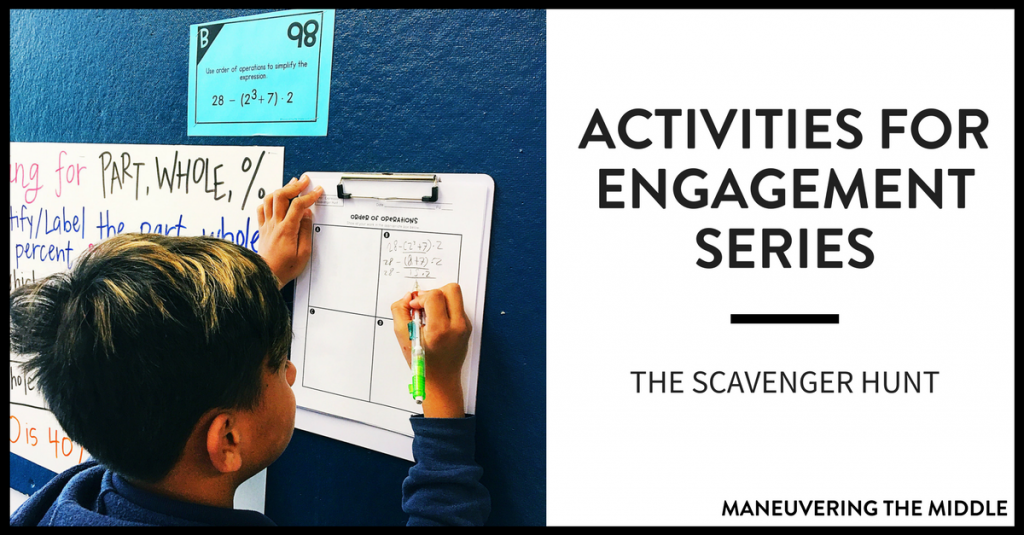 ACTIVITIES FOR ENGAGEMENT:
THE SCAVENGER HUNT
How It Works
Scavenger hunts work like this. You have anywhere from 10 to 20 stations posted around the room. We will define a station as one piece of paper with one problem on it. Each station has a problem on the bottom half and a solution from another station on the top half.
Students go to one station, solve the problem, and use the answer they just found to determine which station go to next. If they do not see their answer on the top of another station, then they will need to rework the problem. A student is finished when they get back to the station where they originally started, thus completing the loop.
Why Students Like It
Students enjoy this activity because it gets them out of their seats and moving around. Students are more engaged in their work, they get to discuss problems with different students than the ones they usually sit by, and it allows them to work at their own speed.
Why Teachers Like It
Besides the reasons listed above, teachers like it because it allows students to self-check. Students don't need to ask if they are correct or not because they can figure this out on their own.
This is also an opportunity to pull a small group which you can do two ways. You can actually pull 3-5 students and sit them down for a small group lesson or you can travel with a group of students and use your scavenger hunt as the small group lesson.
Lastly, there is very little preparation time that is required to create a scavenger hunt. You just need a set of problems copied on different sheets on paper. The answer can be written on the next station in the stack of paper and then you just have to randomly mix them up when hanging them around your room.
Differentiate with Scavenger Hunts
If you have the time to go above and beyond, then use this activity as an opportunity to differentiate. You could have two different scavenger hunts going at the same time. You print them on different colored paper and assign students (based on their last set of data) to which scavenger hunt they are completing. Example: The pink stations are for those who scored below an 80% on the last quiz, and the yellow stations are for those who scored higher than an 80%. (This will also slow down some of your early finishers.)
Helpful Hints
Require students to work a problem again before they can ask for help from you.
Give time reminders. Be more specific than, "There are 20 minutes left." Say, "You should have X amount of problems completed by now."
Have a plan for students who are struggling to stay on task or who get too loud. I print out another copy of the problems that can be completed seated.
For larger classes, consider using the hallway or the library so that groups are not too close to each other.
Remember that after you give clear directions, you should model how it should work before students get started. For good measure, have a student repeat the directions back to the entire class. Have you tried scavenger hunts in your classroom before?