The thing about teaching is that every day is a new lesson, a new topic, and in general a large amount of prep work.  Some days, class consists of a matching activity that has been differentiated and laminated! #winning  There are other days when I need something quick and easy to implement. Today's post is all about how to turn any worksheet into an engaging easy math activity with little or no preparation time!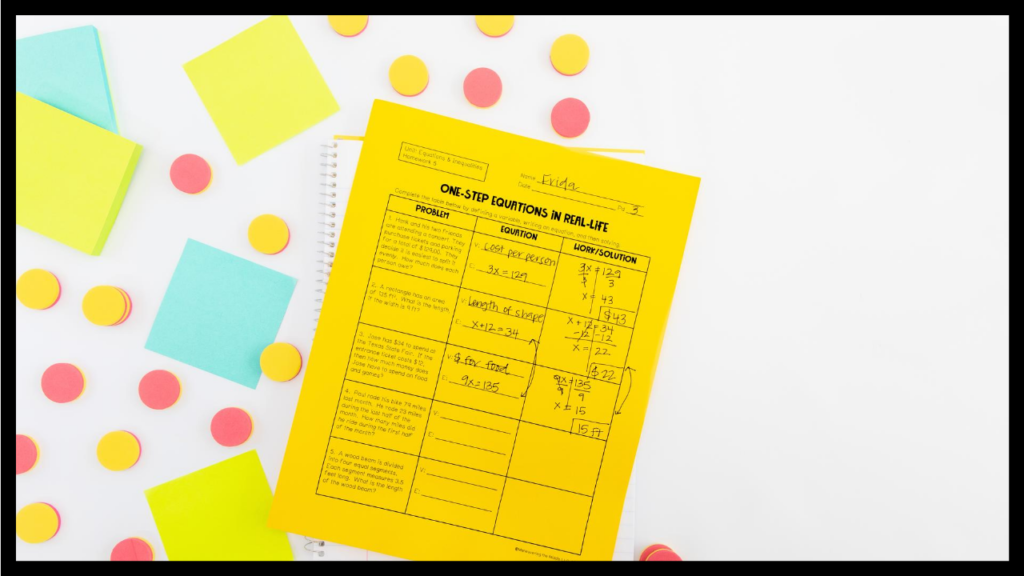 Turn worksheetS into EASY MATH activitIES
1.  Tic-Tac-Toe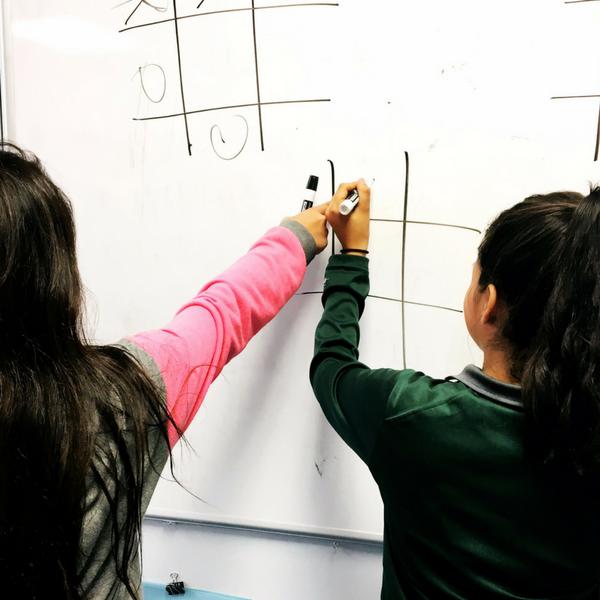 First, assign one half of the classroom as Xs and the other half Os.  The goal is simple: get 3 in a row before the opposing team does.  I sketch 4 to 5 tic-tac-toe boards on the whiteboard and explain to students that after their table finishes an allotted number of problems, one person from their table can place an X or an O.  
In order to place the X or O, they have to be correct, they have to have shown their math strategies, they have to include __________ (units, formulas, etc), and everyone at their table must have it complete.  They show me the symbol for done, I come and check, and if everything looks good, they can come to the board and place an X/O.  They compete on one game board until there is a win, and then students will play on the next game board. 
2. Connect Four
Prep Time: 30 seconds

Materials: Whiteboard and Sticky Notes in Varying Shades
I was scrolling Instagram one day and came across Miss 5th's post.  You can see that the concept is super simple — be the first team to connect 4 sticky notes in a row horizontally, vertically, or diagonally. My students loved it, especially when they could block! This is similar to tic-tac-toe but it allows for more than two teams.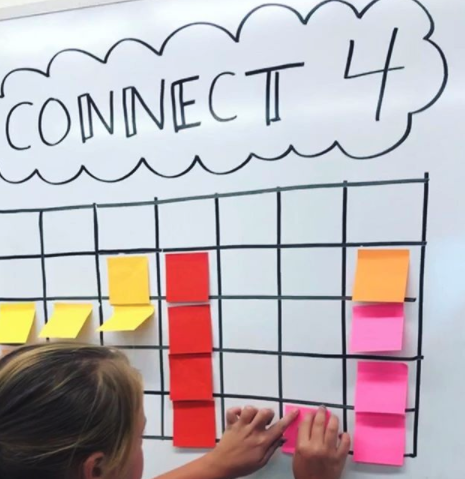 To manage the excitement and some of the behavior, I would create handicaps for teams who were too rowdy. Example: if more than 1 student left their seat to move a sticky note, then I would remove one of their sticky notes (my choice) or I would add a sticky note to another team's. Using these types of tactics only has to happen once or twice before students internalize the expectations. Before you know it, the students who struggle the most are the ones policing other teams!
3. 100s Grid
Time: 1 Minute

Materials: Either print or project a 100s grid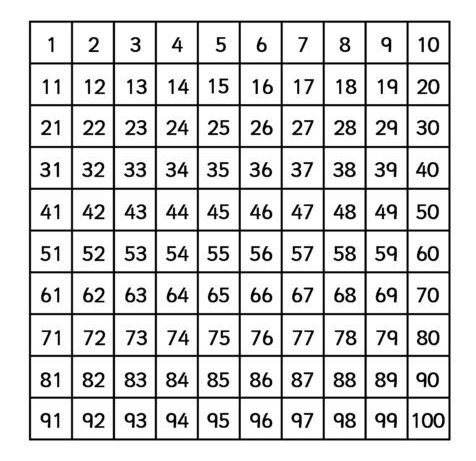 This was my secret to review days! Review days tended to be a struggle for my students (and myself). I had 90 minute blocks, so playing a game for that entire time would get a little wild, but I needed something to keep students engaged the entire time — enter the hundreds grid. 
For the first half of class, I would allow students to work together. The second half of class would be completely silent as students needed to practice independently (they were having a test the next day after all).  This game worked throughout both collaborative and independent work time. 
How it works: After students completed 3-4 number of problems, I would check their work. If all of the problems were correct, the student would sign their initials/name in one of the boxes in the hundreds grid. If not, I told them which problems to go fix and they wouldn't sign the grid. The more accurate and quickly students were working, the more chances they had to get their initials on the hundreds grid. At the end of class, I would use a random number generator to pick 5 or so numbers. The students whose initials were inside of the chosen number boxes would get to pick out a prize. 
4.  Magnet Race
To set it up, you need to either draw a number line on the board or project one on a whiteboard. This activity is fashioned much like tic-tac-toe.  Students have to complete a few problems with the criteria for success that I have explained, then as tables finish the allotted number of problems, I check their work and tell them to 'make a move.'  
The 2 magnets begin at 0.  As students make a move, they can choose to move their team's magnet in the positive direction two spaces or they can move the opposing team's magnet one space in the negative direction.  Whichever team has their magnet at a greater value by the time the timer goes off, wins.  
Get a free vertical number line here.
5.  Grafitti!
Cover tables with brightly colored butcher paper.  Then, provide various markers to students.  Project math problems on the board, and have students complete problems grafitti style on the paper.  This allows students to feel like they are doing something really special when actually all they are doing is math! Who am I kidding? Math is really special! Butcher paper is almost always readily in stock in the teacher work room, which makes this an inexpensive easy math activity too! 
Many of my students will write larger since they have lots more space, and many will even incorporate colors into their strategies.  It also makes checking work easier because you can see it by just walking by.  To be honest, I have not done this activity in my classroom, but my fellow math teacher (shout out Ms. Henry!) has had success, so I plan to try it ASAP.  She used it during independent practice to prepare for STAAR.
6. Digital Activities
Prep Time: Varies

Materials: Devices
Since many of these activities are not exactly social distance friendly, I did want to include some activities that are highly engaging and collaborative in some capacity. Kahoot and Quizizz require some out of class prep time that the above suggestions do not have, but it is little price to pay for engaged and excited students. If you are distance learning, both platforms allow you to send "games" out to students to play in a one-on-one setting. You can see Kahoot's page on distance learning here. Quizizz's blog post on distance learning can be found here.
We also have digital activities that are engaging!  Check them out here.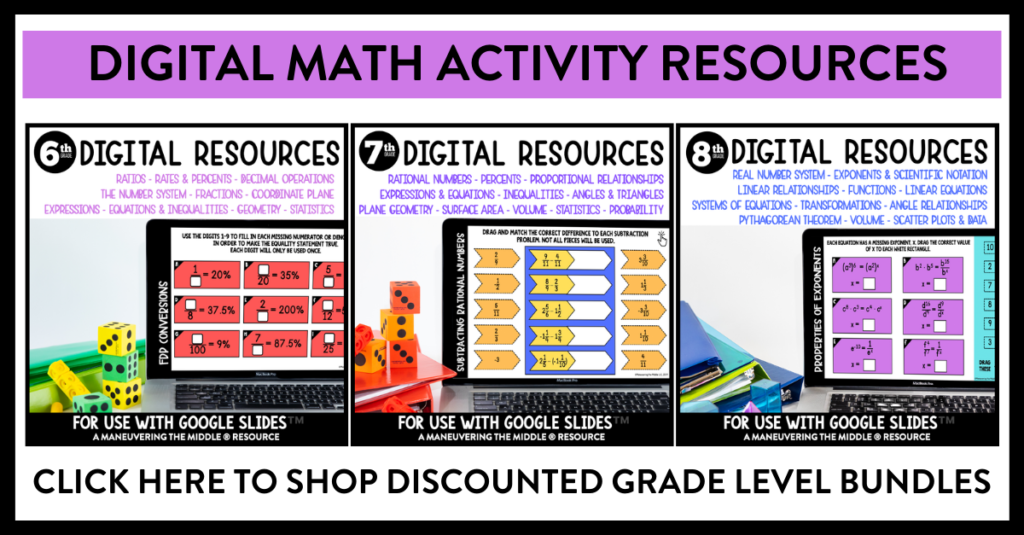 Do you have any go to easy math activities?  What are your students' favorites?  I would love to hear your other ideas for how to turn any worksheet into an activity.
Maneuvering the Middle has been publishing blog posts for 6 years! This post was originally published in May of 2017. It has been revamped for relevancy and accuracy.