Easy math activities – is this an oxymoron? It doesn't have to be.
You don't have to be a teacher long to see that a worksheet full of problems does not incite the excitement and enthusiasm of many of your students.
However, try any of these easy math activities, and you will experience unprecedented levels of excitement from your class.
Now that I am a parent, I see this in my 3 year old. "Let's go get our shoes on" leads to a slow, distracted exercise where I have to keep reminding her to stay on task. But… "let's race to see who can get their shoes on first" results in shoes on in about 10 seconds.
How to Use these Easy Math Activities
Use these ideas for test review, or any 20 minute time period too.

Use them on the fly. There is little to no prep; I could easily implement them if I noticed students were off task.

Most of these activities can be played for as little as 10 minutes all the way to 40 minutes, so they are flexible!

Use them when your students request to. Because they will! These activities were often used as an incentive.
One other thing that I love about these activities is that you can hold students accountable to your standards. You see, students REALLY want to play. You may have those students who refused to show their work. Well, students have to show work in order to move the magnet, or sign their name, or get a tic-tac-toe. You are the gatekeeper!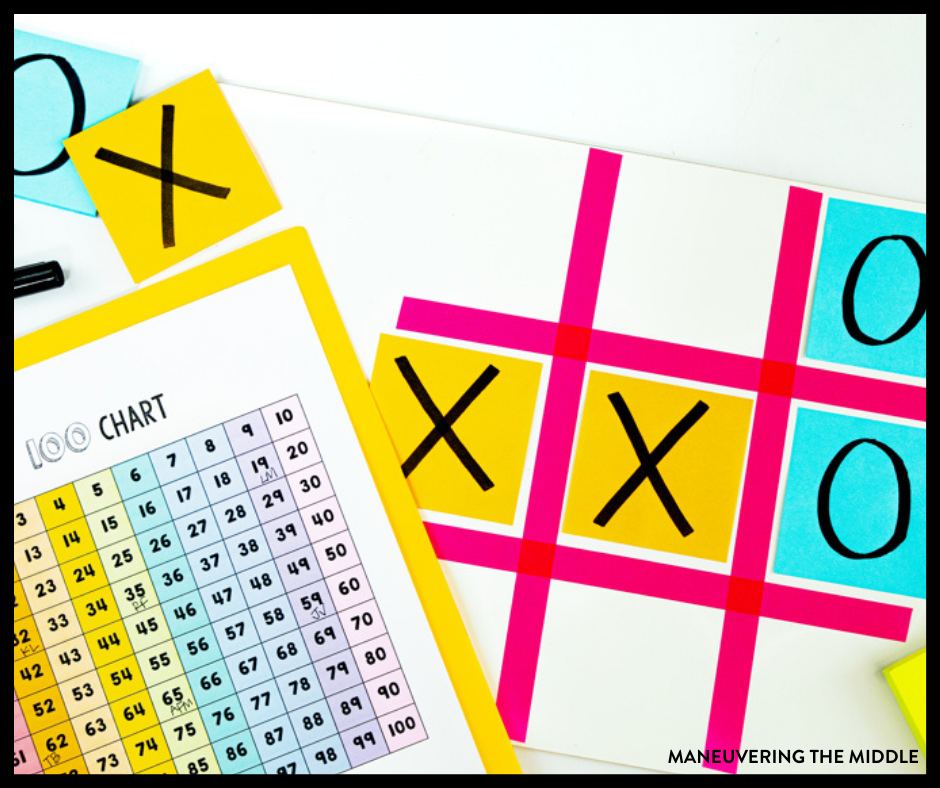 1. Tic-Tac-Toe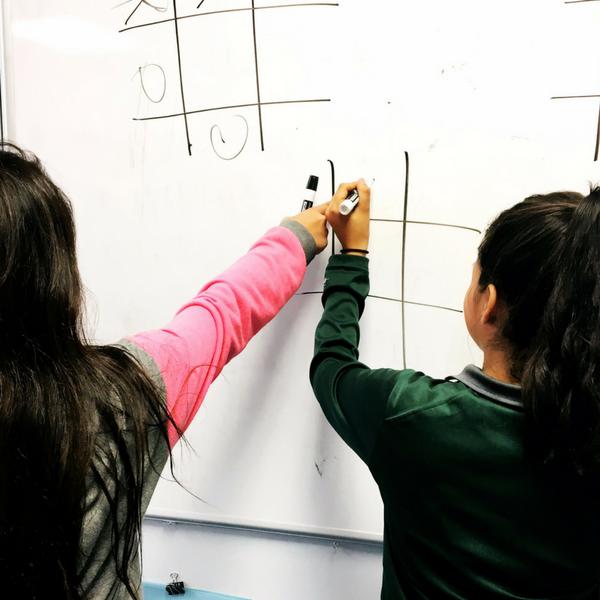 Project or draw 4-5 tic-tac-toe boards onto your whiteboard

Make half of the class Xs and half Os. You could do boys v. girls or split up geographically – window v. door.

Students work in pairs or groups. As soon as a group has completed a certain number of problems, they raise their hands with symbol for done, you go check, and if they did everything correctly and to your standards, they can take an expo marker and play an X or an O.

I instruct students to complete a game board before moving on to another, but you could play multiple boards at once.
2. Connect Four
Prep Time: 30 seconds

Materials: whiteboard and sticky notes in different colors
You can see that the concept is super simple — be the first team to connect 4 sticky notes in a row horizontally, vertically, or diagonally. My students loved it, especially when they could block! This is similar to tic-tac-toe but it allows for more than two teams. Idea is from Miss 5th.
Place students into groups. Draw or project a grid or table of 8 by 5 boxes. Each box needs to be able to fit a single sticky note.

Similarly, students work in their groups. As soon as a group has completed a certain number of problems, they raise their hands, you go check, and if they did everything correctly and to your standards, one student is sent to the board with their sticky note and they place it on the grid.

To manage the excitement and some of the behavior, I would create barriers for teams who were too rowdy. Example: if more than 1 student left their seat to move a sticky note, then I would remove one of their sticky notes. Using these types of tactics only has to happen once or twice before students internalize the expectations. Before you know it, the students who struggle the most are the ones policing other teams!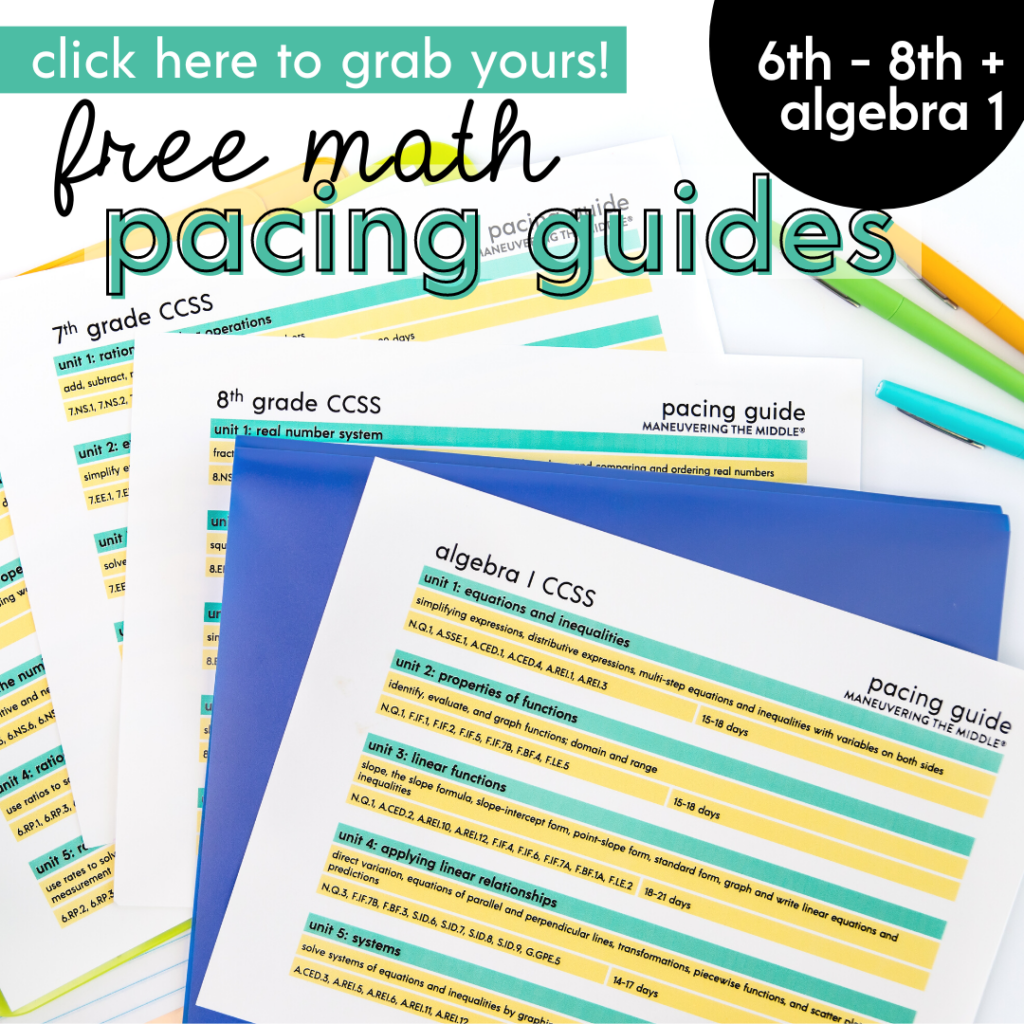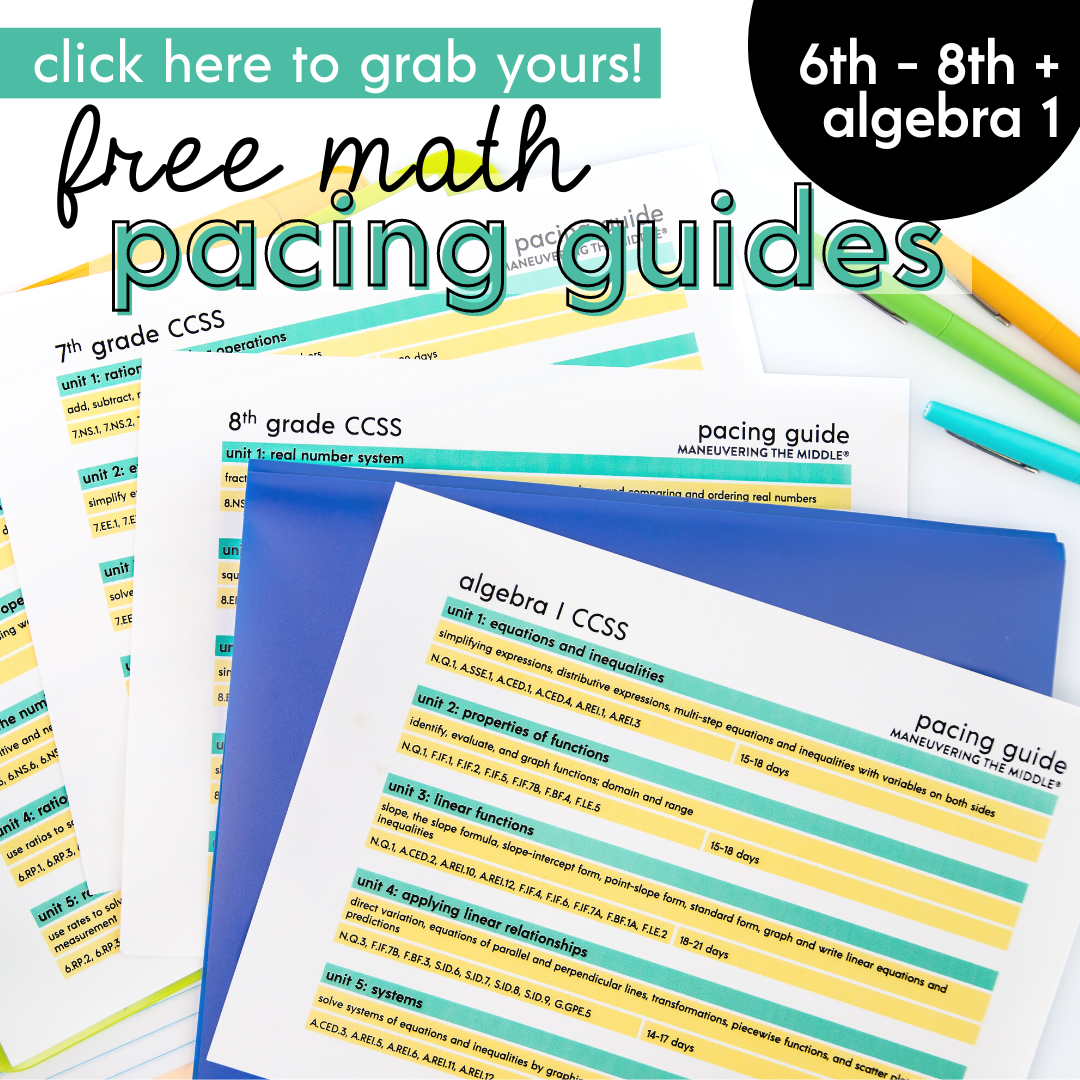 3. Magnet Race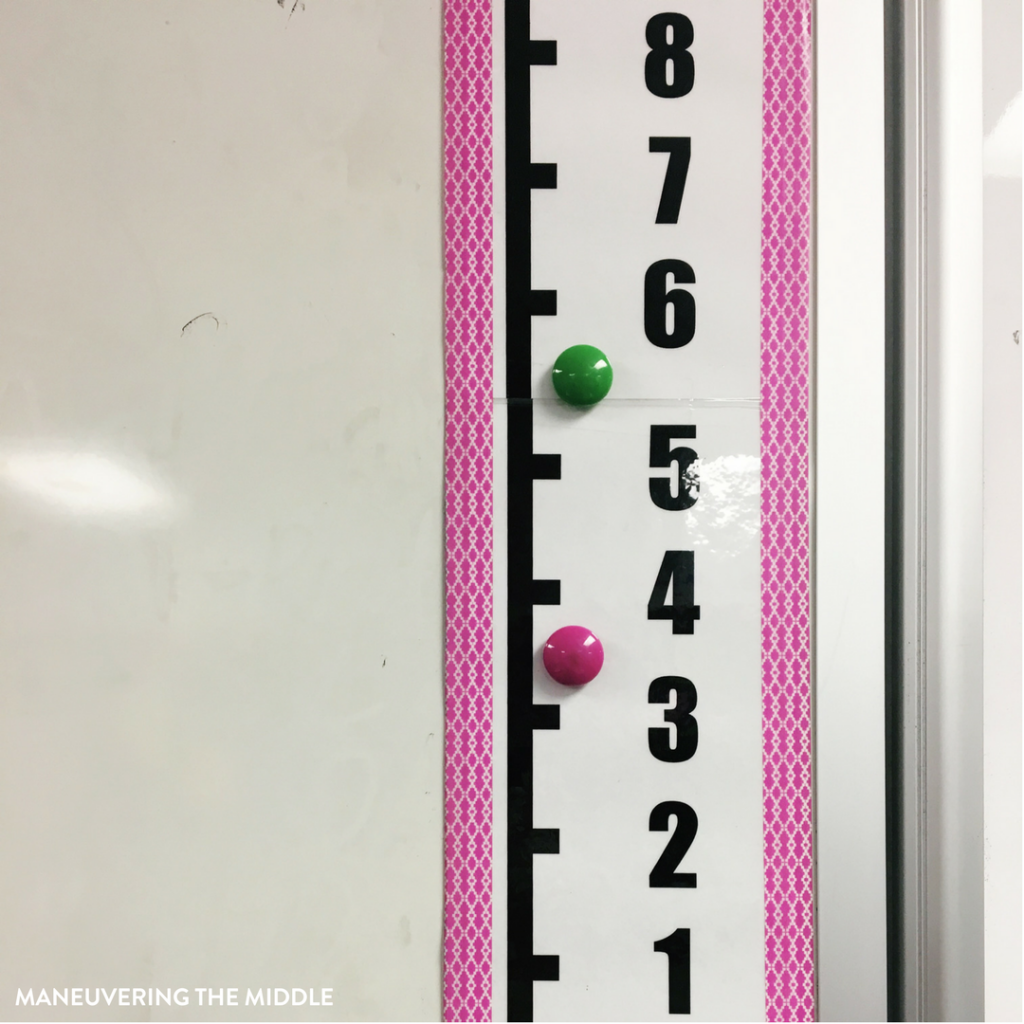 Similar to Connect 4 and Tic-Tac-Toe, the magnet race was my first introduction to engagement by way of racing.
Materials needed: number line on a whiteboard with two or more different colored magnets. You could also do this with clothespins and a string or even a pushpin on a bulletin board.
All of the magnets begin at 0 on the number line. Students earn the chance to play after working together to solve problems, then one student from the group would stand and make a move. They could either move their magnet two spaces in the positive directions, or move the opposing team two spaces in the negative direction or split it. Whichever team had their magnet at the greatest value at the end was considered the winner.
Get a free vertical number line here.
All of those activities have the same type of appeal. Group style, positive peer pressure so everyone tries because you can't move ahead if someone in your group isn't working, and high engagement. I will be honest, it can get a little loud!
A couple of things to consider –
Blatant copying – this is going to happen if you aren't careful. I think spending time upfront about what is helping someone work a problem versus just letting someone copy is a good practice.
I wouldn't use these activities for either brand new concepts or on days where I needed really precise work to be done. For example: I wouldn't use these when I am asking students to draw and model fraction division. That requires lots of focus and precision. I also know that I will need to be really available to help.
I would use these activities on the day we are covering a skill that most students will excel on. Volume for example.
If you are choosing to run one of these activities in class, you will be highly involved with classroom management and answer checking, so you cannot pull a small group during this time.
4. 100s Grid
Time: 30 seconds

Materials: Either print or project a 100s grid

. I found this colorful one here as a free download.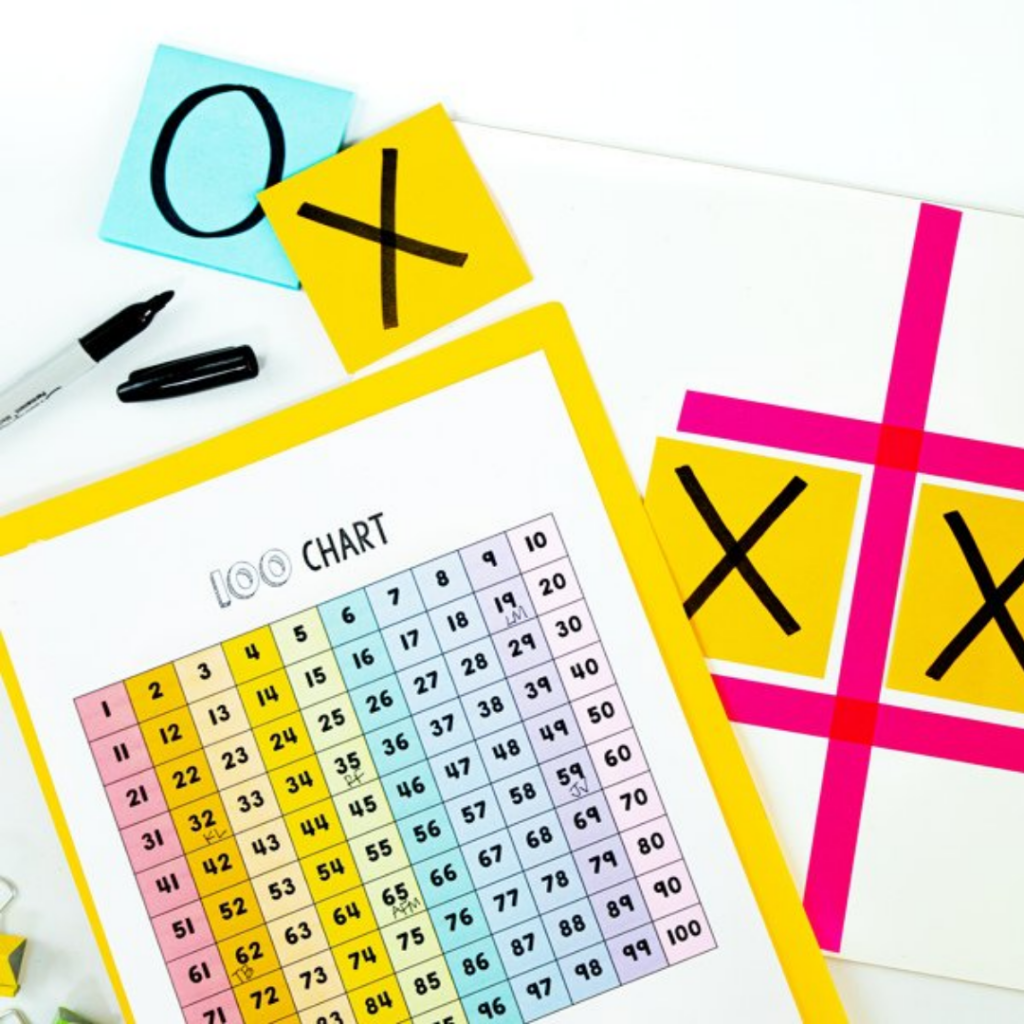 This was my secret to review days! Review days tended to be a struggle for my students (and myself). I had 90 minute blocks, so playing a game for that entire time would get a little wild, but I needed something to keep students engaged the entire time — enter the hundreds grid.
As students complete problems (whatever number you decide), they raise their hands, you check, and then let them know if they need to fix any. If they are all correct, a student can sign the grid.
Students put their initials in one of the numbered boxes. The more problems students complete, the more opportunities they have for their initials to be in more boxes.
At the end of class, I would google a random number generator to select 3 or so winners. Those students would get to grab something from my prize box.

For the first half of class, I would allow students to work together. The second half of class would be completely silent as students needed to practice independently (they were having a test the next day after all). This game worked throughout both collaborative and independent work time.
5. Grafitti!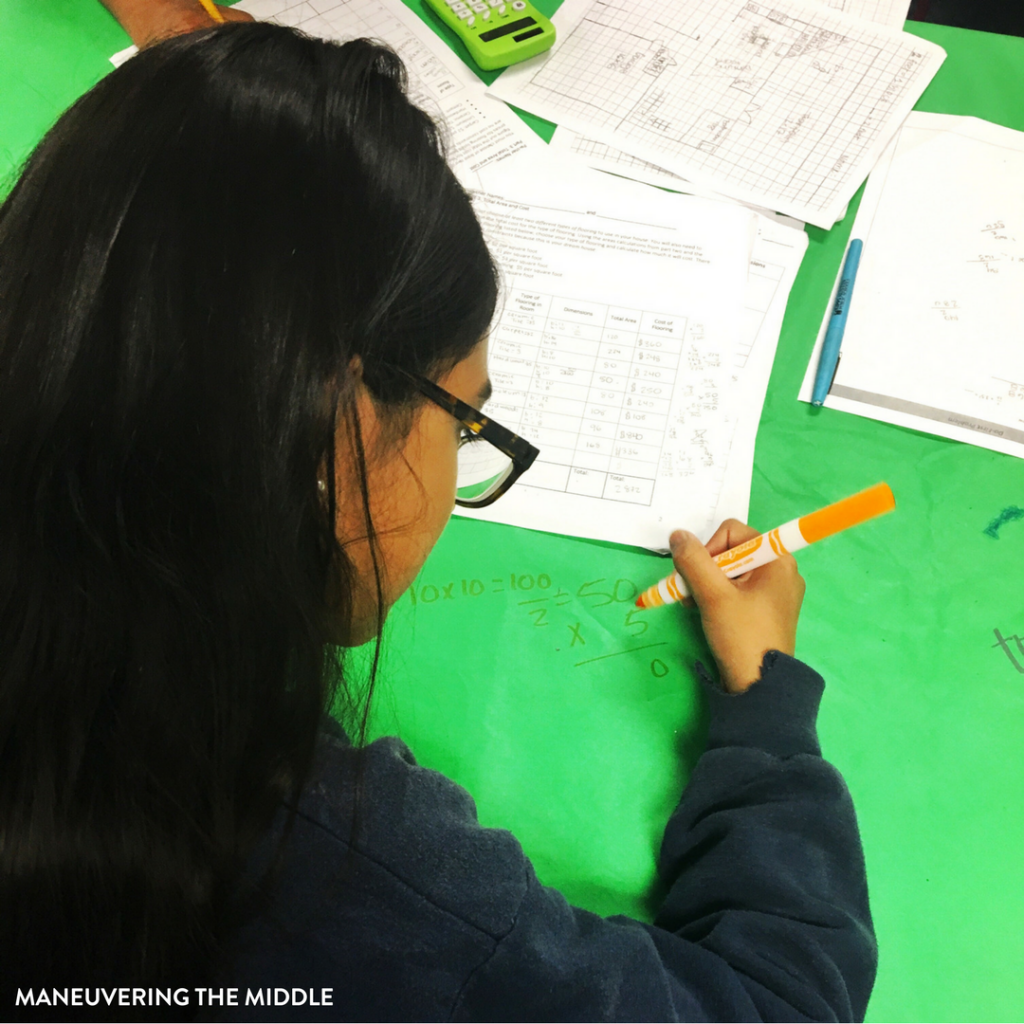 Graffiti is a fun and easy math activity. It requires more preparation than the others mentioned above, but it is great for math problems that need more space to be solved. You could even just give students an expo marker and they could work directly on their desks.
This is a great activity if you need extra space. Anything with models – integer operations, fractions, bar models, maybe drawing algebra tiles.
Give a variety of marker colors and see students incorporate colors into their strategies.
Checking work is really easy because their work is large and easier to read.
6. Math Musical Chairs
Prep time: 0 seconds
Materials: Chairs
Play music and students walk around the room. When the music stops, students must rush to find a seat. While seated, they have to complete 2 problems. When finished, they have to jump up and find another empty seat to do another 2 math problems.
The teacher said that her students love it, and all they are doing is completing math problems.
Students work better when they have the opportunity to stretch their legs and this keeps the momentum going.
7. Digital Activities
Prep Time: Varies

Materials: Devices
Our digital activities require little prep too. Assign via your school LMS, make sure your computers are charged, and watch your students work.
Many of the activities are matching, drag and drop, or error analysis.
8. Try our Autumn Freebie
If you haven't had a chance to grab our Autumn freebie, now is the time. These are self-checking, and they have a fun fall riddle that you get the answer to when you unscramble all of the letters. All you have to do is print for these easy math activities.
Grab them here.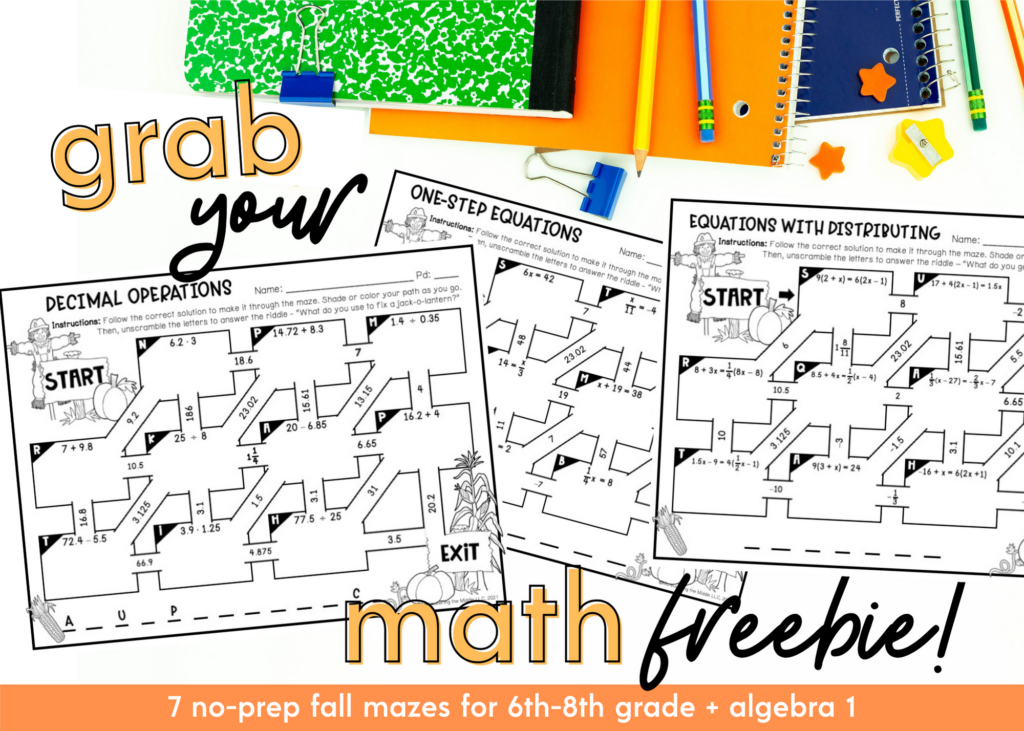 Great for review if you have covered rational number operations or solving equations this semester.
You could actually pair this maze with tic-tac-toe, connect 4 or a magnet race!


Do you have any go to easy math activities?  What are your students' favorites?  I would love to hear your other ideas for how to turn any worksheet into an activity.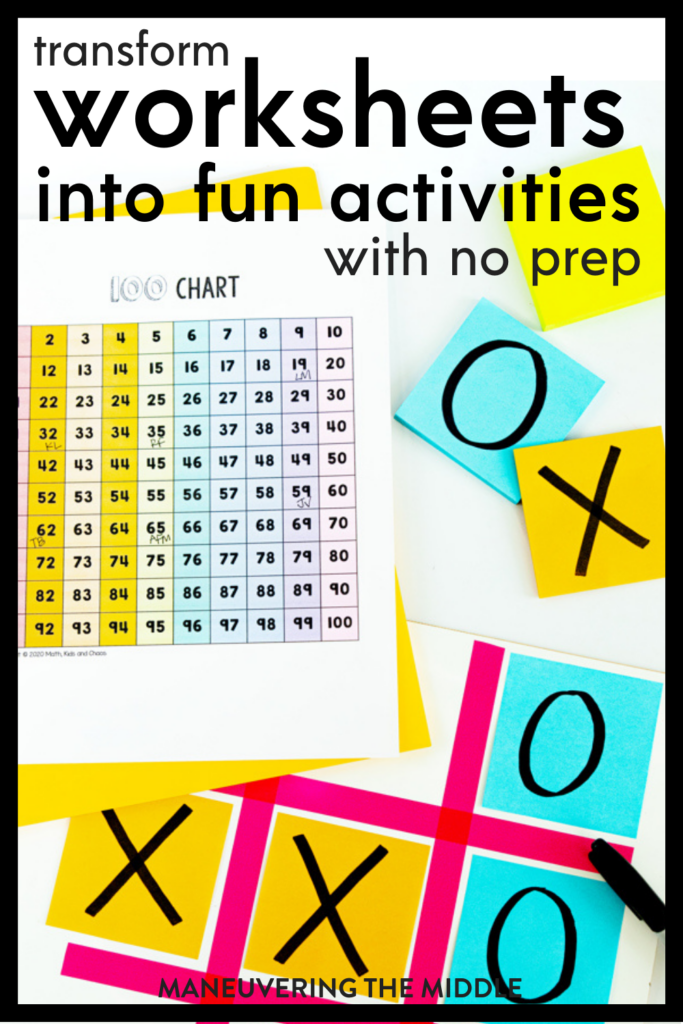 Maneuvering the Middle has been publishing blog posts for 7 years! This post was originally published in May of 2017. It has been revamped for relevancy and accuracy.