It is no secret that teachers love Post-it® Notes, and now I can say with confidence that students love them too!  According to researchers from UCLA and Carnegie Mellon, students enjoy learning more with Post-it® Notes. The brightly colored Post-it® Super Sticky Notes have 2x the sticking power and pack so much potential when it comes to engaging students in your daily lessons, so I thought it would be fitting to brainstorm some ways to incorporate them into your middle school math classroom.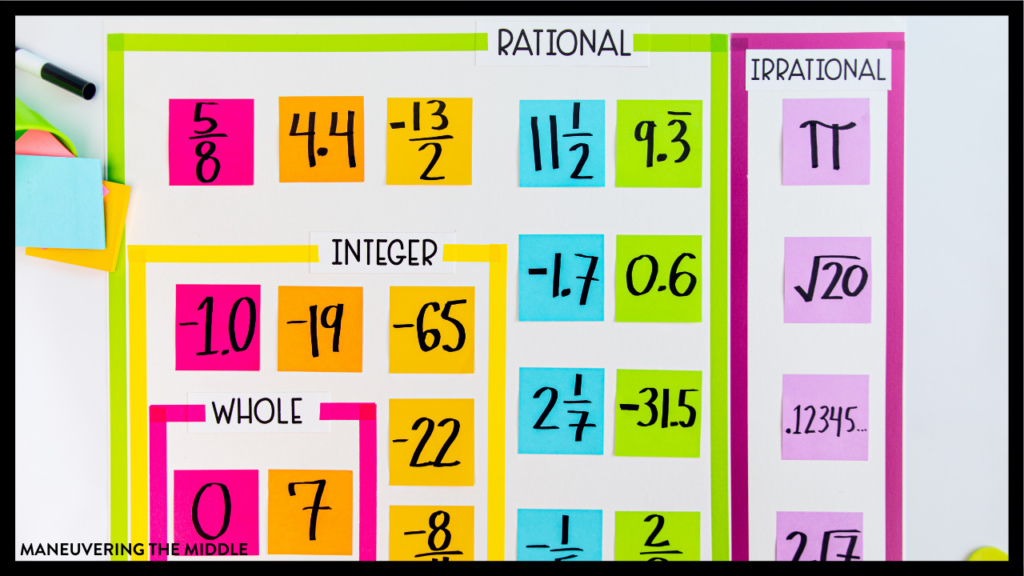 This post is sponsored by Post-it® Brand. All opinions and ideas are my own.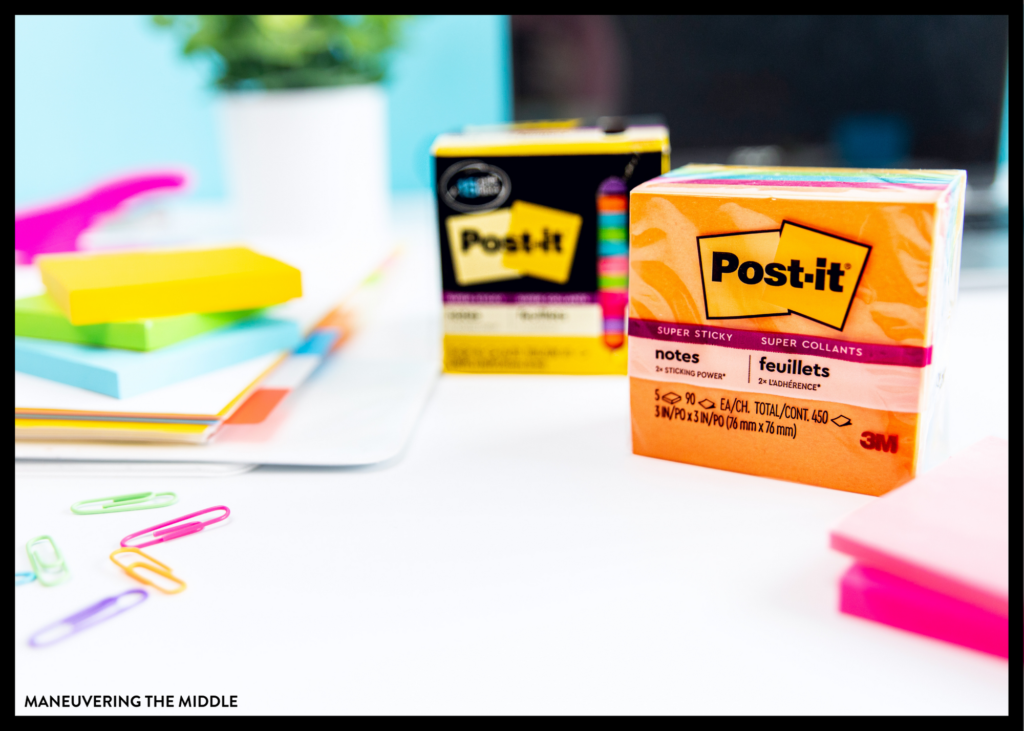 Math Specific 
1. Real number system diagram
Whenever I taught the real number system, I struggled with a way to make it hands-on. Using Post-it® Notes would have been a perfect solution! After defining a whole number, integer, rational number, and irrational number, students practice placing the types of numbers in the appropriate spot on the diagram. This would make a perfect 'living' anchor chart that could continue being added to as students encounter more types of numbers.
2.

Combining like terms
Students really struggle with this concept, and I think Post-it® Notes can help make this process more organized. When introducing students to combining like terms, teach students to write down each term and its preceding sign onto a different Post-it® Note. Students can rearrange and group like terms together. Instant activity with hardly any prep!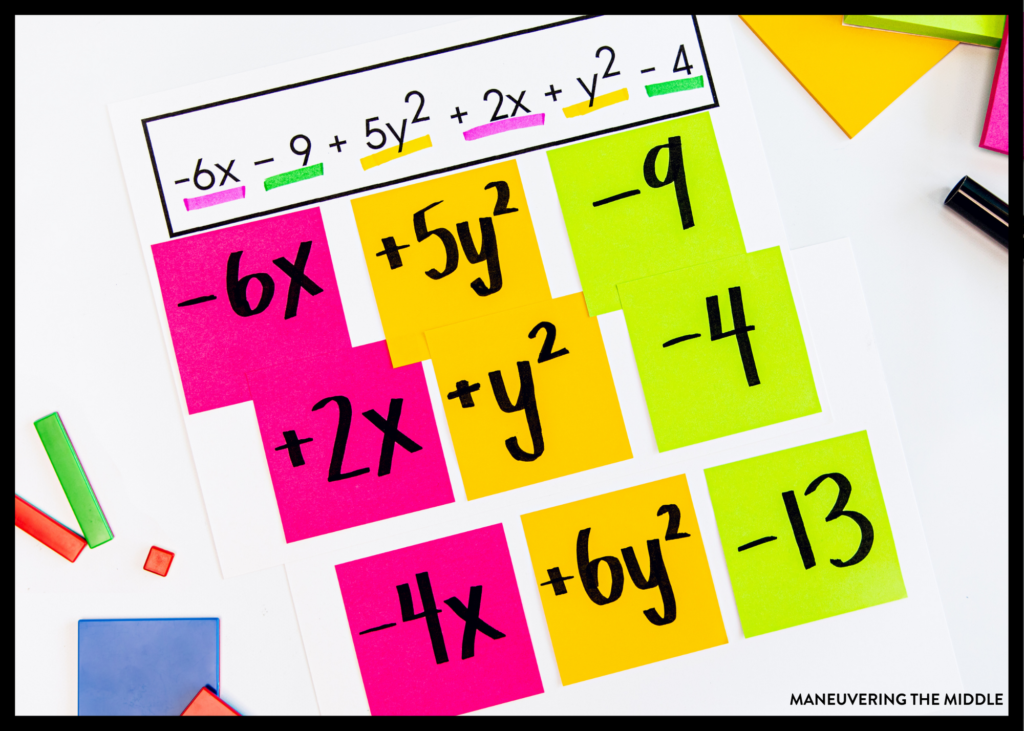 3. Substitution
Post-it® Notes can provide a clear visual for what is happening when a value is being substituted (or an equation is being checked) in an expression. Using a Post-it® Note, cover the variable in the original expression with the substituted value and have students calculate.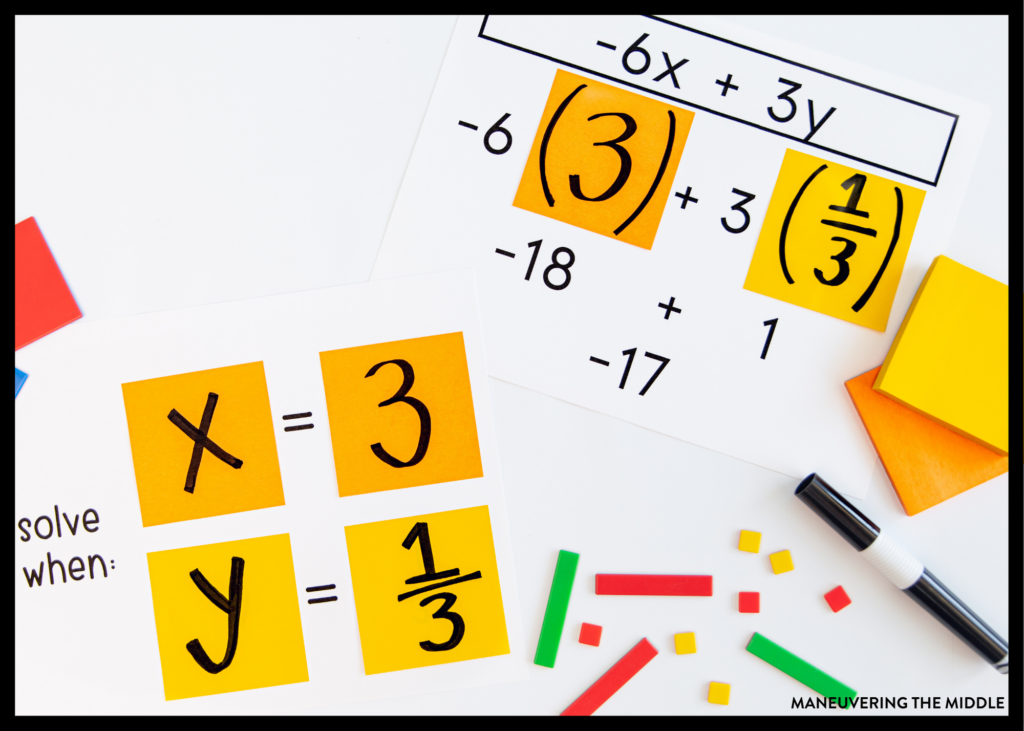 4. Order of operations
This idea could serve as a brain teaser or extension idea for your early finishers. Post a few complex "order of operation" problems and use Post-it® Notes to serve as an answer bank where the answer choices will only be used one time. I like that students can interact with the problem. In my example, I used a red Post-it® Note to signal that those are numbers that shouldn't move.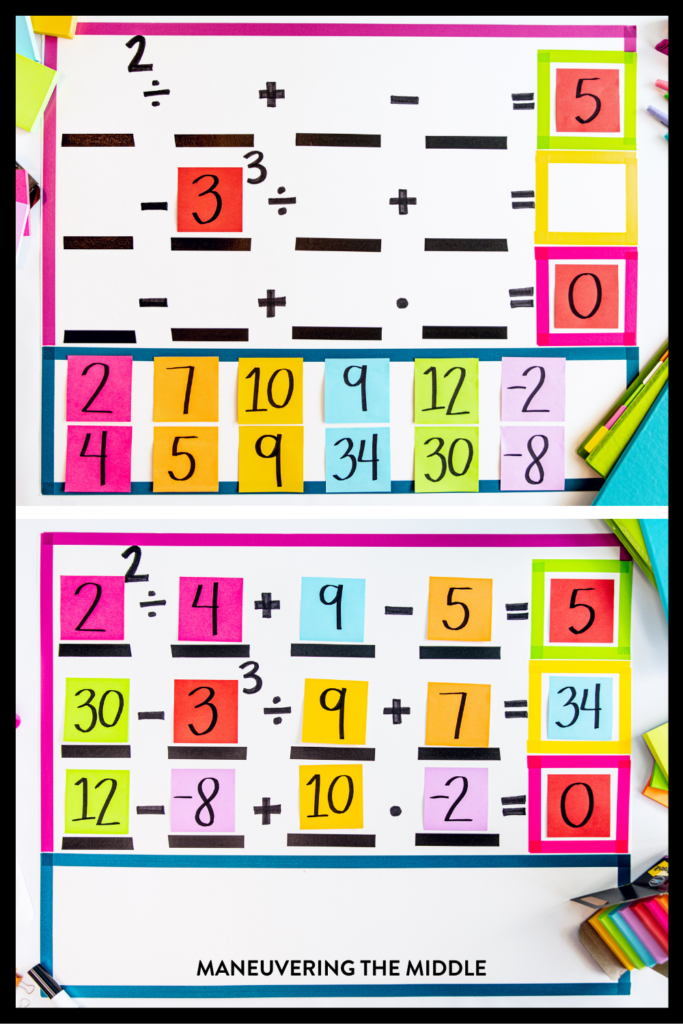 5. Ordering numbers
This idea is as simple as it sounds. You or your students write down a variety of rational numbers on Post-it® Notes (you could even color coordinate the types of numbers – green for whole numbers, pink for integers, yellow for rational numbers) and students place them on a number line. 
6.

Dot Plots
Dot plots are perfect for Post-it® Notes. Provide each student with a Post-it® Note that will act as a dot, and ask a statistical question like, "What size shoes are worn in Mrs. Brack's 5th period class?" My Data and Statistic units were always more successful if I incorporated students' specific data into my examples. Students come up and place their Post-it® Note dot in the appropriate spot. They help keep the size of the 'dots' consistent, so that students can have an accurate picture of data that skews right or left or is symmetrical. And they are sticky enough to be reused by the next class period which is a total win.

7. Graphing points
Write down different parts of the graph (y-axis, origin, quadrant IV, etc) and a variety of coordinate points on individual Post-it® Notes and distribute them to students. Project a coordinate plane and have students take turns placing the parts of the graph and points in their respective location.
General Classroom
8. Thankfulness Campaign
This was a schoolwide initiative that brought so much joy to our school but could also be done in an individual classroom. During homeroom, students wrote down one thing they felt thankful for on an individual Post-it® Note. They were collected over the course of several weeks, and eventually went on to create a Post-it® Notes mural in one of the main hallways.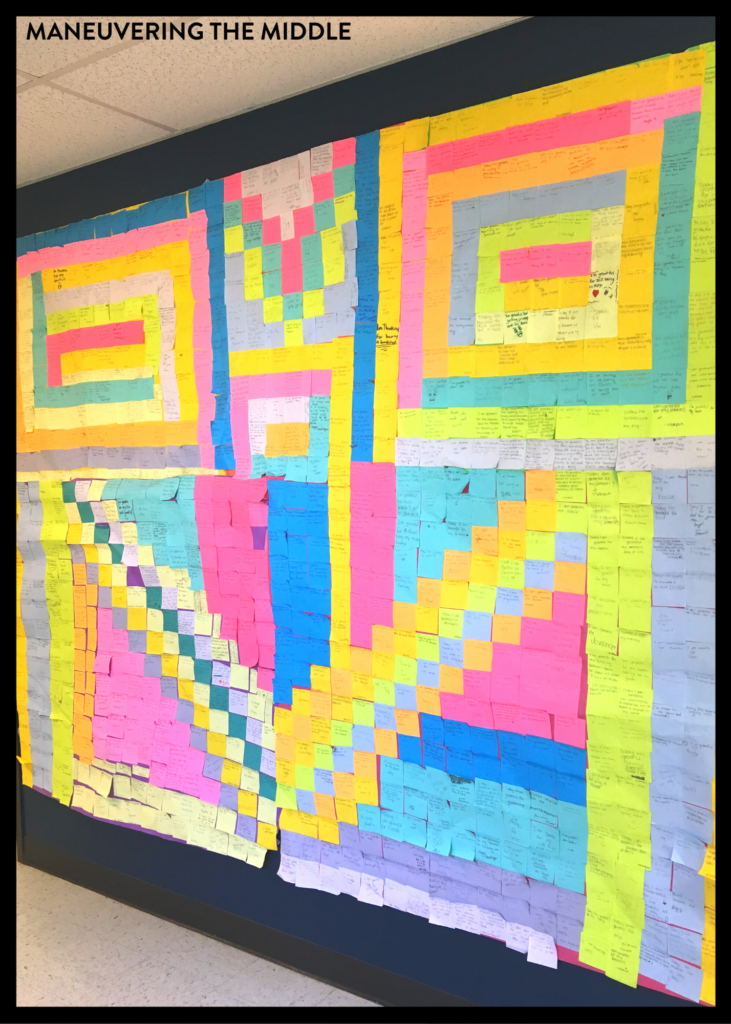 9. Summarizing a daily lesson
Post-it® Notes provide the perfect amount of space to force students to synthesize their learning from that day into a bite-sized chunk. As teachers, we might equate copious notes as higher-level learning when, in actuality, the opposite can be true.
10. Bookmark for interactive notebook
A Post-it® Note is a perfect bookmark for interactive notebooks. They can be repositioned daily, and the variety of colors can indicate important sections of the notebook – vocabulary, previous units, etc.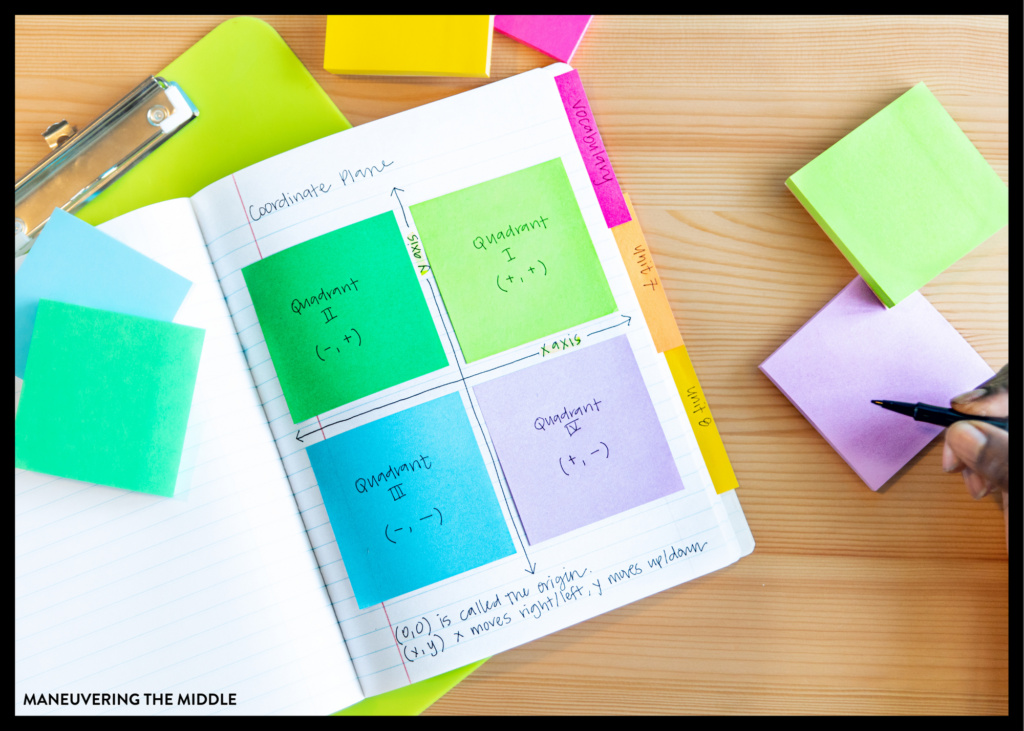 11. Visual indicator a student needs help
If you have a student who will not ask questions during a lesson (but frequently has questions), a Post-it® Note could provide a perfect solution. Provide a few and come up with a system that makes sense for you and your classroom. For me, the student would write her question down, hand it to an assigned buddy, and that buddy would ask the question for her. We came up with that system one-on-one when we brainstormed ways for her to take more ownership in her learning and for me to better clarify misunderstandings in the moment. 
12. Daily must-do list
I would be remiss to not include the power of a Post-it® Note when it comes to writing down my must-dos each day. This list helps me quell that overwhelmed feeling when I look at a VERY long list of to-dos. I take the 3-5 most important and urgent action items and put them on my must-do list. The day instantly feels more manageable!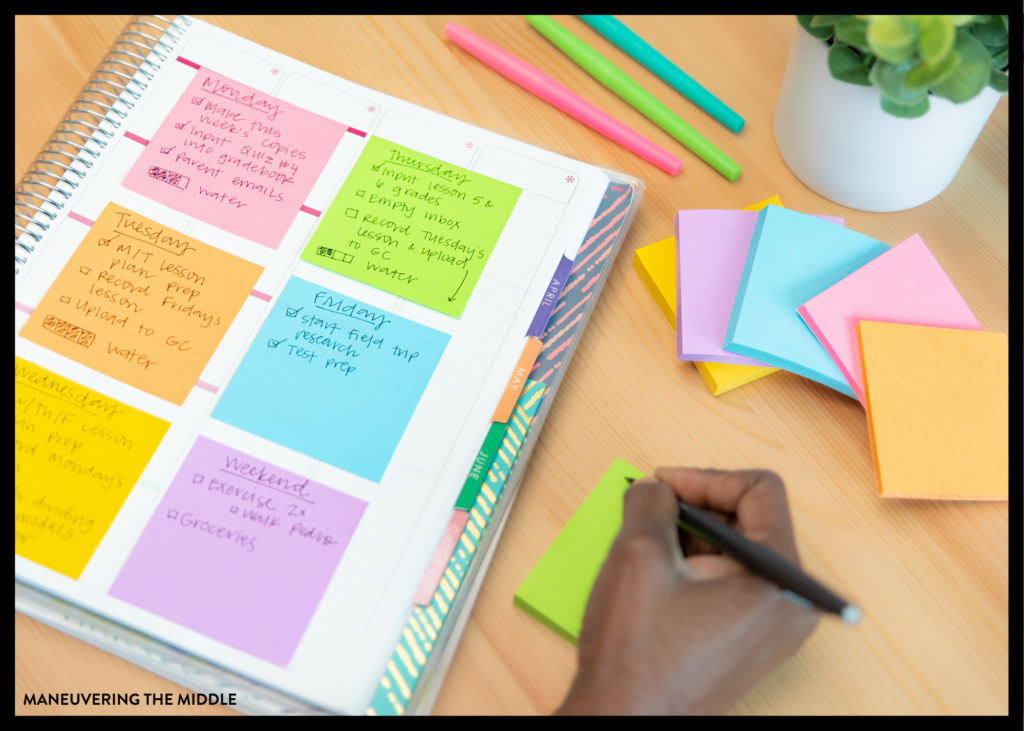 This list just scratches the surface of all the ways Post-it® Notes can be used in a math classroom setting. How do you use Post-it® Notes in your classroom?