Let's talk about interactive notebooks – both physical notebooks and digital notebooks! Do you use them with your students? I tried an interactive notebook one year while teaching math, and I couldn't handle the glue consumption.  Now that I am seeing so much talk about digital interactive notebooks online, I want to ask the question — are they right for you?
Are Digital Interactive Notebooks Right for You?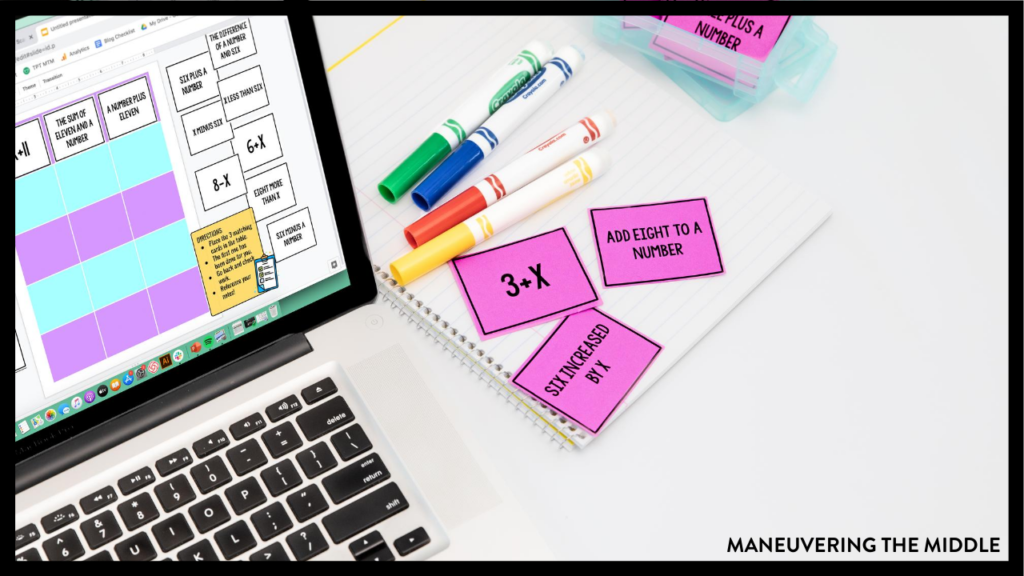 Digital INTERACTIVE notebooks might be right for you if…
1. You would have done an interactive notebook in class anyway
Interactive Notebooks are wonderful for teaching students how to utilize classroom content in a systematic and useful way. Digital interactive notebooks are even better because they are under the control of the teacher. No loose papers. NO GLUE STICKS! If you love interactive notebooks, I think you will love digital interactive notebooks even more.
2. You Hold Students Accountable for their Organization
I am all about keeping students accountable for their actions and their work ethic, but I could only control so many things. Managing students' notes and doing binder/notebook checks was something I tried, but quickly learned was not within my capacity.  Maybe it would be easier to do digitally, but I would prefer to spend my time in small groups (now office hours for invited students) or giving feedback. To be clear, I do love a beautifully organized notebook as much as the next teacher — I'm not a monster.
3. You want students to easily reference material digitally 
If you know that students will not be printing anything during remote learning, I can see why digital interactive notebooks are enticing. Everything is accessible in one spot! Students will be able to study the correct material for an assessment with little direction from you. You can also make them accessible to parents who can support that studying effort.
Digital interactive notebooks might not be for you if …
1. You already have a plan or system in place for students to reference materials
Many teachers were already using a flipped classroom model or assigning work through technology in a variety of ways before the pandemic even started. Maybe your students can take notes on their own notebook paper at home and submit their work using EdPuzzle or GoFormative.  Perhaps, you liked your system in the spring just fine. "Doubling up" on systems used for students to access or organize their work might cause confusion. You do not have to do something because other teachers are doing it!
2. You aren't a teacher who plans several weeks in advance
From what I have researched, creating a digital interactive notebook requires A LOT of work before students even see it. If you share it with your students via Google Classroom or your LMS, making any changes to your master will not change the students' copies. Not a huge deal, but it does mean you can't make any edits after students have their own copies. Fortunately, there is a Google extension called Slip in Slide that can add slides to the end of a student copy. You can watch a video on how to do that here. Consider that you might need to correct an error on an existing page, add something to an existing page, or delete a page, you will not be able to do that. (As of now – please comment below if this gets updated!)
3. You feel overwhelmed by all the technology and changes with the school year
If you are someone who is still trying to figure out how to post an assignment to an LMS or how to record or teach a lesson digitally, then check out some helpful videos here. You do not need to add anything else to your already full plate. You can always implement a notebook in the future.
Do you use a digital interactive notebook? Do you prefer "traditional" (ha!) online learning? If you haven't heard, Maneuvering the Middle's notes and homework have been turned into Google Slides to help transition to remote learning. (This does not mean it is a digital interactive notebook!) Check out our curriculum bundles here.