Not only are functions fun, they are the basis of all of Algebra 1 – linear, quadratic, and exponential. Out of 49 Texas standards in Algebra 1, 20 involve functions — that is over 40%! It is important that students have a firm grasp on understanding how to identify, evaluate, and graph a function to prepare them for more complex problems.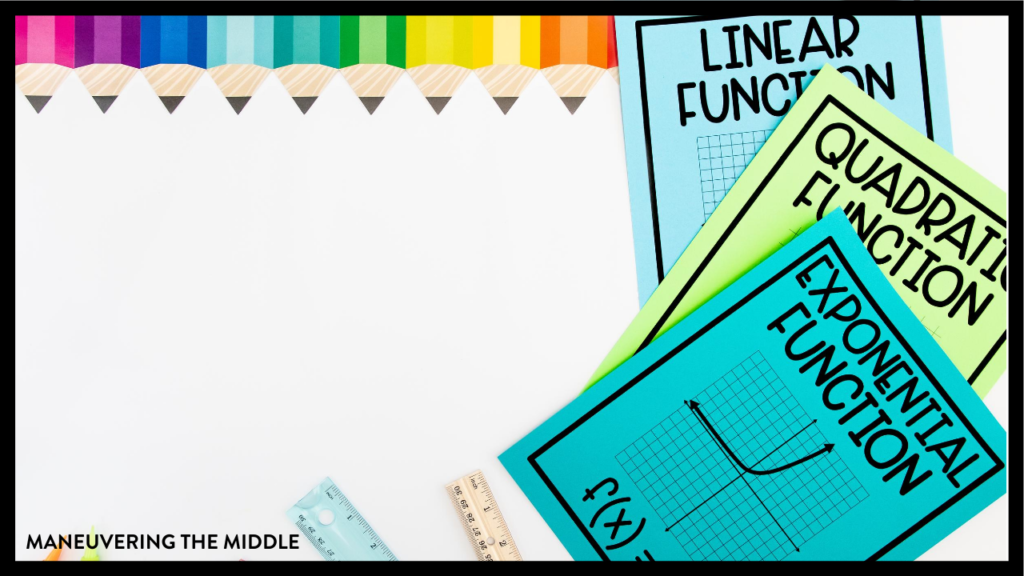 Teaching Functions in Algebra 1
Standards
Here are the standards that best describe what we are going to focus our time on today.
A.12(B) evaluate functions, expressed in function notation, given one or more elements in their domains

A.12(A) decide whether relations represented verbally, tabularly, graphically, and symbolically define a function
Here's what those standards look like as 2019 and 2018 STAAR test questions.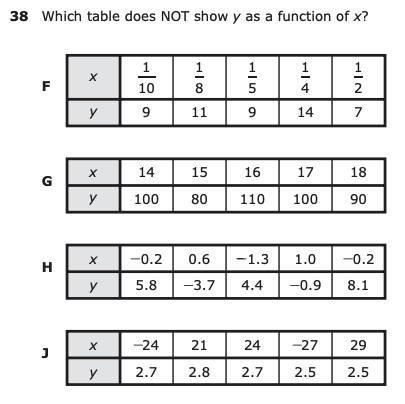 Vertical Alignment
In 8th grade, students will begin to identify functions in ordered pairs and with graphs; it is a readiness standard, so it is tested more heavily in 8th grade than in Algebra 1. You can see an example of am 8th grade STAAR test question below.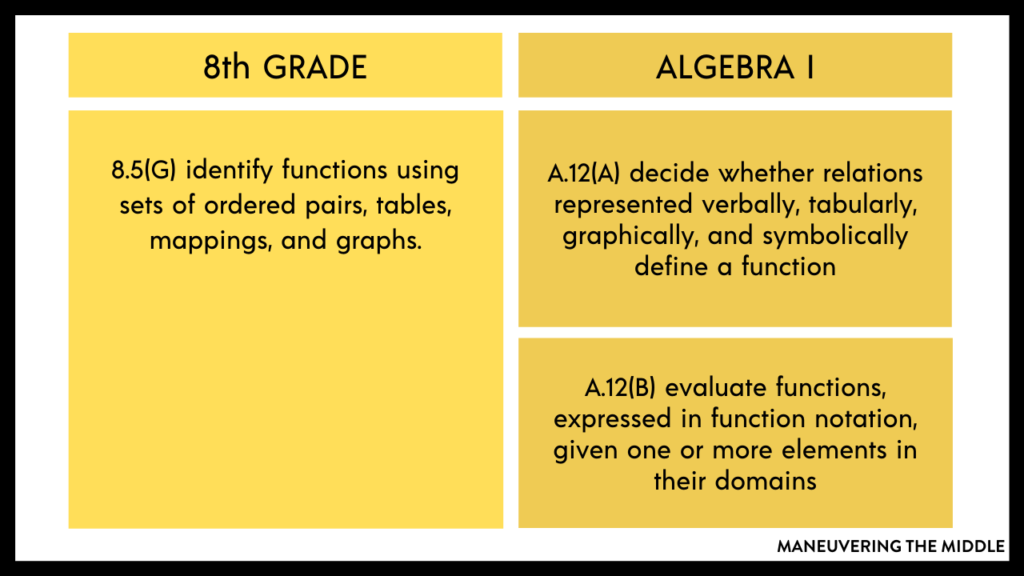 I think vertical alignment is one of the things teachers can overlook the most when lesson planning. If you are unsure, look up what students have already been exposed to before introducing a topic. I like using this document here.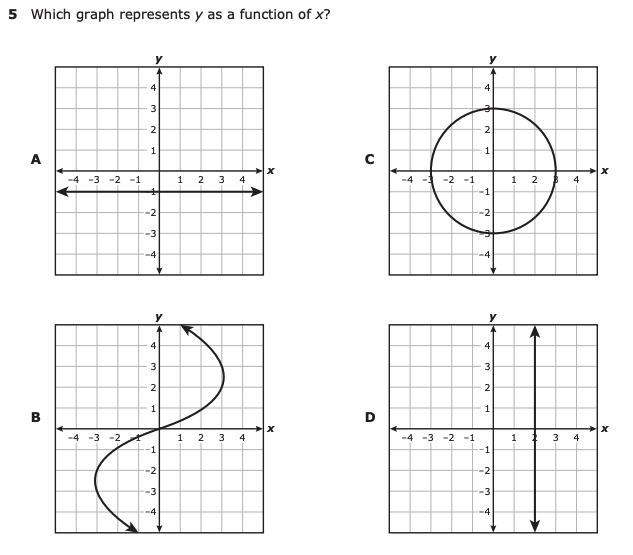 Identifying Functions
If you have taught how to identify a function before, you are probably familiar with the definition of a function —
"A function is a rule that assigns each input exactly one output. They occur when every x-value is associated with exactly one y-value."
You are also probably very familiar with the vertical line test.
When I was a student, I learned to just use the vertical line test. If given a set of ordered pairs, I would quickly sketch it to see if it passed the vertical line test. I had NO understanding of why this worked and what made a function an actual function.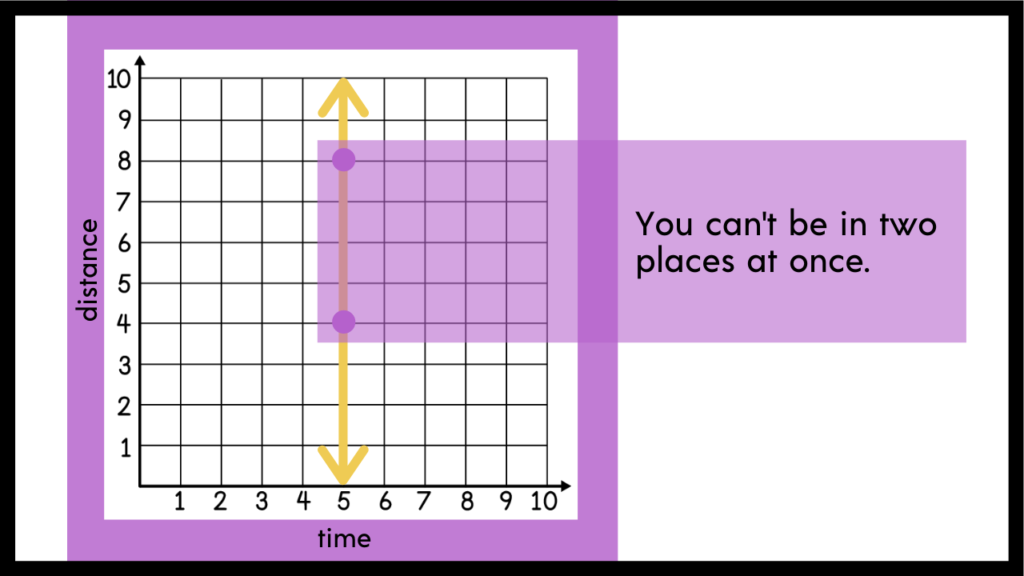 It wasn't until I taught functions that I came across a concept that helped me understand the WHY behind the vertical line test. If you have a graph with time on the x axis and distance on the y axis, a vertical line would represent someone or something at a particular moment in time being in more than one place at once, which is not possible. A horizontal line would represent someone or something not moving over a period of time which is possible.
Here are other strategies to help students conceptually understand:
Vending machine example: Buttons are the input. Drink is the output. A1 will give you a coke. A2 could give you a coke. But A3, can't give you a Sprite or a Coke.

Speed dialing on a phone example: X is the number you push, and y is the person that is called. Your phone is functioning when you hit a 3 and it calls your mom only, or if you pressed 4 and it called your brother. The phone is NOT functioning if you would hit a 3 and it sometimes goes to your mom and sometimes goes to your brother. However, you can program two numbers to go to the same person.

Multiple students can be the same height but one student cannot be multiple heights.
Evaluating and Graphing Functions
Once students have a firm grasp on functions and relations, evaluating and graphing functions come a little more naturally. Students have been substituting and graphing in all four quadrants since 6th grade. Spend time reviewing the order of operations and how to graph on a coordinate plane. Never assume students already know how to do that – you will be surprised by the misconceptions! However, function notation will be new to students. From my experience, students pick up that f(x) is the new y fairly well!
Use Technology for Real-World Application
And because nothing makes math come to life more than our favorite web-based program, here are a few Desmos links.
Guess My Rule:

Students are introduced to the concept of a function by using input-output pairs in a table. They explore different rules, some of which are functions and some of which are not.

Card Sort – Functions: In this activity, students sort graphs, equations, and contexts according to whether each one represents a function.
Pacing
Properties of functions – identifying, evaluating, and graphing are big skills that need their own day. Each of these skills requires a myriad of formats for students to comprehend — set of ordered pairs, mapping diagrams, a graph, a table, or a real life example.  Students need exposure, so do not plan on flying through these standards in a few days. Since functions are foundational in Algebra, extra time spent setting the stage will not go to waste. 
What I also love about this particular skill is that it softly introduces all of the types of functions students will be exposed to over the course of the year — linear, quadratic, and exponential. If students feel comfortable evaluating or describing these types of functions early on, they will be more inclined to find the axis of symmetry (for example) later in the year.
Further reading for Algebra 1: How to Teach Domain and Range | How to Teach Solving Equations
UPDATE: ALGEBRA I DIGITAL ACTIVITIES ARE NOW AVAILABLE!