Planning student-centered math activities takes work! There is the actual planning and creating that takes time, but then there is also the actual classroom time to squeeze the activities into. I have five 7 favorite activities that are fun and engaging, but also help scaffold the learning. 
I think that is why I love math so much; it can be broken down into smaller components.  The key is being able to practice the different steps and skills with student-centered math activities.
Note: I have utilized these activities in various levels of classes. At one point, I taught all three levels of 8th grade math – intervention, on-level, and advanced – within the same year. While the content of the activities may change, the activities are perfect for any level.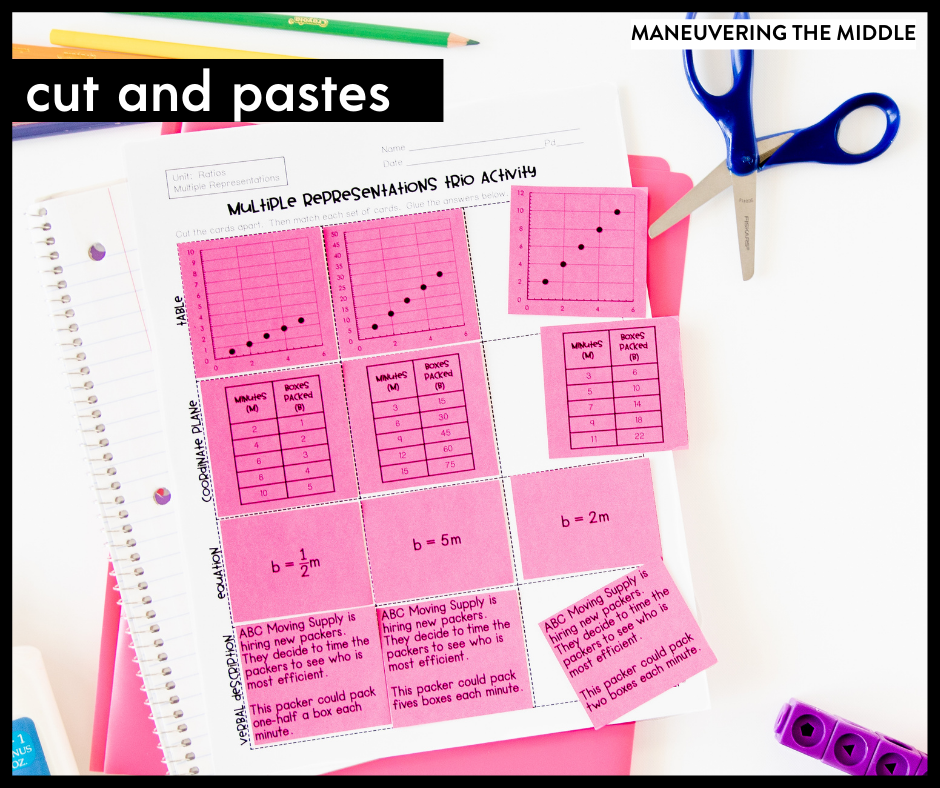 CUT AND PASTES
Students Practice Breaking Down the Process
Why I Love Them: While a little messy, cut and pastes keep students using their hands and doing math at the same time. They work well independently, in partners, or working with a small group. I like providing multiple incorrect answers as well. This keeps kids thinking and is a way to incorporate mathematical practices through error analysis.
When to Use Them: Cut and pastes are great for anything that requires a step-by-step process from solving equations to adding and subtracting integers. This is perfect for advanced kiddos who want to go straight to the answer or intervention students who need to focus on one step at a time.
Teacher Tip from Donna E: "Cut and Paste Activities. I actually laminate these so there is no cutting and pasting. I use these more as a sorting activity. It cuts down the time and still works out their misconceptions." If you are going this route, you can also make it a group activity to reduce the number of individual activities you have to prepare.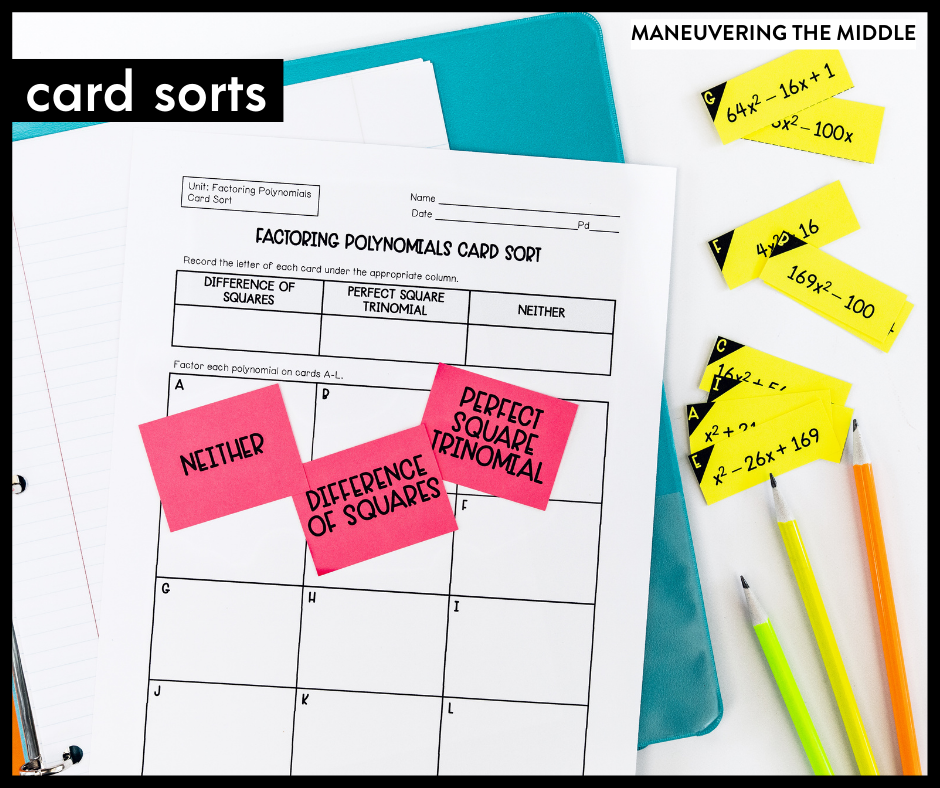 CARD SORTS
Students Practice Differentiating Similarities and Differences

Why I Love Them: Card sorts are an excellent way to quickly assess a student's understanding of the concept. They require higher order thinking skills, as students are required to analyze the given information and make a categorization. Although they take a bit of time upfront (cutting and laminating), they can be used over and over again. I have used card sorts for the real number system, proportional relationships, word problems, statistical and nonstatistical questions, properties of geometric figures, etc.
When to Use Them: They are fabulous as a classroom activity with pairs, an activity for early finishers, or an activity to keep skills fresh and improve fluency. In an advanced class, you could give the cards without the headers and ask students to sort them in any way possible. You would be surprised at what observations they are able to make. In an intervention setting, the headers will provide structure. 
Teacher Tip from Jordan:  "If you are at a 1-1 school or have access to technology, putting card sorts on Desmos is super easy and a great way to do activities like this digitally!" This blog post from Kate's Math Lesson shows you how.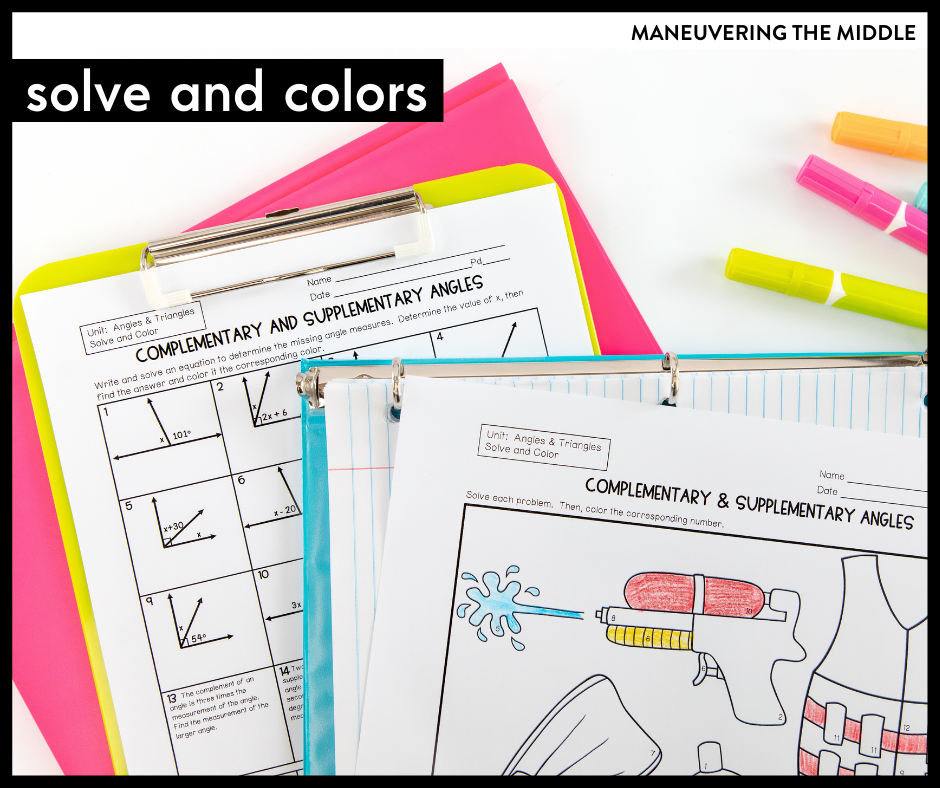 SOLVE AND COLORS
Students Practice Basic Math Skills 
Why I Love Them: Solve and colors are really perfect because kids get to color. Something about colored pencils in math makes the lesson more successful.
When to Use Them: My favorite use for solve and colors is for practice of basic math skills, whether that be adding and subtracting rational numbers or multiplying and dividing decimals. They are easy to leave for substitutes, to use after testing, or as fun homework assignments.
Teacher Tip from Tyne: "Use the coloring as the incentive to complete the math. Once the math was complete, I checked their work and then allowed students to start coloring."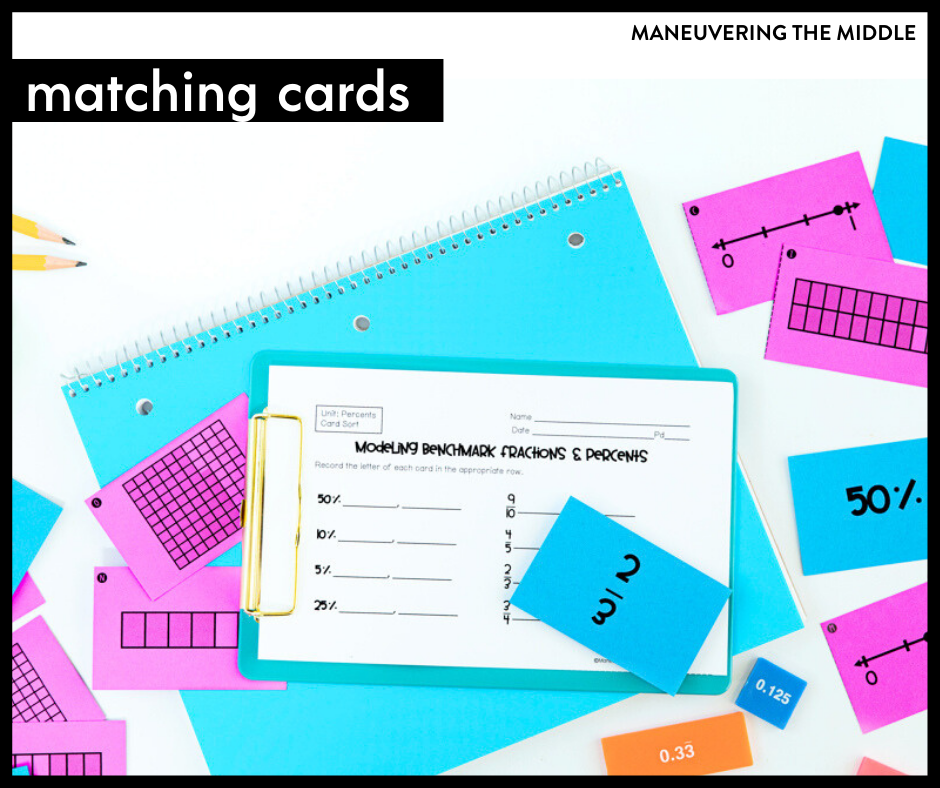 MATCHING CARDS
Students Practice Recognizing Multiple Representations
Why I Love Them: Matching cards require about the same amount of time upfront as a card sort, so get yourself some parent volunteers. I have found great success using matching cards to show multiple relationships. This can be depicted with ratio tables and graphs, proportional relationships, fraction, decimal, percents, and linear relationships.
When to Use Them: Again, these are perfect for sponge activities, review activities, or quick and easy lessons on Fridays. I personally loved using these over and over again with my intervention students. We would use matching cards to build number fluency with fractions, decimals, and percent representations, as well as many other necessary skills.
Teacher Tip from Tyne: Card Matches (and cut and pastes) can be great whole-class activities! When I taught 6th grade Ratio Unit, I used the Multiple Representation Cut and Paste for the entire class. Each student got a card and students had to make a group of 4 with the equivalent graph, table, equation, and verbal description. For more practice,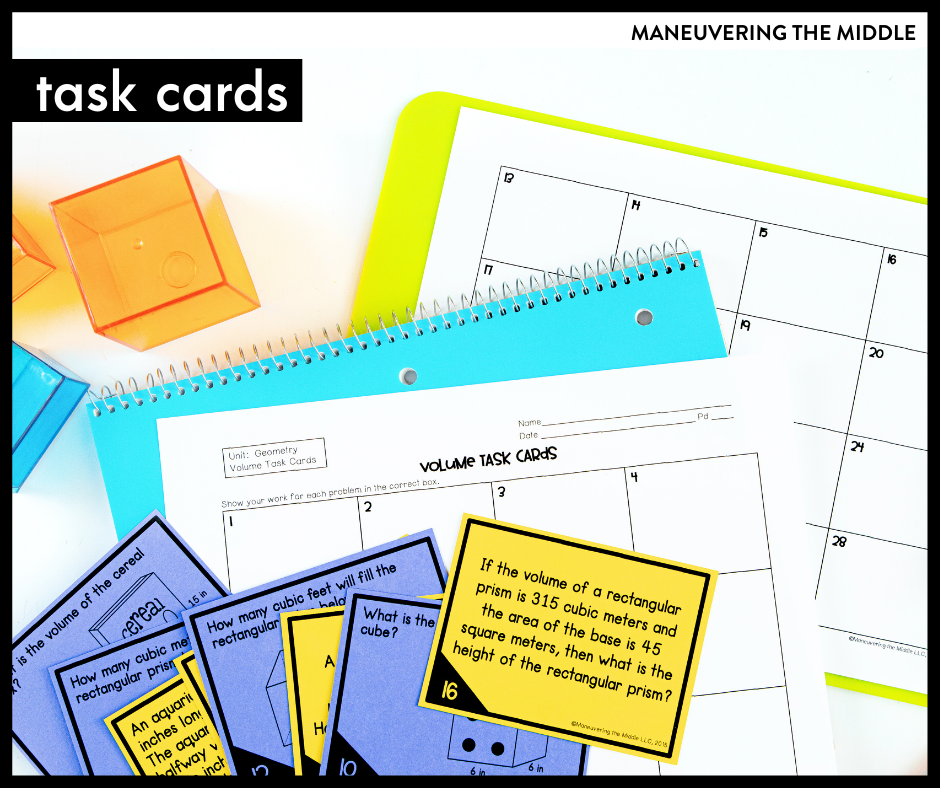 TASK CARDS
Students Practice Individual Skills within a Small Group
Why I Love Them: Students can be working on the same concept with different types of problems. They are super flexible! In fact, we wrote an entire blog posts on task cards! Lots of teachers use them for scoot or various games, but my favorite is small groups. You can incorporate them into stations, use them for formative assessments, etc. Task cards are easy to prep and can be utilized multiple times throughout the year.
When to Use Them: When I pulled small groups, I loved using task cards, hands down. I would have a small group of students work on various problems that were all around a similar topic. I could easily scaffold the students within my small group based on the card, starting with the most basic problems and then moving on to a multi-step word problem.
Teacher Tip from Angelique: "I use task cards as an escape room activity. I have never had ALL group members engaged and truly holding each other accountable to complete the work."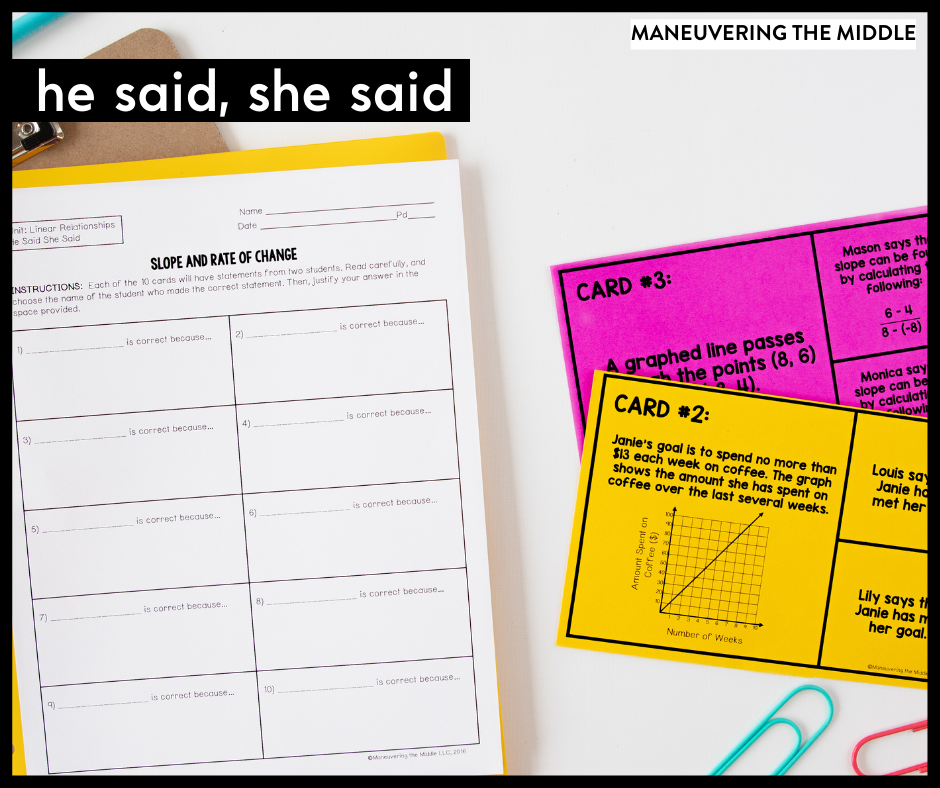 Find it, Fix It and She Said, He Said
Students practice analyzing work for errors
Why I Love Them: These error analysis type activities provide opportunities for students to not only solve the problem on their own, but evaluate how and why mistakes can be made on particular skills.
When to Use Them: I like to start with He Said, She Saids and build up to Find It, Fix It. He Said, She Said requires students to determine which answer out of 2 is correct. Find It, Fix It requires students to look at 4 different answers and determine which one is incorrect. I like using both of these activities for stations or for a whole group activity to practice skills learned that week.
Teacher Tip from Tyne: "I would post He Said, She Said and Find It, Fix It cards around the classroom, so student pairs could work together to solve. I would set a 3-5 minute timer and announce for pairs to rotate to keep students from gathering around the same problem and to also keep students on track to finish."
If you haven't used these student-centered math activities in class, I encourage you to try them out. All Access has all of these activities (and so so so much more), but you can shop individual activities on TpT.