Parent volunteers in middle school can be tricky to find.  I admit that I was jealous of my elementary teacher friends.  They had classroom parties, room moms, and parent volunteers for field trips. I mentioned this to a friend, and she asked, "Have you asked them?  Just make a quick sign up form."  So I did.  I asked parents to return the form with various ways they would help checked.  It was incredible and well worth the time to get it all set up and organized, so let's talk about how to do it.
Note: I am aware there is a large discrepancy in the amount of parental support a school receives.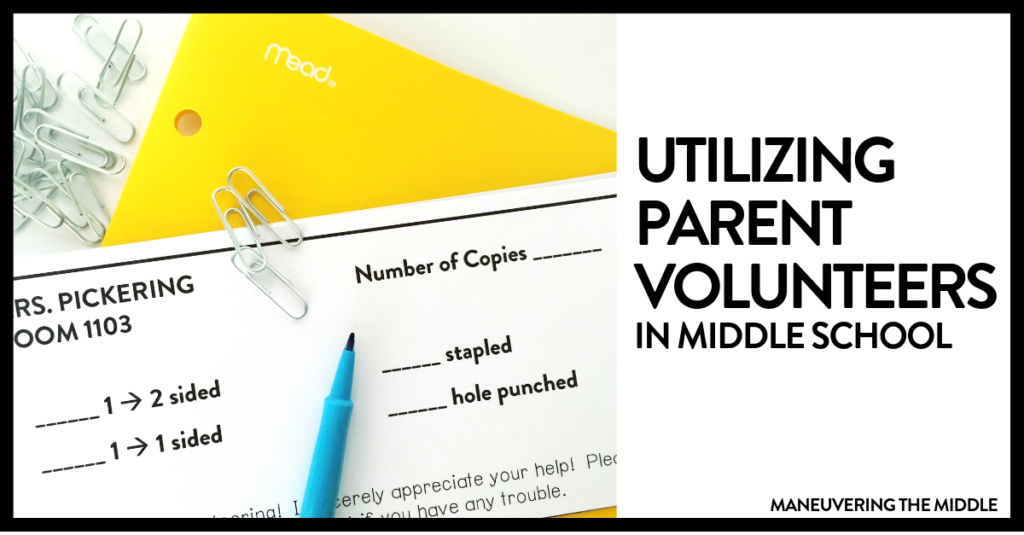 parent volunteers in middle school
I think that middle school gets a bad rap.  Teachers feel like it is difficult to connect with parents, and parents go from having one point person to communicate with to upwards of eight.  I admittedly forgot it was Western Day at school last week for my 20 month old son, and I only have one child.  Thankfully he will not remember; it will be our little secret.  Alas, there is a lot of keep up with and as a teacher, you feel that pain.  If you would like to increase your the parent involvement in your classroom, I think you will be surprised with the response.  Some parents are grasping for ways to connect to the school.  And research shows that schools with increased parent volunteers have students who are more successful.  So much so, that it is one of the Critical Success Factors of a School in Need of Improvement.
make volunteering easy
I would suggest creating a quick and easy way to sign up to volunteer.  Keep things simple and manageable for parents (and yourself, let's be honest).
Think about different tasks that would be helpful for you that a parent could do while at school.  Here are some suggestions:
making copies
organize and sort supplies
decorate bulletin boards in the hallways
assemble bulletin boards in the classroom
decorate door
hang student work
text book inventory (if you are responsible for your own books)
special projects – these will come up as the year goes on, I left it open ended
use a special skill to assist with a club
updating mastery trackers
Think about different tasks that would be helpful that a parent could complete at home.  Here are some suggestions:
help with the class website
solicit donations within the community
assemble snack bags for testing
do research for class field trips (pricing, availability, etc)
assemble data folders (blank, of course)
assemble games/cards
cut lamination
Asking for help
I simply organized a little check list form with the different options.  This was part of my First Day Packet that students returned.  You might consider asking at Open House, on your class website, sending an email with a Google form to complete if they are interested, or personally asking parents that you have interacted with before.
I then created two separate email lists (on campus vs. at home volunteers).  When I had lamination that needed to be cut, I would send an email out to my at home volunteers and tell them that I had an opportunity to help by cutting lamination and the date in which I needed it returned.  A sweet parent (or two) almost always volunteered.  I would get the everything laminated and then send it home with the student with baggies and instructions.  It meant so much!  It was one less thing for me to do and it meant that I didn't plan a lesson around the fact that it would require too much prep.

The Copy Mom/dad
To me the most valuable and time saving volunteer I had was a copy mom.  This was essential and literally saved me hours each week.  It also forced me to be prepared for the next week before she came.
Once I was able to see who was interested in making copies, I contact them individually and organized a rotation.  Ideally you could get four volunteers, one per week of the month, but if you have two or even one that would still be a big help.
Here is how it worked:
I would send a reminder earlier in the week and ask them to confirm they would be available.  This helped me to better prepare.
I created a copy slip with all the details (number of copies, single vs. double sided, stapled, etc).  If you have a copy code include that as well.
I used a pocket folder that I kept next to the door in my classroom.
As I planned throughout the week, I would attach the copy slip and place it in the folder.
On Thursdays, my copy moms would grab the folder, make the copies, and return them to the room.
Disclaimer:  These volunteers will likely need to fill out a background check, FYI.  Also, to keep everyone happy be sure to let the school secretary know what you are doing and ask her to show you the ins and outs of the machine, so you can train you volunteers.  You might even introduce the volunteers to the secretary.
Showing appreciation
I would recommend a thank you note and a small gift at the end of the year for these kind parent volunteers who are busy too!  A thoughtful note and something small goes a long way.
Middle school is a time when kiddos are stepping out on their own; parents appreciate a way to stay informed and involved in their kids' lives.  Connecting with parent volunteers builds rapport, opens communication lines,  and positions parents as important stakeholders in the school community.
Just remember – It doesn't hurt to ask.