Update 5/13/2020: Since remote learning has taken effect, our digital activities have been wildly popular to support teachers as well as students. Here are a few things teachers have said about using our digital activities:
"This resource was wonderful for distance learning! The students found it easy to use and I had a great turn-in rate! Thank you!" — Cynthia M.
"Total lifesaver during this time of distance learning. Bright, colorful. Easy to use both for students and the teacher. Love that it includes both activities and exit tickets."
"This resource helped me provide aligned practice for my students. I used it for distance learning this year, but plan on using it in the classroom next year. It is easy to use in Google Classroom and I love being able to give my students feedback slide by slide." –Kasandra C.
These interactive slides are more engaging than traditional worksheets and can be done completely online. No printing, uploading, or emailing necessary! And you can break up the activities to cover multiple online lessons which gives you less to plan. These activities can supplement any virtual lesson.
---
We don't jump on the blog very often to talk specifically about Maneuvering the Middle curriculum.  When we do, it is because we created something that has been requested by teachers all over the country! 
Let's hear it for Math Digital Activities!  You might have seen our post on some ideas for going paperless here, but we have spent the last few months creating our own resources for those who are going more digital. 
WHAT ARE PAPERLESS ACTIVITIES?
Paperless activities are a supplemental digital resource supported by Google Classroom™.  You will be able to engage students with interactive slides.  Each set includes 16 total slides that will support the practice of four related but different skills.  Students will enjoy dragging and matching, as well as using the typing and shape tools. You will love that you don't have to make a visit to the copy room.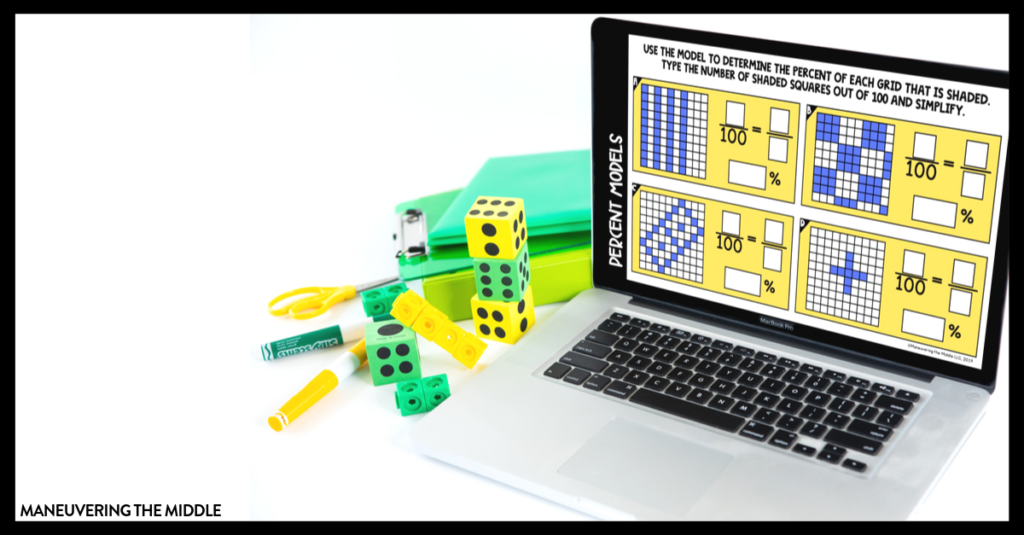 What technology do I need to facilitate them?
You and your students will need access to Google Slides™ and Google Forms™. If you have Google Classroom™, then it will be easier to share and schedule the files. We have included tutorial videos to help you get started.
"I am so ALL IN for these digital resources!!  …this was not only a great way to practice and assess a math skill, it was also great Google Classroom practice," said one teacher.
And for anyone new to using Google Classroom, this teacher wrote, "I'm just getting started using Google Classroom.  This was a great item for a newbie!"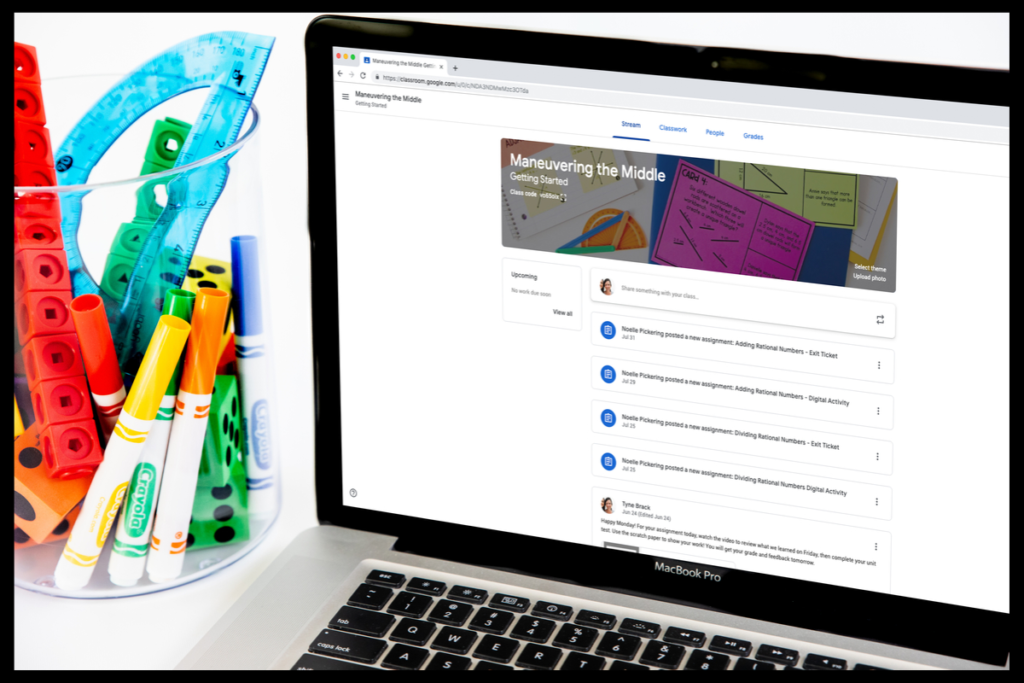 How should I use them in class?
Like any resource, it is up to you how you can execute their use in your classroom. Here are some ideas as a jumping-off point. 
Supplemental resources:
These digital activities can supplement your daily curriculum.  Provide these to students when they need a little extra practice with a concept or when you need something to offer during centers or tutoring.
If you have any students who finish their work super quickly, then the digital activities can serve as their extension.  
Because these activities are organized into units that are aligned with the CCSS Maneuvering the Middle curriculum, you could use them as a test review resource. 
Retakes and missing work:
I often hear teachers asking how they should manage retakes and/or missing work.  You could assign these math digital activities as a replacement to whatever paperwork they did not master or did not turn in.  This would prevent you from keeping up with hundreds of pieces of paper and from students losing yet another piece of paper.
Flipped classroom model:
One teacher shared, "These are very well-done, and I'm excited to use them in my classroom.  I run a flipped classroom (my lessons are done on video, and students watch them as homework), so students can use these activities as classwork while I'm there to guide them."
Incorporating technology:
It can be challenging to incorporate technology in a way that is meaningful, so we have tried to provide an easy entry point for you and your students.
Sick day:
Another teacher shared, "This is AMAZING!  I returned from being out with sick kids yesterday and needed something to help my students review for a test later this week.  I had used Google classroom one time, but I was able to quickly get it set up and running for class today. My students LOVED these activities and are already begging for more! :)" 
You could offer these digital activities as practice work for when you are out on a sick day* or for the day when you return (since you were out, you couldn't make copies). 
*Use your discretion when assigning work on computers when students have a substitute. 
How do you grade THE
 Digital MATH ACTIVITIES

?

Great question!  This is one of the most frequently asked questions that we receive.  These were designed to be a form of practice — so I would first start by asking the question, "What is the purpose in grading them?"

We have included two exit ticket questions for each topic so that you can assess how students are doing and have them apply their practice.  These are made with Google Forms, so it auto-grades! 

If you are dying to grade the actual activities, then you can always have students share the slide deck back with you or use the "turn it in" feature with Google Classroom.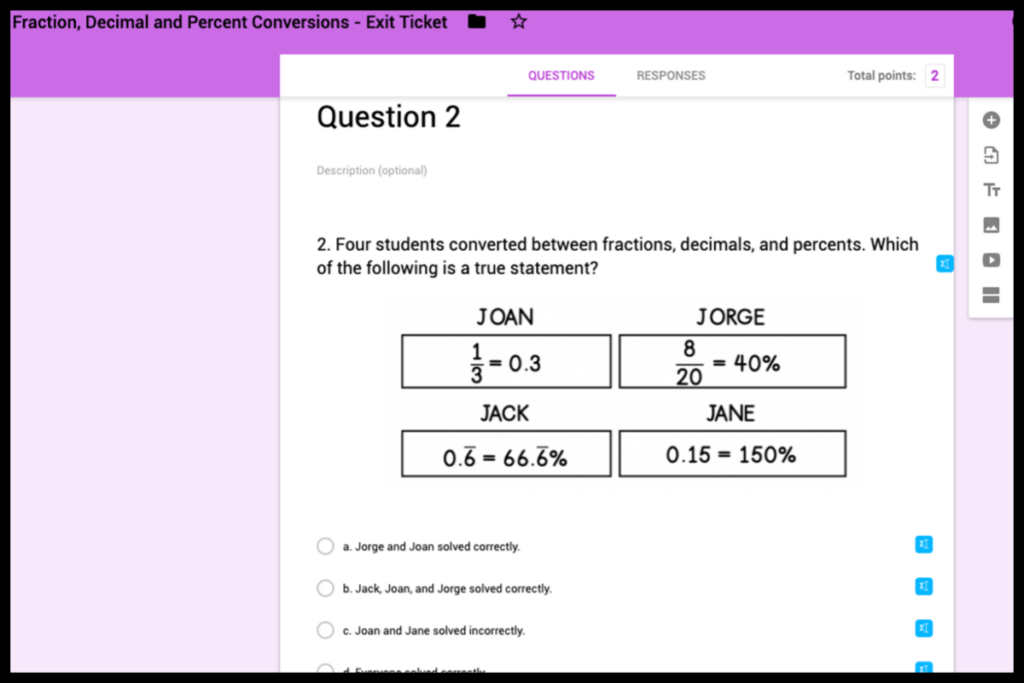 ARE THESE A GOOD FIT FOR ME?
We always want you to find the best fit for you and your students and we recognize that everyone has different needs.  We went ahead and created a video with more details about how the digital activities work and ideas for use so that you can decide for yourself.  This video also answers many frequently asked questions.
UPDATE: ALGEBRA I DIGITAL ACTIVITIES ARE NOW AVAILABLE!