When I started teaching high school, I taught how I was primarily taught: lecturing followed by time to work on homework.  However, my students were off task and not mastering concepts like I had hoped. After discussing this problem with my assistant principal, she encouraged me to channel my previous middle school experience and engage high school students in similar ways. Students want to have fun regardless of age.  Some of my favorite high school instructional strategies are below.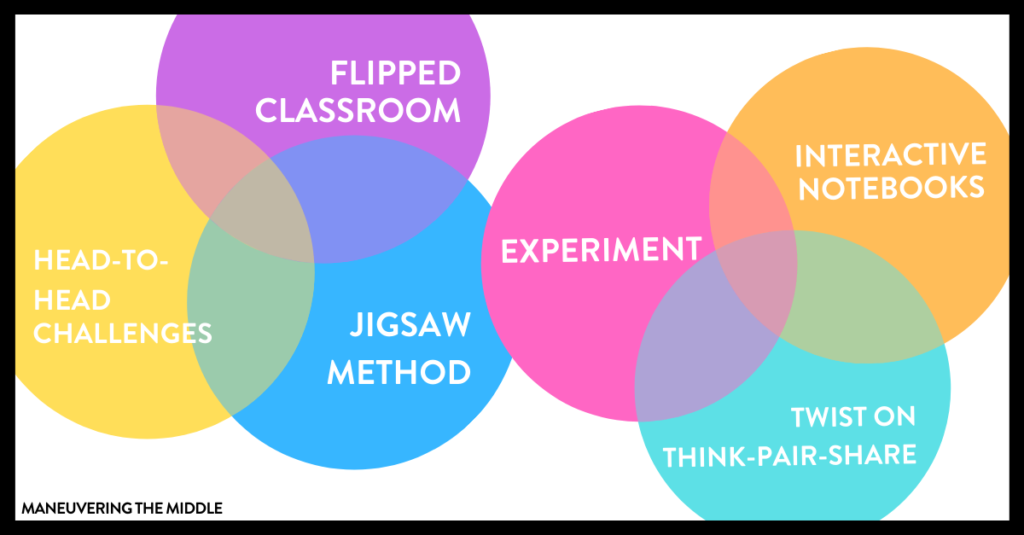 1. Flipped Classroom Model
I relied on the flipped classroom model in my remediation Algebra 1 class. It allowed me to pull small groups while the other students completed assignments on Khan Academy. Many teachers use screencasts to teach individual lessons and post assignments on Google Classroom, Pear Deck, Nearpod, or Canvas.  This instructional strategy is great because students can work at their own pace, rewind lessons, and receive immediate feedback.
2. Head-to-Head Challenges
In middle school, I relied on head-to-head challenges for students to internalize multiplication facts. In high school, I used the same strategy for students to internalize squaring and cubing numbers, square roots, cubed roots, and logs. Students would beg to play head-to-head challenges, which made it a handy instructional strategy to use in my classroom.
(Basic premise — students form two lines facing you.  You ask a math fact, the student who responds correctly and the quickest goes to the back of the line for another turn. The student who loses, sits down. Last person standing wins.)
UPDATE: ALGEBRA I DIGITAL ACTIVITIES ARE NOW AVAILABLE!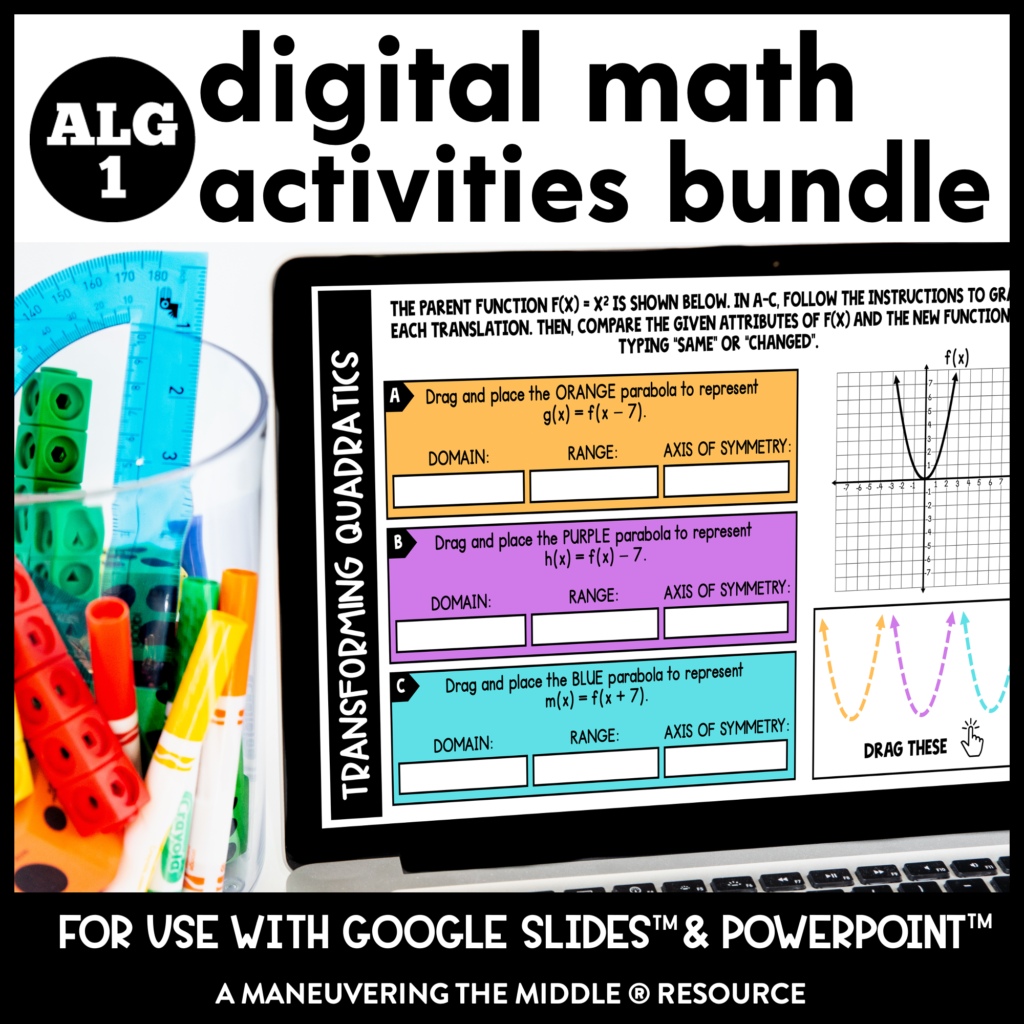 3. The Jigsaw Method
I thought Jigsaws were just for English and Social Studies. Turns out, Jigsaws are great for math too.  I used them on review days, breaking students into groups based on the number of concepts I taught in a unit. Each student became an expert and reviewed their skill with other students. To learn how to implement the Jigsaw Method, watch this video.
Who said experiments were just for Science? I tried this stacking cups activity from Math=Love (adapted from Dan Meyer) with my Algebra 1 students. While it felt like craziness at times, it was hands on and brought the math to life. I posed the question, "How many cups tall am I?" and put students to work using actual cups. Ultimately, I led the students to solve the problem with a linear equation.
Here are some other experiments:
If you haven't checked out this Ted Talk by Dan Meyer, I highly recommend it.
5. Interactive Notebook Activities
Interactive notebooks are not just for elementary and middle school. I used "foldables" whenever I had a vocabulary rich lesson – graphing quadratics is a great example with vertex, axis of symmetry, zeros, minimum, maximum, domain, and range.  Students' faces light up when colored paper is involved, and I never see my girls quite as happy as when they get to use their 20 flair pens. My favorite, complicated foldable. If you are interested in learning more about foldables, I would encourage you to check out this book.
6. Twist on Think-Pair-Share
I often fall into the rut of relying on raised hands to answer my questions. Think-Pair-Share is an easy remedy, but to spice things up, I would make it a competition. Each table group's individual chairs were labeled 1, 2, 3, or 4. After students shared with their table, I called out a number. The student in that spot who stood up the fastest would share their answer. To combat students who deliberately stand slowly, we would have secret slow rounds, where the slowest person was called on.
What games, activities, or instructional strategies do your students enjoy?