As teachers, we want to meet all of our students' needs. But in a classroom of 30 or more students, it can feel overwhelming. EdTech tools like Nearpod make meeting your students' needs a little bit easier. Not only is the website easy to use, but creating lessons is simple, and there are many built-in tools available within Nearpod to use to differentiate instruction in your classroom. Today, I am sharing 4 ways to use Nearpod in your classroom!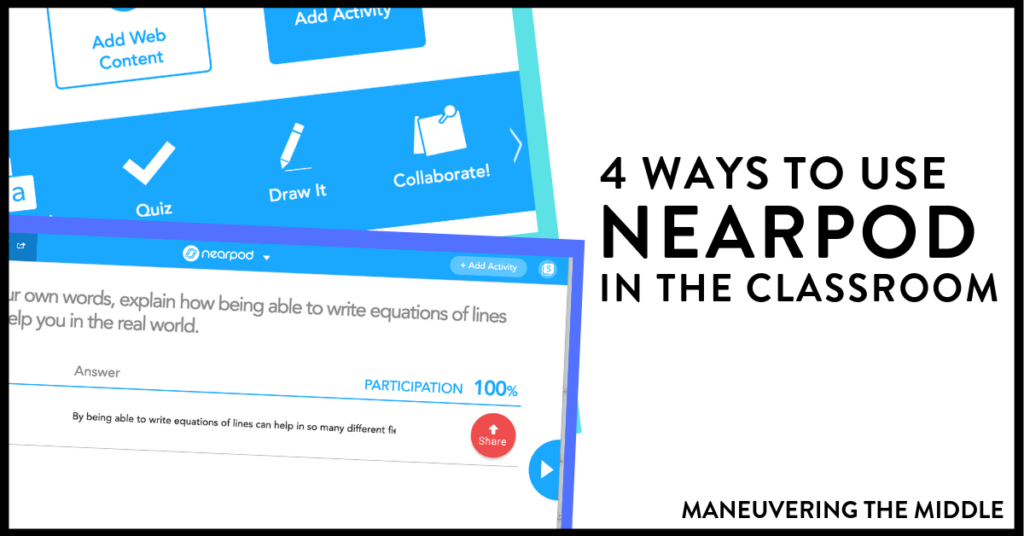 1. Interactive Lessons
One of Nearpod's best features is the interactive lessons. You can use pre-existing lessons that you can upload to Nearpod, or you can create lessons within the web browser. If you want to ask a question for the students to respond to, then embed one into the slides! Students are drawn into the lesson by participating on their own device with the lesson on their screen. Some of the interactive features include:
1. Open-Ended Questions 
2. Matching Pairs
3. Quiz
4. Draw It
5. Collaborate
6. Poll
7. Fill in the Blank
8. Memory Test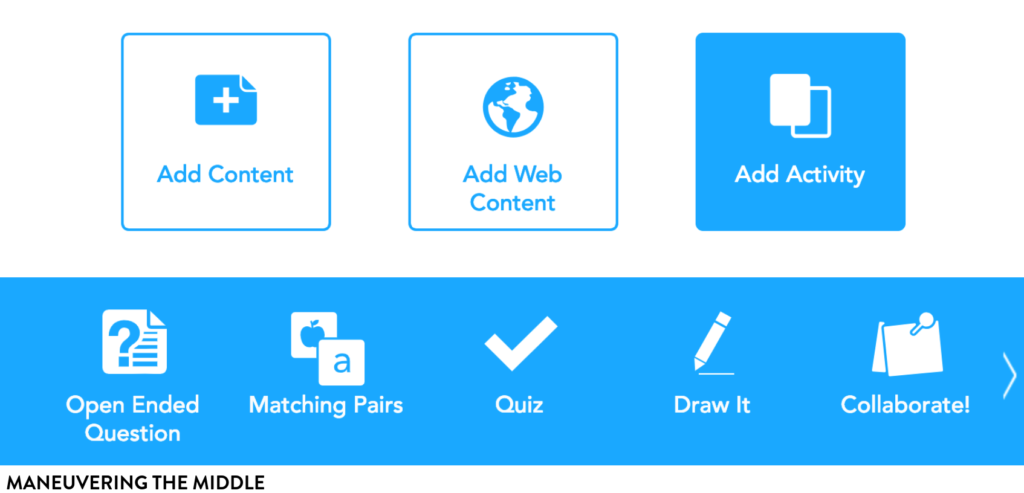 These interactive slides allow you to check for understanding immediately during the lesson. One of my favorite features is the collaborate option. Students can share text and pictures with the class in real time. It would be a great tool when brainstorming or introducing a topic. You can also embed websites directly into your presentation! If you are teaching students how to research, or if you want them to complete a reflection on another website, then you can have them go directly to it from the Nearpod slide. You can also embed YouTube videos, PDFs, images, Twitter feeds, virtual field trips, and more!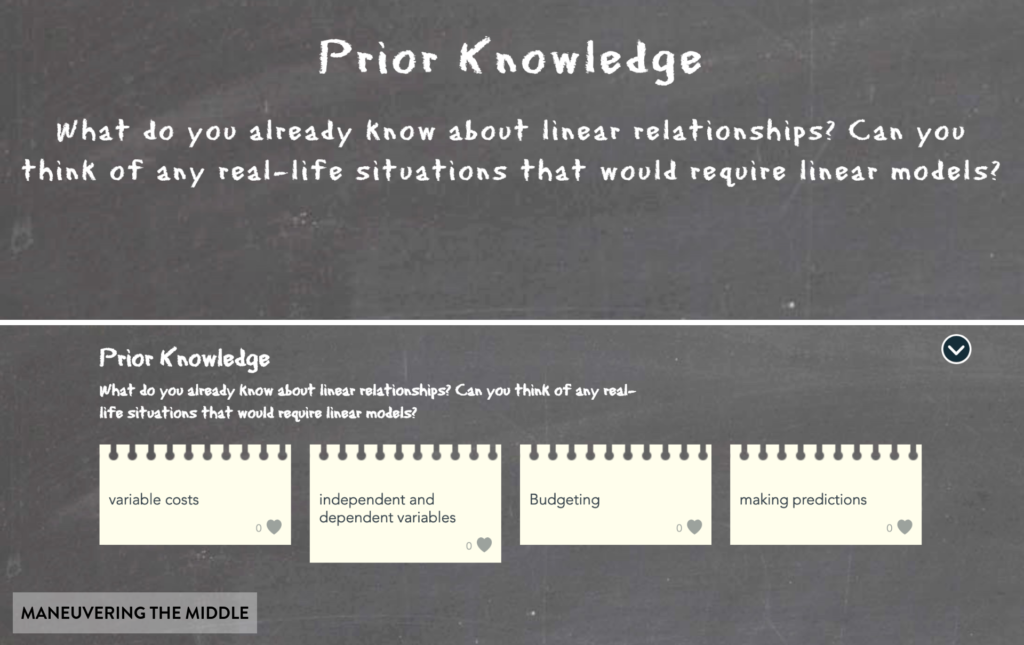 2. STUDENT PACED MODE
In your classroom, you may have a few gifted students who are ready to move on, some students who are on level, and some students who need reinforcement on a topic. How do you reach all of their needs and different educational levels? Nearpod has the option to present the lesson live or to turn each presentation on "student-paced" so students can work at their own pace, at home or in the classroom. This is a great tool to differentiate your instruction. Here are some ideas where student-paced mode can come in handy!
Set up stations and have students work on different lessons, depending on their needs.

Have students pair up and work together on student-paced mode, encouraging discussion and teamwork.

Let students and parents work together at home. This keeps parents involved in the student's learning and creates valuable discussion and reinforcement at home.

Create a flipped classroom. Students need to preview the information before coming to class to allow greater time for discussion and hands-on practice in class.
3. Lessons and Virtual Field Trips
Nearpod has a vast collection of lessons and virtual field trips that are easily shared with your students. Looking for a lesson on linear functions? Desmos has created lessons within Nearpod that can be used in your classroom with a touch of a button! Need to show seniors a college tour? The virtual field trips are ready to go with interactive questions already embedded into the slides. Nearpod has collaborated with Flocabulary, Desmos, iCivics, Newsela, and others to create amazing resources and lessons!*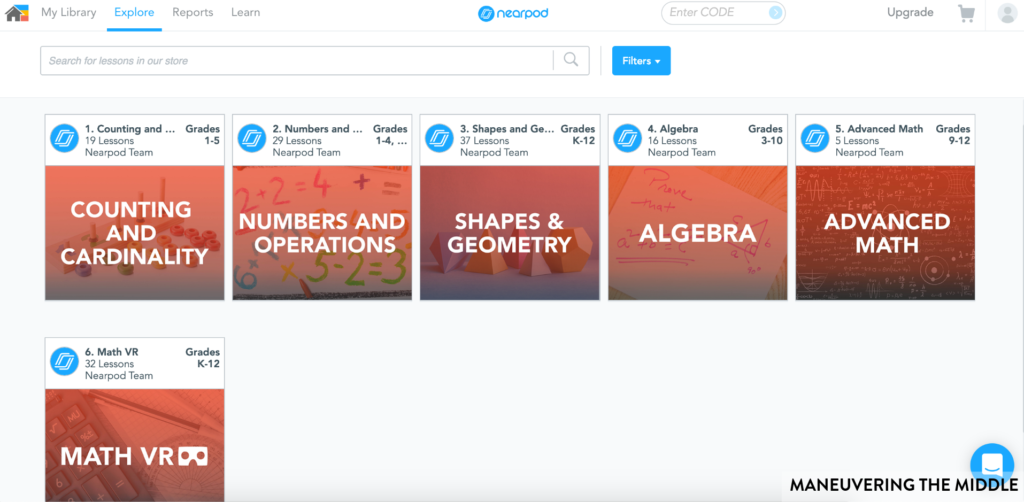 *Some of these lessons cost money, but there are plenty of free ones available.
4. Student Insight and Data
As you are presenting your Nearpod lesson, you can immediately see student responses and get feedback. If you are presenting in Live Mode, one of the features allows you to highlight and share a student's answer with everybody in the class. This would make for great classroom discussion. After you have presented a lesson, you can see your session in the Reports tab. This makes the data easy to break down and see exactly where your students are so you can meet all of their educational needs.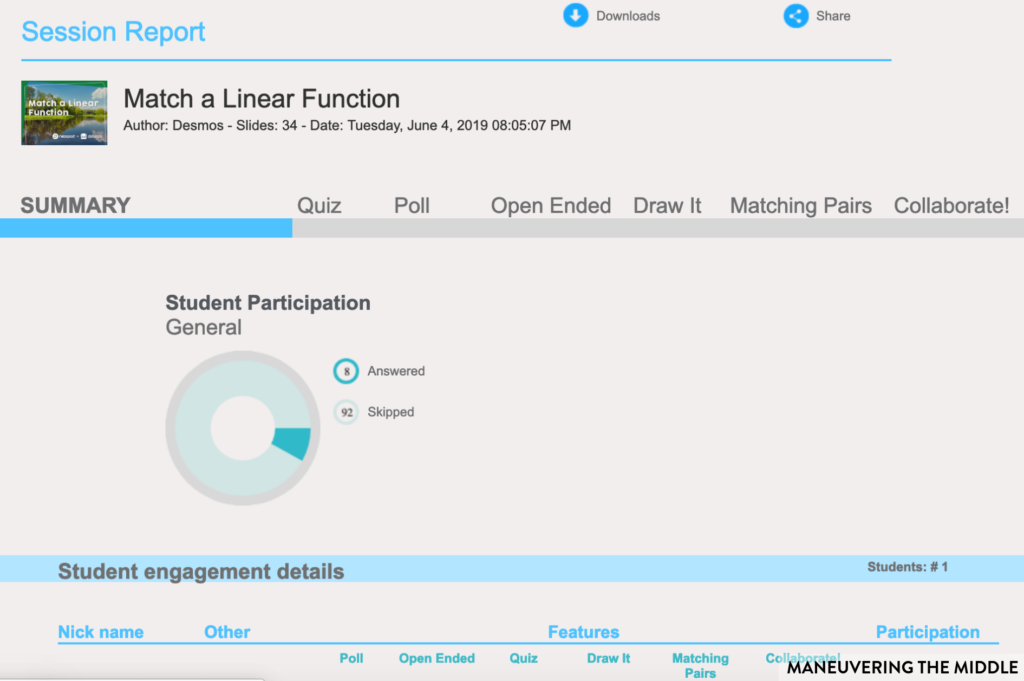 Nearpod is a great resource to try out this summer and into the fall!  There are three different types of accounts with different features: free Silver, Gold, or Platinum. Have you used Nearpod?  I would love to hear how you use it in the classroom
If you are interested in more ways to use technology in your classroom, check out our posts on Pear Deck, Khan Academy, or check out all of our technology posts.
Samantha Cast has her Masters in Digital Learning and is a Texas History teacher.  As a digital enthusiast, she is always finding new ways to incorporate EdTech into her classroom.  You can find her on Twitter at @mrscast.