Khan Academy is an incredible resource for your classroom!  You can see how some tips for starting Khan Academy in your classroom, and I have outlined ways to use Khan Academy for differentiating instruction.  If you aren't ready to take the full plunge into the world of Khan, dip your metaphorical toes into the shallow end with these ideas.
NOTE: All Khan Academy content is available for free at www.khanacademy.org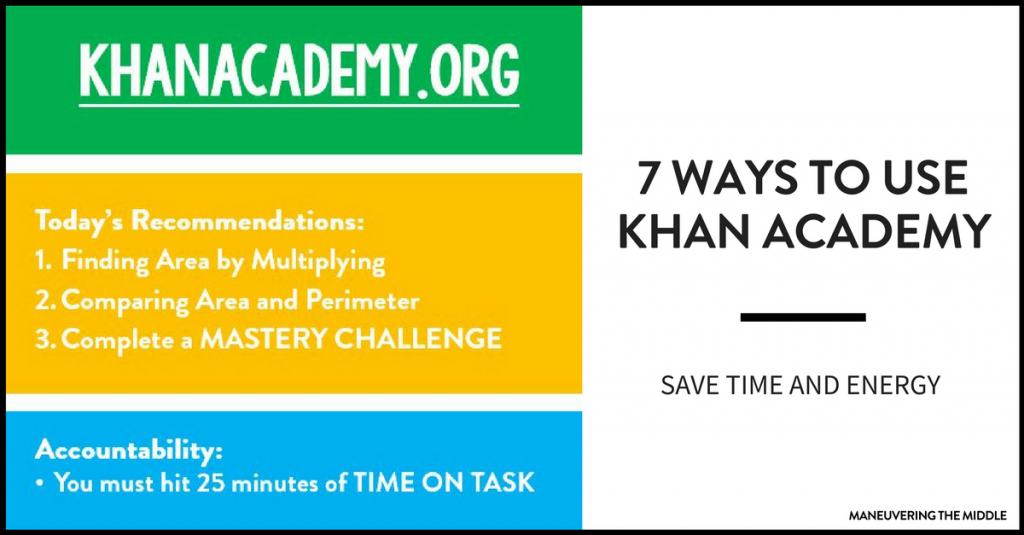 7 Ways to Use Khan Academy in the Classroom
1. MAKE UP WORK
There are times when you cannot find missing work for a student, and running another copy is just not going to happen.  In the past, I have assigned Khan Academy to students who are missing work.  They would complete a skill, I would grade it based on how many they got correct, and I did not have to prepare 15 different assignments for the 9 different students who didn't turn it in.  Seriously, game changer.
2. TUTORING
Similarly, I had a student that was really struggling with some foundational skills.  I made an arrangement with her mom that she could come to my classroom before school at 6:30 am and work on some of these skills.  I did not always have something prepared, and truth be told, there were many mornings I forgot she was coming.  No big deal!  I assigned her recommendations on Khan, and she got to work.  If she was stuck or needed help, I was there to assist, but Khan allowed me to run last minute trips to the office or check in with the other math teacher before the day started.
3. STATIONS
Using Khan Academy as a station is perfect for classrooms that only have access to a handful of computers everyday.  Khan Academy also has an app that can be used on a tablet.  For students who struggled to stay on the correct website, I use an iPad and the guided access setting to make sure that students do not leave Khan Academy to surf the internet.
4. EXTENSION WORK
If you have the same students who complete work fairly quickly and with quality, Khan is a great resource to keep students working on math (and not distracting their teammates).  Though I usually don't like students working ahead of their partners during practice time, independent practice is a time that I have used Khan as extension work.
5. A RESOURCE FOR PARENTS
Many parents ask me how they can help their students at home.  I point them to Khan.  Every skill is connected to a video, so if students or parents do not know how to complete a homework problem, they can type the topic into Khan Academy and watch a video that teaches the skill.  It also helps me answer the question, "can you give my child more practice problems that we can work on at home?"  Yes.  Khan Academy.
6. WHEN THERE IS A SUB
I give this idea with caution.  My school does not allow the use of technology with substitutes, but I think with the right substitute and with very clear expectations, students would benefit from a day of practicing skills in an engaging way. You can also hold students accountable when you come back by using the 'time on task' feature to see how much time your students were actually working.
7. SUMMATIVE TEST REVIEW
Before our end of the year state test, STAAR, Khan is a life-saver for review.  Too many students have misconceptions about too many skills.  I could never cover all of the different material effectively.  One way I differentiate the review is to take a look at my data, and assign recommendations to the students who didn't master the skills the first time around. This way 28 students can be working on 8 different skills, and they can get immediate feedback.  This leaves me free to pull a small group or conference with individual students.  (The same idea can apply to any test review.)
Sidenote: Khan Academy still requires some prep work before getting started.  Students must create an account and you have to give them the code that connects them to you as their coach.  While this requires some front loading, it will save you time in the long run. You can find more information on how to set up accounts here.
What ways do you use Khan Academy in your classroom?  Before teaching middle school, I taught Algebra II, and I used Khan to teach me concepts all the time.  Don't forget that it isn't just for students!  I have also had friends use it to study for the GRE.