Even when working with a 50-minute class period, there will be times when students complete their work quickly and need something "to do" for the last few minutes of class. If you have a longer class period, then likely this happens more frequently, and it's something to be prepared for. If not, then you will end up saying something like, "Work on something quietly at your desk." Today, I would like to share nine extension ideas for early finishers.
9+ Extension Ideas for Early Finishers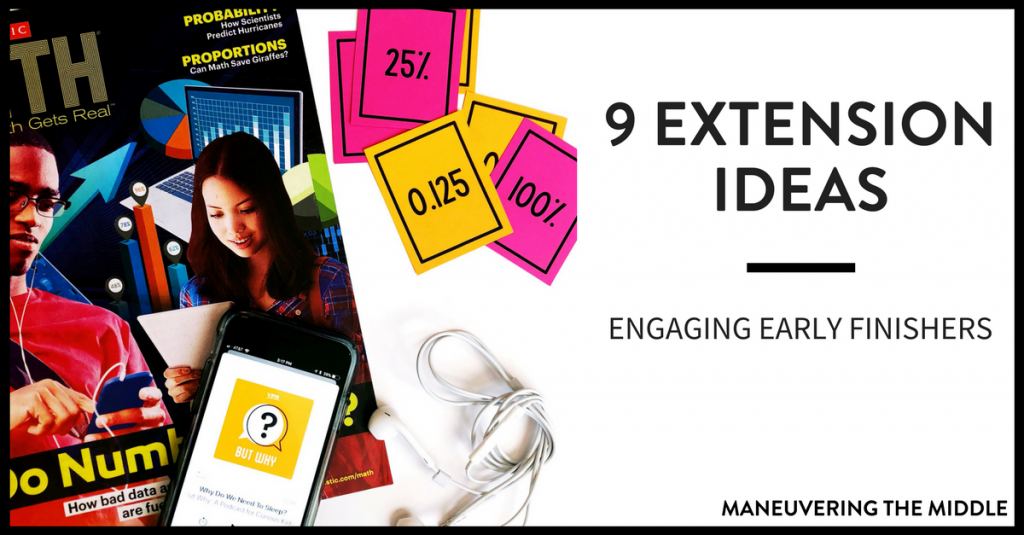 1. Scholastic Magazines
Having a subscription to Scholastic Magazines can be super helpful when it comes to engaging your students with new information that they are interested in. The articles are high-interest and written with a middle school student in mind. I like how they can open a student's worldview and perspective by piquing their interest with different concepts that aren't frequently discussed in school. Honey bees, current movies like A Wrinkle in Time, the Girl Scouts, and icebergs are just a few intriguing topics to learn about! Students loved the following:
Want to learn more about Scholastic Magazines and their specific features? Read this post.
2. Brain Teasers
Students love brain teasers — from puzzles, to sudoku, to Brain Quest! Keep a deck of the Brain Quest cards in your classroom, or a sudoku book from the dollar store, in an early finisher section of your classroom. Students will use their problem-solving skills without even realizing!
3. Interactive Bulletin Boards
Interactive bulletin boards can be as complicated and intricate as you wish! The simple version could be a set of challenge type problems that are placed in a tic-tac-toe board. Students use a recording sheet to solve the problems and get three in a row. A more complicated version can include students using Boggle Math, where students use the numbers to create expressions and equations. Lastly, you could extend beyond math and include character qualities with reading and reflection.
4. Math PROJECTS
If you have the same students who repeatedly finish their work early, then assigning them a project for them to work on over the course of the semester might be worthwhile. Check out our Math Projects to learn more!
5. FDP Flash Cards
Fractions, decimals, and percent conversions are such helpful concepts to have memorized. Much like multiplication tables, they are highly useful in middle school and can make so many problems and concepts easier. If you know that ⅛ is 12.5% and 0.125, then you have just saved yourself several minutes dividing and you have more energy to answer the question. Use these handy cards to practice matching the equivalent forms of the numbers!
6. STEM Online
STEM and coding are very popular in education right now. They are an excellent way to incorporate math, and they tie directly into a future profession. Students also can see the fruit of the coding through various apps and websites. Code.org is a great resource for those of you getting started and is designed for classrooms. Jump on the coding bandwagon and host an Hour of Code with these great online activities that are free of charge!
7. Webquest – Aligned Extension Activity
If you have access to an iPad or a computer, then utilize the internet for students to take the skills they are learning in class and apply them to the real world. Learning about percents? Consider asking students to research the different sales tax rates and then determine the different amounts people pay across the country based on a few specific purchases. Learning about geometry? Consider asking students to use a floor plan tool to create a space that meets specific criteria.
8. Reflections
We know that when students reflect on their learning they are more likely to move their new learning from short-term memory to long-term memory. By using reflections as an extension activity, we can promote that deep understanding of the concepts learned in class. Students can use simple prompts to reflect on what they have learned. To get kids more interested, consider having them draw a picture or make a poster to display their thinking.
9. Graphic Novels
Recently, graphic novels have become increasingly popular! I know that Brave, Spill Zone, and The Time Museum were super popular last year. If you are new to the idea of graphic novels, then check out this post because it gives a great correlation about how graphic novels can be used to hook kids and to increase their love for reading.
10. Listen to a Podcast
I absolutely love podcasts! There are such a wide variety of topics available with different people's perspectives shared. From the environment, to storytelling, to learning a new skill, a podcast is a great way for students to continue learning about something they are interested in without interrupting others. Check out these to get you started:
Wow in the World from NPR

Science Rocks

But Why
I would love to hear other ideas that you utilize in your classroom as extensions for early finishers!