If you are a teacher who is seeing the online teacher community buzzing with words like "grids" or "centers" and feel a little overwhelmed, then this post is for you. Oftentimes, we see other teachers implement new strategies or techniques, and think to ourselves, "Should I be doing that too?" Making changes in your classroom needs to approached with thoughtful consideration.
LISTEN ON: APPLE PODCAST | SPOTIFY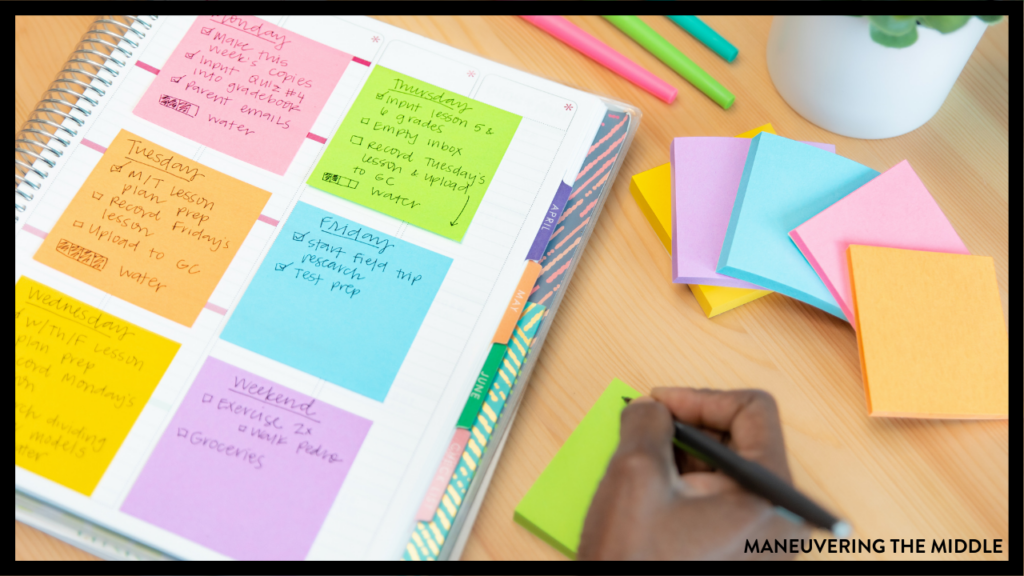 What is the Flywheel Effect?
In its simplest form, the Flywheel Effect is what happens when an organization knows its mission and is committed to making small tweaks to reach greatness. You can learn more about it Jim Collins' book, Good to Great.
The Flywheel Effect is "A quiet, deliberate process of figuring out what needed to be done and then simply doing it."
In contrast, the Doom Loop is when you try something for a little while, you hope for big results, and then change course when the desired result doesn't happen quickly. In schools, this might look like a new principal, a new teaching practice that the entire school is going to implement, or some other new initiative.
How is this done well in schools and classrooms?
We want the Flywheel Effect in our classrooms and schools, and we want to avoid the Doom Loop.
To achieve the Flywheel Effect, ask yourself:
Was there something that went pretty well this year that I can keep implementing with some minor modifications?
Example: Maybe you liked hosting everything on a Learning Management System. It kept you and your students organized. Keep doing it! Just because you are back to in-person teaching doesn't mean you have to abandon it.
The key to the Flywheel Effect is knowing what needs a small change in the same direction and what needs a new direction completely.
For example, when I first started incorporating hands-on activities in my classroom, I noticed that the benefits were numerous: students were engaged, motivated, retaining the information, and I felt less tired. Here is what I could do to improve upon it:
I could plan to include more activities when I made my unit plan
I could plan different activities that might meet a different need
I could be more intentional in my grouping structures
The Doom Loop would have me eliminate all other classroom structures to do as many hands-on activities as possible. This is like one big experiment, and if you change too many variables, then you won't have a true test.
Why is the doom loop common in education?
The Doom Loop is common in education because you start over each year with a new group of students. You can fall into the trap of thinking a fresh start is the time to change everything you did the year prior. Even the structures or practices that were working well.
The education world tends to be on either end of the swinging pendulum. This happens because there is such a wide variety of students with different needs, backgrounds, and experiences that need a good mix of a lot of things!
Have you ever taught somewhere where you have a big initiative for one year and then it fizzles out after September?
Trust yourself and your judgement to do what is best for you and your students. If it is time to change course, do it! If you are feeling pressured to abandon what works for something trending, pause and think about whether you may be falling into the Doom Loop.
How do you know if it is time to make a change?
First, we acknowledge that something is not working well.
So ask yourself:
Is this a pain point that is worth my time and energy to improve?
Can I commit to changing it?
Change is a result of consistency and if you try to change too many things at one time, your likelihood of being consistent decreases tremendously.
Years ago, Noelle wanted to stop staying at school until 6 pm everyday, so she compromised with staying late only once a week. If it wasn't Thursday, then she made a plan with her time after school, so she would leave at a reasonable time. The plan wouldn't have worked if she decided to leave by 3:30pm everyday. Noelle made a small change in the right direction instead. Set a timer and keep pushing that flywheel forward, so that eventually you gain traction.
Maybe that means a change in the way you plan, or a more concerted effort to divide and conquer with your team. Maybe it means that you are going to invest in something to support you with your goals. Maybe it means you are going to ask your administrators for support.
Whatever your goals are, I am confident with small steps towards them you will be able to gain momentum and harness the Flywheel Effect in your classroom.