We all remember our most effective teachers. Personally, I remember Ms. Eckles; she was the first math teacher that made all my years of math all come together and CLICK. As an 8th grader at the time, I was oblivious to her skill, but now that I have been a teacher, I know that SHE WAS DOING SO MANY THINGS REALLY WELL!  Today, I am sharing five things that every effective teacher does or is working towards.
5 Habits of Highly Effective Teachers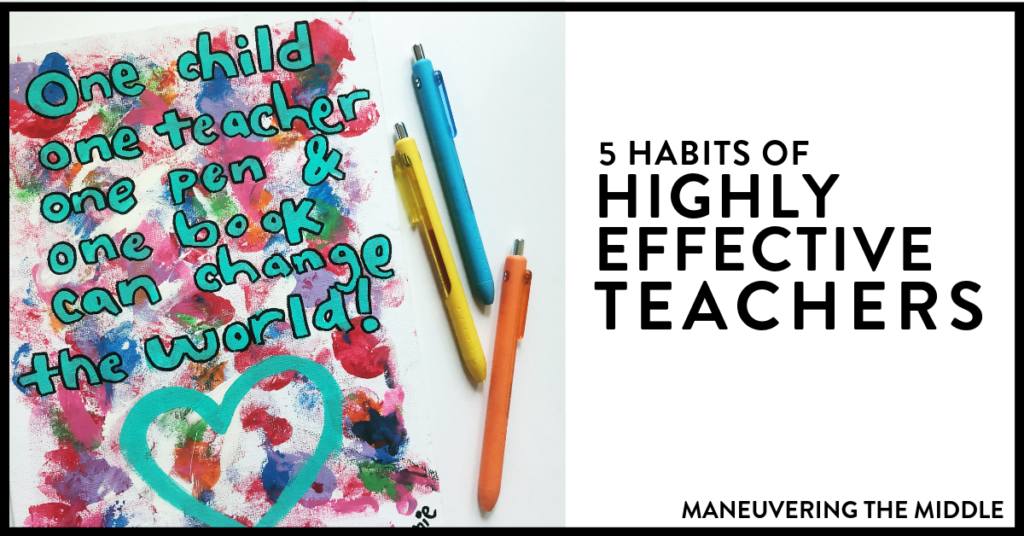 1. Builds Relationships
We say this a lot: Students will work hard for teachers they like. Now, being "liked" does not mean that you do not have rules or that you have lower expectations. Being "liked" means that you have made an effort to know something about each and every student.
A few ways to show that you want to build relationships with your students include:
●  using their names consistently
●  having more positive interactions than negative interactions with them in a day
●  asking them how they are doing
I use these activities to get to know my students early on. Your students have to know that you care about them as people (not just students) to feel safe and comfortable so that they can thrive in your class.
2. Data Driven
Effective teachers track student data and use student data to inform their teaching practice.
This is why I am such a believer in exit tickets; exit tickets inform whether or not my students are ready to move on.
This is also why I love technology; Nearpod, Pear Deck, and Khan Academy allow me to see student progress through teacher dashboards. Data helps me determine which students need extra help to pull for small groups.
The most effective teachers do not make decisions for their students based only on what the scope and sequence says, but they make decisions based on students' current level of understanding (and that will vary from student to student).
3. Sets Expectations and Follows Through
Effective teachers set high expectations for BOTH behavior and academics. As an effective teacher, it is likely something you do without even thinking…you have to promote behavior that keeps the classroom safe and running smoothly.
Setting expectations without follow through is a really easy trap to fall into, and it perpetuates the cycle. One thing I have to remind myself of every year is that students have to be TAUGHT everything — they have to be taught HOW to ask for help, HOW to work with a partner, and HOW to use our materials respectfully.
Teachers are never just teaching their content.
After setting and teaching expectations, effective teachers follow up with students who do not meet the expectations. Consequences like cleaning up your mess, writing an apology note, finishing work during lunch or after school, or communicating with parents will encourage students to make a better choice next time.
4. Makes Content Engaging
When I think back to my time in the classroom as a middle school student, I think about the teachers who not only loved to teach but loved WHAT they taught. These teachers made slope intercept form exciting!
Engagement is going to look different for different students, but I think it boils down to two things — having fun and being challenged. You might need to make a less-than-exciting worksheet into a hands on activity or provide an extension for students who need to be challenged.
It is so much easier to make the content engaging when you aren't busy stressing creating lessons and materials for the next day. Join All Access so the planning can be done for you!

5. Reflective on Their Teaching and Works to Improve It
Effective teachers work on improving their craft from class period to class period. Students struggle first period — how can I fix it for second period? These teachers also want to improve each year by reading books, going to math conferences, or observing other teachers on campus.
In my personal experience, the most growth I have made was when my instructional coach observed me on a weekly basis and gave me specific feedback about management, classroom culture, content delivery, or about small group instruction.
Who were your most effective teachers?  What skills would you add to this list?