This year I had a student who was new to our school. She was super sweet, took her notes, and whenever it was time for independent practice, she would raise her hand to ask to use the restroom, go get a tissue, or sharpen her pencil. I would give her permission, and I would watch as she spent WAY TOO LONG completing these tasks. As the year progressed, these behaviors escalated to total withdraw (putting her head down) or making poor choices that impacted her learning and the learning of her peers. What do all of these behaviors have in common? Work avoidance.
COMBATTING WORK AVOIDANCE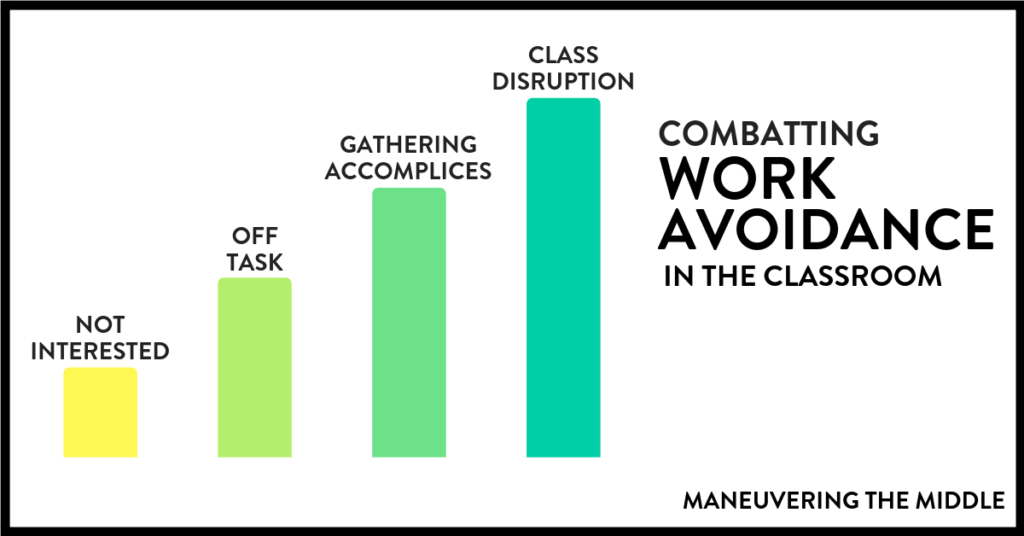 Side note: This is a post that is based on my experience only. Teachers and scholars have literally written theses on this topic, so please share your tips in the comments because I would love some more ideas!
Address the Problem
If work avoidance is an issue with a few students or seems to be an epidemic in your entire classroom, then it needs to be addressed. Perhaps your students might benefit from a procedure around what to do if they don't know how to solve a problem. "Three before me" is a popular phrase that can be used to remind students to use their peers if they get stuck. In this post, the teacher, Adrian Rennie,  confronts students about the issue and empowers them to hold each other accountable. Rennie gives students a road map and uses it as an illustration for students to avoid "the side roads of Joke Valley, Temptation Alley, Boredom Town, Don't Start Land, Too Hard Town, Class Clownville" and to strive for  "Mount Metacognition, Fascination Land and finally (arrive) at Mount Success."
Get this How to Get Help Flowchart!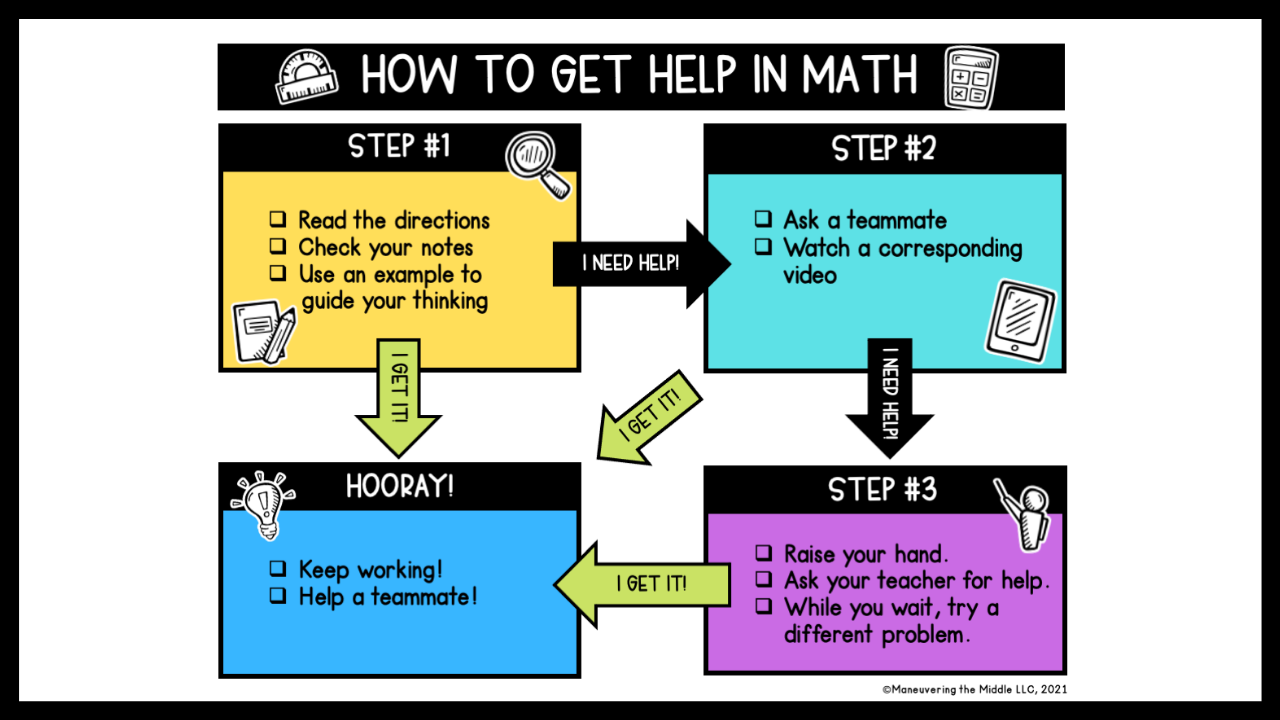 Strategies to Keep Students Trying
The number one tip that is necessary to promote all positive behavior and prevent all undesirable behavior is building student relationships. We've said it dozens of times before: students will work hard for teachers they like. Build relationships by greeting your students by name, focusing on the positive, cheering them on, and being consistent. Still, students who you have great relationships with might still struggle doing their work.
Work avoidance can stem from a multitude of reasons. I jump straight to giving consequences for being off-task, but in reality, the off-task behavior is sometimes a result of something else: the work is not accessible yet. With my earlier example, this new student was not quite ready for sixth grade material. Here is one thing I do to help: I pull these repeat work avoiders for a small group. They will get more assistance, and they will be concentrated in one space. This can help the rest of the classroom stay on task. Fingers crossed.
Chunking the task can make any task more manageable. You can chunk a problem at a time (You have five minutes to complete problem 1), or you can chunk parts of the problem at a time. For example, last week I was teaching decimal division. Any middle school teacher knows that this is the Mount Everest of operations.  I set the timer for one minute and narrated that during this minute students should be turning their divisor into a whole number. Done?  Let's check. Then I set the timer again for the next step of the process. This sets up students to know what to do next when the task feels long and overwhelming.
UP THE LEVEL OF ENGAGEMENT IN YOUR CLASSROOM
Do you incorporate student-centered activities?  Are your students collaborating and getting out of their seats?  How long is a student expected to pay attention without talking or "doing something"?  Did you know that students in middle school really can't focus for more than 10 minutes of teacher talking?  Ten minutes goes FAST.
Think about yourself at a faculty meeting or a professional development.  How engaged are you?   If you are being talked at, then you are more likely to be scrolling your phone, making a to-do list, or whispering with a neighbor.
Make worksheets more engaging by turning them into activities with little or no prep.
Hold Students Accountable for the Work
Students who know that you will hold them accountable will likely begin to get on board. During a tutorial period, Noelle would often gather a group of students who were notorious for avoiding their work. She would make the necessary calls to pull the appropriate students. At first, there was grumbling because it is much easier to not come to tutorials. But, over time, students began to see that the time spent in tutorials was beneficial.
It can also be a great motivator.  When a student is off-task (and I know they are VERY capable of doing it), I remind them that they have a choice: they can either complete it now or during tutorials. I smile, tell them that they have X minutes to complete X, and I will be back to check. That usually does the trick! Occasionally, I will have to make good on my promise.
Anyone else out there have those students who will avoid work at all cost? What tips do you have for combatting work avoidance?